Back in 2007, my daughter and I visited Leila's Hair Museum in Independence, Missouri. It was the only hair museum in the world then, and more than likely retains that status now. My sister and I visited the museum recently. Although Leila Cohoon is still the proprietor, she wasn't onsite that day. Our tour guide, Willa, talked us through the tour and 90 minutes later, we walked out the door – feeling slightly overwhelmed.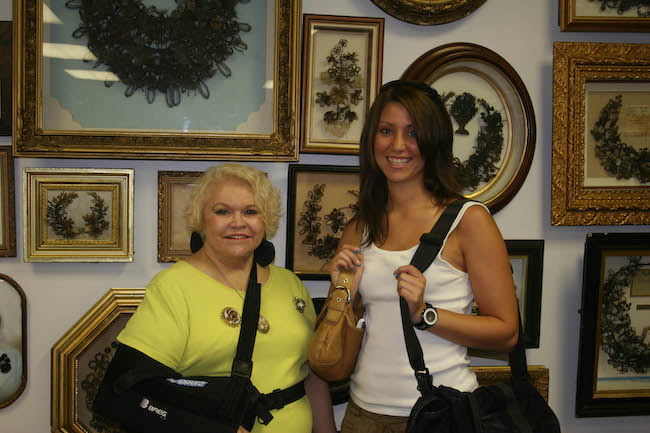 History of Leila's Hair Museum
Leila always loved working with hair. In fact, the site also contains a school of cosmetology – which branched off from her hairdresser shop. The story of how Leila became interested in old hair began in 1956 – about 7 years after she became a hairdresser in Independence. She had saved $35 for a new pair of Easter shoes, but on her way to the shoe store, she saw a small shadowbox containing a hair wreath at a local antiques shop in the Plaza at Kansas City. She bought the wreath instead of the shoes. Her husband, to this day, says that was "the most expensive purchase" she ever made, as it spawned the yearning to learn about and collect hair wreaths from around the world. And, not just hair wreathes. She also collects hair art forms and she owns more than 2,000 artifacts – from a hair painting to hair jewelry to hair bonnets, along with at least 600 wreaths.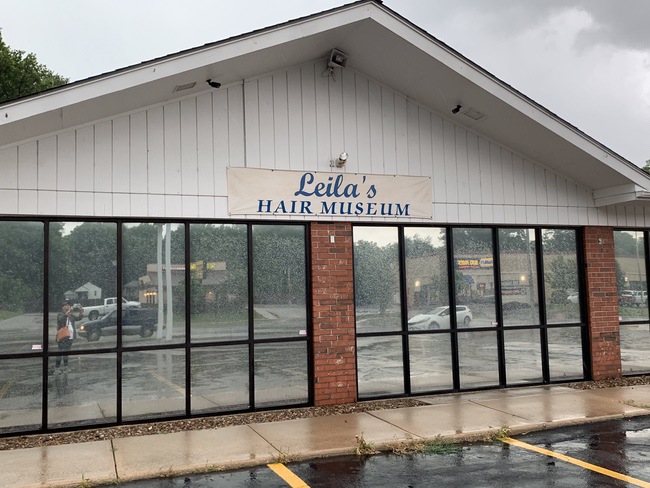 The oldest brooch in the collection cates back to 1680. Leila said that hair weaving has been dated as far back as the 12thcentury in Norway.
Hair Wreaths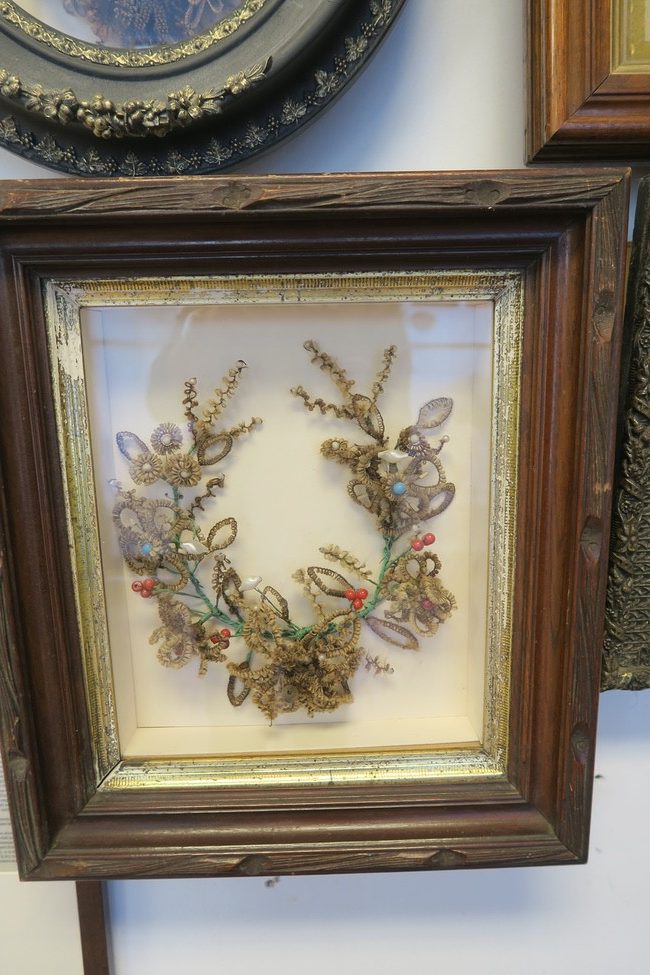 Hair wreaths had their heyday during Victorian times. Weavers preferred to make the wreaths in the shape of a horseshoe. Over at the blog "A Grave Interest," the Tombstone Tourist surmises that the open end of the horseshoe represented an ascent into Heaven, which doesn't explain the hair wreaths made in this shape for the living. Perhaps, the shape of the creation allowed the maker to add on to it. Weavers combined strands and locks of human hair and wire in the shape of flowers. Often, they added beads, embroidery floss and artificial stamens. The hair came from the living and the dead. It's fascinating to see the various shades, and reds and blondes add character to the overall effects.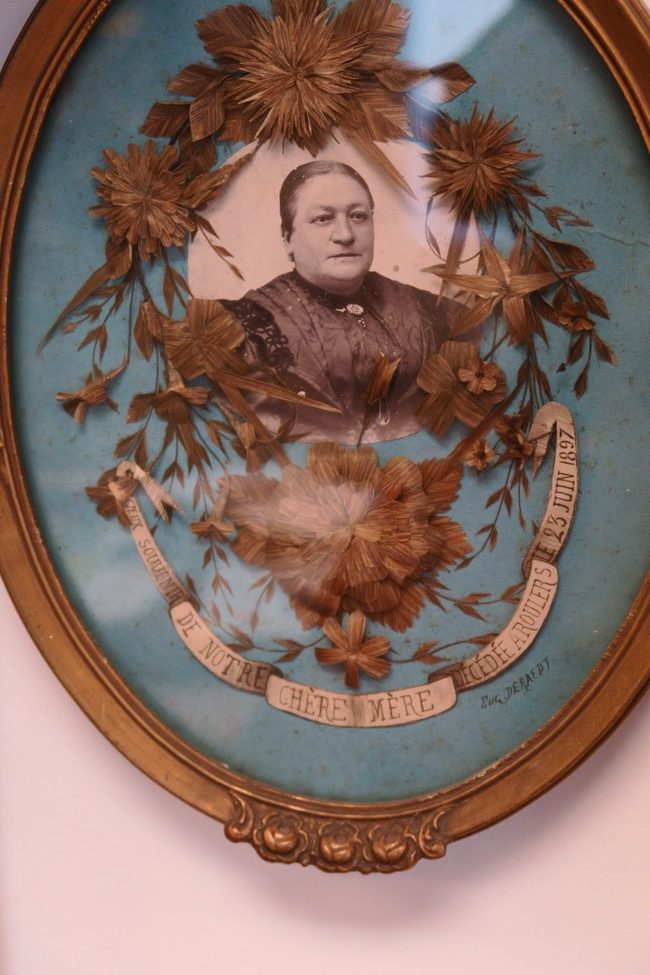 Mourning wreaths included deceased people's hair, and pearls or black beads woven into the wreath symbolize tears. Some of the mourning wreaths contained photos of the dead.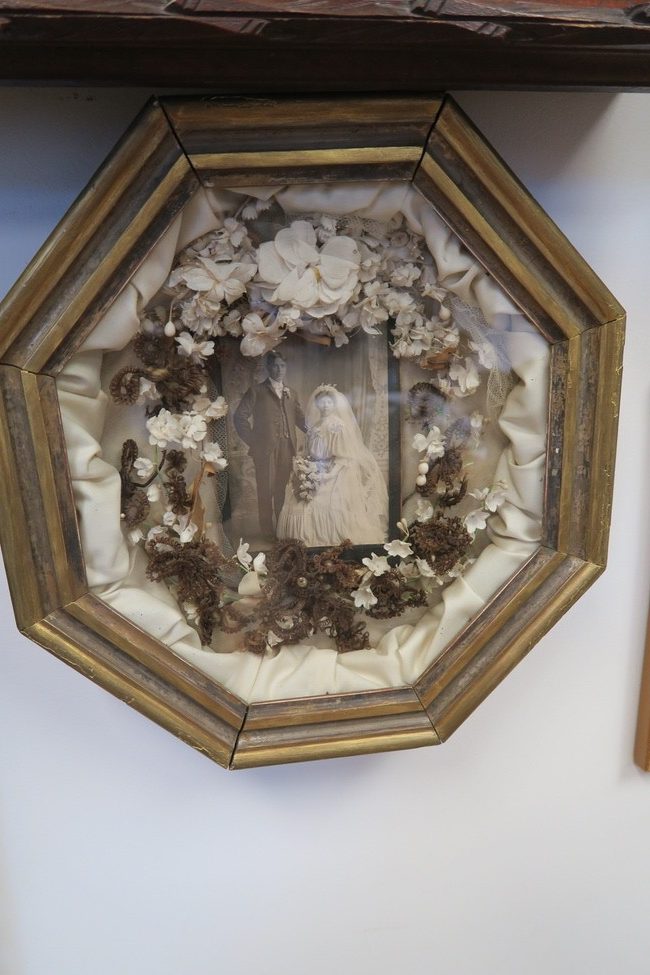 A few of the wreaths include identifying characteristics about whose hair lies woven in a wreath – whether written on a piece of paper, or included on small pieces of tape and added to the wires. Birds symbolized fertility in a hair wreath.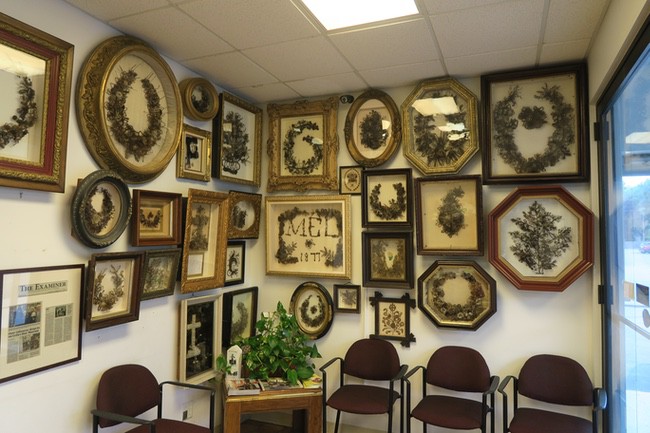 White hair in a wreath might be from a horse. "Back then, people didn't live long enough for their hair to turn white," said Willa.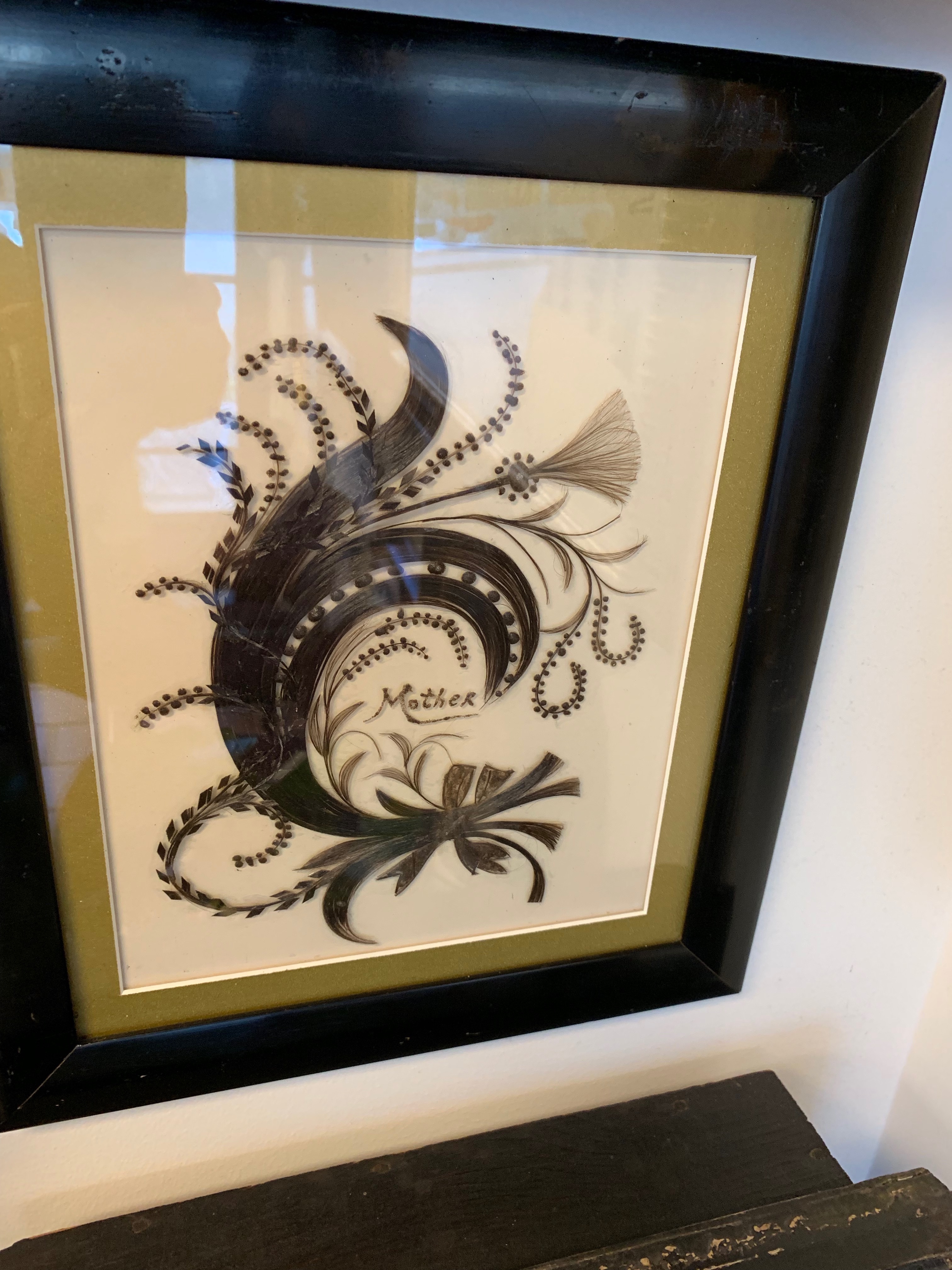 Some of the artwork featured flat work, such as the photo above, where the artist would take the hair and some type of adhesive and flatten the hair. The artist would then cut out shapes desired. Most of the work is in its original frames, but Leila has replaced the worst over time, as well.
Hair Jewelry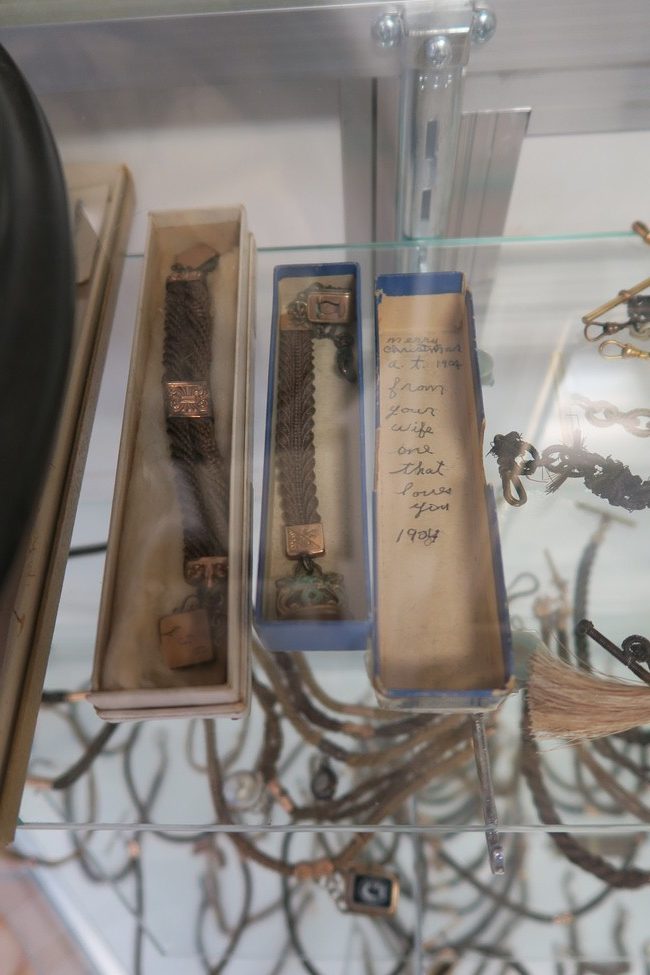 Leila has collected an impressive amount of hair jewelry – watch chains, brooches, necklaces, bracelets. Women would make watch chains for their husbands from their hair and the men would hang their watches on those chains – with constant reminders of not only the time, but also, their wives. 
Famous People's Hair on Display
Leila has traveled all over the world, going to hair conferences and she even taught cosmetology in China. Because she knew Elvis Presley's barber, she obtained a small piece of his hair, which hangs on the "Famous People's Hair" wall. Other famous clippings include hair from Daniel Webster, George Washington, Michael Jackson (from when his hair caught on fire during the 1984 Pepsi commercial filming), John F. Kennedy, Marilyn Monroe, John Adams, John Lennon, Jenny Lind, Alexander Hamilton, Aaron Burr, John Brown (the abolitionist) and Queen Victoria. We were not allowed to photograph the main part of the museum, unfortunately.
Other Bits and Bobs
No two items appeared the same at this place, even if designed by the same person. Throughout the tour, my sister and I marveled at hairpins (made of hair, of course), hair dolls, embroidery work with hair instead of floss, hair head coverings (bonnets woven of hair), dyed horse hair wreaths and the list just goes on.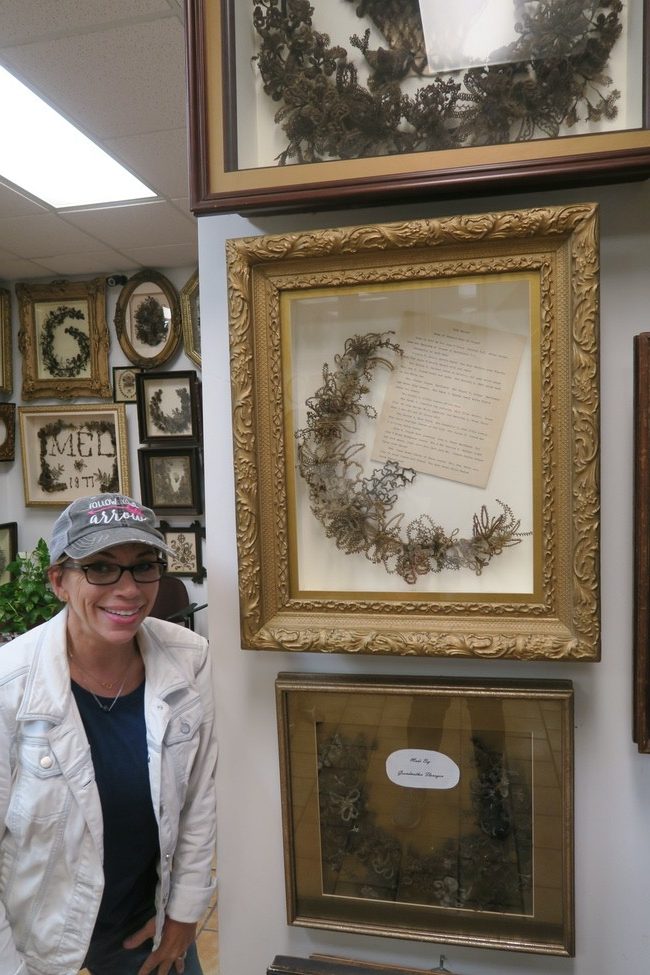 We learned that families used to make elaborate hair books that contained hair from each member of the family. We saw a photograph of a braiding table, and learned that traveling hair salesmen – called "hair spiders" – took orders for hair jewelry or wreaths. My sister couldn't believe the hair buttons inside a case, some minuscule and we wondered where was the hair there?
More about Leila
Supposedly, Leila's daughter said, "When I was growing up, these things were all over the house. … Finally, Mom said, 'I could open up a museum.'" She has hosted famous visitors to her museum, including Ozzy Osbourne and Mike Rowe.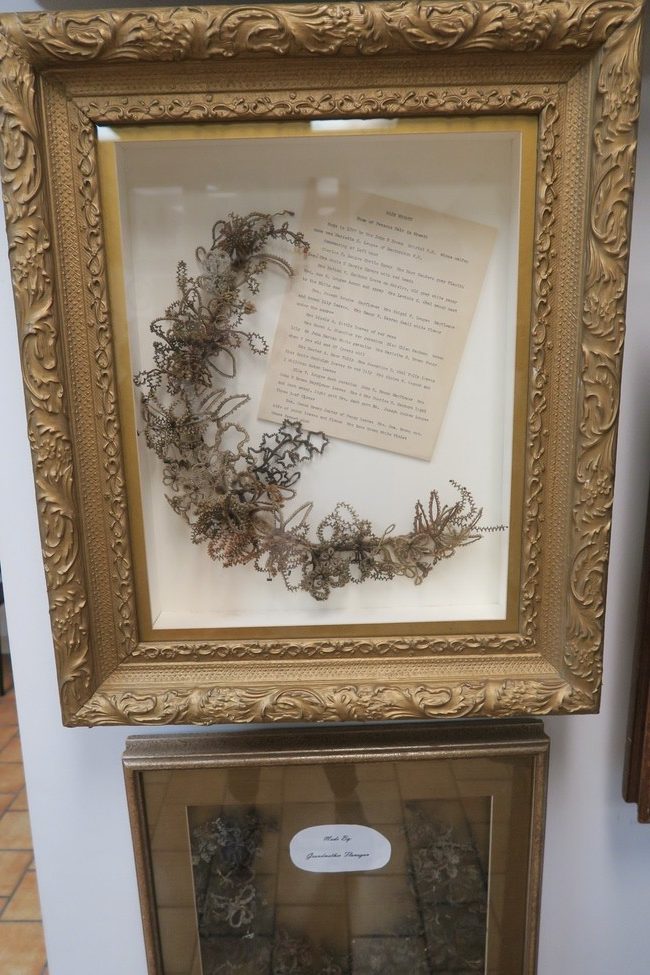 She is still collecting. Leila peruses eBay and other online auction platforms, as well as keeps an eye out for interesting hair art. Occasionally, she will teach a hair wreath workshop, which my sister wants to take.
Visit Leila's Hair Museum.
The museum is located at 1333 S Noland Road in Independence, Missouri. 
Cost is $15 for an adult ticket. Open Tuesday through Saturday, from 9:30 a.m. to 4:30 p.m.
Closed Sunday.