It's about as hippy as you'll get in the Ozarks. Baker Creek Heirloom Seed Company offers more than 1800 heirloom varieties of seed, seedlings and open-pollinated seeds, along with a pioneer village called Bakersville that offers a vegan restaurant, gardens, shops with healthy living alternatives and a set-back-in-time atmosphere.
I have visited this place twice since Christmas, and planted 2 types of lettuce (including a lovely Merlot variety) to great success as a result. If you buy a pack of seeds, you get a free pack of seeds from the choices offered at the check-out counter.
Baker Creek
Baker Creek is located north of Mansfield, off Highway 5. You may have seen its billboards, with a pioneer guy and the web address "rareseeds.org."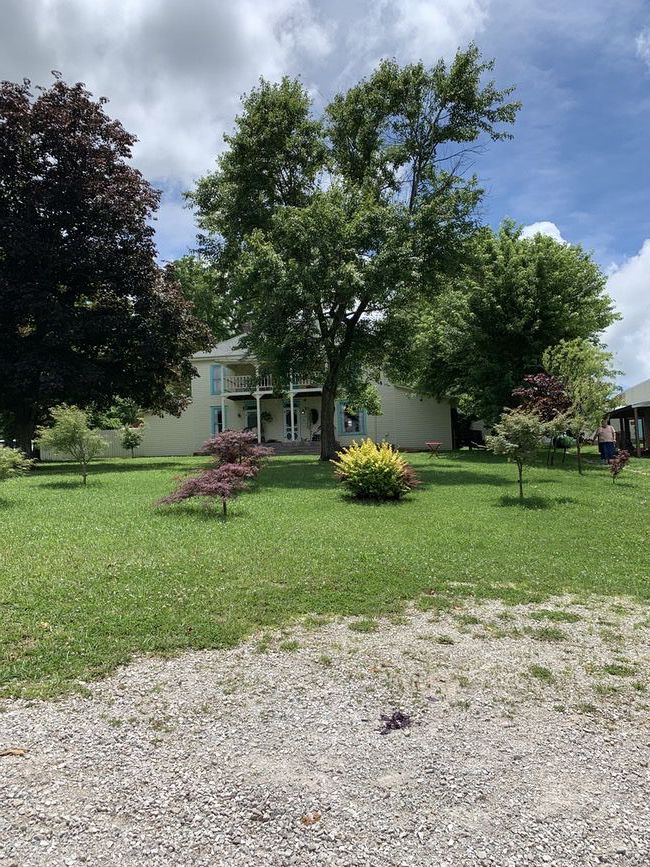 The proprietor of Baker Creek is Jere Gettle, who has been interested in exotic and heirloom seeds since his childhood. In fact, he has traveled the globe in search of rare seeds. He and his wife, Emilee, live onsite at Baker Creek in a lovely old home that overlooks the gardens. The site purportedly sits on the "longest lasting homestead" (owned by the Rippee family, who also cultivated and sold seeds).
The main store occupies the location of the original Rippee family market. The Gettles have created a pioneer village onsite, complete with 3 barns, mercantile, herbal apothecary, bakery, garden museum, blacksmith shop, windmill and seed warehouses. It also is home to several types of farm animals, including heritage poultry.
Visit #1
My husband and I visited Baker Creek before Christmas, and enjoyed the old-fashioned aromas of baked goods, along with gift choices available in the various shops.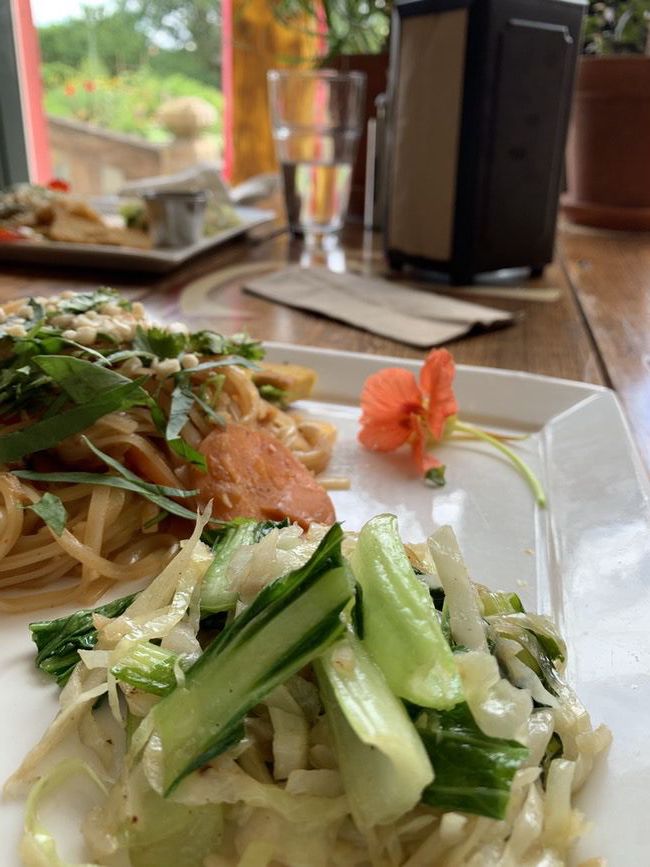 Visit #2
My sister and I recently spent a few hours onsite, and ate at the Asian vegan restaurant, which served a delicious Pad Thai with peanut sauce (or not), along with Bok Choy salad and date bread. The restaurant is based on donation basis. We poked around in the various shops and she munched on an egg-free peanut butter cookie.
And then, it happened. We met the "Rare Seed" guy, the poster boy, the billboard man for Baker Creek, Dave Kaiser. He walked across the lawn in front of a big barn, and I said, "That's the guy!"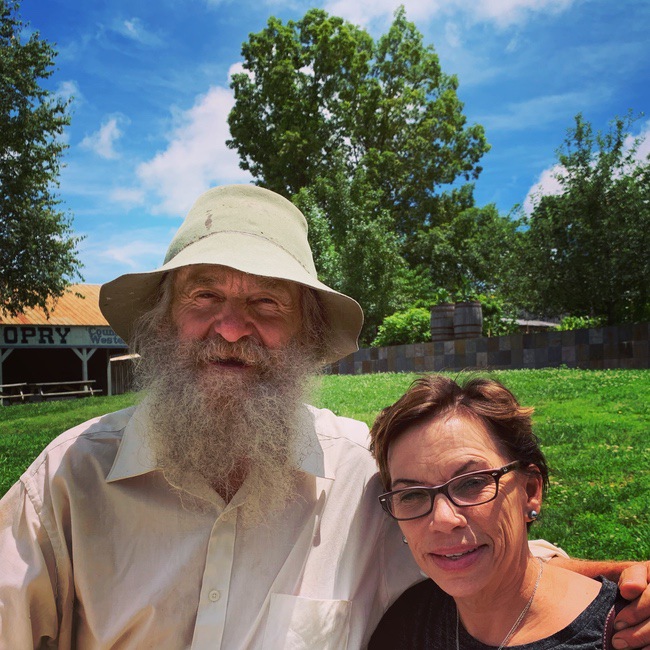 As he approached us, I asked if he was, indeed, the man on the billboard and he affirmed it. He works at the place and is basically a jack-of-all-trades.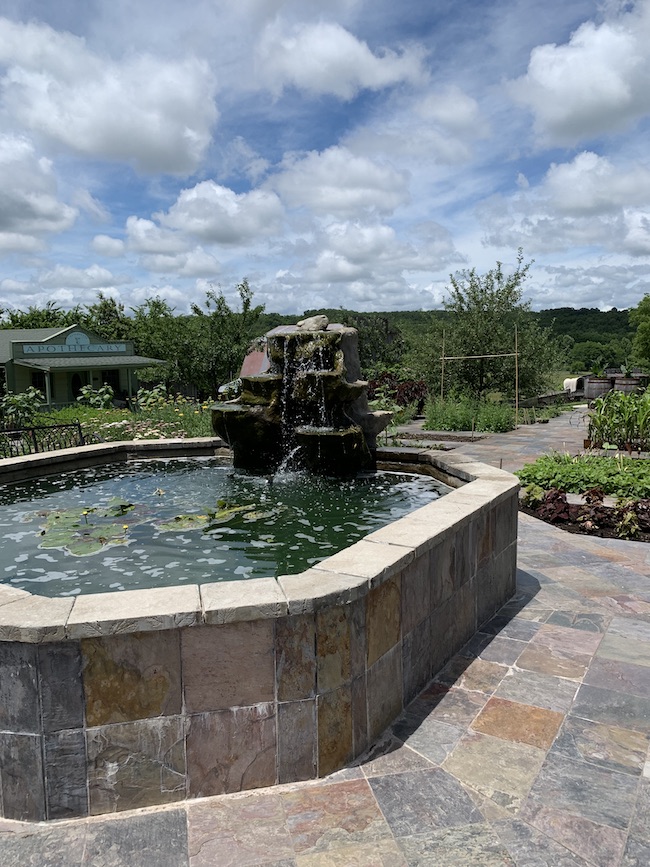 The village hosts several events annually, including a Missouri Spring Planting Festival, during the first weekend of May, which might attract more than 10,000 people – which is larger than the neighboring town of Mansfield. Heritage Day Festivals are held on the first Sunday of each month from March through October (except for May). There is a nominal fee for the May event, and no admission charge for the other festivals. Live music, garden presentations, special sales and vendors are reasons to attend the festivals.

More than Missouri
The Gettles have expanded the operation of heirloom seeds, with locations in Petaluma, California, and Wethersfield, Connecticut.  They also have authored 2 books – The Heirloom Life Gardener and The Baker Creek Vegan Cookbook. Both books are available in the main store.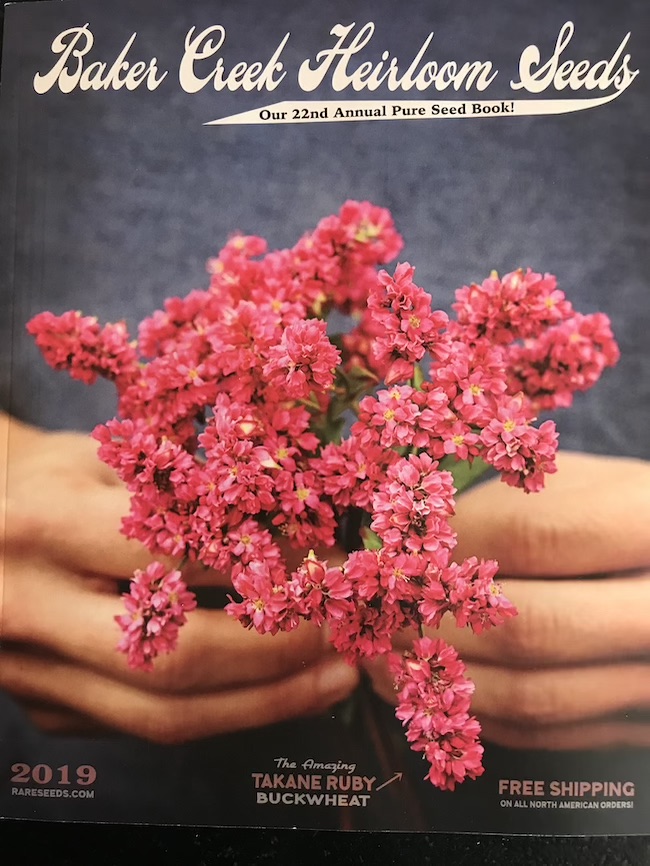 Baker Creek publishes an annual catalog that it ships in December for the following year. It sends out more than 700,000 catalogs. Or, you may download a PDF of it. However, I prefer the hard copy, which reminds me of days gone by and my grandma's way of life.
Baker Creek Heirloom Seeds is open 6 days a week: Sundays, 9 a.m. to 5 p.m., and Mondays through Friday, 8 a.m. to 5 p.m.
See the website for directions (located north of Mansfield, Missouri).