It was one of those summer days that called to us and said, "Hey, change it up! Get outside. Take a drive. Discover something new!" So, we packed our cameras, binos, maps and water and headed out in the Scooby-Doo Subaru to find Noblett Lake, and then, Topaz Mill.
Noblett Lake Recreation Area
We started out on this day trip over at Noblett Lake Recreation Area, which is part of the Mark Twain National Forest near Willow Springs, Missouri. The 26-acre lake with its dam was constructed by the Civilian Conservation Corps, and holds 26 acres of fishy waters.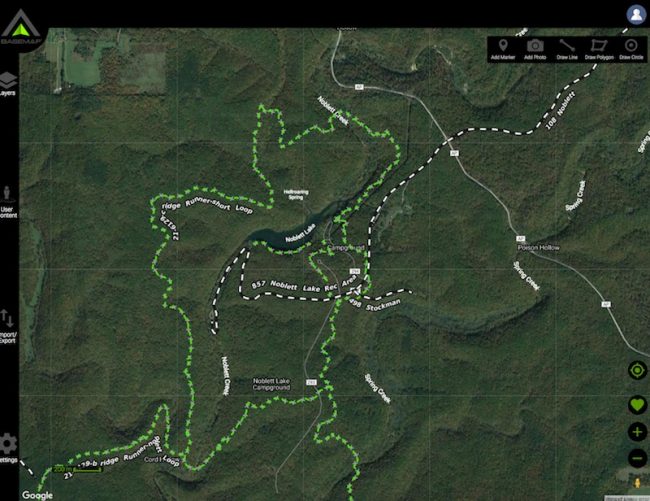 A day-use designated area, it offers a large pavilion, formerly a bathhouse, and plenty of shoreline for fishing (black bass, channel catfish and crappie). Canoes, kayaks and electric-trolling motors (read, small) are welcome on the lake. It is one of 2 trailheads for the nearby Ridge Runner Trail, a 22-mile trail system that also runs around the lake in a short and a long loop. I definitely want to come back to find the Hellroaring Spring, which looks to be about halfway through the longest trail. That's a huge name to live up to … and I hope to not be disappointed.
Ridge Runner can handle foot, equestrian and mountain bike use. We saw several fish rising, and visited the lovely picnic area. A large pavilion is available for rental.  The site is open all year.
Find out more about Noblett Lake Recreation Area.
From Willow Springs, at the junction of Highways 60/63 and 76, take Highway 76 west for about 7 miles. Turn south on Highway 181 for a little over a mile and turn left on Highway Ap for about 3 miles. Turn right on Forest Road 857 and continue about 1 mile to turnoff for the day-use area. The road continues to the Noblett Dam and Trailhead.
Topaz Mill
The Ozarks always has been the perfect host to gristmills. Filled with springs and other running water sources, you could hardly throw a rock and not hit a gristmill back in the day. History unfolded around the growth and development of these centers of the universe for agricultural societies, often providing the one place – other than church – where they might get together, socialize, shop and conduct business integral to lifestyles in rural America. Topaz Mill welcomed folks through its doors and today, stands on private grounds, yet still remains a warm and peaceful place to visit.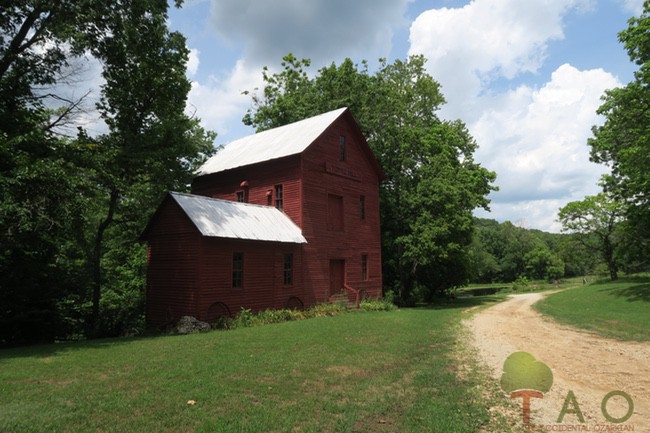 In fact, my husband fondly recalled trips to Topaz Spring from his days of youth, so he was eager to revisit it.
First of all, the back way in on EE is … rough. You'll need a 4-wheel drive or all-wheel drive vehicle to navigate down the narrow, bumpy, rocky and windy road, and you'll even need to cross a creek or two to get there, depending on the water levels. Coming in from E is safer and a better option.
History of Topaz Mill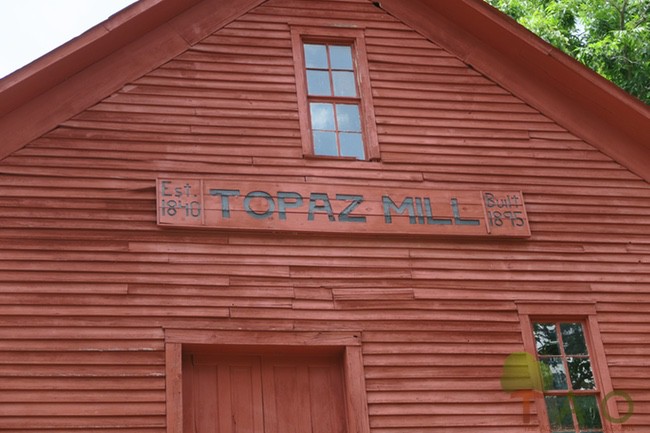 First established in the 1840s, Topaz included a grocery store, barber shop, cannery blacksmith shop and the most important place – a post office. Supposedly, the postmaster chose the name "Topaz," not for the color of the spring (although on the day that we saw it, we noticed a topaz circle in the center of the spring where the water bubbled up), but because … it hadn't been chosen for a Missouri place name yet.
I love that the mill is painted cherry red. That's classic. Bits and pieces of operating machinery lie nearby and are still attached to the building at the back. Fed by a 10-million-gallon-per-day spring of the same name, the current mill was constructed in 1895. A few years later, it employed modern technology of the times that took advantage of a nearby raceway. According to history found in an article in Ozarks Alive: "They figured out if they raised the level of that spring 12 feet, ran that water down a raceway, and dumped it down a boiler flue on to a turbine, you'd get a whole lot more power than you do with a waterwheel."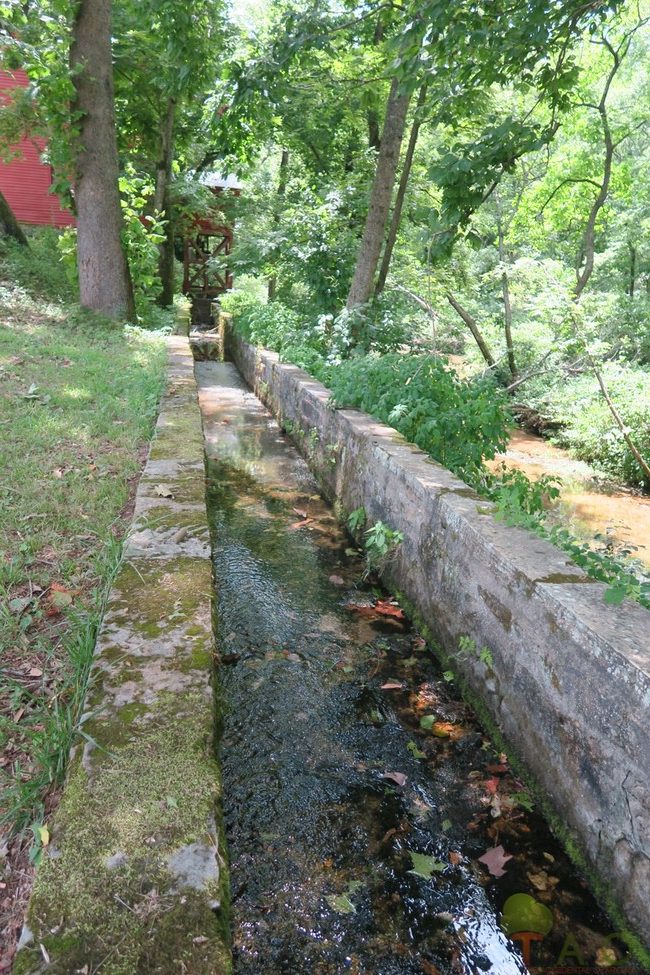 Use of the mill dwindled into the 1930s and by 1943, the post office closed and the store hung on until 1945.
One Family's Mission
The O'Neal family lives onsite, and has lived near the old mill and general store since 1957. Now being cared for by another generation of O'Neals, the bright mill sits across from the family farm. The family started a non-profit organization, Friends of Topaz Mill, Inc., with a Facebook page. It accepts donations for preservation and matinenance purposes.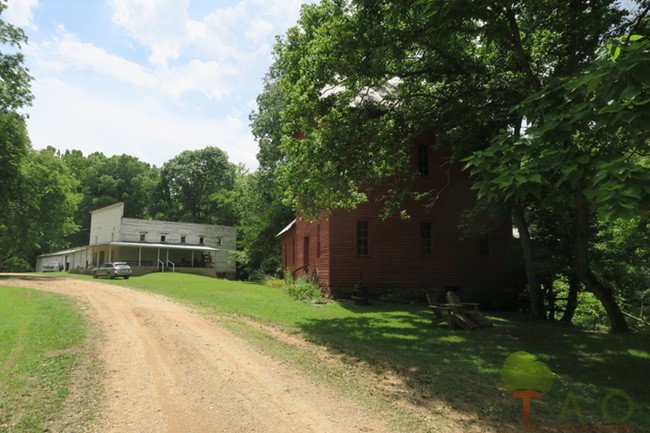 I hope to go back someday and will most certainly call beforehand. I can hardly wait to peek inside the mill and the general store. I've already liked the Facebook page and look forward to updates.
Visit the Friends of Topaz Mill on Facebook.
Ray's Country Store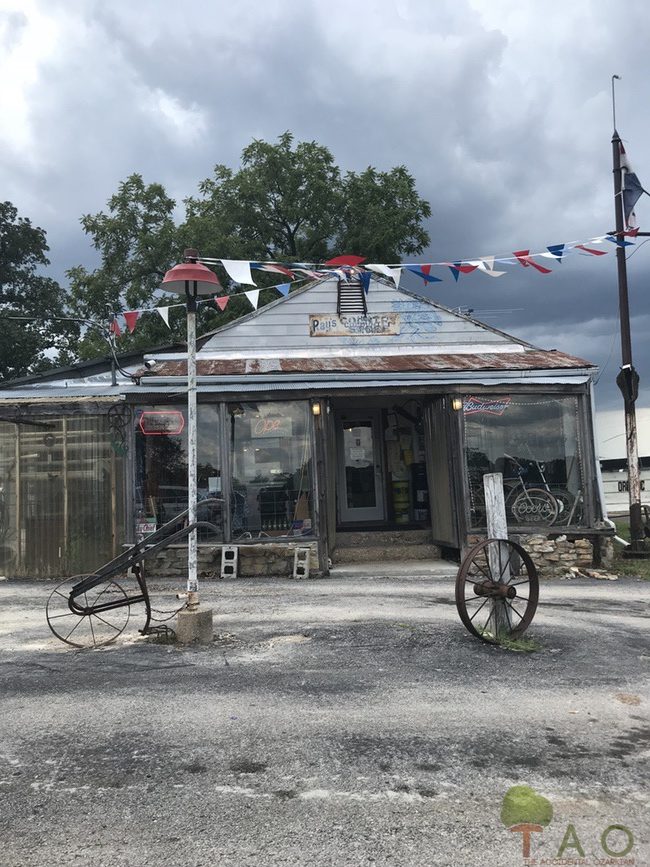 "We have to stop," I said to my husband, as we whisked by Ray's Country Store, on the corner of Highways 76 and EE, a few miles away from Topaz. It was a modern-day hippie combined with old timey general store. Ray sells the following, as listed on his business card: groceries, feed & farm supplies, cold beer, liquor, smoking supplies, leather, hemp and tye-dye clothing. He also offers Harley Davidson shirts and accessories, black leather jackets and chaps, Bibles, books, gifts, Full Moon Drum circles, metaphysical counseling and Tarot card readings.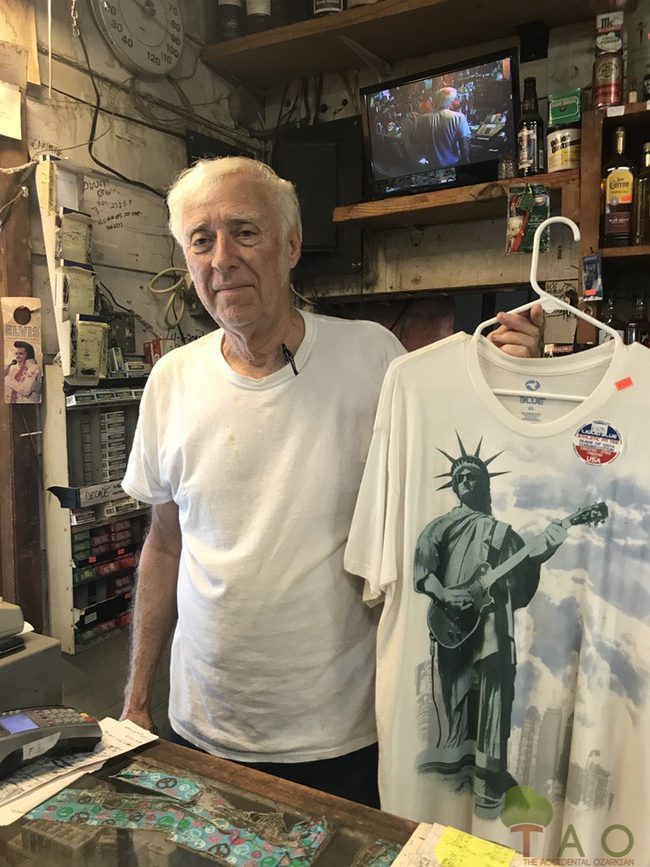 I purchased an extra large sleep tee, featuring the Statue of Liberty wearing shades and holding an electric guitar. Somehow, it just fit the moment.