You know how sometimes you read about something and you want to see it? You hope that someday you'll see it? That started for me when I was a girl, when I read about Da Vinci's "Mona Lisa," housed at the Louvre Museum in Paris. Then, I saw it. I read about Lewis and Clark's journals from their "Voyage of Discovery," and felt thrilled when I saw the journals on display several years ago at the Missouri History Museum in St. Louis. Recently, on a flight going somewhere for work, I flipped open to the airline's magazine and an article about Pres. George W. Bush's collection of artwork that he painted in oil, titled "Portraits of Courage." I wanted to see it someday.
Imagine my surprise to find that the collection, featuring 66 full color portraits and a 4-panel mural, is currently on display at Johnny Morris' Wonders of Wildlife National Museum in Springfield. And, I got to see it.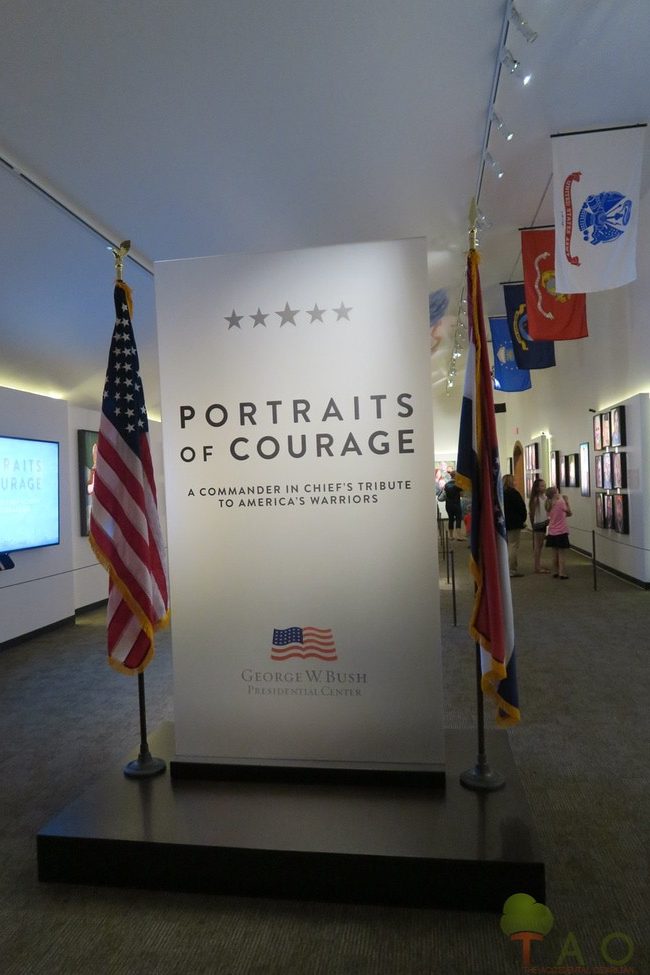 Background
History records that Pres. Bush was a soldier's president, and repeatedly made time to see injured troops, spend time with them and get to know them, as well as their families. He and his wife, Laura, continue relationships with soldiers through the ongoing work of the George W. Bush Institute's Military Service Initiative. This organization helps post-9/11 veterans and their families with transitioning to civilian life, as well as focusing on veteran wellness, post-traumatic stress and traumatic brain injury.
Portraits of Courage
After leaving the presidency, Pres. Bush became interested in learning to paint. In an introduction to a complementary book titled Portraits of Courage, Pres. Bush details his desire to paint well, eventually studying under famous and talented artists/instructors, and choosing to portray wounded warriors that he had met and come to know through W100k mountain bike rides and Warrior Open golf outings, hosted by the Bush Institute. Every face tells a story — a story of bravery and suffering, and success. He started the series in September 2015. Net proceeds from sales of the book are donated to supporting the work of the institute.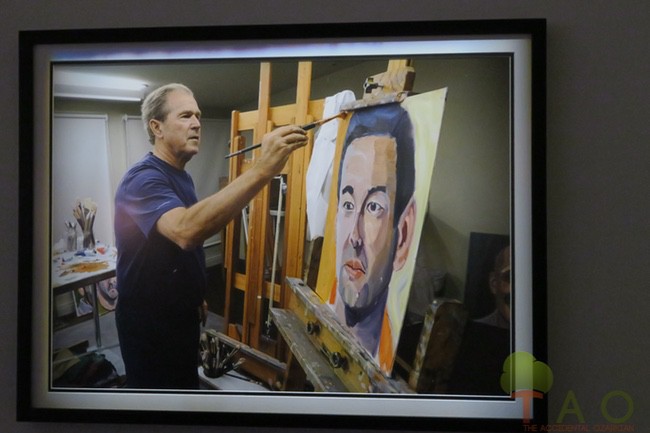 "Most of the paintings are closely cropped portraits that I hope give viewers a sense of the remarkable character of these men and women," wrote Pres. Bush, in the intro to the book. "I wanted to show their determination to recover, lack of self-pity, and desire to continue to serve in new ways as civilians." Some of the other paintings show a bigger picture – of an amputee on a golf course, for example.
On Exhibit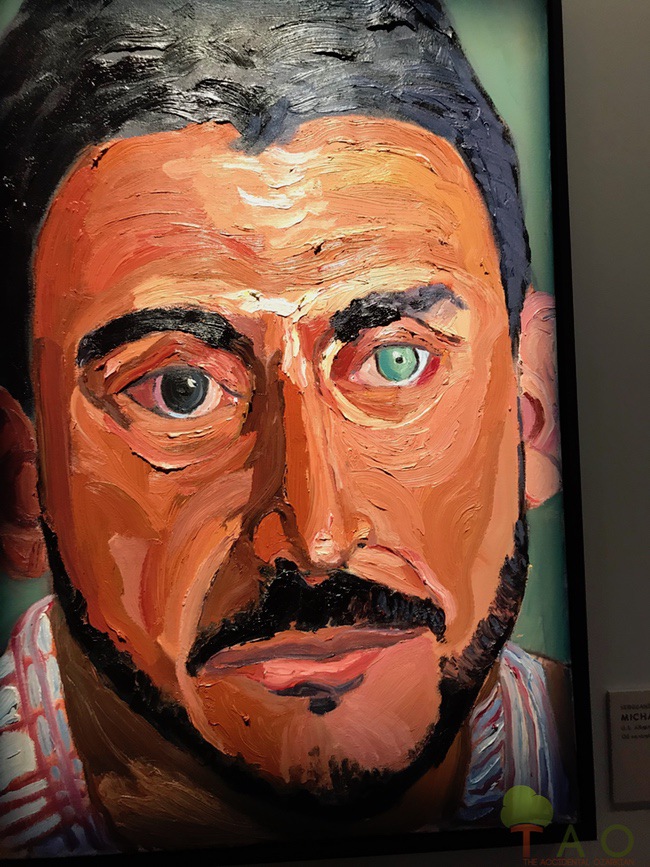 Immediately, I noticed the portrait of retired Army Sergeant 1stClass Michael R. Rodriguez, a Special Forces Green Beret who served for 21 years and suffered at least 12 concussions. His portrait was one of the prominent illustrations in the airline magazine. Rodriguez wears prosthetic lenses in 2 colors. One lens corrects his double vision and the other addresses severe headaches, balance, dizziness and light sensitivity. Rodriguez now serves on the Institutes Military Service Initiative advisory board and loves to forge beautiful knives in his blacksmith shop.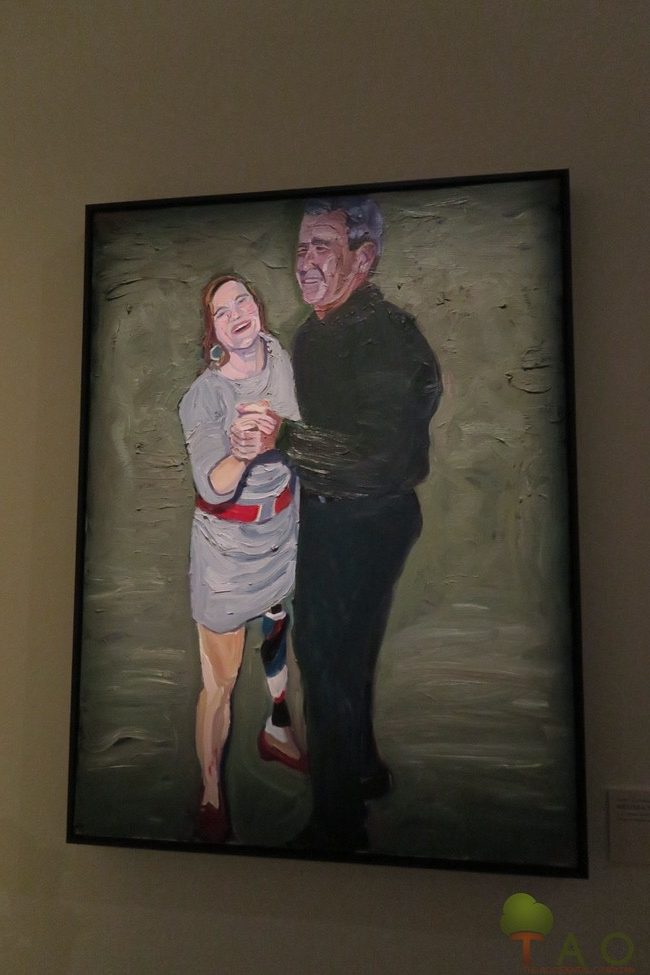 Retired Army First Lieutenant Melissa Stockwell is featured on a large canvas dancing with Pres. Bush in April 2012, during festivities after the Warrior 100K Ride. Stockwell had her left leg amputed above the knee, after a combat injury in 2004. She swam in 2008 Beijing Paralympics, and then started competing in the sport of triathlon. She is a 3-time Paratriathlon World Champion and a bronze medalist from the 2016 Paralympics in Rio. Stockwell, as you can imagine, is a highly sought motivational speaker when not in training.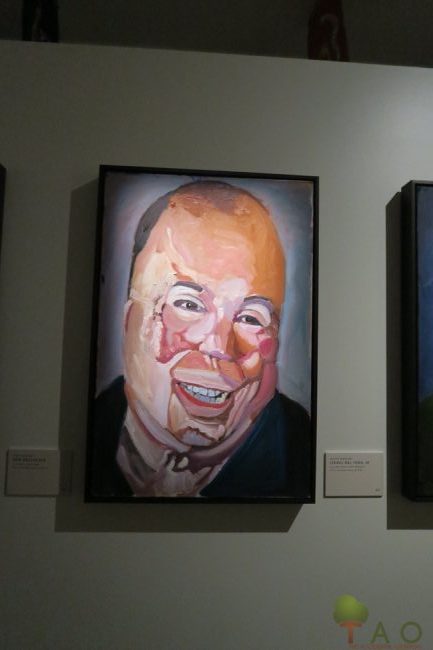 Master Sergeant Israel Del Toro, Jr., still serves in the Air Force. Pres. Bush met him at Brooke Army Medical Center on Jan 1, 2006. Del Toro had suffered burns over at least 80% of his body after his Humvee had been targeted by an IED in Afghanistan a month earlier. With more than 100 surgeries, Del Toro defied the odds that he would walk again, breathe again and live a full life. He is a member of the Air Force's World Class Athlete Program and travels the country as a motivational speaker. He represented the US in the 2016 Invictus Games in cycling and powerlifting, receiving the gold medal for shot put. In 2017, he won the Pat Tillman award. (You may recall that Tillman left a career in the National Football League to serve his country after 9/11, and was killed in the line of duty in Afghanistan in 2004.)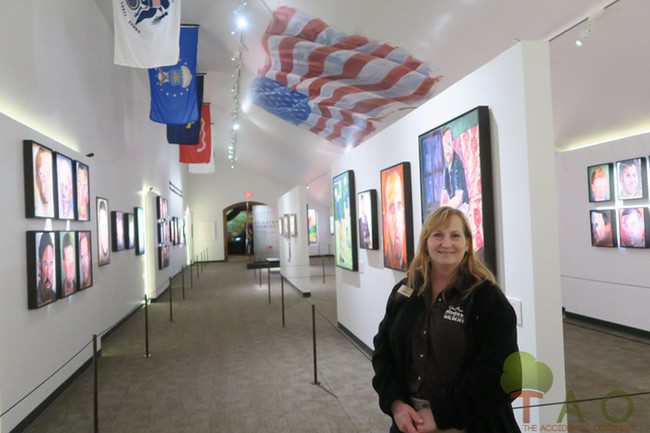 "Portraits of Courage" will be on display until July 5, 2018, at Wonders of Wildlife National Museum. Admission is included with ticket price to the Wildlife Galleries. Learn more about Portraits of Courage.
The book, Portraits of Courage, is for sale in the museum's gift shop. ($35)
Visit Wonders of Wildlife National Museum & Aquarium.