Sometimes, it's the simple thing that we take away from the complex idea. In this case, a metal cup hangs suspended by 2 strings in a glass case at the Holocaust Museum & Learning Center in St. Louis. That cup represents a Jewish prisoner's sole dinner implement during incarceration at a Nazi-run concentration camp during World War II.
In fact, the docent for the tour said that if a prisoner lost the cup or if the cup were stolen, that ended the access to a cup of grain mixed with sawdust. No cup — no food. The woman, a Holocaust survivor, who donated this cup to the museum regarded it as her "most precious possession," and carried it with her at all times during her incarceration.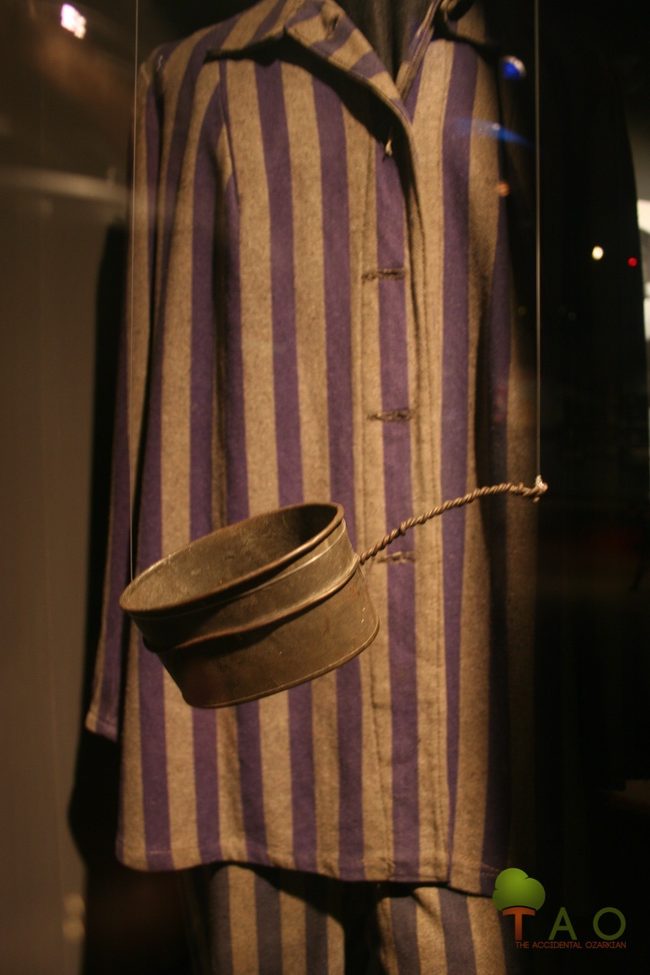 Holocaust Museum & Learning Center
Set in 5,000-square feet of dimly lit rooms, this almost mausoleum-quality museum details the chronological history of the Holocaust and brings the experience home to Missouri, by featuring Holocaust survivors who emigrated to St. Louis in the late 1940s and early 1950s.
On this day of our visit, we were invited to join a guided tour for a nearby senior citizen's group, making the experience richer. We recommend calling ahead, getting a group together of at least 10 and arranging for a guide. Although the museum offers a wealth of information, the stories told by this docent made the haunting eyes and tortured bodies of the victims of the Holocaust and their families in nearby photographs even more real.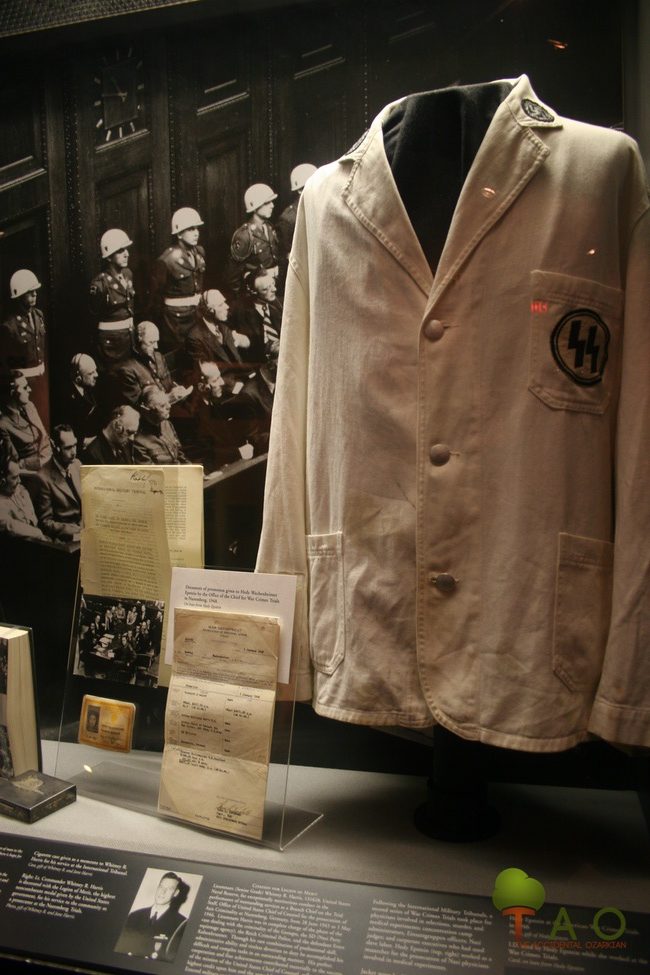 Photographs, artifacts, a jacket worn by a doctor of the Schutzstaffe—aka  "SS," which means "Protective Squad"—along with documents and the cup, the symbol of survival, fill the space and make it extremely uncomfortable yet difficult to leave. It would be easy to spend hours in here, but it is troubling.
Thousands of children on school field trips visit this museum annually, and not only learn about history, but also about bullying and why it is important to stand up to bullying tactics, whether they come from an individual or a government. Said Jean Cavender, director of the museum, "The Holocaust started because too many people turned a blind eye to some of the tragedies that were happening to Jews in their own community.  We try to teach children not to be bystanders when they see social injustices occur within their family or among their friends.  We also remind them that it takes courage and their actions can make a difference."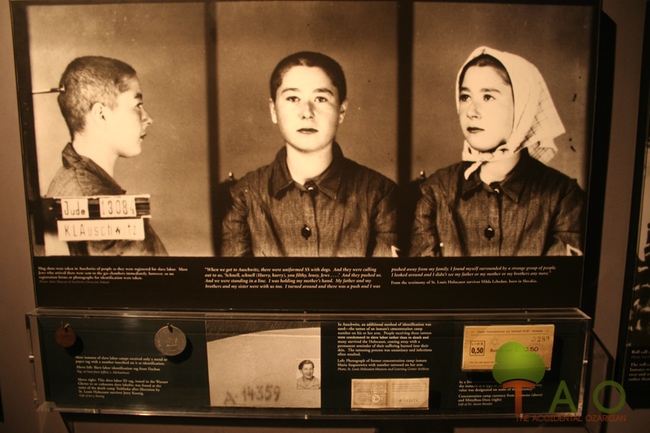 St. Louis played an important role in the relocation efforts of Jews who endured concentration camp life. In fact, on this day, a survivor from Bergen-Belsen, a Polish woman named Sara Moses, talked to the group after the tour. She was one of six percent of the children who survived the camps, and was discovered by British troops when they liberated her camp in 1945. She said that although she was six years old, the soldiers thought she was a baby, because of her emaciated state. This is the same camp where Anne Frank died a month before its liberation. Moses and her father, a shoemaker who spent time at Buchenwald Concentration Camp, came to St. Louis to start a new life in 1949.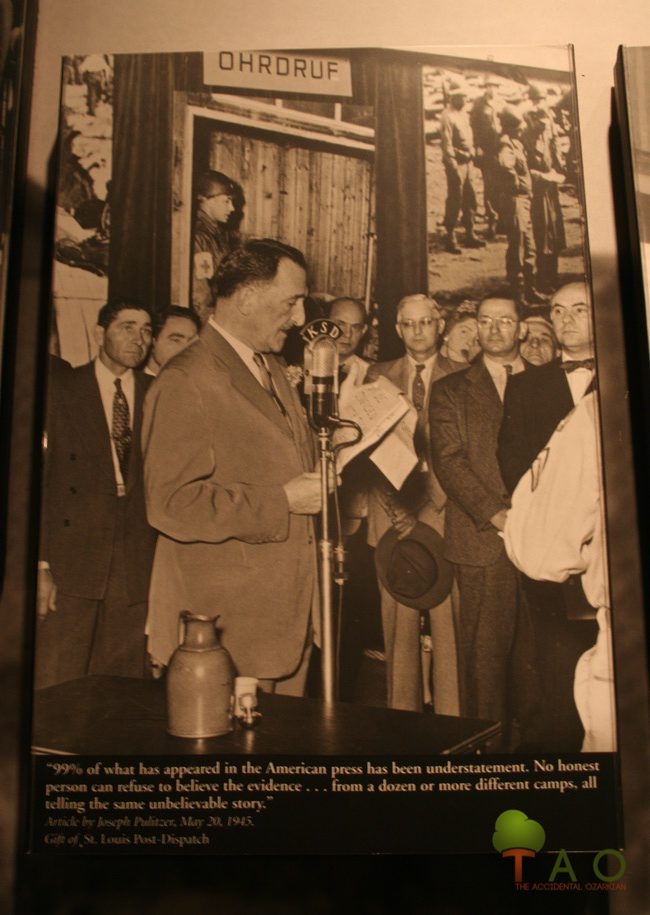 Displays in the museum describe the success of hard-working emigrants and how they forged a place for themselves in St. Louis's history. Another display shows prominent newspaperman and St. Louisan Joseph Pulitzer, who traveled  to document atrocities at the concentration camps at the invitation of Gen. Dwight D. Eisenhower. 
Like with most wars, there are veterans who choose to remain silent, get on with their lives and not influence their friends and families with bad memories associated with their experiences. Cavender says that as this generation that endured World War II passes, the museum continues to receive donations found in attics and trunks. It welcomes all donations.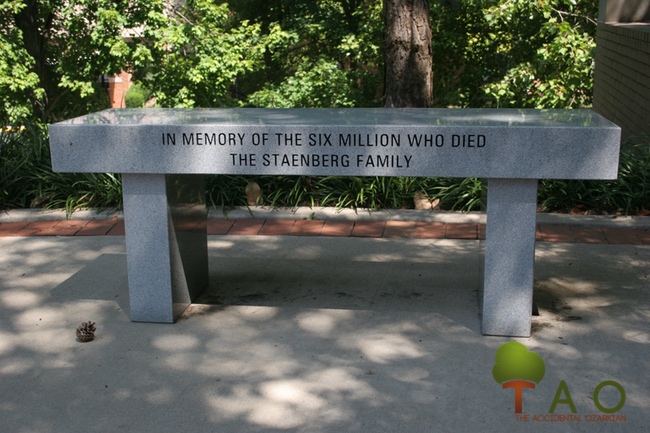 The Holocaust Museum & Learning Center is open to the public and free of charge. Reservations required for groups of 10 or more. The museum is located at
12 Millstone Campus Drive,
 St. Louis.
Hours:  Monday through Thursday, 9:30 a.m. – 4:30 p.m.; Friday, 9:30 a.m. – 4 p.m.; Saturday, Closed; Sunday, 10 a.m. – 4 p.m.
Telephone: 314-432-0020
Visit Holocaust Museum & Learning Center