I met Brandon Cornwell about 15 years ago, while he was working on a Celtic chainmaille bracelet at Jacob's Cave gift shop. Today, he's moved on to different things, but this is a story about his life and work back then. ~BB
To look at him, you would think he should be on a rugby team or maybe in the World Wrestling Federation's league. Weighing in at 220 pounds on a medium frame with a huge set of shoulders and a 50-inch chest, Brandon Cornwell looks somewhat out of place in a tiny backroom workshop of a rock shop, sitting on a stool while gently shaping wire into intricate jewelry designs.
Never one for football or popular contact sports, Cornwell prefers fighting medieval combat style, wearing armor and wielding a sword. He quips, "People like me – what am I going to take up? Ballroom dancing, belly dancing? I'm not built for that … and I don't like football."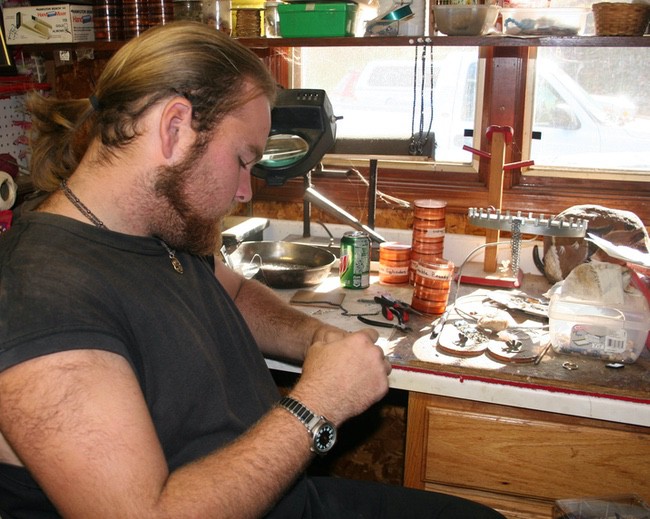 From his fascination with medieval arts, weaponry and fighting, Cornwell – who has built a house for his wife and three daughters, and loves to work with his hands – found himself fashioning not only chainmaille jewelry, but also complete custom-made sets of chainmaille armor and a chainmaille dress for his wife. He draws the line at creating chainmaille bikinis, though.
A few years ago, he made himself a chainmaille shirt, a hauberk, which took 13 months to complete. He used 14-gauge fencing wire and the suit weighs 50 pounds.
He made another shirt to sell, using the same gauge of wire but not as dense, and therefore lighter. He quickly realized that "not too many people are too keen on paying $350 on a shirt, even though it's Crusades-quality armor. So, I started using some small copper wire I had around the house and made a copper necklace out of it and put it on the Internet." The necklace immediately sold to a buyer in Washington, who has since purchased hundreds of dollars' worth of Cornwell's creations.
Cornwell is a hands-on sort of guy. When not in the shop making jewelry, he enjoys woodcarving, blacksmithing and woodworking. A drop-out of the gifted program in public school at age 13, he traveled with his dad and finished his schooling at home and in the world – trimming redwoods in California alongside his father.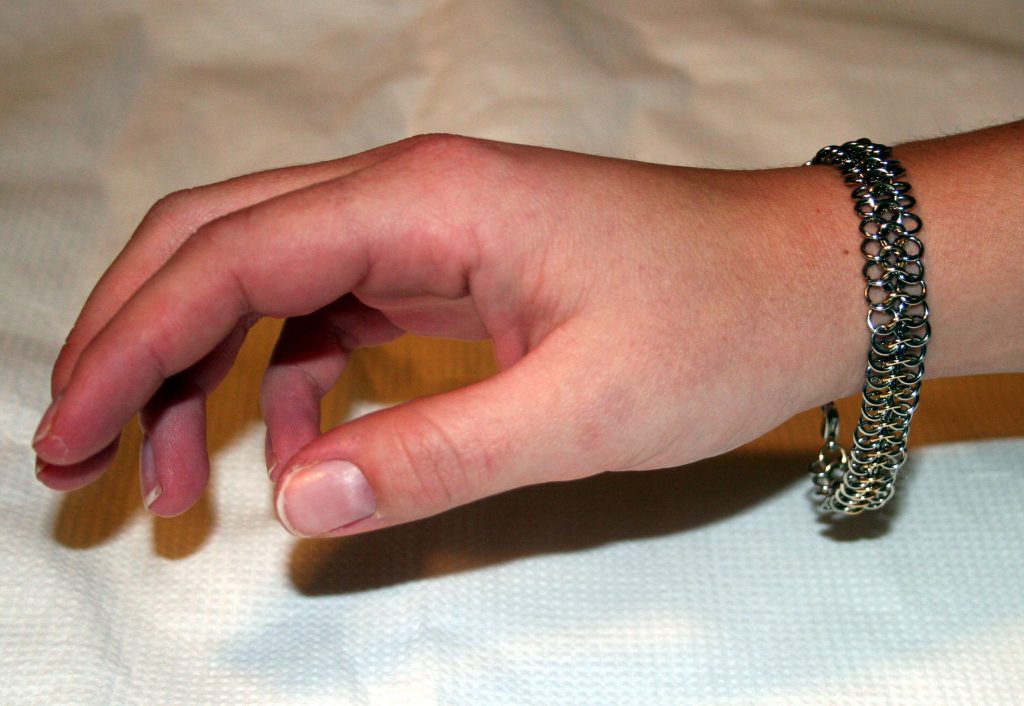 Along the way, he discovered the martial arts of the medieval period. When asked why he loves this style of combat, he says, "Why do people do rock climbing? It's a thrill. It's a technique with honor … and I respect those people – the samurai and the knights – and that's as close as I can get to it."
His love of rocks and metals drives him to create intricate weaves that display nature's gemstones. Cornwell is credited with the invention of different weaves or variations on weaves. He can turn a one one-dimensional weave into a two-dimension weave and even a three-dimensional weave. Cornwell's jewelry would most likely appeal those interested in wearing Celtic-style jewelry.
Cornwell admits he has to pull back from sword fighting, and concentrate more on selling his jewelry because he cannot risk his livelihood on the battlefield.
Through his website, he has sold jewelry to folks in London, Washington and Denmark.
Update, 2019: Brandon has channeled his energies into writing books about Visit Brandon's website, which features his latest books.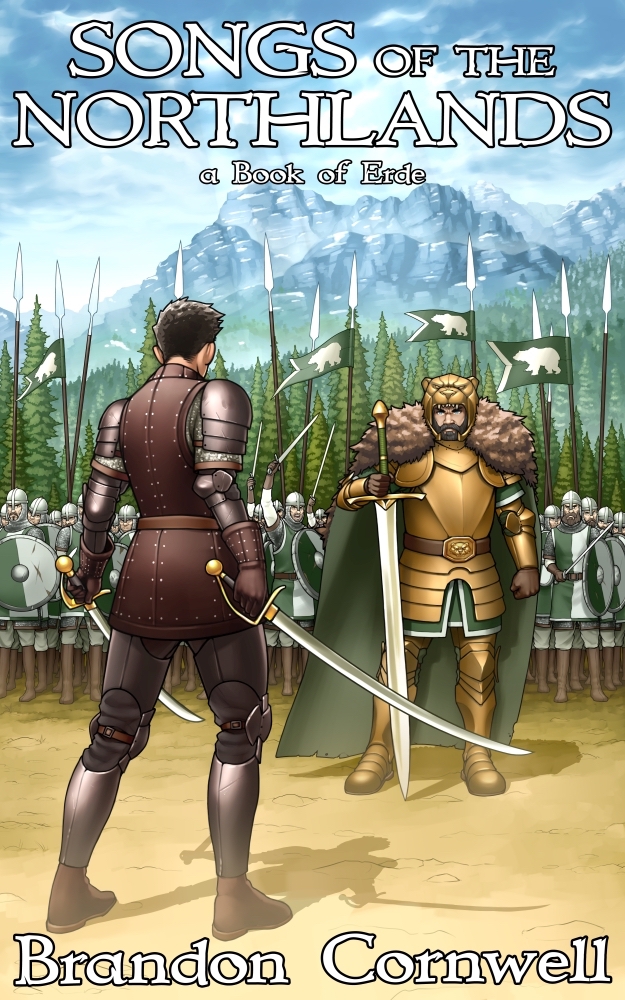 You may purchase Brandon's fantasy-oriented books on Amazon.