Where in the wide world of trout fishing is he?" I thought, as I trudged from one zone to the other in a pair of loaner waders that best can be described as a castoff, cut-up poopie suit from the Navy. I must have looked strange, peering at trout fishers in the spring branch at Bennett Spring State Park, looking for my husband who was supposed to meet me after my fly-tying workshop.
After a while, I wondered if he meant he had traveled to another time zone, not trout zone, to fish. I remembered that this is the reason I have the family plan on my cell phone, and called him.
As it turns out, he was in another trout zone and I trudged across the park in those waders, carrying my camera bag, a jacket and my fishing rod. 
He had been having a marvelous time, catching and releasing rainbow trout. This was back in 2001, and a few things have changed since I first penned this article, but here's the rest of it, first.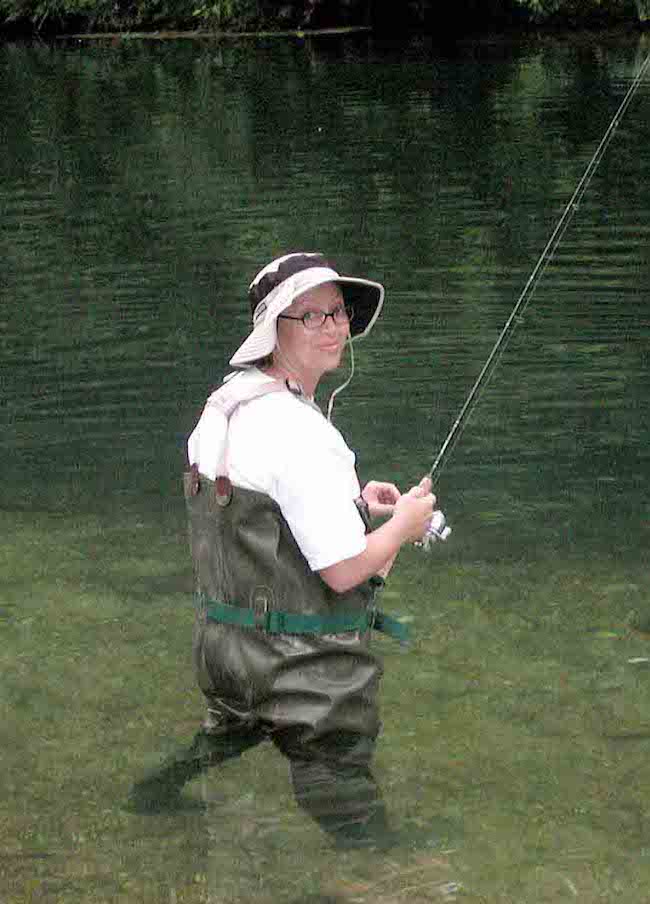 About that poopie suit
I tried not to think about all the sweat from other people commingled with my sweat in those waders.
Earlier that morning, before breakfast and the workshop, I reported to the stream before the opening siren sounded. While I stood and cast and cast and cast, a man waded in beside me, caught his limit of four fish and left. Before he left, he told me to wiggle my rod a little more.
Bobby Whitehead, editor of "Outdoor Guide Magazine," sat on the bank in a lawn chair and gave me instructions, too. "Now, I want you to throw it out to the other side and reel it back nice and slow, and wiggle it, too."
Although the trout swam all around me, I could not catch a single one, no matter how much or little I wiggled the rod. 
In fact, one of the guides caught one on his gear and gave the rod to me and I wiggled it too much and the fish got away.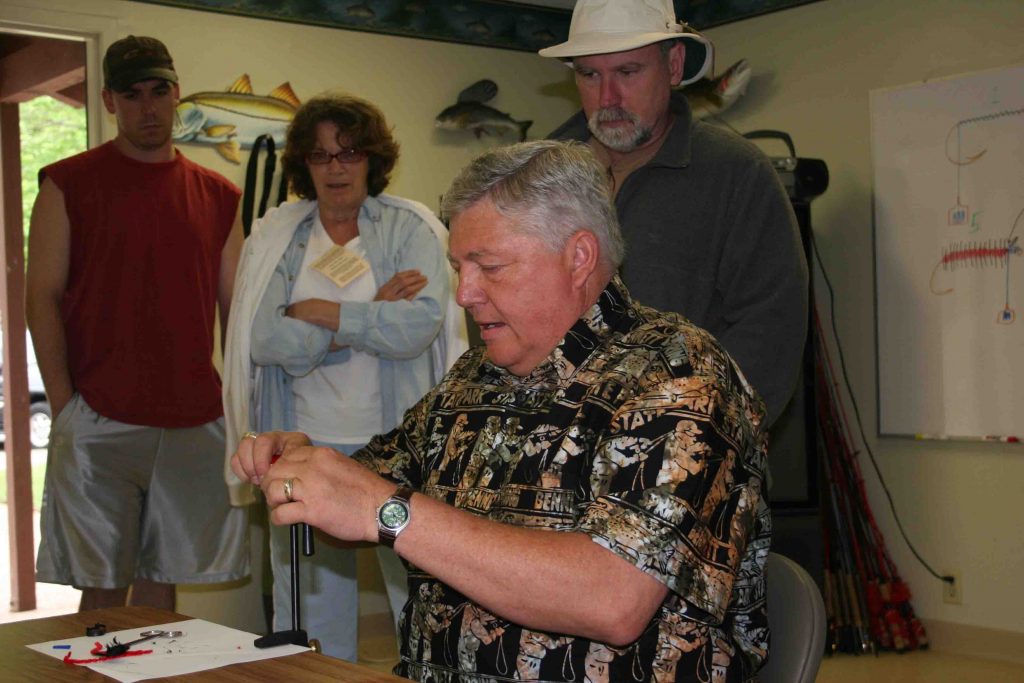 If I want to take fishing seriously, and it is time to do so, I should enroll in one of Jim Rogers' fly-fishing workshops. Not only does Jim, who is a master caster, teach about how to fish, he also teaches the philosophy of fishing for trout and about trout habitat. Jim also taught the fly-tying workshop.
For example, one little jewel he revealed to us during our fly-tying workshop was that trout might live their entire lives in a six-foot area of a stream, because it takes too much energy to move around in the current. 
Jim and his staff teach one-day and weekend workshops. He says it takes about 100 hours on your own to learn to fly fish and about 10-12 hours under the tutelage of a master caster.
You do not have to fish to enjoy Bennett Spring. One of Missouri's first state parks, Bennett Spring was opened for recreation in 1924. 
Because of the spring, with its output of more than 100 millions gallons of water per day, the site attracted gristmills. While farmers waited for their grain to be milled, they fished. Today, canoe outfitters in and around the park will set you up for a day's outing on the Niangua River – one of Missouri's finest rivers for floating.
Within the park, 12 miles of hiking trails lead to bluff tops, through forests, near streams or to the Bennett Spring Natural Tunnel, part of a collapsed cave.
The stonework on the buildings, constructed by the Civilian Conservation Corps in the 1930s, is alone worth a trip to see. The jewel of the Corps' construction is the dining lodge, which is still in use and where you may order the fresh catch of the day. While inside the lodge, be sure to look up to see the chandeliers that were created by a blacksmith in the shape of (what else?) trout.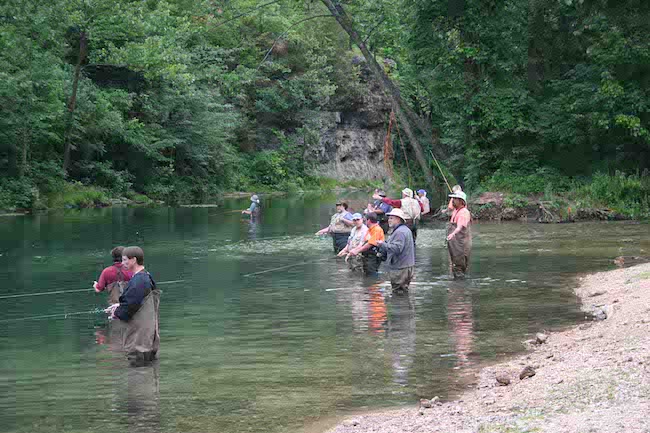 Visitors will enjoy feeding the fish at the nearby hatchery or visiting the Nature Interpretive Center.
Bennett Spring is located 10 miles west of Lebanon on MO Hwy. 64A. For more than a day-trip, a campground is available and the park offers motel rooms, duplex cabins, individual cabins, and newly remodeled four-plex units. 
  Visit Bennett Spring State Park website.