Here's a trip down Memory Lane to Lane Spring Recreation Area, located up near Rolla, Missouri, in the Ozarks. This is from June 2002, but some things will not have changed and it's still a lovely place to visit. ~BB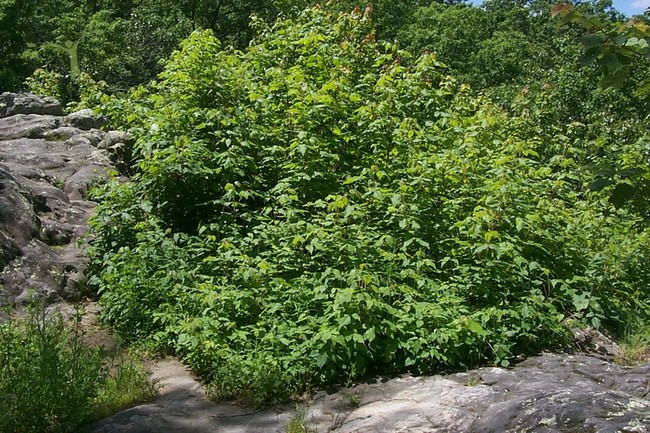 "You know, I think that's probably the largest batch of poison ivy I've ever seen," stated my husband. We stepped back to view the thatch, which had sprung up in the middle of the Blossom Rocks site at Lane Spring. It must have measured at least 25 feet by 25 feet.
Lane Spring
We had struck out on this sunny day to visit one of our favorite spots, Lane Spring Camp and Picnic Grounds. The site, managed by the Mark Twain National Forest, boasts access to the Little Piney River, a spring filled with water cress, picnic areas, camp sites, and two trails.
On this particular day, though, and because of Mother Nature's recent deluge of our area with rain, we also encountered an abundance of poison ivy and mosquitoes. But neither pest kept us from enjoying our hikes.
We like to have a picnic there. Food always tastes better outdoors, and it tastes especially good if you sit down by the huge spring pond.
The two hikes are not for the faint of heart, or lard of backside, though. The trails challenge the hiker with uphill slopes, rocky washed-out spots, and roots. 
Blossom Rock Trail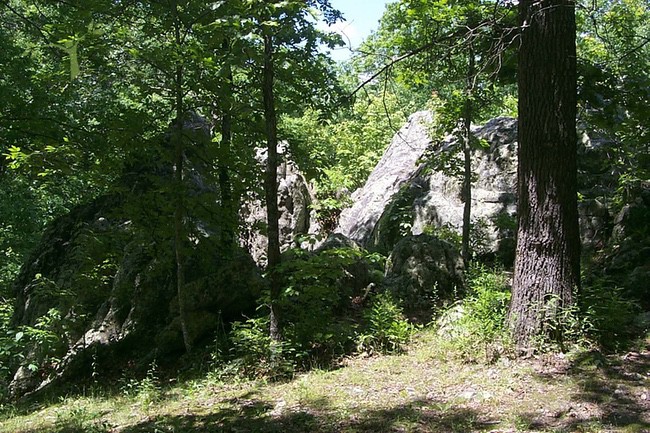 We started with the Blossom Rock Trail. Located near the campsites, the trail leads to its namesake—a mass of sandstone boulders. Tom Beveridge, in "Geologic Wonders and Curiosities of Missouri," writes, "The sandstone appears to blossom out of the underlying dolomite and to need only a few days of warm weather to expand from vertical prismatic buds into a huge flower."
The rock blossoms are easily climbed. Our son scampered right up them, hollering, "Mom, Dad, come up here!" We didn't scamper, but worked our way up, using the many footholds in the cracks of the rocks.
Surrounded on three sides by 30-foot rocks, we took the time to view their characteristics. We noticed the thousands of ridges, running like veins throughout the sandstone. Beveridge explained that these ridges are "caused by mineral-filled fracture lines that are slightly more resistant to weathering than the sandstone matrix."
After completing the Blossom Rock hike, which took us about 45 minutes, we headed over to the Cedar Ridge Trail. This is the trail that tries men's aerobic capacities.
Cedar Ridge Trail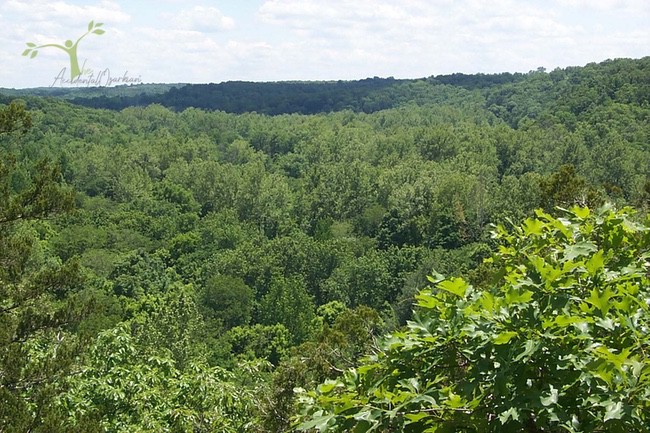 Upwards we climbed, and if you've ever seen movies about Vietnam and the jungles there, you might be able to see in your mind the state of the forest at this site.
Again, poison ivy leaves lashed out at my legs. "I'm going to pay for this," I thought.
When we reached the pinnacle of the trail, we got our reward—a view of the Little Piney Valley. "Look at the hawks," I said, "No, those aren't hawks, they're buzzards."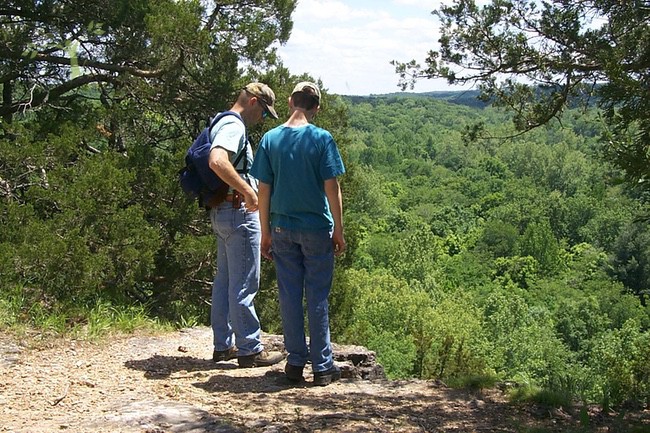 Buzzards rolled and glided, riding the thermals. They may be ugly birds of prey, but they look somewhat majestic as they circle, looking for carrion and small children.
The view from the top of Cedar Ridge makes all that huffing and puffing worth the effort. The rest of the hike is downhill and runs by the Little Piney. If you think you'd care to fish for trout or smallmouth bass, make sure you pack your fishing rods, too.
All in all, a trip out to Lane Spring—which is very different from Maramec Spring—is worth the trouble. It seems to be a well-kept secret, a gem in the rough. Not very many folks seem to ever be out there when we're there.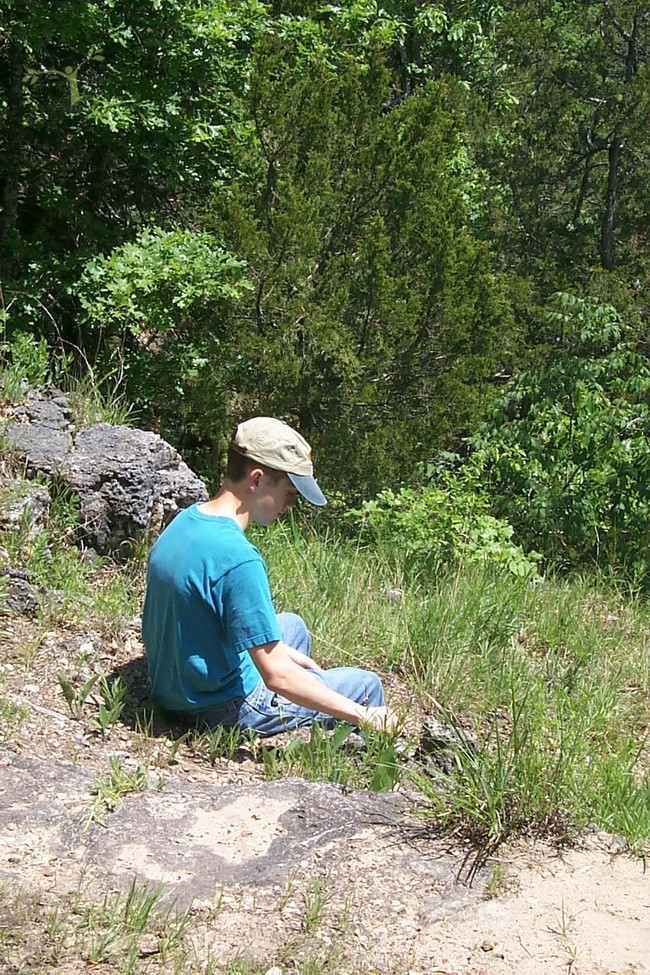 Where in the Ozarks is Lane Spring?
Lane Spring is located 12 miles south of Rolla on Highway 63. It is open during daylight hours, and camping is available. There is a $2 parking fee, payable upon entering the day use area, for all vehicles not registered in the campground or displaying a current seasonal parking pass. See the website for camping fees.
The park opens March 1 and closes October 31.