It's been on my bucket list to go to the Isle of Skye for at least 30 years. Last September, my husband and I spent 2 weeks in the UK, starting our trip in Glasgow, Scotland, renting a car and driving to the Isle of Skye. That's about 5 hours and 2 flat tires (aka, punctures) away. Fortunately, there's a bridge that you can drive across to get to this famous island — which once hid Bonnie Prince Charlie from those who wished him not to be the future king. It's said that there might be people on this island who have never seen a train, as there are no trains here. These same people, though, may have seen fairies, and most definitely have had an opportunity, such as I did, to collect Isle of Skye sea glass.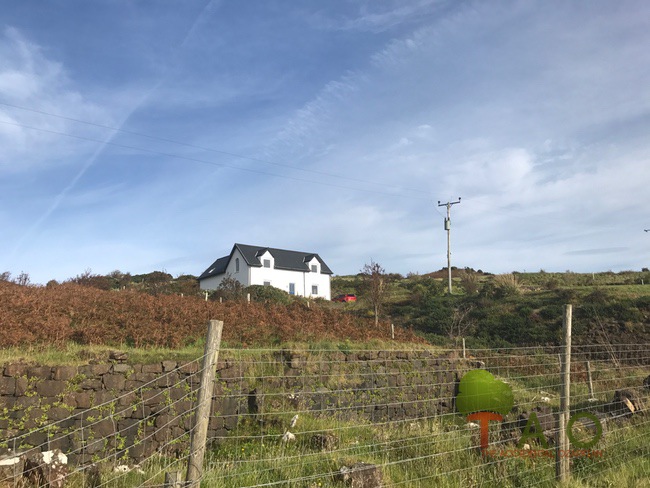 We stayed at a lovely cottage called Beacarrie Cottage, tended by a kind landlady named Rosie Morrison, who also happens to be a sea glass artist. The one-bedroom, warm and homey cottage sits overlooking Loch Bracadale to the Cuillin Ridge, Talisker cliffs and mountains near the village of Orbost.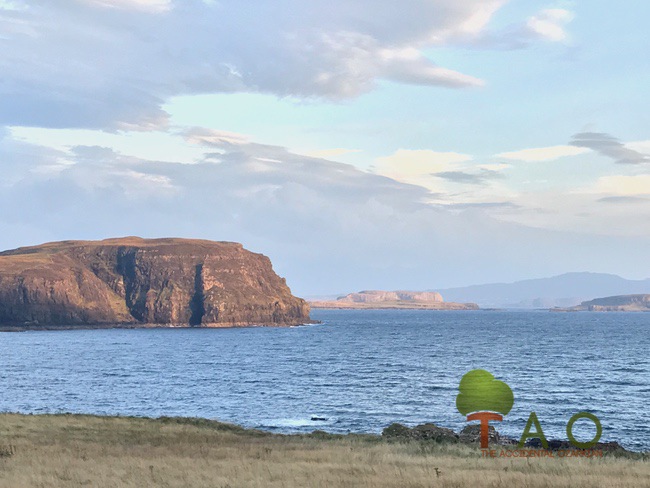 It's not hard to imagine shipwrecks out there among the jagged rocks and craggy beaches, and stories abound of Vikings, mermaids, fighting clansman and of course, fairies. I loved it.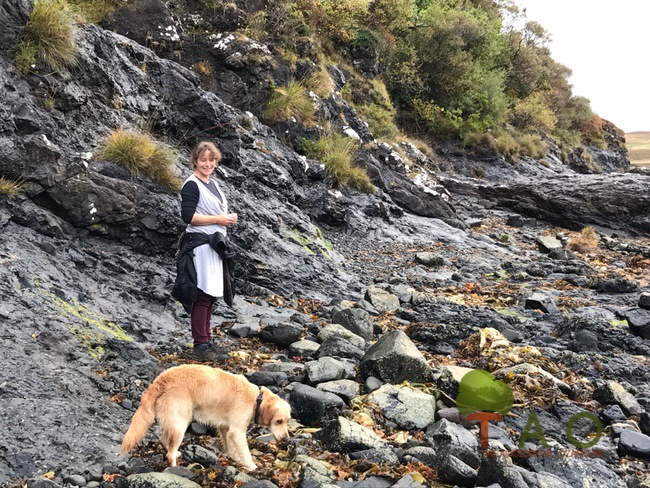 I also loved the opportunity to spend a morning hunting for sea glass with Rosie and her dog, Susie. Rosie owns Skye Seaglass, a cottage business where she designs beautiful pieces from sea glass and uses intricate weaves of metal to enhance each treasure.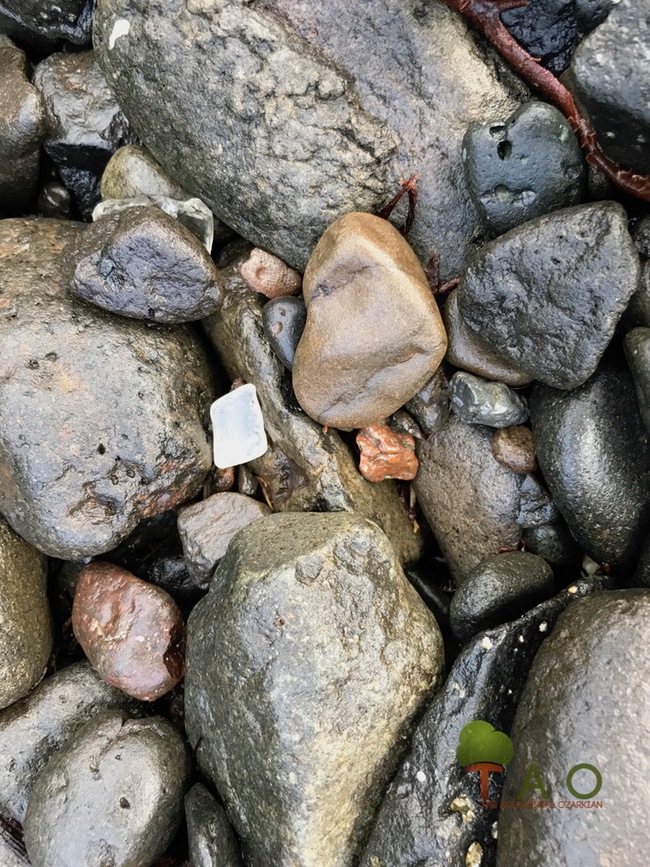 Rosie especially likes to find green and blue glass. Sea glass mostly comes from bottles, but also might be from old windows, pottery, plates, china, jars, you name it. Rosie said she finds a lot of brown and white glass in her cove. This trend bore true. And then, wowzahs, I spotted and picked up a chunk of lovely green glass. According to Wikipedia, "Uncommon colors of sea glass include a type of green, which comes primarily from early to mid-1900s Coca-Cola, Dr Pepper, and RC Cola bottles as well as beer bottles. Soft green colors could come from bottles that were used for ink, fruit, and baking soda. These colors are found once in every 50 to 100 pieces."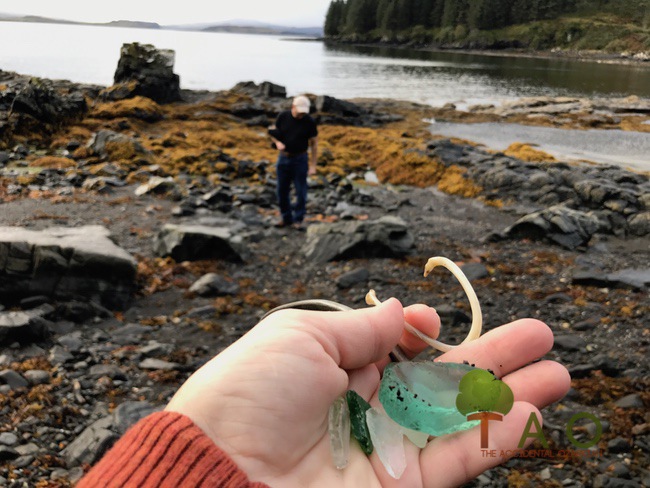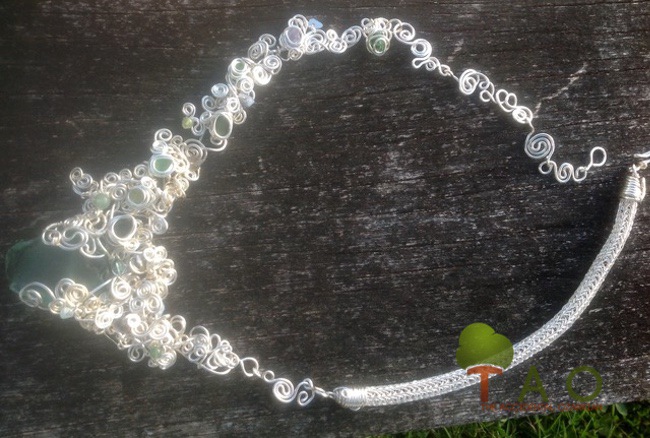 Rosie agreed to make a funky, chunky necklace for me from the pieces we found on the beach that day. But, hey, we found so many that she decided to make 2 necklaces! She wrote, "I have made 2 necklaces out of the sea glass you picked up (photos below).  Originally, I wanted to combine the 2 elements but it just worked out better as 2 pieces." I am over-the-moon delighted to have these 2 pieces to wear and share.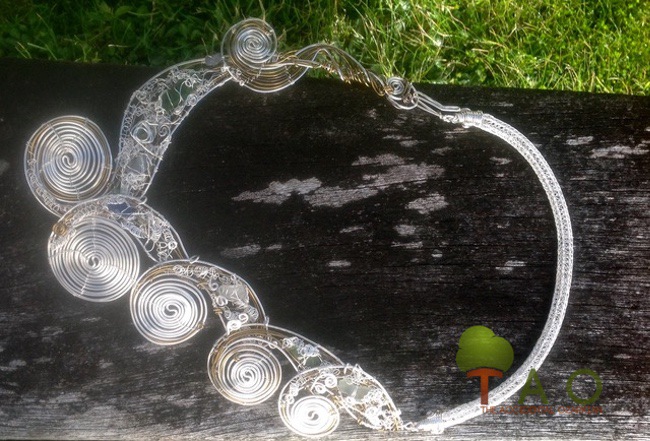 I heartily recommend a trip to the Isle of Skye, for so many reasons. When you're there, check out and stay at Beacarrie Cottage.