The old man stood steady on his feet in the Meramec River, effortlessly casting and then working the long line. A little tug here, a toss of the line back and overhead and then, another smooth cast. I have to admit, I was envious of his ability to flyfish and to have that space to himself, as I stood and watched from a distance. "Zis place … zis place," said the quiet man from Siberia standing next to me. "Eet iz beautiful. Eet iz lak a fairytale forest."  A fairytale forest. That's where we live and that's what we are so bountifully blessed with, many fairytale forests, in this part of the Ozarks.
The man from Russia sat at our dinner table the night before, and after the main course, he, my husband and I drank wine and talked. "Sergey," I told him, "isn't it interesting to think that 25 years ago, Jason (my husband) was trained to fly a B-52 to your country … And here, tonight, you sit with us at our dinner table, a new friend."  
Later we sat on the deck as night fell, and we listened to the cicadas, crickets, frogs and owls in the nearby woods. That's when Sergey first commented that we live in a fairytale forest, a description he would use over and over during his visit to the Ozarks. That's when we decided he had to see another beautiful fairytale forest.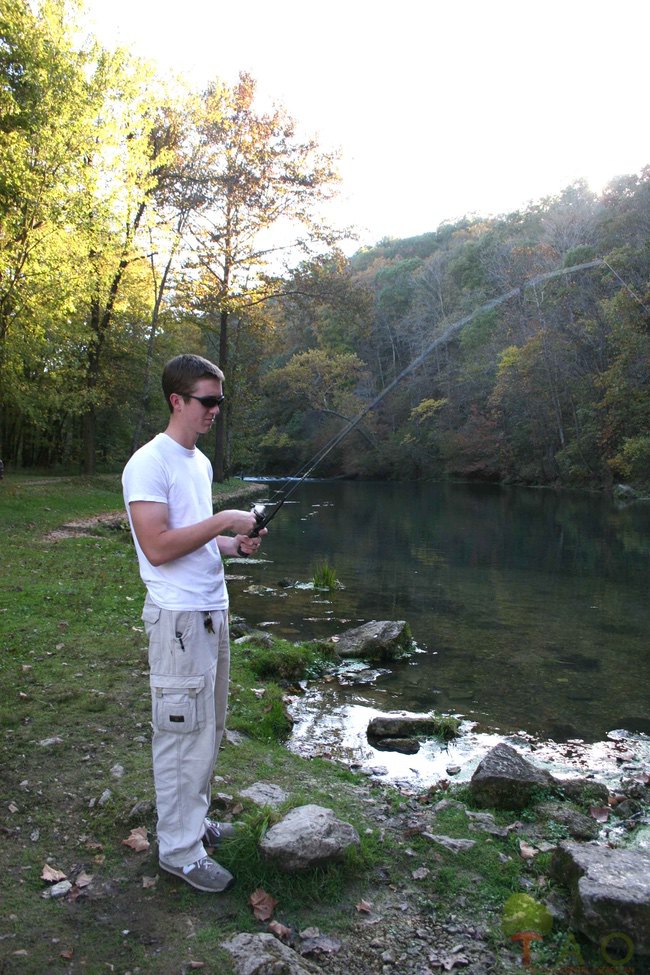 The next evening, we took Sergey to Maramec Spring Park near St. James to see the massive blue spring and walk among the old Ironworks. He marveled at the size of the tulip trees and oaks that form an umbrella over most of the park. 
If we had time, we could have taken him to other fairytale forest settings located within an hour from our home near Rolla. 
Fairytale Forests
At the top of the list would be Painted Rock State Forest, aka Painted Rock Conservation Area, located near Westphalia, which takes its name from early pictographs painted by Native Americans on bluffs overlooking the Osage River. Supposedly traders and river travelers used the pictograph of a buffalo on a particularly high bluff as a reference point. If you watch this cute YouTube video by Garrett Hise, you can see the cool setting.
The pictographs are not viewable along the trail, but were painted sometime between 1200-1300. An Indian burial cairn (probably Osage) lies beside the trail and dates from more than 500 years ago.
This state property is comprised of almost 1500 acres, and has a scenic trail of 1.6 miles that takes a hiker atop a 150-bluff that overlooks the Osage River.
To get to Painted Rock State Park, take US 63 North past Westphalia. Look for County Road 133 and turn left. Painted Rock is about 7 miles from the turn. Take the first turn on the right to the park (There are three roads that lead in) if you want to take a hike. Look for the self-guided tour books in the box near the sign.
Lane Spring
Next on my list would be Lane Spring, which is managed by the Mark Twain National Forest. Here you can fish, hike, picnic, or just enjoy the forest. Wildflowers abound and watercress fills the cold spring's pool. Of all the times I've visited, it's rarely been crowded, making it a nice get-a-way – especially up on the Cedar Bluff Trail. The view of the Little Piney valley from the top makes all that huffing and puffing to get there worth the effort. The rest of the hike is downhill and runs by the Little Piney.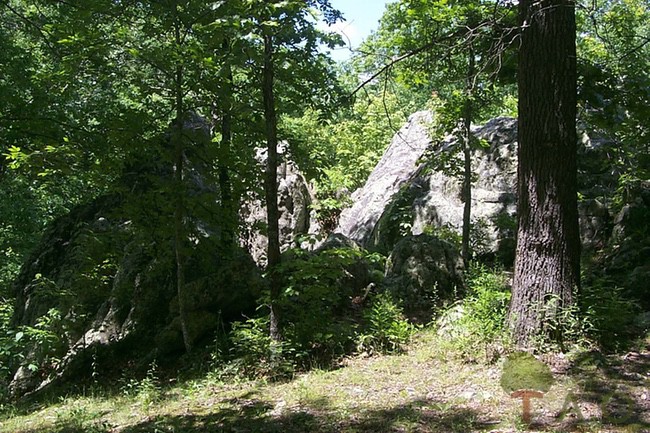 The Blossom Rock Trail is located near the campsites and leads to its namesake – a mass of sandstone boulders. Tom Beveridge, in "Geologic Wonders and Curiosities of Missouri," writes, "The sandstone appears to blossom out of the underlying dolomite and to need only a few days of warm weather to expand from vertical prismatic buds into a huge flower."
Lane Spring is located 12 miles south of Rolla on Highway 63. It is open during daylight hours, and camping is available. There is a nominal parking fee, payable upon entering the day use area, for all vehicles not registered in the campground or displaying a current seasonal parking pass. 
There are numerous other conservation areas and Mark Twain National Forest places available to us for our enjoyment. Since most of us seem caught up in the national rat-race that passes for our daily lives, it's comforting to know that the fairytale forests are out there – if not in our own backyards, then just a short distance from them.
Missouri is covered in fanciful forests. These are just 3 areas that will make you stand back and say, "Ah!"