Pay Down Mill stands forlorn, set off Highway 42 between Belle and Vienna, Missouri. The three-story grist mill, built on a foundation of limestone, is privately owned and slowly returning – from ashes to ashes – to the earth. However, it is worth a drive by, and also, it's essential that you look across the street at the old manor house.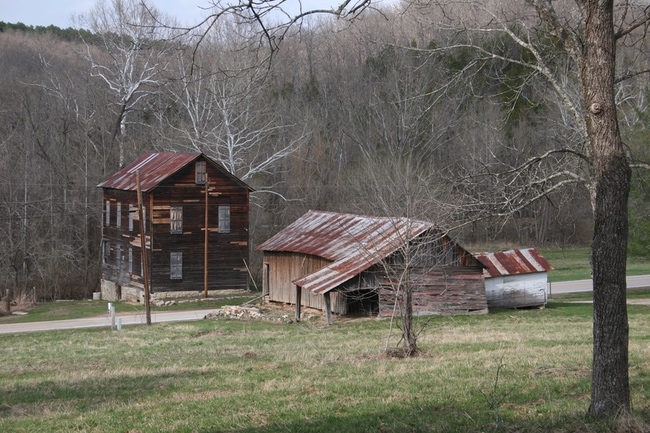 Back in the early part of this century, I used to run around Maries and Osage County collecting stories for my weekly newspaper column with a little old lady named Ethlyn Ammerman, whose ancestors once owned the mill.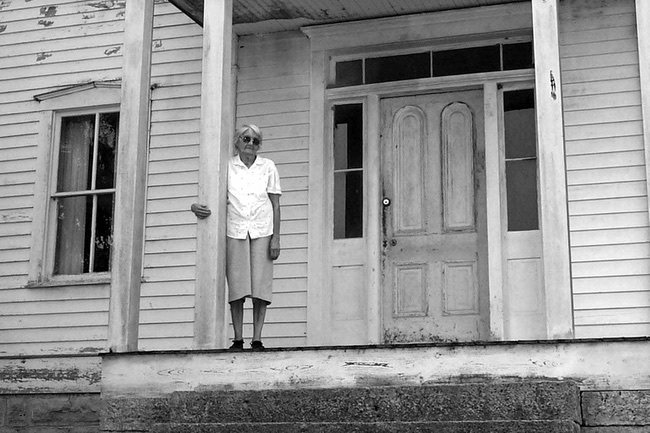 She told me, "The mills and most of the property at Pay Down belonged to my family for a little over 100 years. The story goes that my great-grandfather, William Bray, brought his two sons and a daughter from England in 1856. … My great-grandfather also brought machinery to operate a woolen mill with him. He set up his first woolen mill, and added a flour mill, at a location near Vienna, Mo. Then, he bought the Pay Down Mill in 1866. Shortly after acquiring Pay Down, the flour mill burned and he to rebuild it in 1868."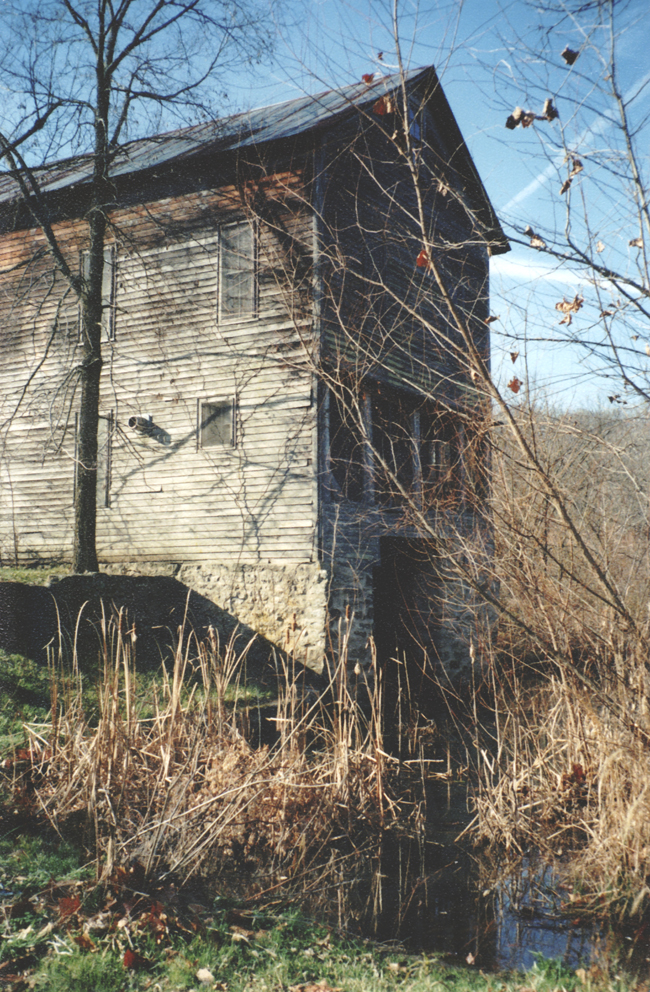 She continued, "When he bought the place, the slave quarters had been standing nearly 25 years. Since my great-grandfather was from England, he had never believed in slavery and would not have owned slaves. The slave house was built by Charles Lane, who was the first owner of the property, somewhere between 1826-1829. He had four slaves, and we know that three of them were Asa, Flora and Mingo. When my father owned Pay Down, he used the old quarters for a blacksmith shop."
Ethelyn told me that Pay Down was in its heyday before and during her great-grandfather's days there. It had a post office, which was located in a back room of the flour mill and a general store.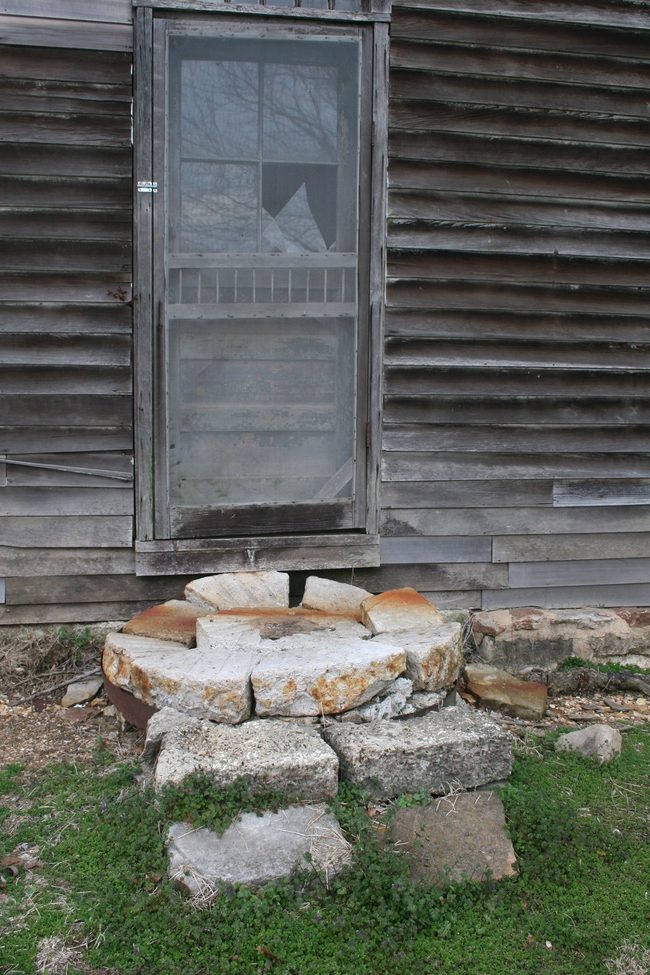 Ethelyn continued her story: "Pay Down Mill operated because of an abundance of water, which flowed from seven springs into the main spring called Pay Down Spring. (Today, it's called Mill Creek.) Men, probably some of them slaves, dug raceways which channeled the spring water down to the mills. People have often said that Pay Down got its name from one of my ancestors, on account of his being so stingy that he insisted on having payment for goods up front. I don't think that explanation is possible, since Pay Down was here and named before my ancestors bought it.
"Here is what I've heard and what seems logical. There was a fur trader at the old general store. Someone had caught an extra-large coon and sold its skin to the trader. Later that day, another trapper slipped in the back room and stole the coonskin out. Several times that day, the same coon hide was bought and stole, bought and stole. That evening, the trader was bragging about all his coonskins, a lot for hides for so little he had to pay down. The other trappers said they wanted to see all those skins, and when the trader went to the back room to get the skins, there was only one! So, the trappers owned up to their prank and gave the trader back his money. They all had a laugh over the practical joke, and since then, the place has been called Pay Down."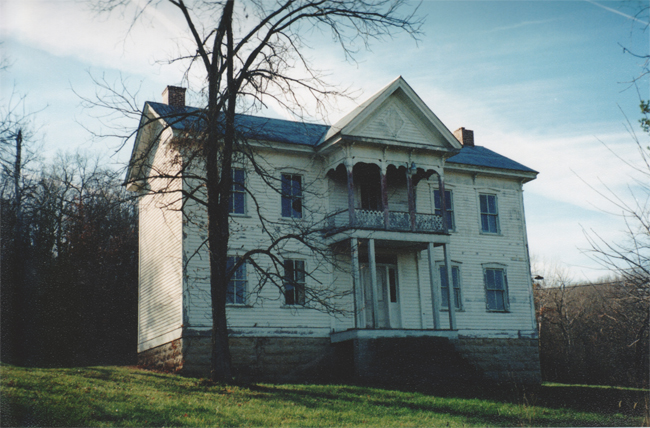 In 1887, Ethelyn's grandfather, Thomas Bray – who had inherited the mill and property, built a "grand house" across the road from the mill. He purchased architectural plans for a two-story Victorian house. You can still see it. Here's how Ethelyn described it: "The house is simple, yet elegant, with a double parlor, and a beautiful hand-carved banister that curves as it goes upward. Outside, the symmetry is reproduced with two forward facing balconies. My ancestors used red trim on the front porches, and to this day, you can still see the red trim. Whenever my dad or other occupants have tried to cover the red, it always worked its way through the white paint. Four generations of my family lived in that house until my mother's death in 1970." I had the good fortune to visit the house with Ethelyn before she died.
About the slaves at Pay Down, Ethelyn said, "Sometimes, I wish I'd asked more about my family. I could have talked to Alice Johnson, a former slave, who worked for my family and the Jones' family after she was set free. She had been a slave for the first few years of her childhood and rumor has it that her father was Mr. Johnson. She knew a lot about the Bray family."
Pay Down touts a rife history, one that includes providing supplies to the Union during the Civil War and being owned (before Ethelyn's family came along) by Daniel Boone Wherry, a descendent of Daniel Boone.
Pay Down is located 10 miles northeast of Vienna, Missouri, on Highway 42. Please be respectful of that fact that it is on private property. It can be viewed from the road. When I took these photos, I had permission from the owner to be on the property, along with Ms. Ammerman.