Whenever my sister from Florida comes to visit, we go junking. This year, we decided to junk as often as possible, and fortunately for us, we ran out of steam before we ran out of potential junk places. We headed out 4 days out of 5 and covered ground while junking in the Ozarks, from West Plains to Springfield. Here are some of the highlights.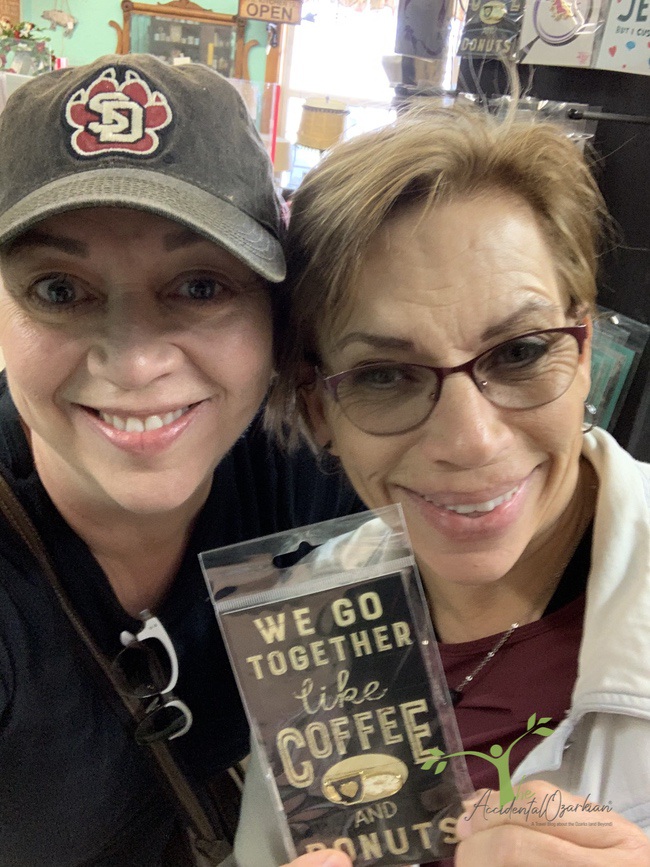 On the way to West Plains, we stopped at 2 Old Goats Antiques, a place I'd heard about. It appeared to house a varied collection of items, but not really anything we fancied. Mind you, we talk our way through each business – discussing these things:
What in the wide world of junking was that used for?
Why would someone do that?
Do you remember this one?
Didn't Aunt Fay have 1 of these?
You get the drift by now, I'm sure.
West Plains Junking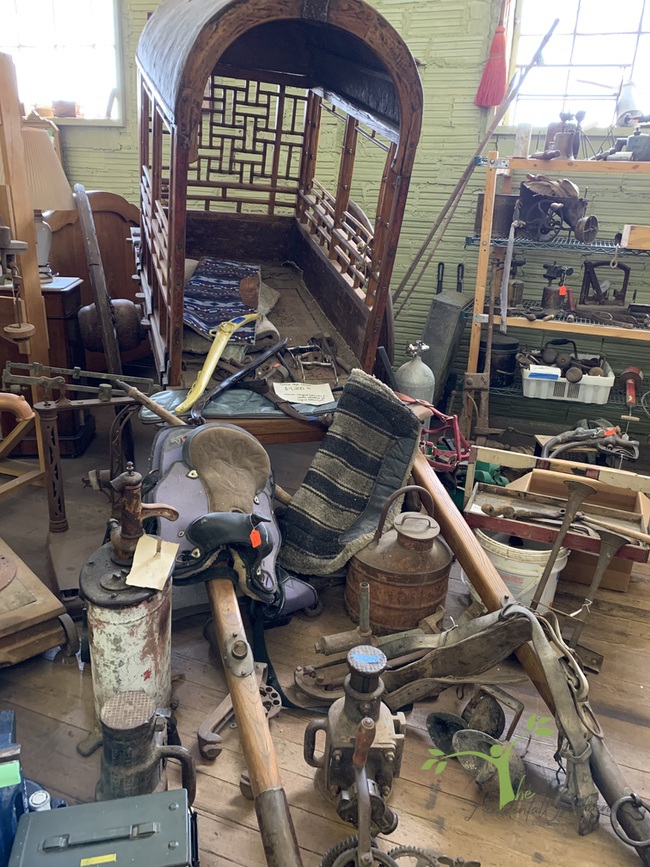 Unfortunately, the place I really wanted to visit for our mission of junking in the Ozarks– the Downtown Antiques Mall – is not open on Wednesdays, the day we arrived. I have 1 thing to say to businesses these days: change your hours on your Facebook, please.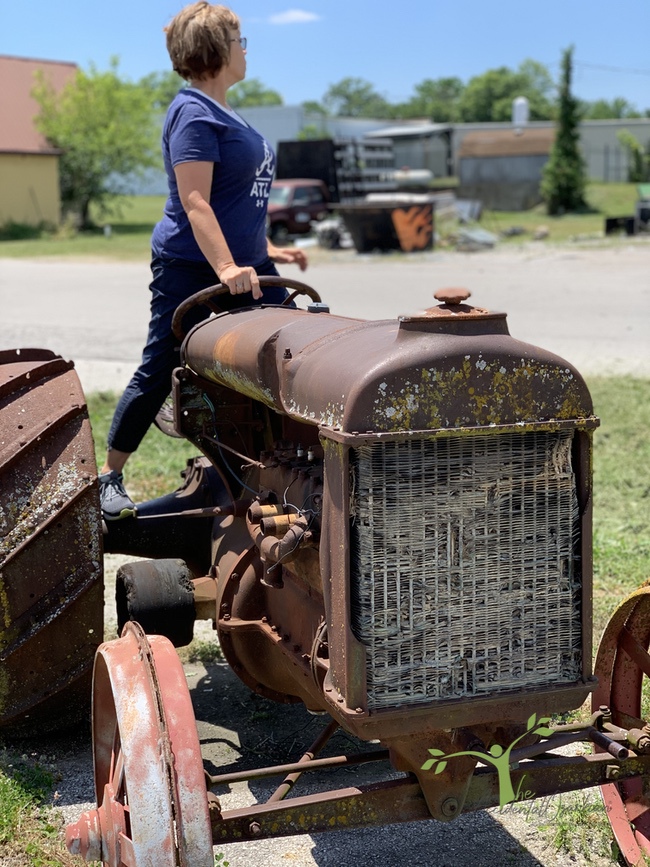 However, the well wasn't dry in West Plains. We headed over to the Old Time Flea Market, with 3 floors of eclectic stuff. We rather wondered about the mattress with messy bedding on the upstairs floor, but being polite, didn't ask. I especially liked seeing the old oxcart ($4200), a true collector's item.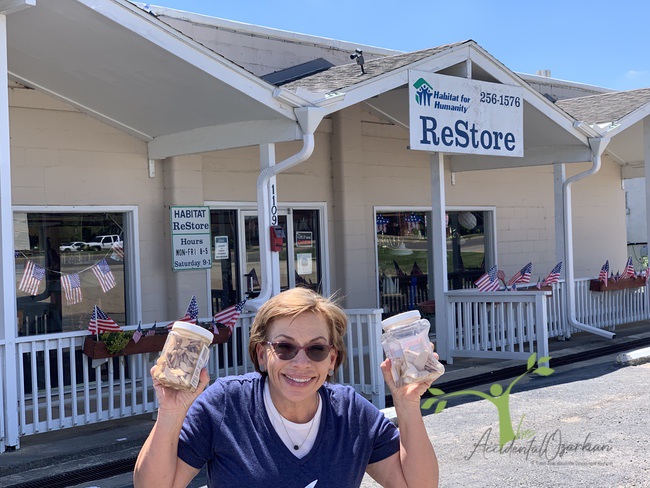 Habitat for Humanity ReStore
We discovered a Habitat for Humanity ReStore in West Plains, and that's where it started to get really interesting. It offered a complete set of Spode china for $2,000 in a glass case, while in another room, you could purchase construction items – such as nuts and bolts. It seemed well organized and the guys who worked there provided comic relief, especially when she found the "world's largest fanny pack."
After spending a bit of time at Habitat, where Sis bought some plate joining biscuits, we headed over to the Outpost Flea Market, where she again scored with several items (some for her grandchildren). She purchased a mermaid bag, cross stitch set, Mt. Rainier coasters and a jar of buttons. We're not big spenders. She also danced the hokey pokey with a stuffed monkey, but that's another story.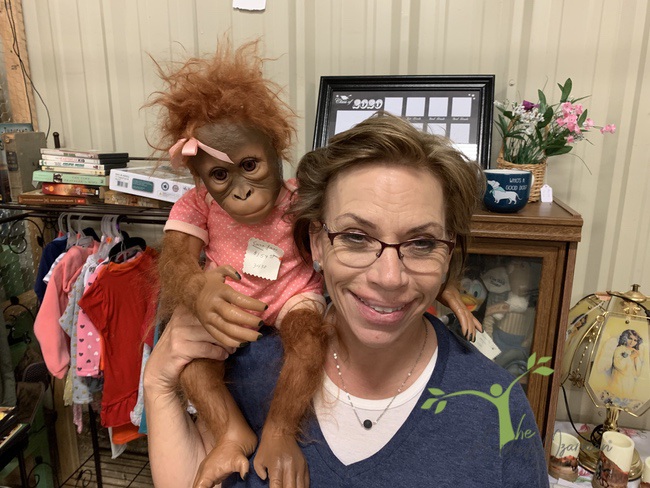 On the way home, we made a quick run-through of 2 more places: Finders Keepers Flea Market and JJ's & Blessed Girls (a combination appliance and flea market business). Let's just say we stayed about 3 minutes at the first place, because my sister couldn't breathe. We're not sure what permeated the air in there on this particular day and we're hoping it's not permanently like that – but it's a chance you take with age-old items, dust and mold. JJ's & Blessed Girls offered the 1 thing that I had been searching for – an old-fashioned wooden recipe box for my granddaughter who has recently started baking.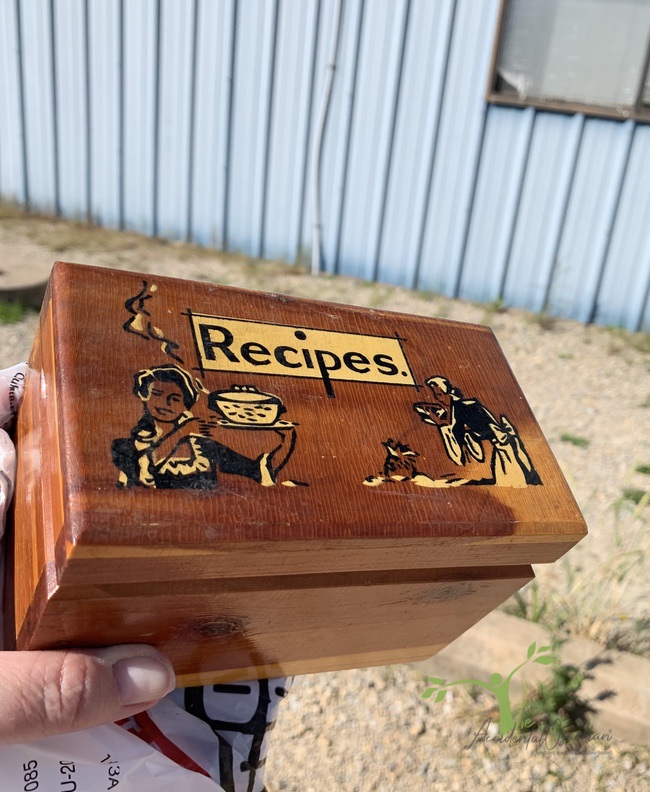 Junking in Mountain Grove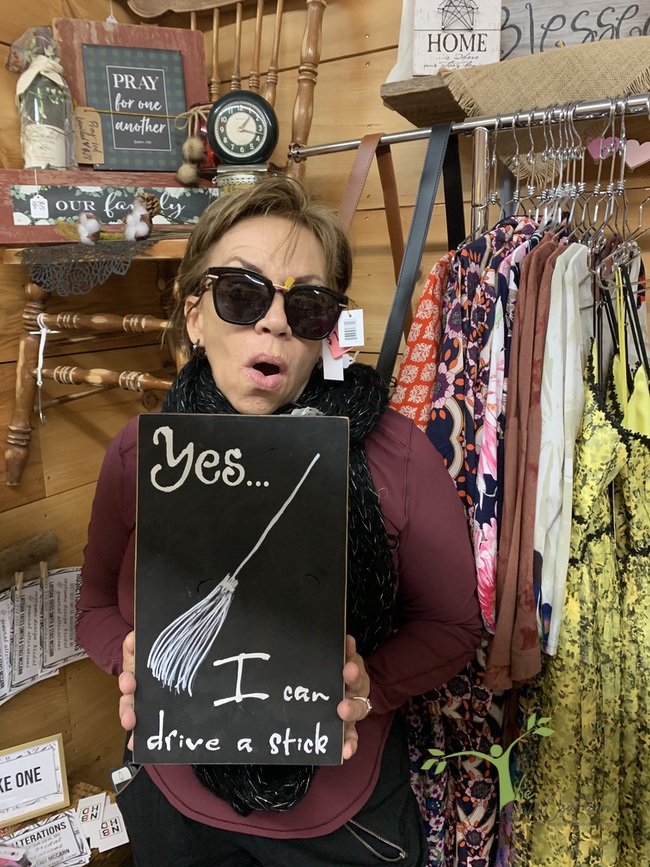 On another day, we found ourselves junking in Mountain Grove, Missouri. We went to our fav place – E. Marie's Antique Mall and Boutique. Hands down, E. Marie's plays the best music, and if we truly have been captured on video, there will be a piece that features my sister singing into the world's largest martini glass (make believe mic) singing to "More Today than Yesterday." You can still see it on my Facebook page. She then went into a rendition of "Barbara Ann," by the Beach Boys, and used a pair of shoe stretchers as the mic. She's one of a kind. E.
Marie's is in my back yard and I've watched it evolve throughout the years from a little junk and plant place to a mecca for antiques, crafts and also, for hosting 2 JunkFests a year that are worth the trip. My sister discovered 1 of the weirdest things we have ever seen: a peanut fashioned into a little fisherman with a knitted cap, sitting on a seashell ($2.50). I may have to go back and get that item as a gag gift.
Thrift Shops
We also really like the Mountain Grove Love Center Thrift Store, which serves the needs of this community with a food pantry, and displays its offerings in attractive ways. It also doesn't smell that bad. This is where we found a great Western shirt with pockets that we later cut off, and made into flax bags that hold dried flax from Swank Lavender farm (which is something else we do together every year when she visit – pick lavender).
The Wright County Crisis Center is another place that offers an eclectic thrift store, and we made a quick stop there for a run-through.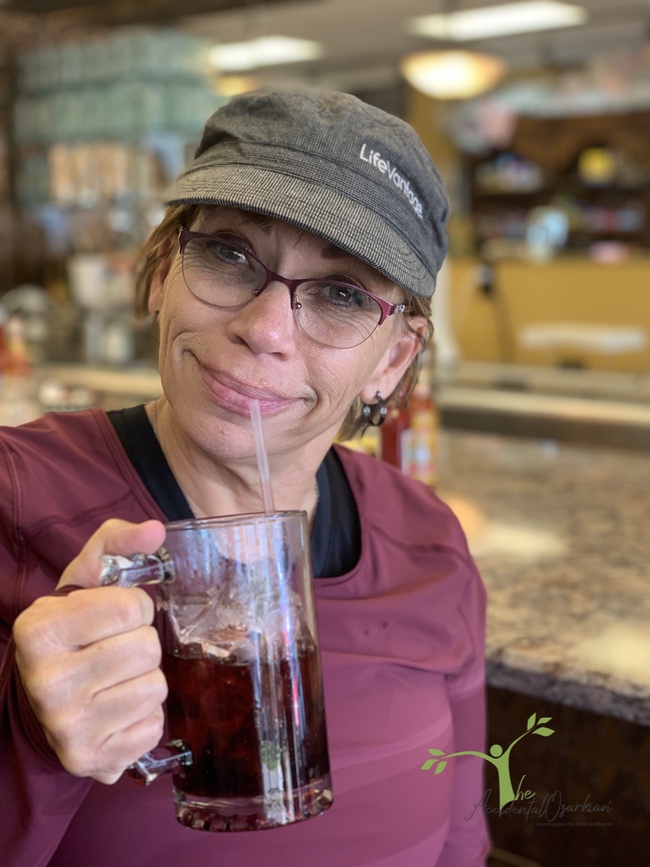 If you're on the Square in Mountain Grove, because you're downtown junking, be sure to visit the Mountain Grove Pharmacy, with its old-fashioned soda fountain, the Holifield's Fountain. We like to get old-fashioned cokes with cherry syrup, and believe me, they don't skimp on the cherries here and refills are free.
A Seymour Place
I always take guests junking in the Ozarks to E. Marie's and then, over to ComeOnIn Antiques, located in Seymour, Missouri, where Paula Dusey and her parents put on quite a show. The displays alone are worth the time to head in for a visit. My sis picked up some funky old postcards to send to her kids – from different places in the world. You've probably seen some past recollections of visits to this store, one of the few Mom & Pop junk shops left.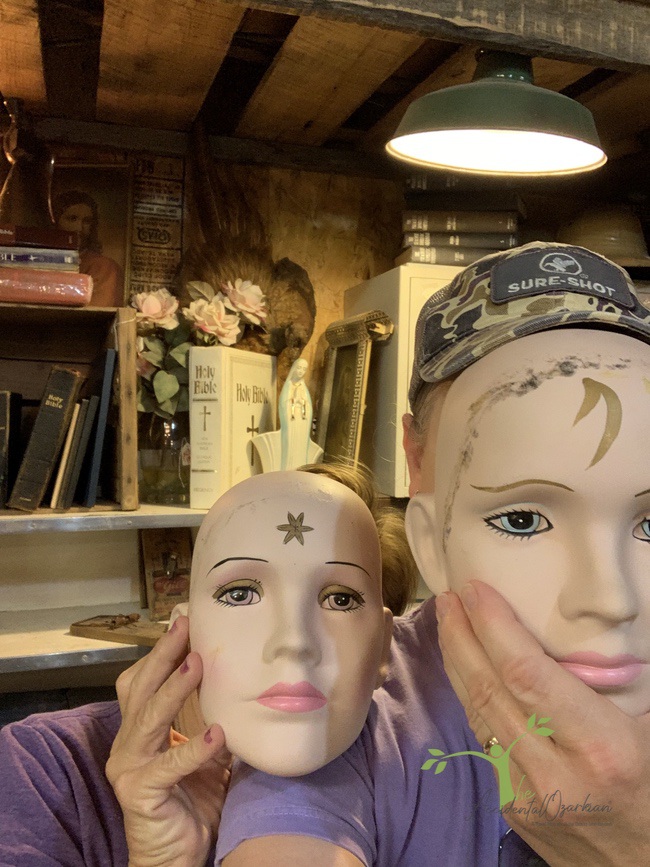 Springfield Junk Shops
So, here's where we have to be careful, because Springfield is the mecca of junking in the Ozarks, of course. I had been to several of the antiques malls and flea markets already with Capt. Jacks, but the one I wanted to return to with my sis was The Vintage Peddler. It's 1 of the only stores where I can find ironstone, my newfound passion; it did not disappoint. The layout, combined with customer service and music, adds to the overall appeal.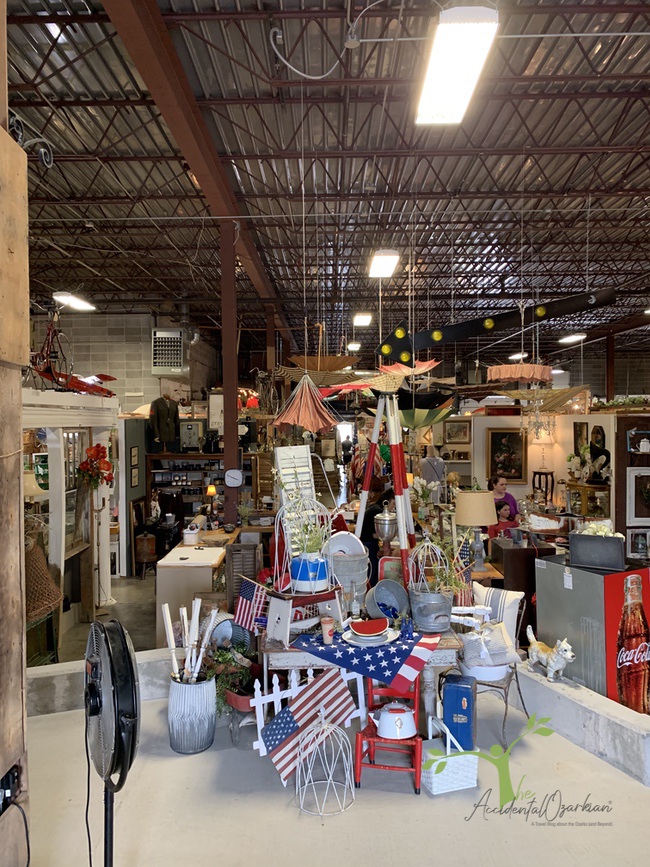 Then, we went to another big old flea market, located in a setting full of junk shops, in Ozark. It's called Camp Flea. Then, we waltzed through Ozark Antiques and Valley 65 and headed over to Springfield to Mike's Unique Collectible & Antique Flea Market. By now, as you can imagine, we had put thousands of square feet under our feet. Things were starting to look the same.
The Vintage Peddler
For the last stop, we wound up at the aforementioned The Vintage Peddler, which is quickly becoming my favorite junking place in Springfield. I think it's a combination of light, space, music and people that makes this place so friendly.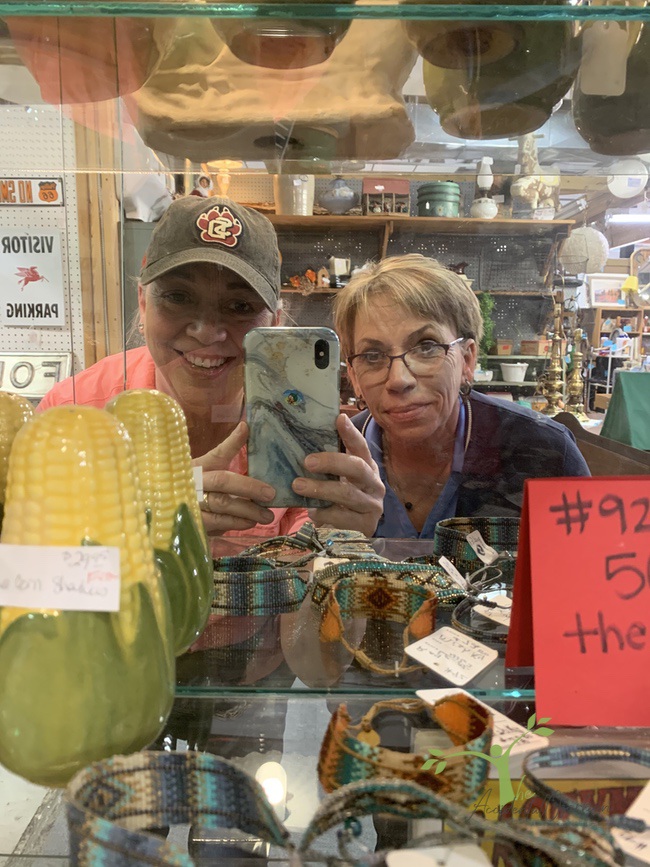 I didn't name some of the other places, because that's all I would have done – name them. If junking in the Ozarks, it's definitely "nothing ventured, nothing gained." That doesn't mean I won't go back to those places, because "nothing ventured, nothing gained."