If you like to hike and prefer the terrain somewhat wild, you'll like this place. Greer Spring had been on my bucket list for a long time, and I finally got the opportunity to visit it recently. The great thing about going out before the trees have greened is that you can see for miles. Over in Oregon County, and up on a ridge, you can see for miles and miles.
Sitting in Mark Twain National Forest, south of Winona and off Highway 19, Missouri's second largest spring can be found by taking a well-designed trail that traverses its way through the woods down to the spring branch. Greer Spring is the largest spring in the US National Forest system.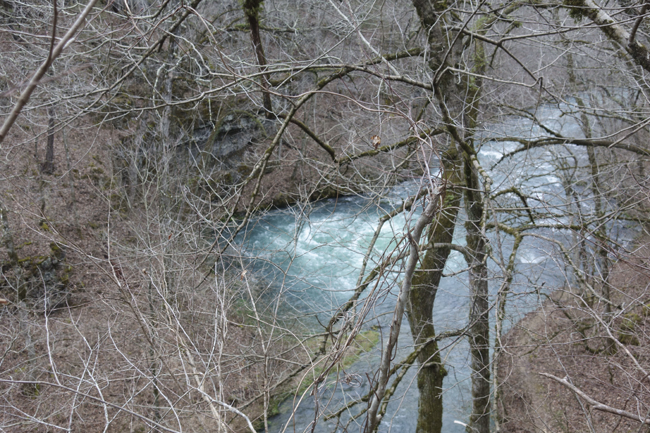 One thing I noticed immediately, is that local flora and fauna looks different here than over in my neck of the woods. Lush ferns, mosses and liverworts fill the understory beneath a mix of hardwoods and pine trees. It smells divine. In the spring, you can find common hydrangea, Bishop's cap, wild columbine and Ebony spleenwort growing, as well.
Greer Spring
The trail measures .9 mile down to the spring branch. You'll hear the spring before you see it. Gushing an average of more than 200 million gallons of water per day, the spring emerges from 2 points – a cave and a huge spring boil.
The spring branch measures 1.25 miles, down a gradient of 62 feet, into the Eleven Point River. This spring is responsible for half of the water in that mighty river. The water swirls and rushes, offering lovely blue and green colors. If you look closely, you'll find pockets of watercress. Rocks line the banks on one side and bluffs line it on the other.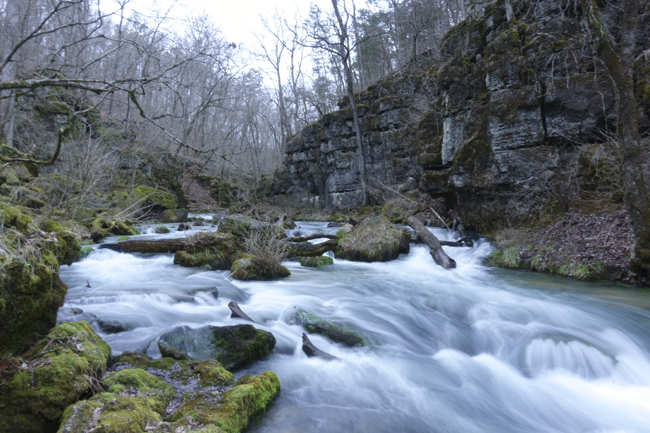 The spring branch powered the Greer Mill, which is about half a mile away. The spring branch, with its roaring water, claimed the life of the mill owner's 23-year-old son, Lewis Greer, in 1884, after a timber fell on him and forced him into the swell of the spring branch, where he drowned.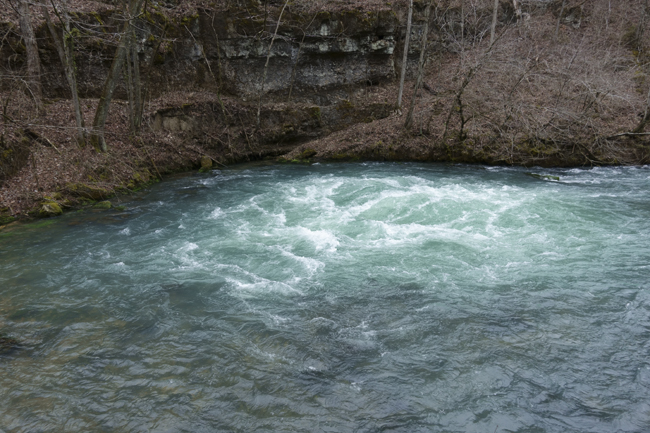 There is a viewing area above the spring branch, which I would recommend for families with small children. I would not recommend taking children and/or poor swimmers down to the branch. The rocks and paths are slippery. Also, wear sturdy soled hiking boots.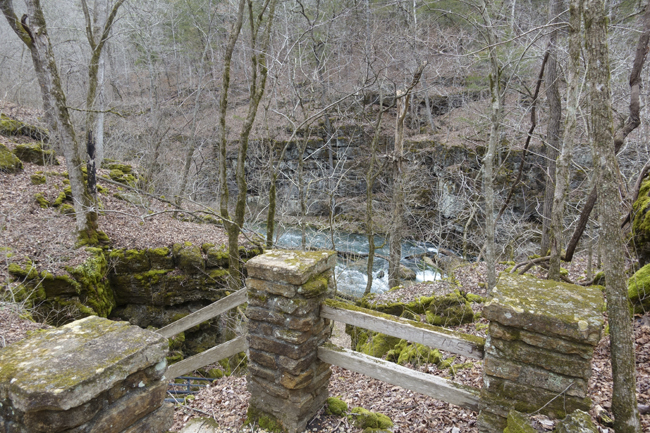 This is a day-use-only area. There are toilets in the parking area.
Learn more about Greer Spring.