Go back in time with me, to 2001, when I met a woman who could easily compete with Martha Stewart for productivity and creativity. Meet the "Martha Stewart of the Ozarks," Alice Dudenhoeffer.
Over near Frankenstein, Missouri, lives a woman who might be worthy of being called the "Martha Stewart of the Ozarks." Alice Dudenhoeffer is a whirlwind of energy, creativity and personality. After a recent visit to her hilltop farm, I had to sit for a while and think of everything I had just learned as a guest in her home, in her log cabin, in her goat barn and in her workshop. My pal from Westphalia, Melody Buersmeyer, who is always on the look-out for a good story, told me about Alice and Joe Dudenhoeffer and about Alice's incredible energy level. She then arranged a trip to their farm.
The day broke bright and it felt as though spring was just around the corner when we pulled up to Dudenhoeffers' house in the middle of the morning. Before my pal could turn off the ignition, Alice came bounding out of the house with hugs for both of us. Then the whirlwind tour began as Alice started to tell us about the lifestyle she enjoys in her own part of the Ozarks.
The Tour by the 'Martha Stewart of the Ozarks'
First of all, Alice showed us rows and rows of intricate wood-carved animals in the living and dining rooms. According to Alice, Joe whittles and carves wood while on his lunch hours from Three Rivers Electric Cooperative and while waiting to pick up kids after school and at sporting events. (Alice isn't the only talented crafter in this family.)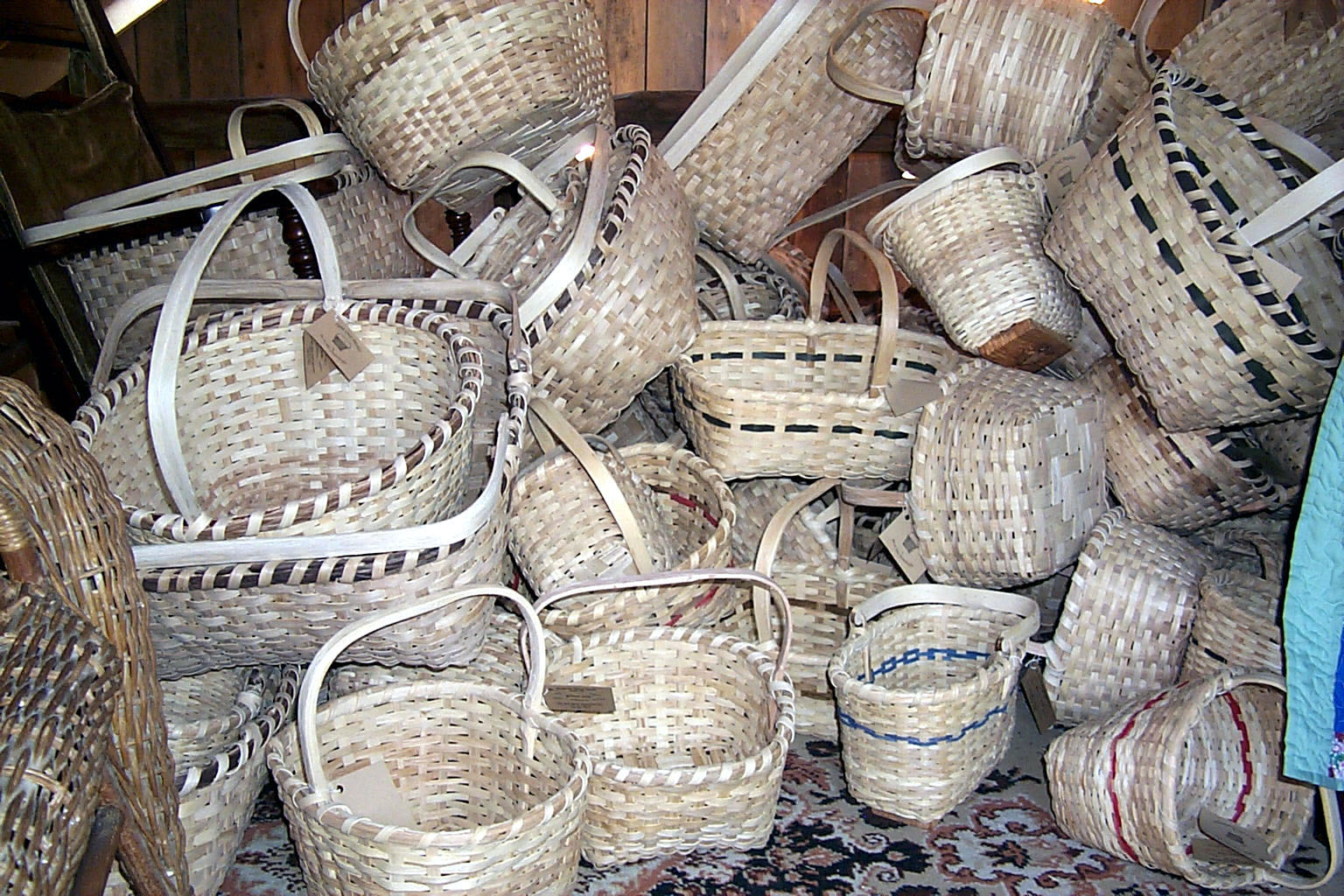 Then we headed out to the workshop, past a clothesline loaded with flapping jeans, and into the building that serves as a workshop for the Dudenhoeffers' basket-making business. Joe started making rattan baskets about 20 years ago and then became interested in oak baskets. Alice started weaving baskets when her children were babies, (they're now teens) and found that she enjoyed it. About 15 years ago, the Dudenhoeffers met up with the Currys from the Salem area at Shannondale—a place where artisans from all across Missouri meet every summer for old-time arts and crafts workshops. For the next 3 years, Joe worked on perfecting the skill of making functional, wooden baskets.
The Lovely Wooden Baskets
Today the Dudenhoeffers construct unique and beautiful baskets of various types of wood—including white oak, ash, cedar, hickory and walnut. Inside the first big room of the shop, stand supplies and homemade shaving vises of various sizes. In the other room, several finished baskets line the shelves and hang on rods.
After touring the workshop, we walked through the gardens, where Alice and her daughter have created pathways of stained glass pressed into concrete, to the renovated log cabin that was once a two-pen barn. The cabin serves as a guesthouse and classroom. The Dudenhoeffers teach basket making workshops in their log cabin to 4-H students and others (in the fall). Then, they teach basket making workshops at Shannondale every summer. They also teach basket making to fourth grade students at three elementary schools in their area. Alice said they would teach about 100 students to make baskets this year. She said, "The fourth grade is the perfect age to do this. They're old enough so they handle the material, but not too old so it's boring."
And, Kissing the Goats!
After looking at more baskets in the loft, we came back down and exited through the back door of the cabin toward the goat barn. Alice immediately swooped up a goat and said, "This one is Bonnie and that one over there is Clyde." She then planted a big kiss on Bonnie's little nose and said, "You gotta kiss the goats." The barn housed at least 100 Angora goats and one Nubian goat (for milking purposes). The Dudenhoeffers shear the goats twice a year and sell the wool to a place in Texas. Sometimes Alice and her daughter spin and weave the wool to make personal items.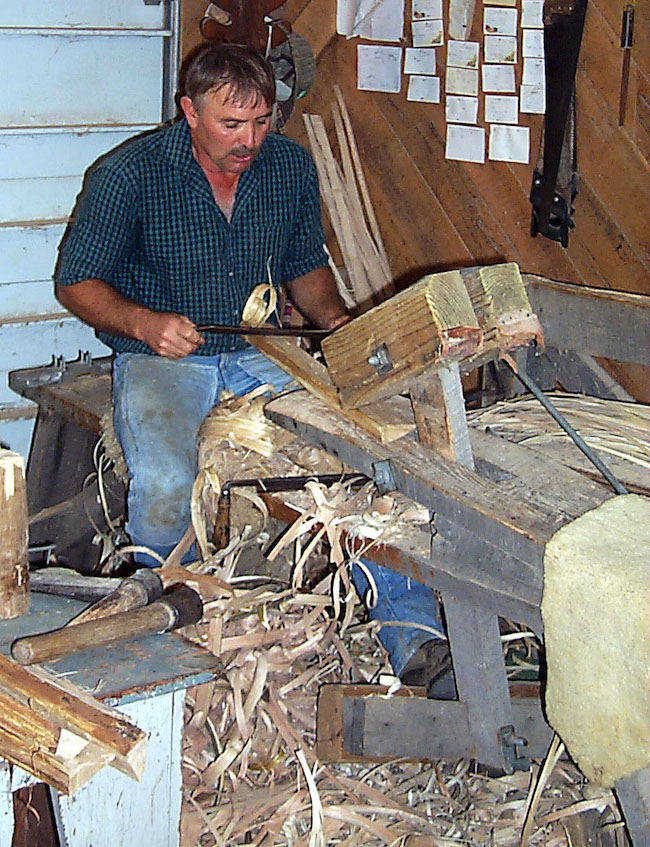 While we stood in the warmth of the goat barn, listening to the little kids bleating and vying for Alice's attention (They seem to like her, a lot, and who wouldn't?), Alice explained the various holding pens—for mothers-to-be, for new mothers and kids—and for the rest. A baby monitor mounted on a post alerts the Dudenhoeffers to a birthing.
Coffee Break
After admiring the goats, Alice then insisted that we come in and have a cup of coffee. After washing our hands, we settled down at the bar in the kitchen and Alice whipped out two portions of ice cream chocolate dessert concoction from the refrigerator for my friend and me. She said she was abstaining from dessert for Lent this year. We certainly were not doing that, and enjoyed every bite of chocolate, caramel, ice cream and, I think, cookies, in that delectable dish. Meanwhile, Alice started showing us more crafty concoctions—painted gourds, woven items, little tiny pine baskets, and other unique crafts that she and her family had made recently.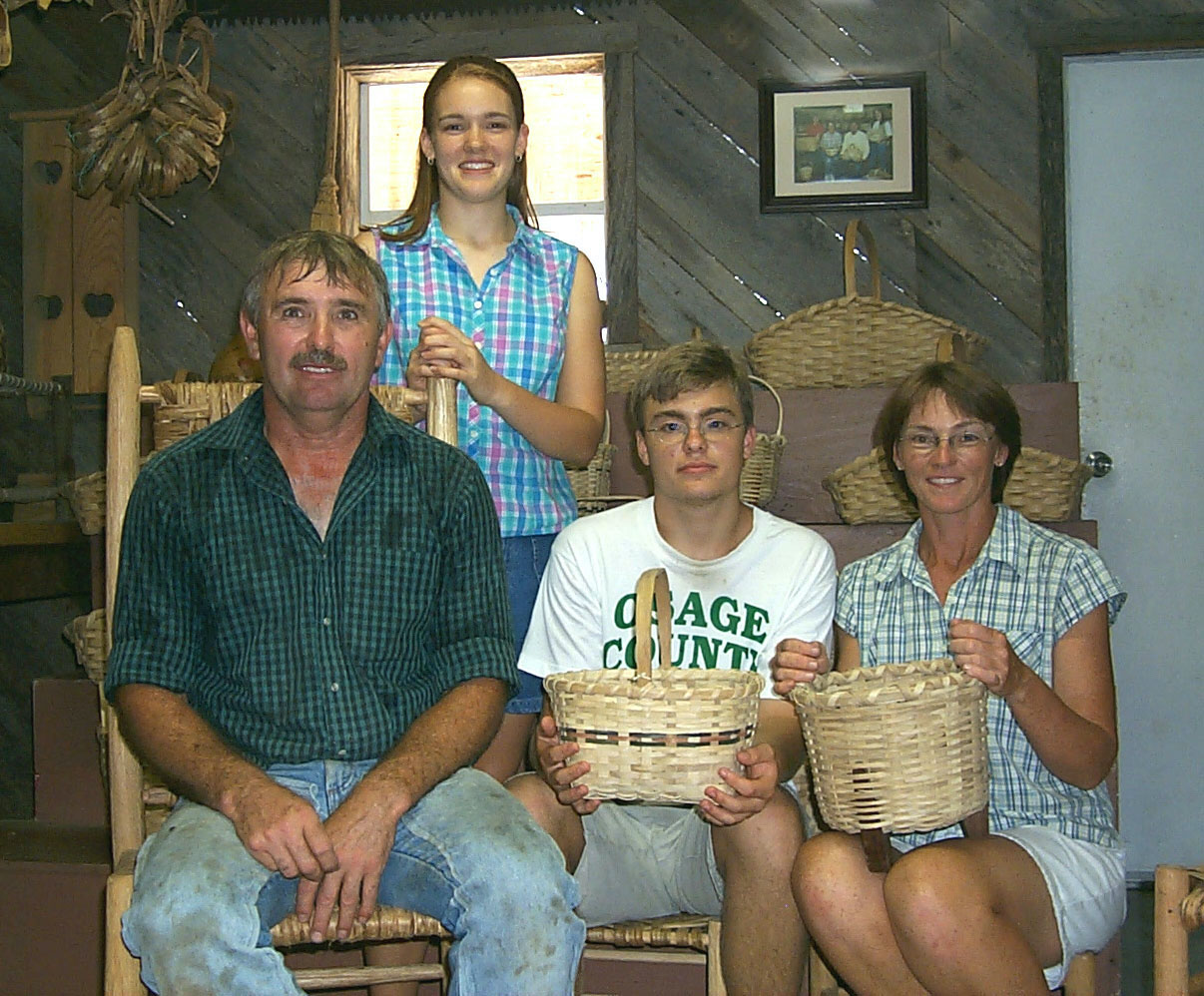 After more hugs, we drove away marveling about how one woman manages to find so much joy in her busy life. It was downright refreshing to meet Alice Dudenhoeffer, the Martha Stewart of the Ozarks.
Obviously, as late as 2018, the Dudenhoeffers were still making their baskets, as evidenced by this article by my pal, Barbara Ostmann.