This is my recollection of when I went to Merry Olde England in 2016 to attend a Shotgun & Chelsea Bun Club's shooting event. Since then, I have been back for another event, and for driven shooting at Ripley Castle. ~ BB
I knew it would be good. But … just how good?
It turns out that it was so good that even now when I think of the event and the people there, it makes the corners of my mouth turn up – ever so slightly. Sometimes my eyes even water and my heart feels like it's being tugged at a little.
What set this in motion for me began two years ago, happened when I discovered information online about The Shotgun & Chelsea Bun Club (S&CBC) and I had to become a member – almost immediately. I loved what was happening in the UK as a result of this feminine movement, set in a country where regulations often impede and/or discourage gun ownership by everyday people (i.e., not aristocracy). Having lived among the Brits in Lincolnshire for 3 years in the 1990s, I found this way of life to be true. Guns are not for women who work in shops, teach school, live in cities, and a host of other reasons. 
In the winter of 2016, I accepted an invitation from Victoria Knowles-Lacks, founder of the United Kingdom's #1 ladies shooting club, to attend its second annual National Ladies Shooting Day (NLSD). The event would be held in 24 locations throughout Great Britain on June 11, 2016, and I wanted to be where Victoria was onsite. She chose to attend the NLSD2016 at Bisley Shooting Ground, the National Shooting Centre. In all, 67 women appeared and spent a morning shooting sporting clays under tutelage of some of the nation's finest instructors and in the midst of like-minded and often newfound friends.
The Landing 
My photographer, aka The Bomb, and I decided to make a vacation out of the occasion – landing in Edinburgh 9 days earlier on June 2 and making our way south, stopping in Beatrix Potter Land (Lake District), walking Hadrian's Wall (Lancashire) and exploring James Herriot country (Yorkshire). Two of our children joined us, and it became a family affair, also dubbed "The Great Britain Tea Towel Tour."
And yes, we drove a right-hand driver's vehicle on the left side of the road and truth be told, clipped a few curbs along the way. We ate a lot of fish and chips, drank some ale and cider, enjoyed the various versions of Cadbury's available in ice cream and pure chocolate form and spent time talking to people we met – who are some of the nicest and friendliest people on earth.
We did not stop to look for my heelmarks from our old residence at Cranwell (Royal Air Force establishment) to Heathrow Airport, but I think they might still be there.
The Shotgun & Chelsea Bun Club Event
One thing I've always liked about the Brits is that they start their functions/events at normal and enjoyable times – none of this oh-dark-thirty stuff. At the LNSD, participants showed up mid-morning, and milled around as they got to know each other.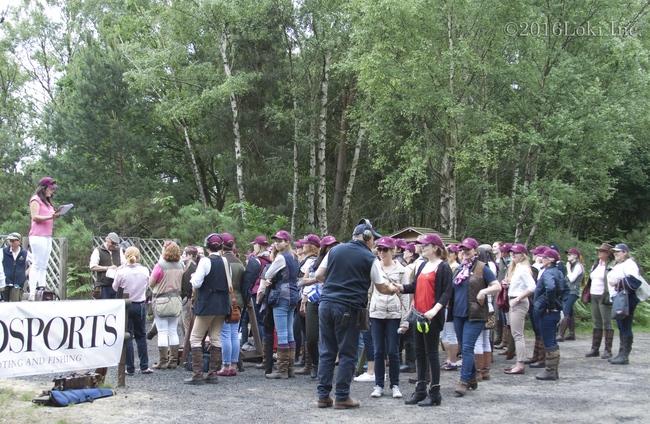 Victoria welcomed us and announced our groups. My instructor, Christine Atkinson, works at Bisley. Her sense of humor, combined with her knowledge, put everyone right at ease. And for me, who is not an expert at any shooting but especially not at sporting clays, she coached me through some difficult shots and taught me a few tricks along the way. Frankly, I'd never seen clays come at warp speed and right over the top of my head before now.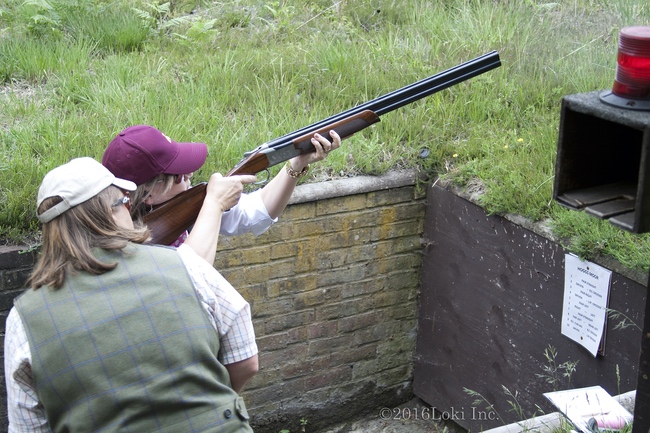 Although technically a friendly competition with a perfect score of 30 when you combined the stations, it didn't feel like it. We cheered for each other and looked over other shooter's shoulders as we learned (or perfected) new techniques. A mother-daughter team of Karen and Jess Burgess stole our hearts, as Jess (daughter) helped her mom become a better shooter.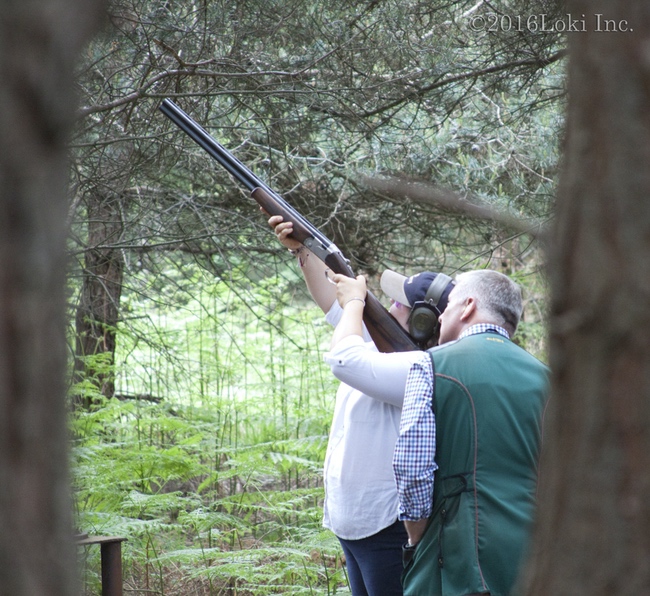 Toward the end of the shoot, the skies opened and this photo really captures the intensity of the event, as well. Although light-hearted, there's still something about wanting to shoot well – no matter what your level – that speaks to women at events such as this one.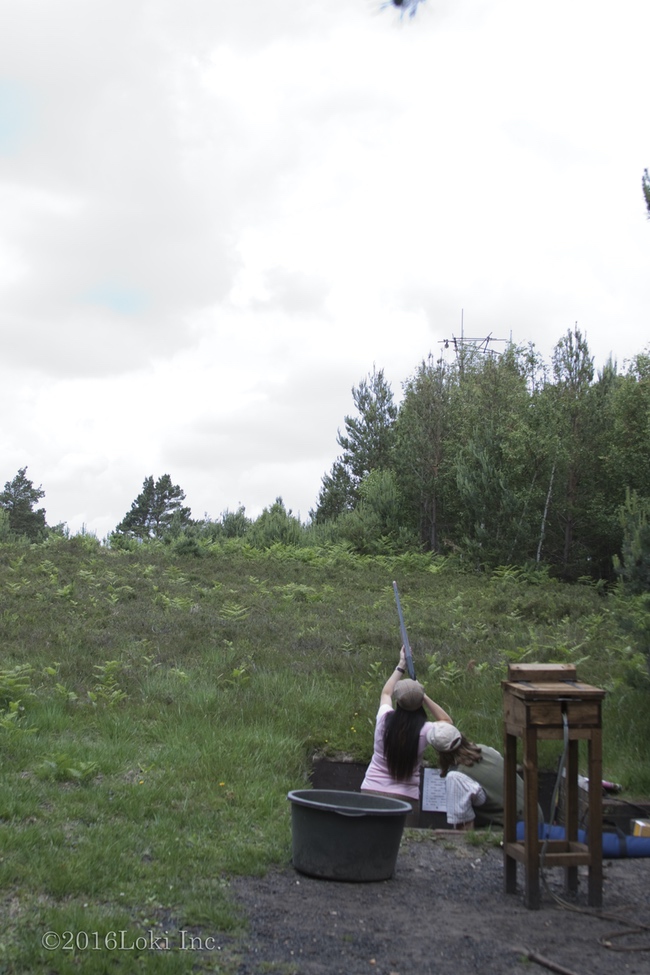 We got wet. We got soaked. As Bethan Watson, from Field Sports Magazine, recalled, "Unfortunately, the good old British weather decided to chuck it down." Within 10 minutes, ankle-deep puddles appeared everywhere on the grounds and water sluiced down the pathways. I had purchased Dubarry (one of the event's sponsors) boots earlier while up in Durham, and can now attest to the importance of the knee-high, Gore-Tex/leather wonders.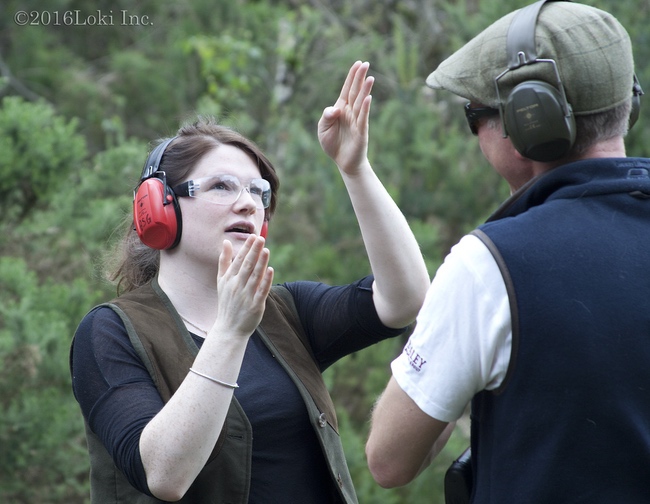 We tucked into a tiny cabin on the property with about 5 of the male instructors, who resembled what I would imagine to be gamekeepers from "The Monarch of the Glen" series, and who thought the women had been doing marvelously on the range. They were perfect gentlemen, and it seemed they were proud of what is happening at events like this – for their sport.
The Story Behind the Word 'Bun'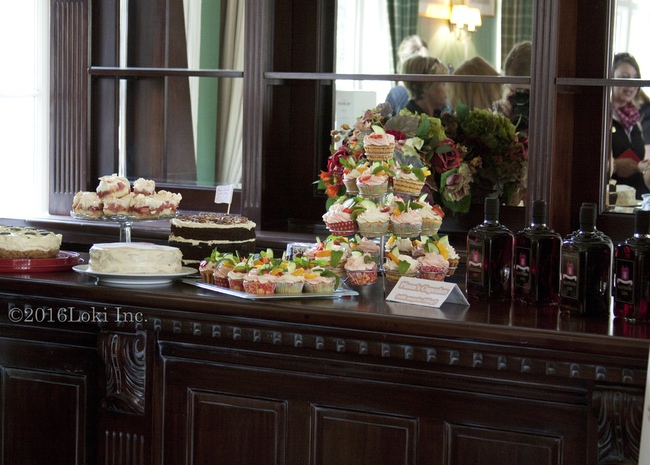 When we wrapped up the shooting and headed back, it was time for the biggest competition of the entire event: the cake award. Remember, this is a "bun" club, and that means cakes. I've included 2 of the entries here in the photos below.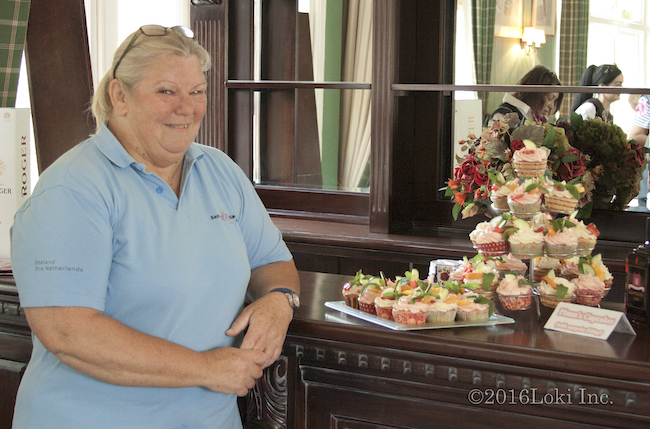 Yes, Pip Watson, who is an Olympic-style trap shooter, won the event. She hadn't really baked much in 30 years, but the girl got it into gear for this event. She pumped some Pimm's into little fairy-cakes (cupcakes) and took the rosette for "best bun" home.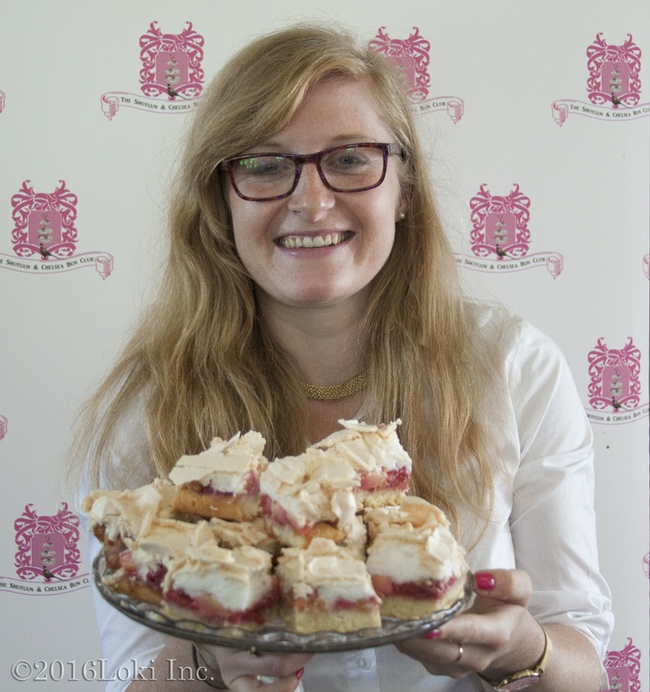 Sponsors for the event included the aforementioned Dubarry, Alan Paine, Fur Feather & Fin, Hiho Silver, Hull Cartridge and Browning. Yes, Browning from our country offered a 525 to one lucky winner.
Then, I spent the evening with Victoria, along with her helpmates in the Bun Club, Sharon Marshall and Claire Louis Sadler. The news started pouring in from around the UK. The S&CBC NLSD had been another success! If you check its Facebook page, you'llsee a lot of happy faces on beautiful women holding shotguns.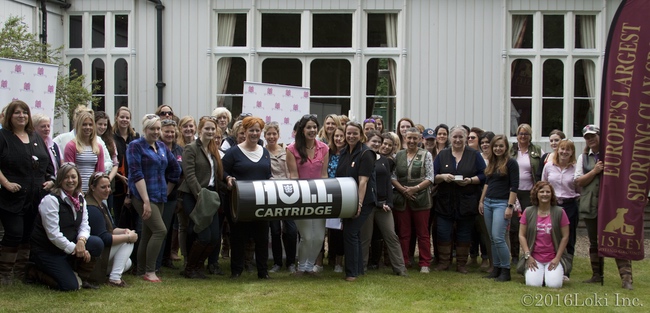 Learn more about the Shotgun & Chelsea Bun Club.