Mae and Guy Kinsey cannot help but think of Christmas all year long. The St. James couple spends hundreds of hours every year carving basswood pieces and painting them to create beautiful wooden, folk art Santas of various shapes and forms.
The Kinseys' living room bookshelves are filled with Santas—with no two the same. They have Santas with golf clubs, Santas with fishing rods, Santas with dollies popping out of stockings, a Santa with cross-country skis—all with different expressions on their faces.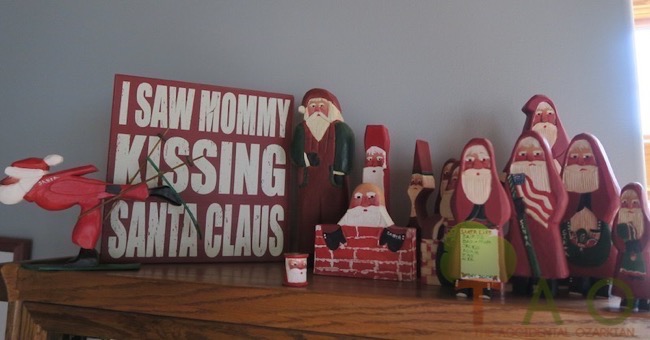 The trek to their niche in the craft world started when Mrs. Kinsey admired wooden Santas at a craft fair several years ago. She asked Mr. Kinsey if he thought he could make one. 
And make one he did. Using a cheap X-Acto knife, Mr. Kinsey carved a Santa that the couple agrees looked "pretty good." From that point on, the Kinseys started thinking seriously about carving Santas as a hobby/business. Mr. Kinsey took a woodcarving course at the Rolla Technical Institute and then started learning by the trial and error method.
Over the years they have added a few other notable characters to their wood carving collection, such as Noah and Uncle Sam. They also have a complete line of Amish family wooden dolls. They have even combined themes, such as the Noah's Ark collection—with Santa (as Noah) on board a beautiful wooden ark. 
Folk Art Santas
Every fall a truckload of basswood from northern Minnesota arrives at the Kinsey's home on St. Ann Street. Mr. Kinsey then gets to work with the scroll saw in his shop, cutting the wood into workable sizes. When he starts the carving, he uses an assortment of beautiful knives and gouges. Being right-handed, he protects himself while carving by wearing a Kevlar glove on his left hand. 
When he's finished, Mrs. Kinsey takes over, painting and staining the carvings. Mrs. Kinsey says she figures she handles each piece of basswood about 9-12 times before it is finished. To achieve the antique finish that so many of the characters have, Mrs. Kinsey discovered that an old type shoe polish, Griffin's "Bark Brown," works the best. Most of the pieces, though, are sealed with a special finish—so that the figures can be cleaned.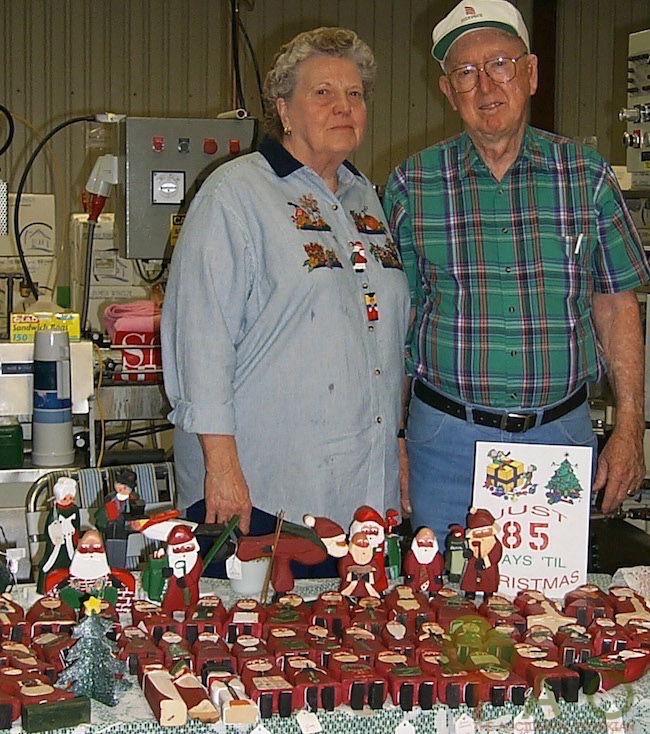 In fact, Mrs. Kinsey says the Griffin Company is no longer in operation, so she scours yard sales and other places in search of the polish. A few years ago, she found a bonanza of Griffin's polish in a little backwoods gas station in Georgia.
She tells the story of how they stopped to fill up the tank on their way to Florida. While Mr. Kinsey pumped the gas, she headed into the store and asked the owner if he had any shoe polish. With a puzzled look on his face, the owner replied that he thought he had some cans in the back storeroom.
To Mrs. Kinsey's delight, he returned with six cans of Griffin's "Brown Bark." Mr. Kinsey recalls how delighted Mrs. Kinsey was to find that polish and said, "That's all she talked about for the next 20 miles." According to the Kinseys, any other shoe polish turns the basswood purple.
Mrs. Kinsey designs most of the patterns, and dabbles in the carving side of the business. In fact, she admits that she'd like to carve more and paint less. But for now, the Kinseys have a workable arrangement that emphasizes their compatibility, not only in their hobby/business, but also in their marriage.
The Kinseys travel to several bazaars and Christmas Craft Fairs every holiday season, starting with the St. James Winery's Wine Fest every October.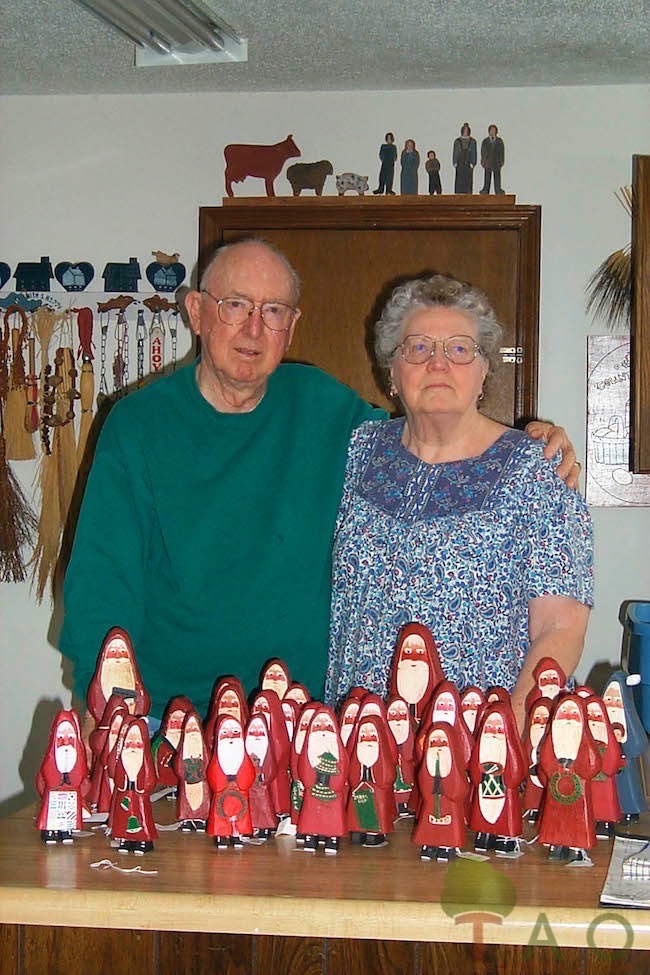 Besides that, it's not every day you get to buy a beautiful handcrafted item made by a spry 83-year-old guy with a twinkle in his eye, and painted by a woman whose energy and creativity know no bounds.
First published in the St. James Leader Journal, Dec. 3, 2001