More than a decade ago, I visited and wrote about Springfield's History Museum for a travel magazine. At that time, you could find the place in old City Hall. Today, the vast collection of items and stories has made its way to the heart of Springfield, Missouri, in a new setting, but in old restored buildings. It's called the History Museum on the Square.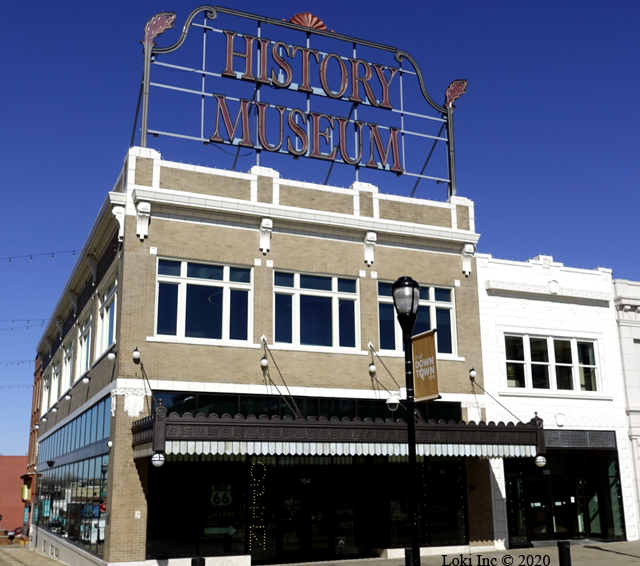 The setting fits, and how many museums in this country provide a space to look out a window at the site where something actually happened? Of course, I'm referring to the famous (and first-ever) quick-draw duel between Wild Bill Hickok and Davis Tutt on July 21, 1865, on the Square below. Not only can you look down and see the very places that the men stood, but also, there's a diagram for reference, along with a simulated Colt-revolver shooting gallery – so you can get the feel of what a firearm from that area is like. Several historic buildings surround the Square, which anchors the downtown area these days. The past is bringing present life to this city, it seems.
More about our visit to History Museum on the Square
On a bright February day, we set out to discover why the History Museum on the Square matters. With 6 permanent galleries, a special exhibit gallery and 18,000 square feet of space, this place is the perfect setting for people who are new to the area, passing through or who think they know everything about Springfield already.
 Here the names of the galleries:
Native Crossroads at the Spring
Trains, Trolleys and Transportation
Voices of History Temporary Gallery and Meeting Space
Civil War in Springfield
Wild Bill Hickok & the American West
Birthplace of Route 66
Kids will love the hands-on features of this place, such as the time trolley and train game (interactive computer game), located in the transportation gallery.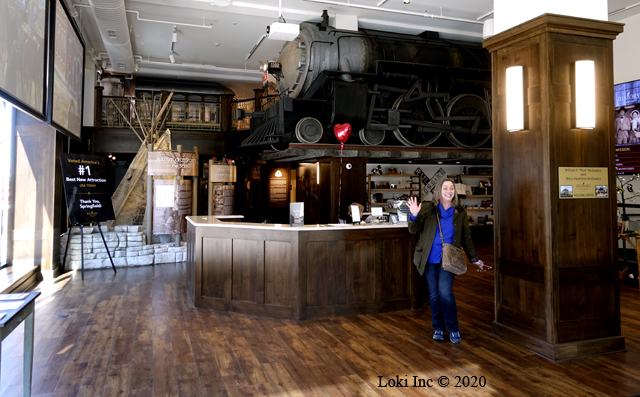 My photographer caught me in the entryway of this palatial place. Check out all that is available to take in at first glance. Already, you can tell that you'll be learning about Native Americans and railroad travel. Travel is the key word here. Throughout the museum, you can find examples of effects that people had on the area from traveling through here or to here.
Below, you'll see a few photos from our afternoon at the museum.
Delaware Children's Toys
I'm a sucker for trivia, and for finding tiny things in museums. Give me the big picture, but also slice me a small piece of the pie. In the "Native Crossroads at the Spring" gallery, a display features toys Delaware tribe's children, including a doll and a miniature bow. Since the Trail of Tears came through Springfield, including the Cherokee, Muscogee, Seminole, Chickasaw and Choctaw. The gallery also describes life for people in native tribes found here, such as theDelaware and Osage.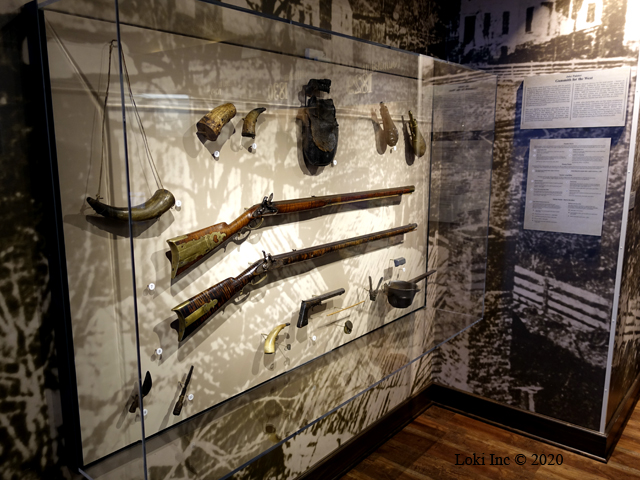 Jake Painter
Jacob Painter is famous for gun designs that started in Springfield and transported to the West. He and his family moved to Springfield from Galloway, Missouri, in 1835 and he opened a blacksmith/gunsmith shop on the northeast corner of the Square. Jacob made long guns and pistols, and created a special design into the long guns – he burned oil-soaked rags, wrapped them around a gun's stock and sanded it so that burn marks, aka streaks, remained in the wood. He also designed "boot pistols," that sold for $10 per pair. With the idea that a faster draw called for a sleeker design, he placed hammers on his pistols on the undersides, instead of gun tops, and that made it easer to draw a Jake Painter pistol from a boot.
Another icon in the history of the West, John Butterfield (stage coach), ran the Overland Mail Route and offered Jacob $1,000 in 1858 for the shop on the Square because he wanted it for a station house and stables. Jacob agreed and moved his shop over to his home on Olive Street. It is reputed to be the fastest real estate sale in Springfield's history.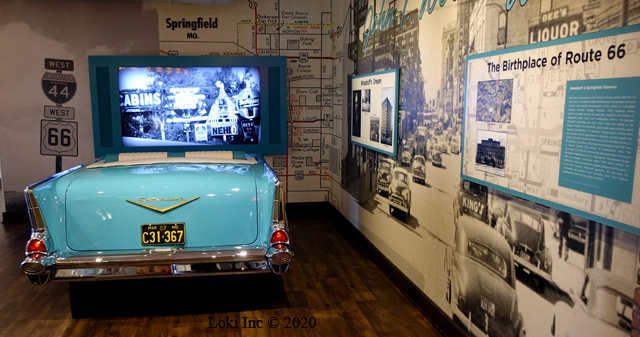 Route 66
The name for this highway became official in April 1926 after a telegram went from the  Colonial Hotel in Springfield to the federal government, from Missouri State Highway Commission Chief Engineer A.H. Piepmeier and the chairman of the Oklahoma Department of Highways, Cyrus Avery, accepted the number "66" for the new highway that would run through Springfield. Technically, it should have ended in the number "O," since it ran east to west on the federal system. However, Gov. William J. Fields (Kentucky) wanted a state with an "0" to run through his state, and got Highway 60 (from Newport News, Va., to Springfield, Mo.) That left 66 as a grand number.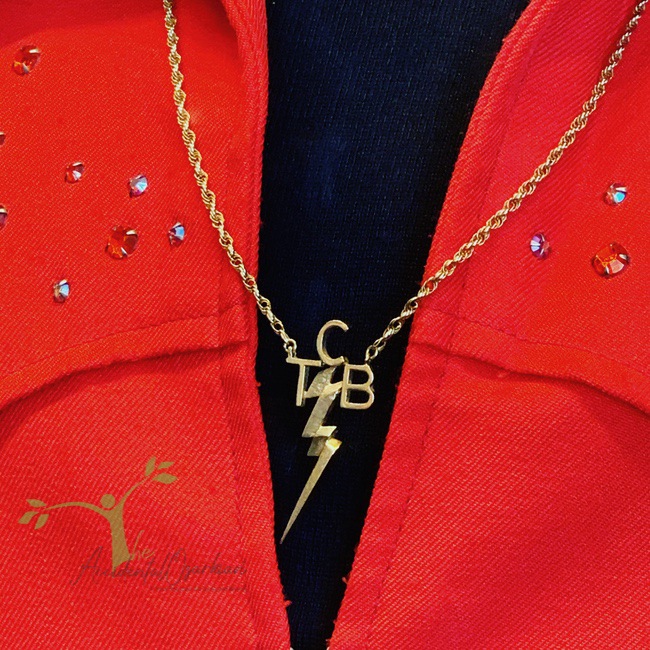 In this gallery, you'll get to see neon signs, trinkets, photos and memorabilia that frankly is fun. For example, Red's Giant Hamburg (lost the "er" in hamburger because there wasn't room on the sign for it) is known for having the first drive-up window. I especially liked the story of Springfield's own John Wilkinson, who played in Elvis Presley's band, Taking Care of Business, aka TCB. There's a display dedicated to the story of John and how he met Elvis and eventually became a trusted friend and confidant. Check out the necklace above, given to Wilkinson from Elvis. 
There's so much more – for example, the Civil War, influential people, historical buildings. You could spend hours in here, and you should.
'Best New Attraction'
In January, the History Museum on the Square received USA Today's designation, after a nationwide poll, of  "Best New Attraction." It beat 19 other places in the 10Best Reader's Choice Award poll, including theme parks, performance venues and art galleries.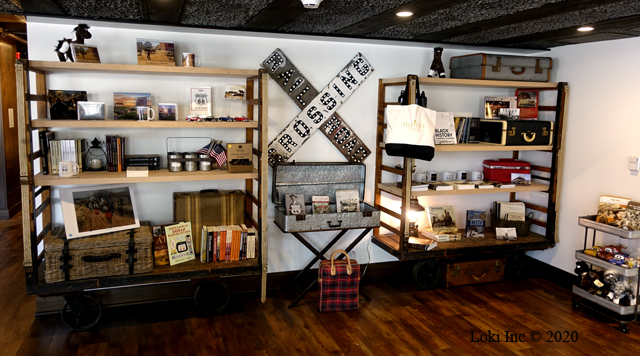 For prices and hours, see the History Museum on the Square's website. There is free parking around the back of the building.
Note: In case you haven't noticed, I'm a museum freak! You can read about my visits to other Missouri (and beyond) museums here.