In 2006, I wrote about the Missouri State Penitentiary in Jefferson City for a travel magazine – 2 years after it had closed in September 2004. In 2017, I went back to see what had been done to attract visitors to the historic site.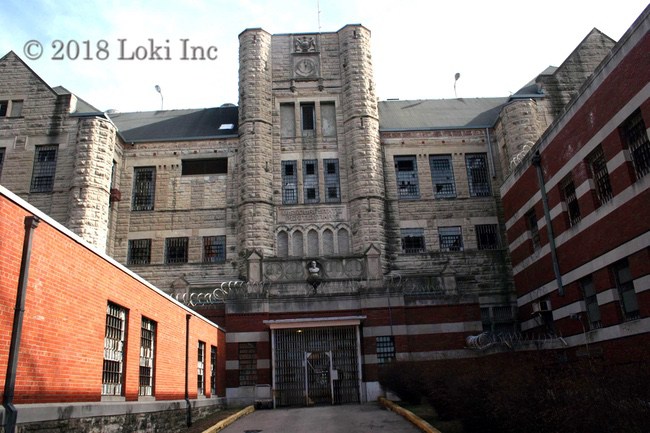 During the initial visit in 2006, Charlie Ferrell, a maintenance man at the old Missouri State Penitentiary (MSP) for 15 years and Jack Osborne, a corrections officer, conducted the private tour of the MSP – a tour that only lasted a couple of hours, yet spanned many years.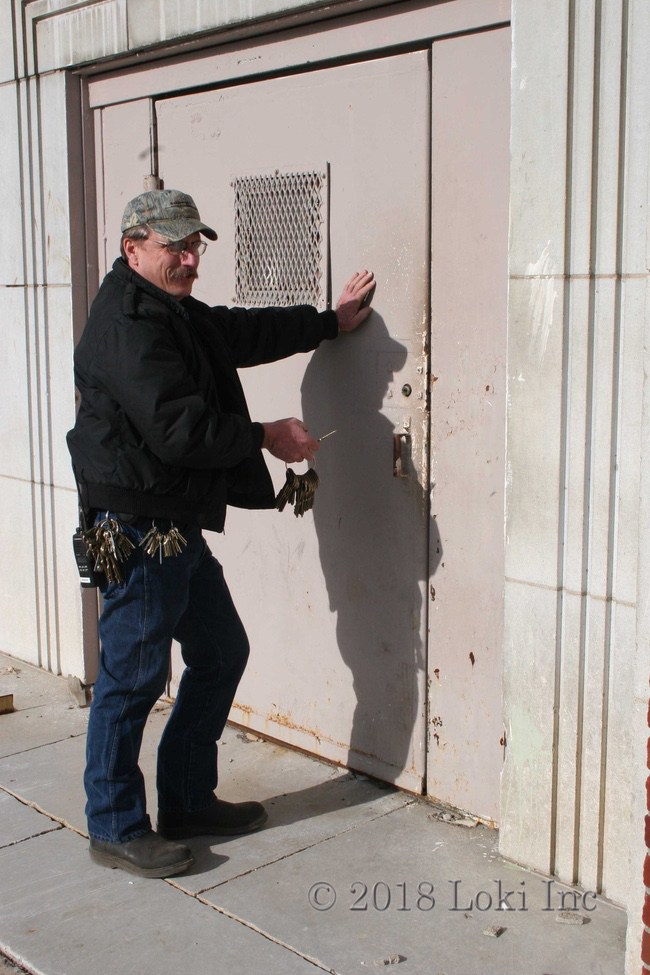 "The thing about this place is that you can't say it was any one place at any one time. It's been a bunch of different things at different times," said Ferrell. Ferrell ought to know, since he worked as a maintenance man at the old Missouri State Penitentiary (MSP) for 15 years. Between the 2 men, anecdotes came quickly and vignettes of prison life came freshly to their memories.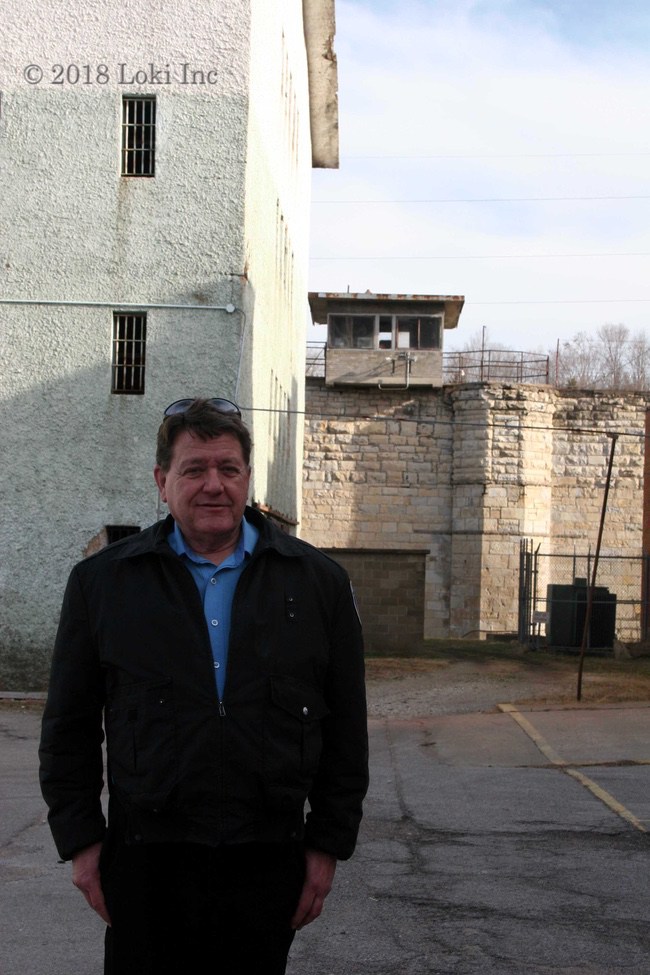 Osborne said, "Wow, it's too quiet in here," as he looked at one of the cellblocks where he worked.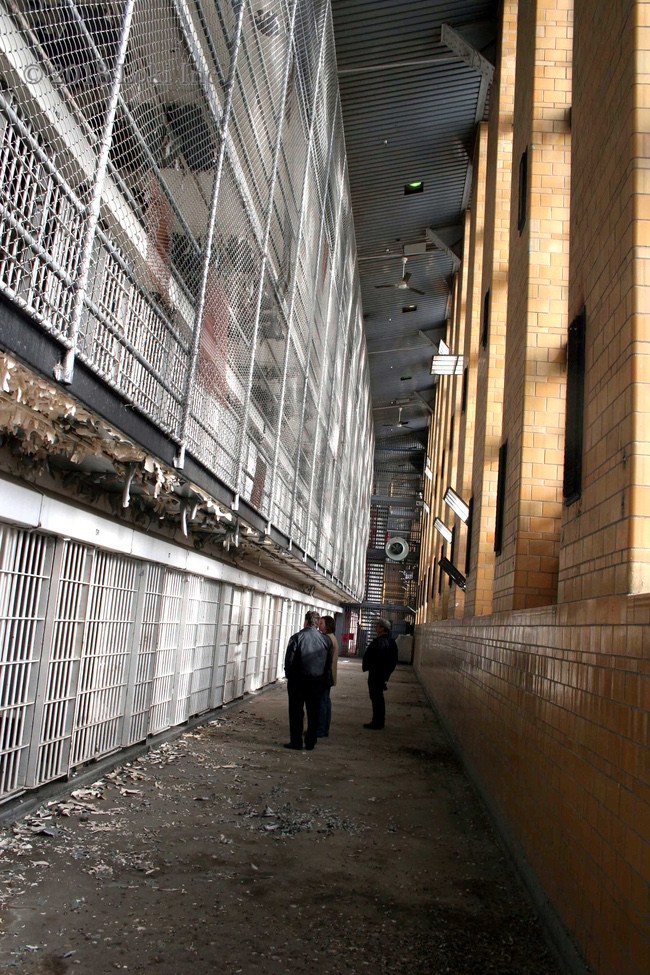 Missouri State Penitentiary, Then
Back in 2006, remnants of prison life lay everywhere. Paperwork from "old death row," which later became an area used for administrative segregation where suicidal prisoners stayed, still lay undisturbed on the desks. Books littered the cells, by authors including Michael Creighton and Henry James (ironically, "The Turn of the Screw"). Near the weight-lifting room in one of the buildings hung a calendar from 2004 with September 15 circled and marked, "Out of here."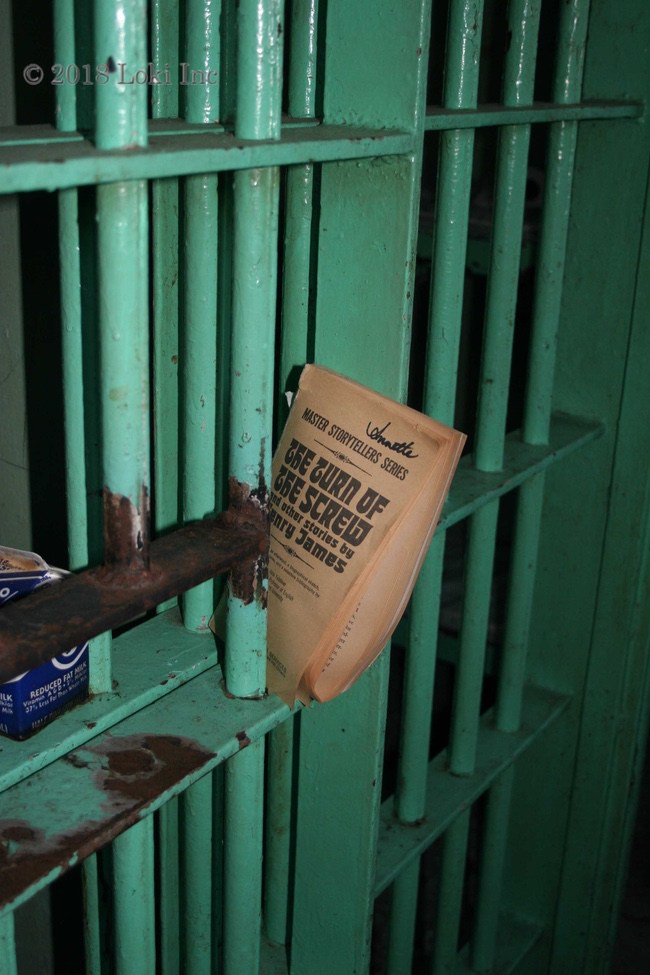 Paint peeled from the walls of several buildings, revealing layers upon layers of colors. Osborne recalled a correction officer's story about seeing a prisoner eating paint chips. The officer said, "There's gotta be all kinds of nasty stuff in that paint. What's it taste like?" The prisoner said, "Candy. Here, you want some?"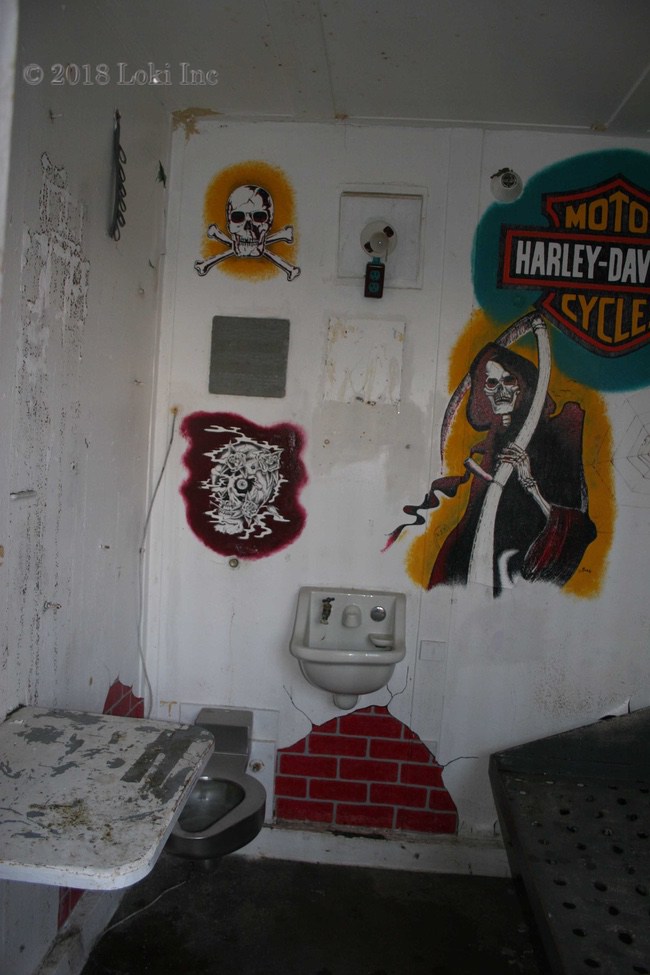 Prisoner artwork in the cells ranged from Tweety to a Harley scene to a "super highway," complete with cars fashioned after models from the 1930s. Cheap furniture, silent control boards and stopped clocks everywhere somehow preserved the entity of the place where time stood still for several thousand people.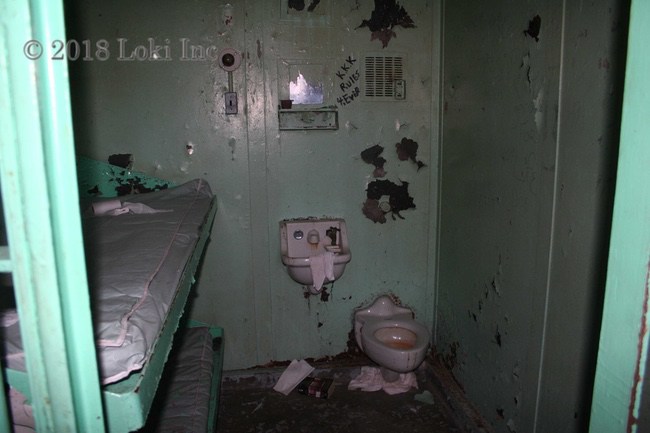 Since its beginnings in 1836, the MSP grew and suffered from its growing pains. Riots and murders inside the walls, combined with an explosion in the prison population after WWII and other societal changes, made it necessary to expand and adapt the facility. With the new prison buildings came new ideas about rehabilitation – thus educational opportunities, improved health care and recreational services appeared.
Looking Inside in 2006
The MSP once held the reputation as "the bloodiest 47 acres in the nation." According to Associate Superintendent at the Jefferson City Correctional Center, formerly the MSP, Mark Schreiber, "That quote came from a movie magazine in the 1960s … the place was rampant with violence." Schreiber said multiple stabbings, most of them with crudely made knives, occurred daily. Fueled by the problems caused by being the only maximum-security prison in Missouri, combined with early attempts at integration, meant sometimes-daily stabbings. He added, "Staff were injured all the time, and those incidents didn't even make the paper."
When they started their jobs, neither Osborne nor Ferrell knew the layout of the mile of tunnels of the prison complex. "You learned through osmosis," joked Osborne, and Ferrell jangled the rings of keys he kept on his belt, and said, "This is nothin' compared the keys I used to carry."
Ferrell said, "A guy once told me that these prisoners have 8 days a week and 25 hours a day to figure out how to beat the system and so don't you think that you can outsmart them in your 40-hour weeks."  As a maintenance man, Ferrell worked directly with inmates, supervising their work. Maintenance men received whistles as an alert system. Ferrell joked and said, "Try using one of those when you're down in the tunnels."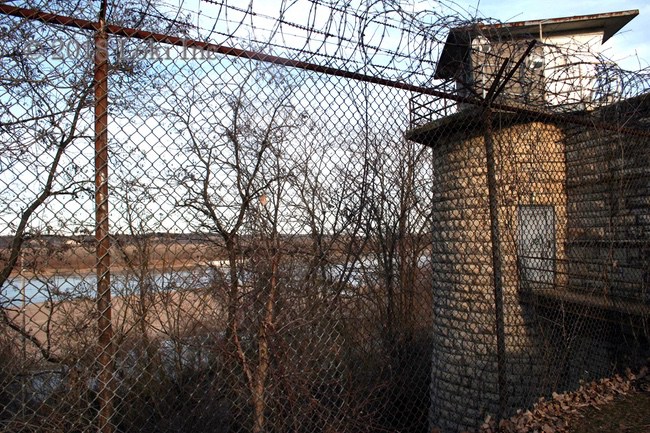 Where Sonny Liston Stayed
Most of the buildings are scheduled for destruction, but a few buildings will be preserved. The oldest building, circa 1868, housed Civil War sympathizers and later became a cellblock for blacks only. After that it became an honor dorm, complete with pool tables. The inmates in the honor dorm controlled which prisoners visited them in their individual cells by using "sissy bars," which could be locked to restrict access into an inmate's cell. Sonny Liston, the boxer that Cassius Clay beat to claim the heavyweight champion title, learned to box in this prison and stayed in this block of cells – #33.
The cafeteria brought memories to Osborne. "There were a lot of murders in here," he said. He then pointed to a slit in the far wall, and explained that armed guards, with access to shotguns and tear gas, could sit and watch the lunchroom in case of a riot.
Osborne looked down at the cafeteria floor and recalled, "They had some giant cockroaches around this place. I wonder if they're still around." He continued, "They can live on a speck of grease for a month, I guess."
Prison Labor
Ferrell stood in the old exercise yard, once a stone quarry, and explained how the place evolved to meet the needs of society over the years. It once had a slaughterhouse, saddletree factory, harness works, binder twine factory, clothing factory, furniture factory and many shoe factories. Recently, it operated a metal tag shop, which produced license plates and adhesive license tags.
Prison labor contributed to not only Jefferson City's economic development, but also to the entire state's economy. Prisoners built many of the roads in Missouri and lived in quarry camps in Central Missouri. By the early 1900s, entrepreneurs from Chicago and New York moved their businesses inside the prison walls. Schreiber said, "The capital would not have remained in Jefferson City had it not been for the prison."
Gas Chamber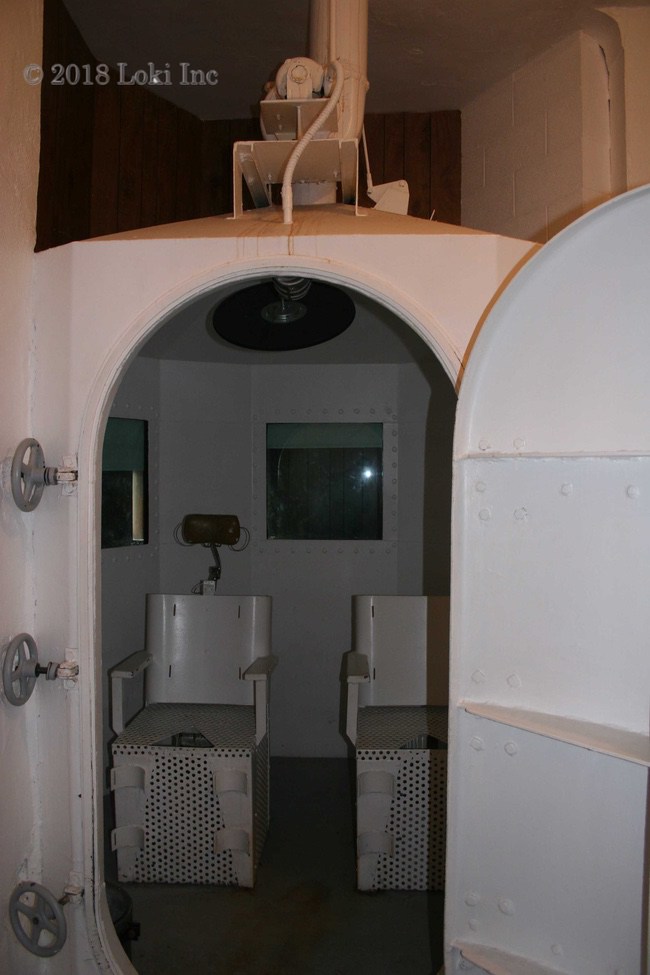 Other places on the tour evoked strong emotions – such as the gas chamber, with its 2 white metal chairs with brackets for restraints seated in a tank with a submarine door. Crocks under the chairs held cyanide in the days before lethal injections became the mode. A photo collage of prisoners executed in the chamber hung next to the tank.
A comprehensive book about the Missouri Correctional System, "Somewhere in Time: 170 Years of Missouri Corrections," is available in a hardbound edition. It was written by Mark S. Schreiber and Laura Burkhardt Moeller and includes hundreds of photographs. 
Going Back to the Missouri State Penitentiary, 2017
My friends and I traveled to Jefferson City to attend a session of the state legislature while it was in session in April 2017. We decided to go up to the capital a day early and visit the MSP, which is now a tourist attraction in Jefferson City.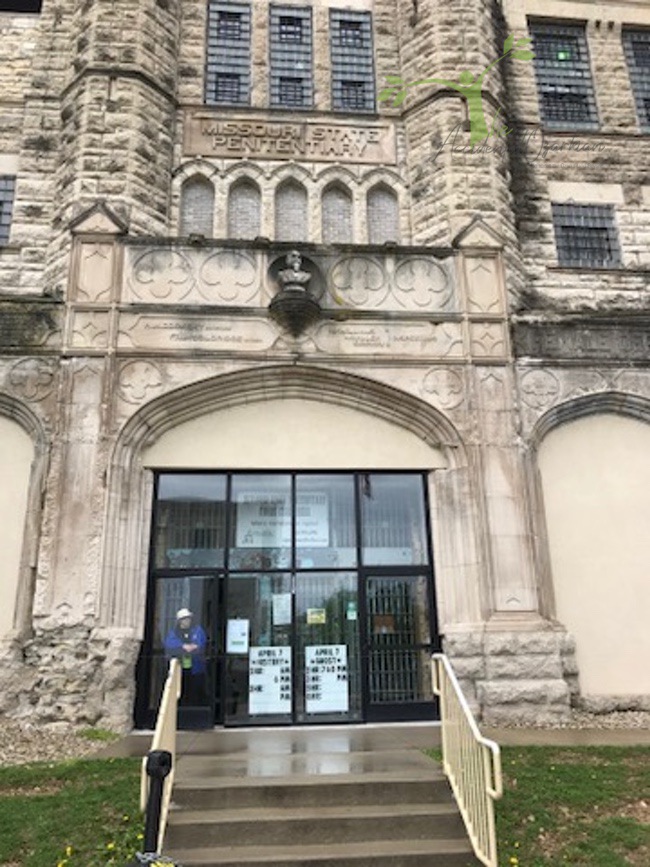 Yes, it had been cleaned up somewhat and offered a gift shop, and lots of photo opportunities. However, the dank smell and gloomy atmosphere still hung over the premises.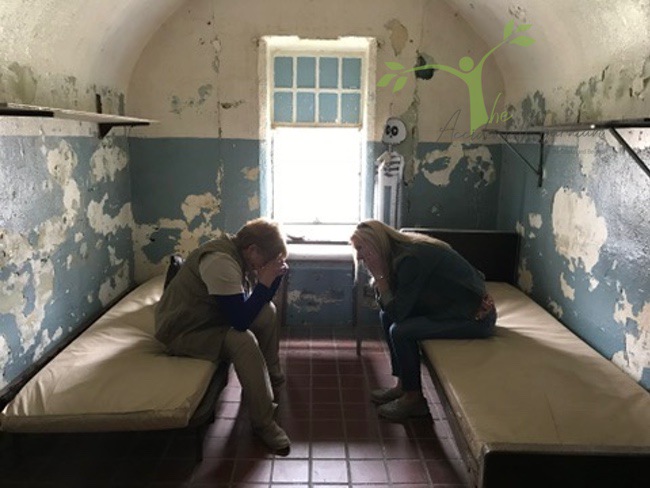 I still, though, recommend a trip to this historic site.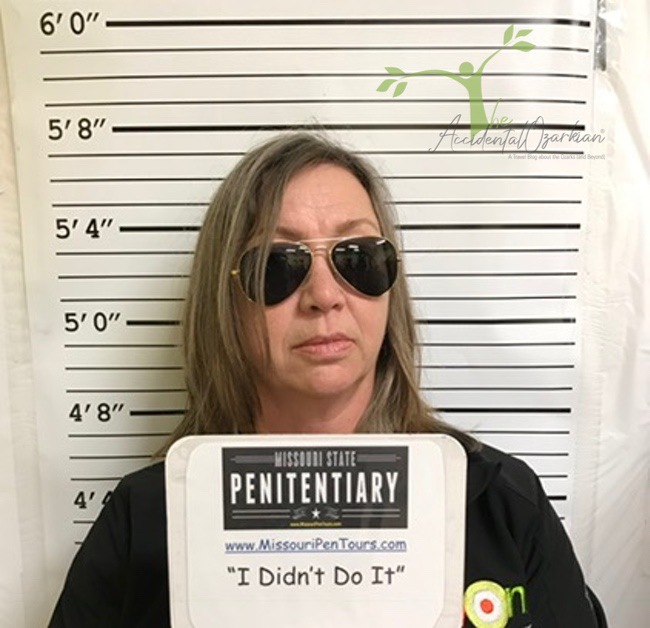 Learn more about the Missouri State Penitentiary hours and tours.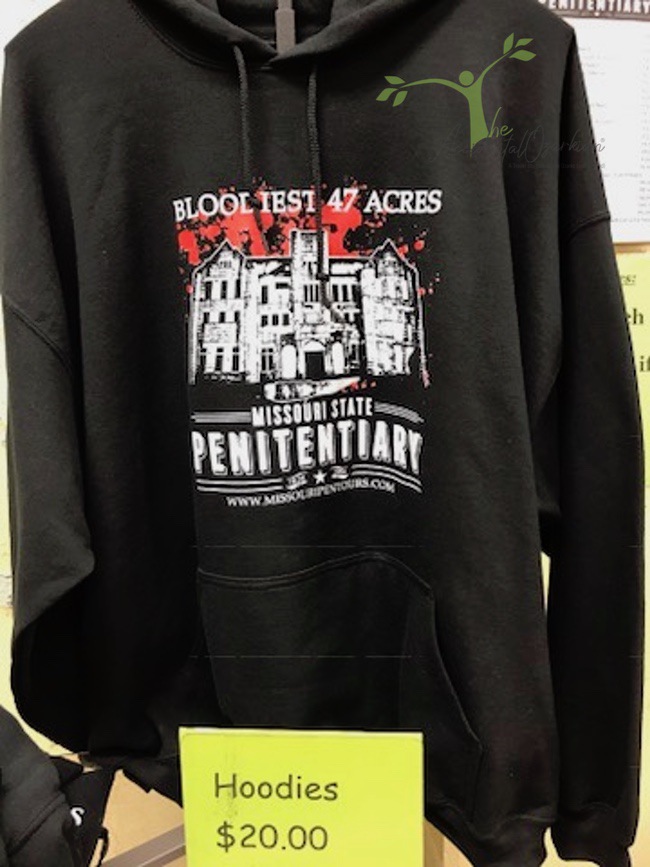 Infamous Prisoners of the Missouri State Penitentiary
John Reno – of the Reno Gang and considered "world's first train robber," 1860s-1870s. The governor commuted his sentence.
Gen. John McDonald – Once served in Pres. U.S. Grant's administration, 1870s. Wrote "Secrets of the Great Whiskey Ring – 18 Months in the Penitentiary," which was serialized in the "St. Louis Post-Dispatch."
Emma Goldman, aka "Red Emma" – feminist anarchist, 1917-1919.
Kate Richards O'Hare – social reformer, 1919-1920. Pardoned by President Woodrow Wilson and appointed to be an assistant in the California penal system, by Gov. Culbert Olson in 1938.
Pretty Boy Floyd – notorious bank robber, 1929-1933. While at the MSP, he was suspected of stealing potatoes to make moonshine.
Charles Sonny Liston – armed robber, 1950-1952. Learned to box at MSP, and later claimed "Heavyweight Boxing Champion"; defeated by Cassius Clay in 1964.
James Earl Ray – armed robber, 1960 until his escape from prison bakery in 1967. Killed Dr. Martin Luther King Jr. in April 1968.