Posted March 26th, 2016
"Well, Barb, what do you think?" inquired Earline Turner. "Do you think these tombstones fit the description?" She gave me a serious look and waited for the answer. She wanted to know if these stone humanoids in a cemetery near Newburg, Mo., resembled some I'd described in an earlier column.
I stood a few feet away from her, next to a knee-high torso tombstone and ankle-deep in mushy leaves. We had ventured out far into four-wheel drive territory, crossing Big Beaver Creek and scooting up and over scraggy hills before arriving in the holler where the graveyard lay. Richard Turner, Earline's husband, was the chauffeur/off-road driver.
Local historian John Bradbury accompanied us, and by the time we arrived at the place we'd picked up more company – Rose and David Skyles, plus Earline's parents, Edna and Jesse Crabtree.  It turned into a right fine outing, and later a party (but that's at the end of the story). 
A few weeks before the outing, Earline had called me to ask if I'd like to see the oddly-shaped tombstones in the family cemetery on her family's property near Newburg. She had recently read a column of mine about half-human tombstones in The Ozarks Mountaineer magazine.
After looking at the munchkin monuments, I said, "Well, I think they do look a lot like the ones I've seen in Maries County, but they're shorter." Richard commented that old-timers had told him that the tombstones had once been taller, but the effects of more than 150 years of leaves, soil and water had buried parts of the old stones.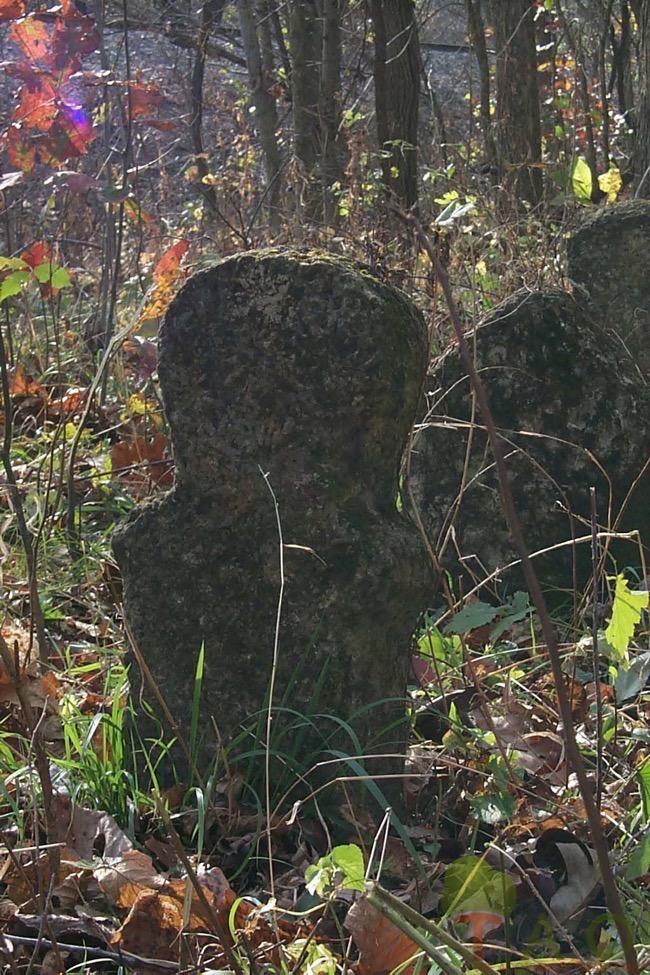 Nameless, still upright and without any funerary symbols, the three stones lay close to each other. Supposedly, some of the first settlers to this area were buried in this cemetery near these stones. Although the stones resembled the larger humanoid tombstones – with a discoid on top and half a body, arms down to side – they were of a smaller scale.
The stones also featured something different than any of the other stones I've seen. Each one had a footstone, laid at least four to five feet from the headstone. 
The story behind humanoids in a cemetery
I snapped several photos of the humanoids and sent a few representative photos to Michael McNerney, an archaeologist and president/owner of American Resources Group Ltd. in Carbondale, Ill. As part of his job, he conducts surveys for companies, highway departments, utilities and others. Throughout the years, he has discovered several humanoid tombstones. 
McNerney believes that settlers of Scottish, Irish and English descent tried to copy the traditional Celtic cross pattern, with its circle in the center of the cross. His travels have taken him from Missouri to North Carolina, and farther northeast to Ireland, where he discovered more humanoid tombstones. He suspects the tombstones, aka humanoids, may date back to the early-to-mid-1840s. 
McNerney also speculated that since the settlers could have been as many as three generations from the original immigrants in their families, they might have carved these crude renditions of a Celtic cross without really knowing what the Celtic cross looked like or symbolized.
McNerney returned my email, and concurred that the tombstones fit the description, and wrote,  "The stones look like the crude type that I see in many remote locations. I think they are copies of the better-made versions. Where is Newburg? What county?"
McNerney has compiled a map of his trail of tombstones from east to west. As soon as I tell him where the hamlet of Newburg lies, and the exact location of the cemetery, he'll have more dots on his map.
Meanwhile, back at the graveyard, we pulled out sidewalk chalk from my camera bag and gently colored the faces of a few other tombstones with funerary symbols. We could better read the epitaphs and see the symbols after doing so. We walked around, looking at depressions in the ground and bits of broken stones. Every so often, a train sped by on the nearby tracks, shaking the ground under our feet.
After the cemetery visit, we returned to the family's log cabin – a place where Earline spent many happy child days cutting paper dolls and playing in the woods nearby. She broke out the fixin's for a tailgate party of sorts, and her mother and I enjoyed a few donut holes while we talked about the old days and the "knights of the road" (hoboes – soon to be featured in a column).
I appreciate folks such as the Turners, who are willing to take an afternoon and host a trip and throw a little party. Their love of history and their sentiment toward times past is refreshing. Earline said she'd been told the tombstones were "Indian tombstones," but that the description never made sense. She seemed pleased with the notion that these tombstones might have belonged to the earliest settlers in this holler.