Fulton is someplace I've wanted to see, ever since I dropped my niece off at William Woods College several years ago so she could attend Girls State there. I especially wanted to find out more about the Fulton connection to Winston Churchill.
Recently, on a wintry day, with Old Man Winter spitting teensy icicles at the windshield of my Suburban, I picked up my friends – Nancy, Melody and Betty – and we headed to Fulton.
When we neared the off-ramp, I pulled out MapQuest directions and was instantly chastised by all three women asking me why I would bother to print out a map for such a small town. As it turned out, they were right, and we did not need the directions since Fulton is indeed a small town. In fact, it has erected signage everywhere instructing visitors where to find its tourist attractions.
Our first stop, and one that I always recommend to travelers, was the Visitors Center on Court Street across from the courthouse. We picked up brochures and a map, and proceeded on foot to explore the downtown area. 
The cobblestone streets, antique light fixtures and old storefronts made this area appealing. We delighted in a stop at the Saults Drugstore, where a working fountain from the 1930s still serves phosphates. We also poked around in several antiques shops, finding a few treasures to call our own.
For lunch, we went to Sir Winston's Bar and Grill, where we enjoyed the stories by Betty more than our lunch. Sir Winston's Pub and Grill has an interesting collection of black and white photos of Winston Churchill and world leaders.
Betty, a rather no-nonsense type, regaled us with stories of birthing two of her 10 children. One was delivered in the back seat of the family car because her husband refused to pass a school bus on the way to the hospital. The other baby was delivered by a female custodian that Betty commandeered at the last minute to wheel her into a delivery room and catch the kid. Supposedly, the custodian handed off the newborn and promptly fainted.
After lunch, we headed to Westminster College, home of the Winston Churchill Memorial Library. By now, the sun was starting to peek out and the day was gorgeous – just the way I like it for photographs. 
Over near the statue of Churchill, Nancy pointed and said, "Look at Winston's backside. He has icicles hanging off it!" To which we all looked and had another good laugh.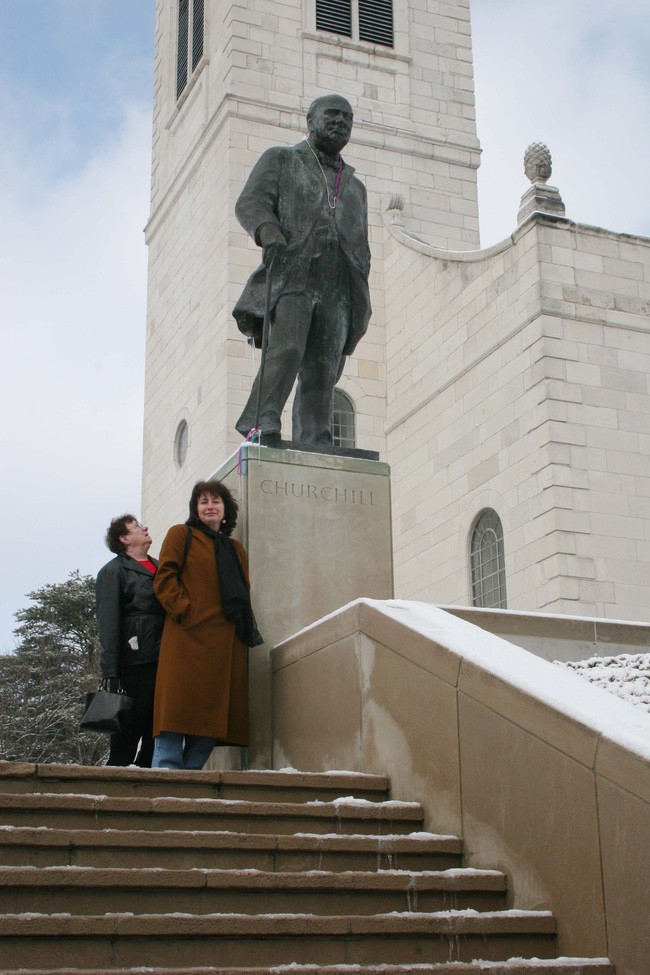 After reading some of the famous quotations from Churchill, I believe he would have laughed at his icy behind, too. He had a droll sense of humor.
Near the statue of Winston stands a section of the Berlin Wall, with sculpting done by none other than Edwina Sandys, granddaughter of Winston Churchill.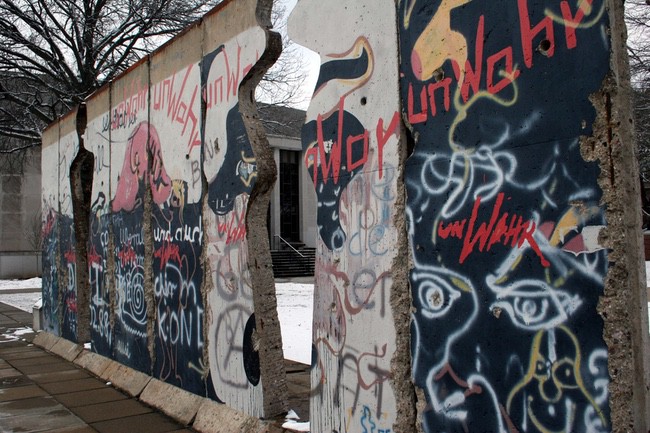 Sandys is quoted in a booklet from the shop in the library as saying, "I had always wanted to make a sculpture for the Churchill memorial at Westminster, and this seemed the perfect moment to do something." 
In 1989 she and her husband went to Berlin and negotiated with city employees there for the wall. After reminding the Germans that the French once donated a statue to the United States, Sandys and her husband were given eight sections of the wall, which she chose from 200 possibilities. 
She opted for sections near the Brandenburg Gate because she liked the graffiti done by artists for the colors and for the frequently seen word "unwahr," which means "lies" in German. The sections weighed 16 tons total, and Sandys accepted delivery of them at her Long Island warehouse studio in 1990.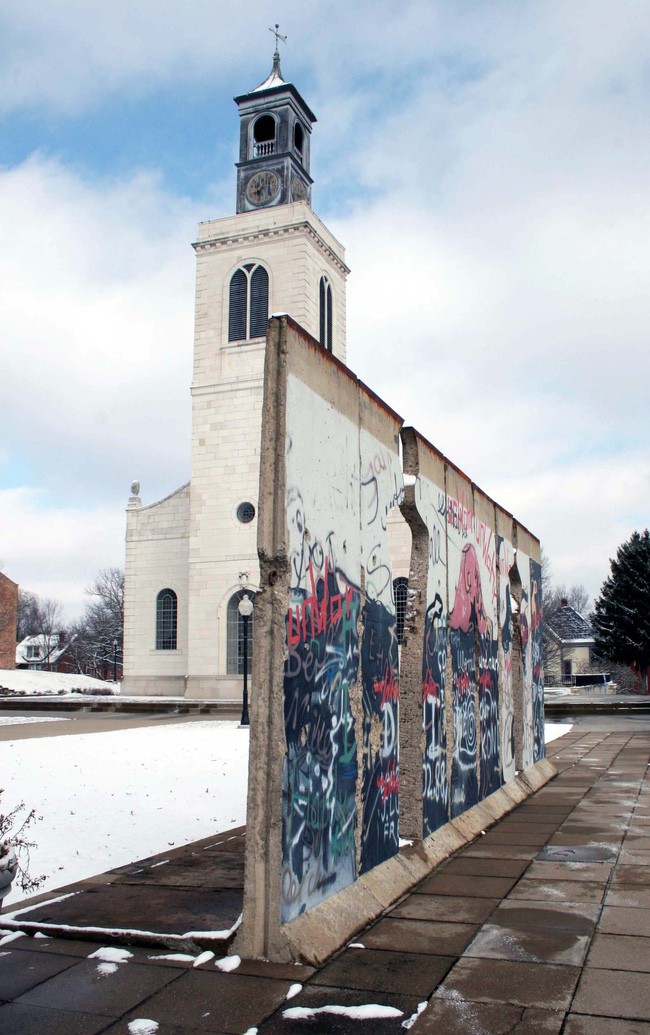 Working with a water jet instrument, Sandys cut two abstract human outlines in the 11-foot high by 32-foot-long wall that are similar to her work, the "Millennium Arch," on the UMR campus in Rolla. 
At the dedication on the Westminster campus in 1990, she called the work "BREAKTHROUGH" since the cutouts served as passageways and also symbolized a much greater concept. Sandys said, "It's a piece of art, but it's a political statement too."
I agree with Sandys. Her grandfather gave the world-famous "Iron Curtain" speech in 1946 at Westminster College, and she brought the Berlin Wall back to honor him. What a fitting tribute and a wonderful introduction to the site.
First published in 2005.
For up-to-date information on this interesting site, visit its website.