Check! I can now cross this anticipated and long-awaited-for trip off my bucket list. There are certain places/events I've wanted to attend in Missouri and this is one at the top of my list — Hermann's Kristkindl Market.
Held on the first weekend of the month of December, the market features German food, decorations and ornaments from with artisans around the state and other vendors, such as you'll see in this photo gallery of the day.
The drive is worth it. From any direction you approach Hermann, the view is delightful and the rolling hills full of "Century farms" and animals grazing. It's idyllic at times.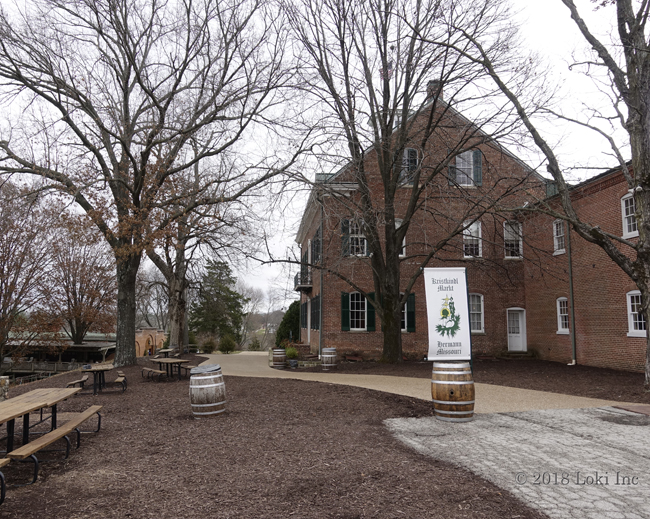 Located on the gorgeous hilltop site of the Stone Hill Winery, it's easy to see why this is such an attractive setting. The market is held in the heated Sherry House, which is the perfect venue. I particularly like that there are maybe 50 vendors or so, and it doesn't overwhelm or make me feel as though there's not time to see it all. I also found that the vendors were more than willing to talk about their goods and lifestyles.
Hermann's Kristkindl Market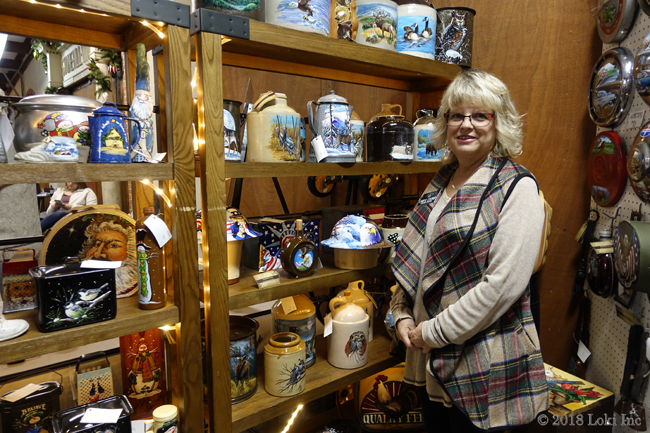 Artist Cheryl Cooper is from Perryville, Missouri, and said this is one venue she always loves to attend with her beautiful acrylic painted vintage items. A former art teacher, she has the ability to take an old item and freshen it up with original artwork. You may see her work at Cooper Crafts.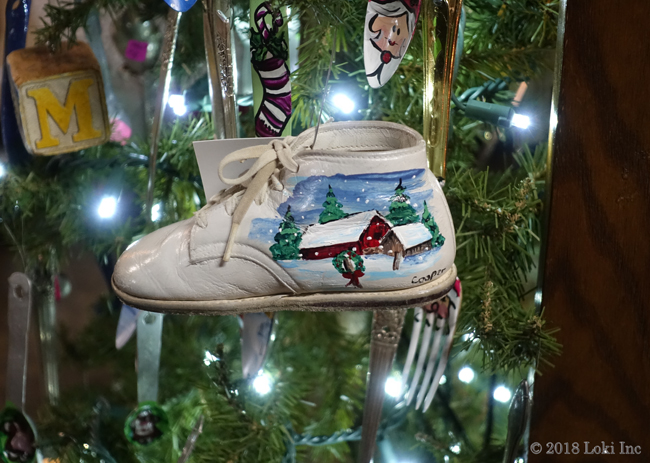 This adorable baby shoe has been adorned with a wintry scene by Cheryl Cooper, the artist mentioned above.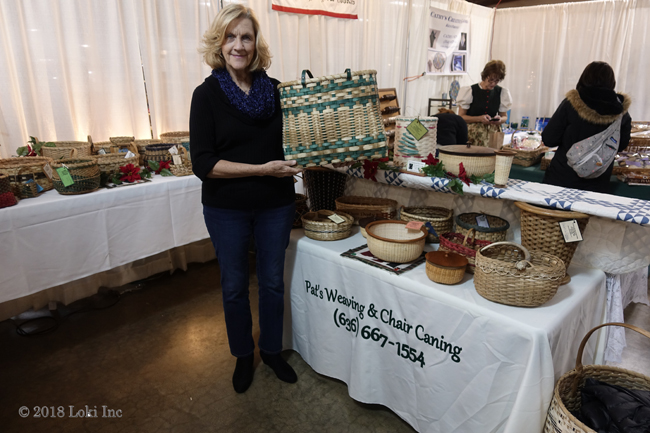 I was so tempted to buy this lovely basket, woven by Pat Moore of Pat's Weaving and Chair Caning in New Haven, Missouri. She has been weaving since 1999, and particularly likes to find an old basket pattern and recreate it. Pat is also an instructor, so if you're interested in learning how to weave or want a product from her eclectic line, call 636-667-1554.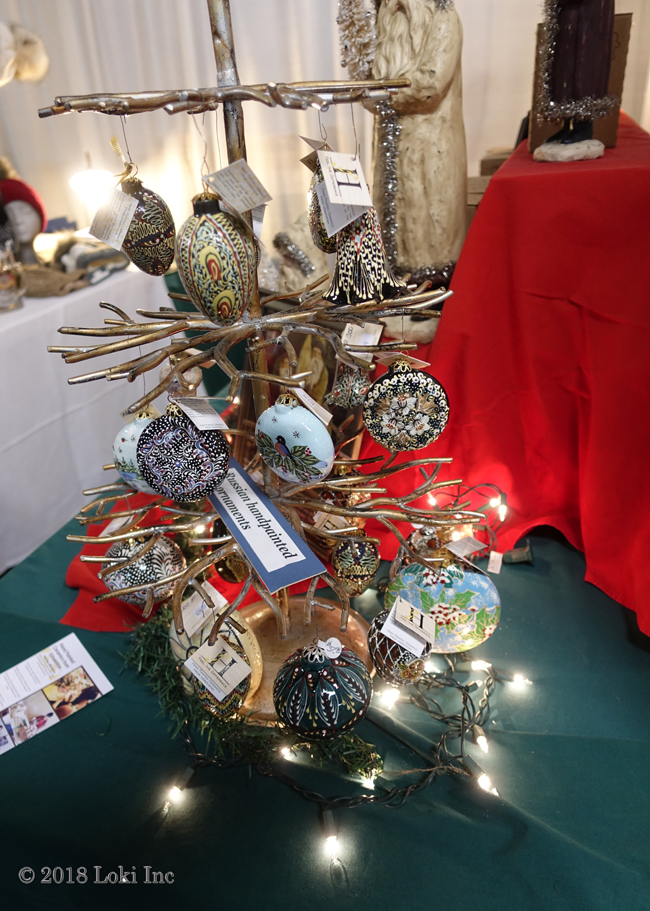 These beautiful hand-painted ornaments come from Uzbekistan and are made by graduates of prestigious Russian art schools. More than 60 families make up the community that creates these lovely pieces of art, mirroring popular folk art styles. 
Janet Buford,  from Back Home Again, buys the lovely ornaments and other European items for her store on Schiller Street in Hermann, Back Home Again. Notice the lovely Polish hats hanging next to her.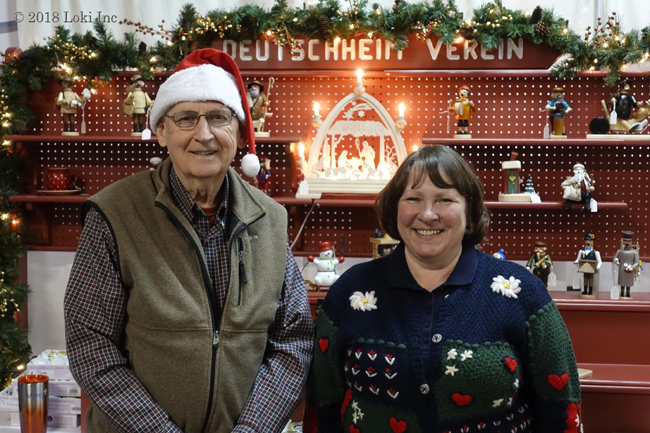 Don Kruse and Dr. Petra DeWitt explained German customs revolving around the various ornaments and carved items at the booth that funds the local Deutscheim State Historic Site. Proceeds go to the site for extra budgetary items, such as speakers and events. I bought 2 smoking men, hand-carved in Germany, for family members. (They loved them!)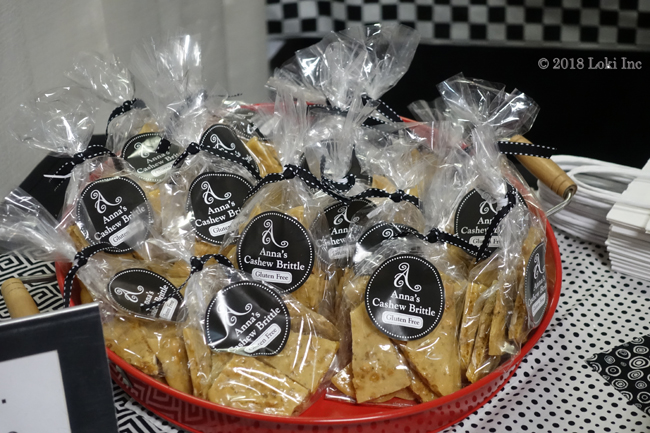 Born from a desire to create a gluten-free brittle, Anna's Cashew Brittle fills the bill nicely and rather deliciously. You can check out their Facebook page for locations in and around Jefferson City, or to place an order. We nibbled on it during our drive home.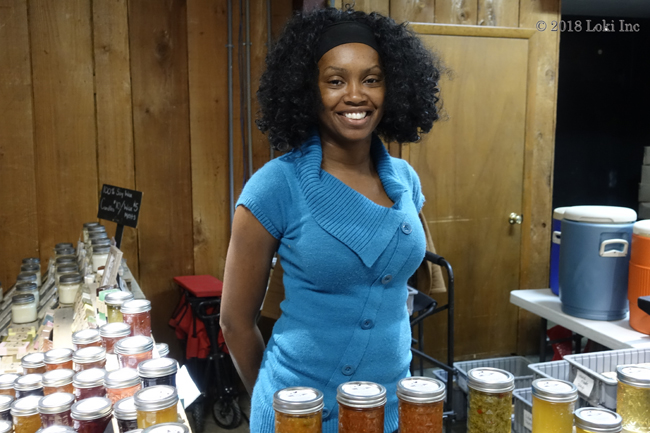 Fanta Eplee, of Beautiful Day Farms, used to be a bartender and now is a farmer and preserver of delicious flavors in jellies, jams and other preserves. I bought zucchini relish and it's really good alongside meals. Some of her names for jellies reflect her bartending days — such as apple merlot jelly.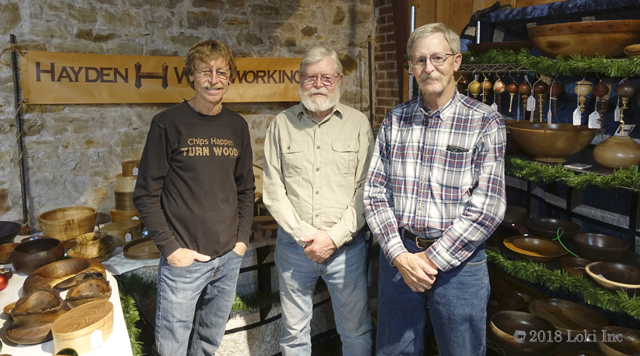 The Hayden Brothers combine talents to create beautifully turned wooden boxes and bowls, along with other items. Pictured are Dana, Mick and Jerry Hayden.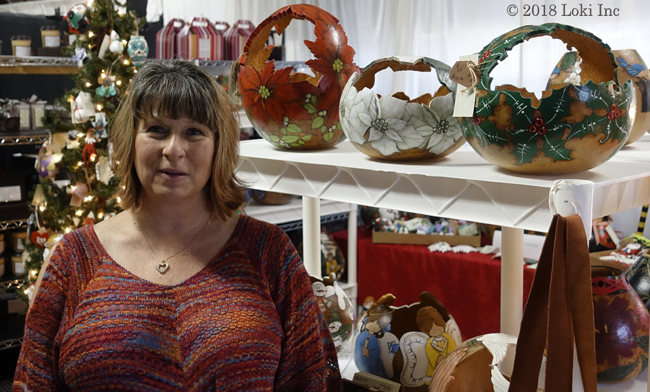 Joyce Cariedel makes gorgeous decorated gourds, in all sizes. You can see her work at her Facebook page.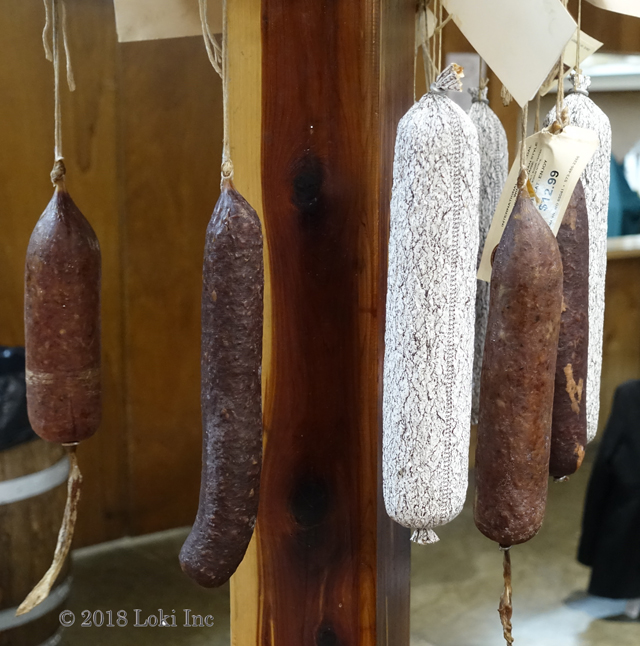 No trip to Hermann is complete without buying a wurst to take home, and we bought the most popular Christmas-seller, a summer sausage from the Hermann Wurst Haus. The Wurst Haus also offers a restaurant in downtown Hermann, which is next on our list.
We ate lunch at the winery's Vintage Restaurant, enjoying Schweineschnitzel and Sauerbraten, and sharing a dessert of apple strudel.
I wouldn't wait as long as I did to see the Kristkindl Market, so you might want to mark it on your calendar early. It'll take place at the same time next year. Visit Hermann's visitor information site.