I'd never heard of the word "creekin'" until a few weeks ago, when a friend of mine wrote that she had taken her daughter "creekin'" and that her daughter is a natural "creeker." I realized I've been creekin' in the Ozarks for several years now, and it truly ranks as one of my favorite things to do.
I grew up in the Dakotas, sans creeks. When I moved to the Ozarks in the mid-90s, the world of water entered my life – in forms of rushing creeks, dribbling creeks, sinking creeks and dry creeks.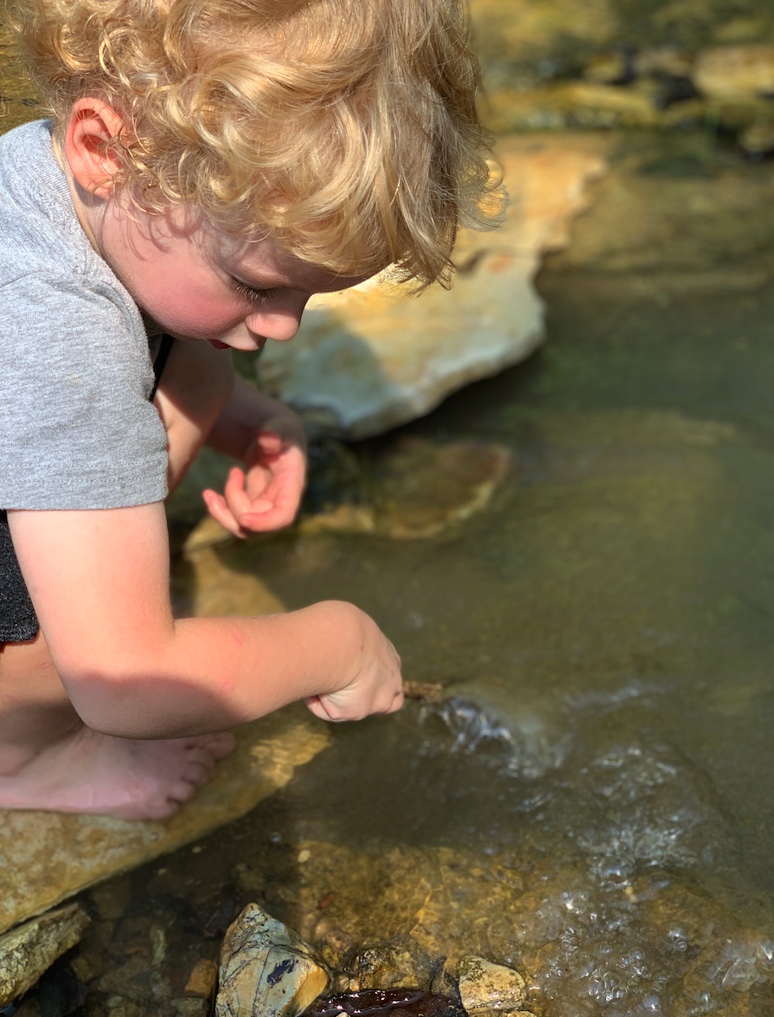 Off the top of my head, other than just enjoying a creek scene, here are some of our favorite things to do in creeks:
Wade
Swim
Fish
Search for old lures
Find treasures (we haven't used a metal detector yet, but that's doable, too)
Find old mill foundations
Find rocks
Find old wood
Find watercress
Watch tadpoles and other forms of wildlife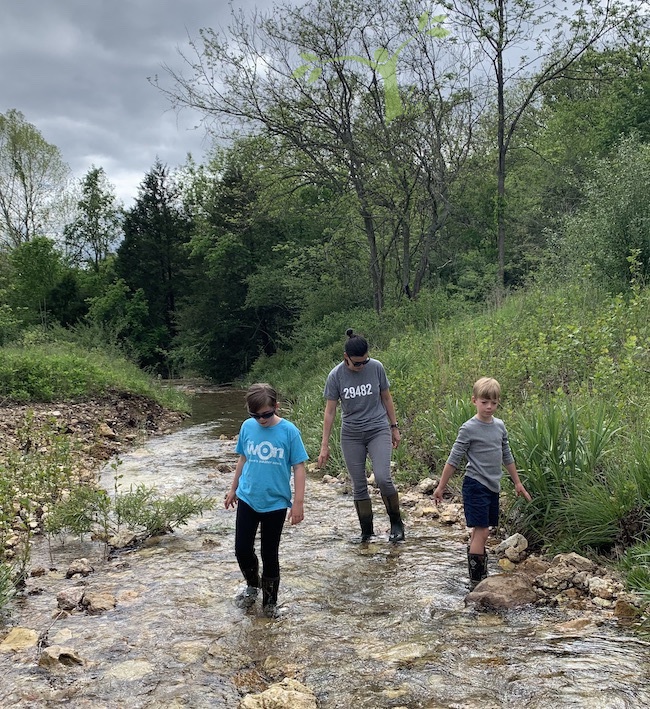 Creekin' in the Ozarks
My grandchildren love to go creekin'. It's always on their lists of what they want to do when they get to Missouri. When adults come to visit us, we invite them to go creekin', too. They've never turned us down and they've never not enjoyed themselves while out. There's just something about being in the water, and on rocks, that invigorates.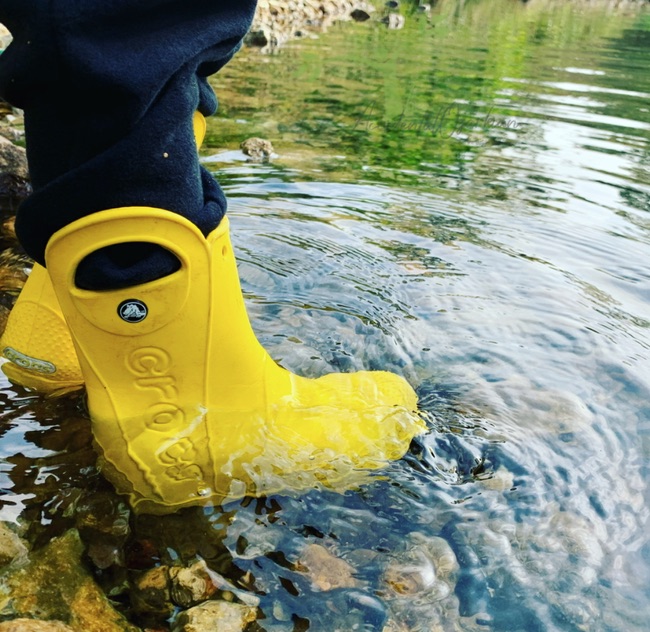 Vera Cruz
Recently, a newfound friend invited me to go creekin' in the Ozarks to Hunter Creek, at the Vera Cruz site. My friend, Stephanie, invited me to meet a woman who is well known in southwest Missouri for her artwork. Rita Fancher is a London-born transplant to the Ozarks. She has taught painting for years, and Stephanie is one of her students. Rita now loves to transform rocks that she finds (often in the local creeks) into lovely life-like animals or Ozarkian settings – with mills and barns and such.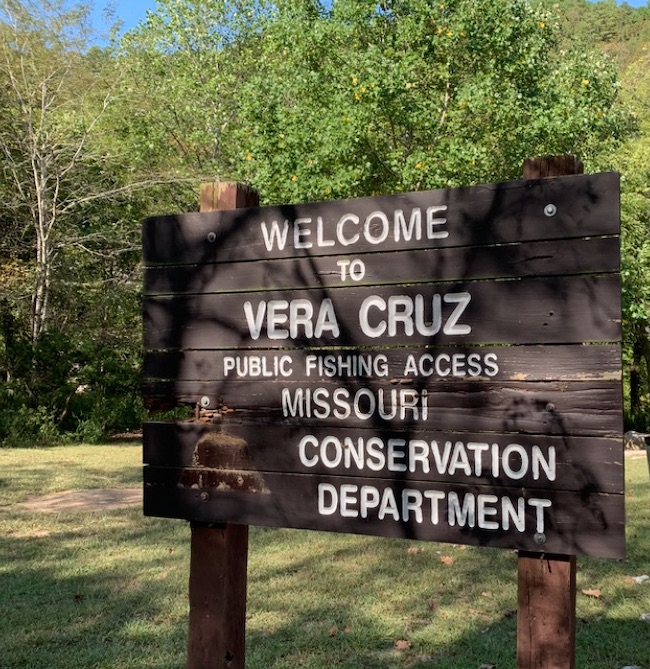 Also, I'd heard about Rita fondly from my mother-in-law, who has since passed on, but who loved taking art classes from Rita. Because of Rita, my mother-in-law created some lovely artwork that hangs in our home – her old home.
Biscuits and Tea at the Creek
Rita always brings tea – her own concoction of English breakfast tea and Bigelow's lemon tea. It tasted perfect. Stephanie brought chicken salad sandwiches on wheat bread, and Rita also contributed Sunchips. It's a tradition with them: chicken salad and Sunchips and of course, hot tea. I contributed lemon thin cookies, or as Rita calls them, biscuits. Scamps, Rita's part-schnauzer-part-who-knows-what rescue dog, came along for the sandwiches and biscuits. Scamps also loves to be with Rita, no matter where she goes.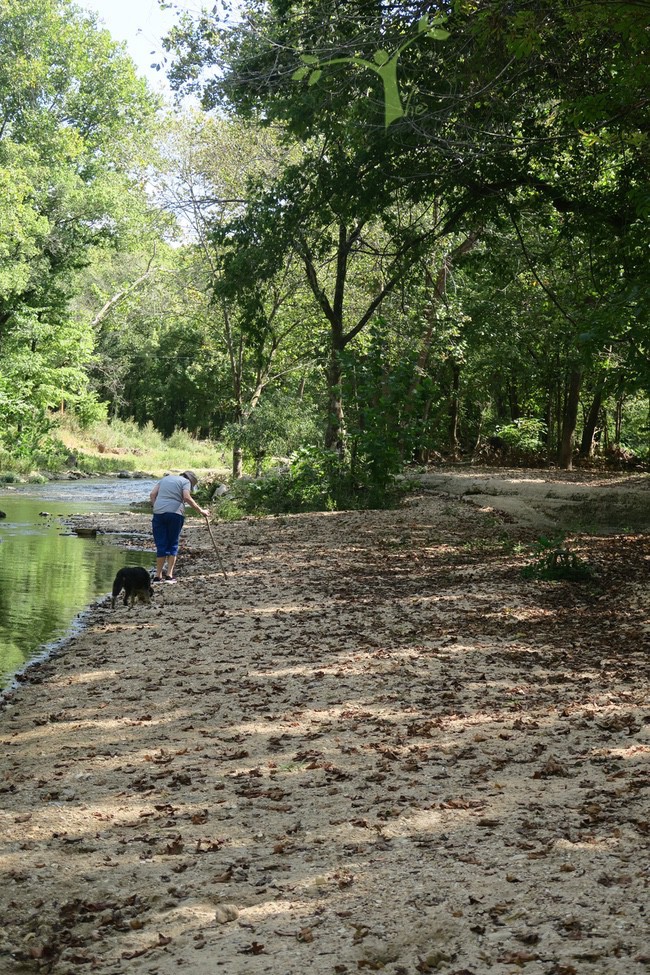 We had the creek to ourselves for most of the afternoon, except when a biker stopped for a smoke break. Stephanie decided the water felt too cold for a swim. The women swim there in the summertime. We meandered the banks of the creek, finding the old foundation of the Clark Mill.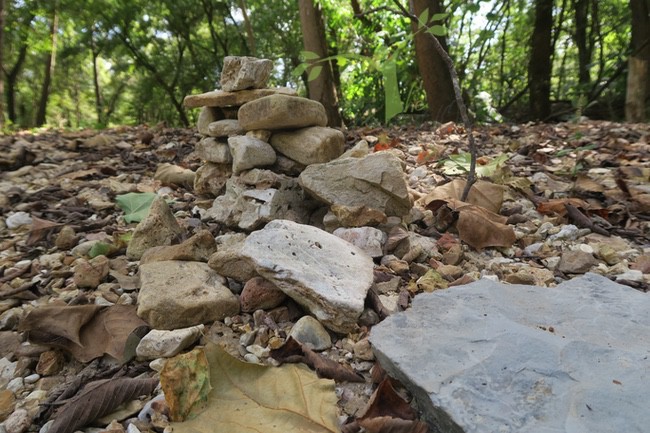 We also found a cairn that someone had constructed. Rita and Stephanie said this place is popular for cairn builders.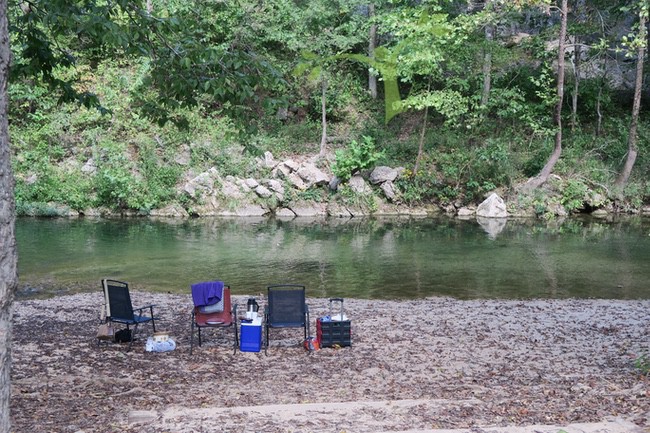 Creekin' in the Ozarks at Hunter Creek
Hunter Creek is a tributary of Brant Creek, which in my opinion, is big enough to be a river. It got is name from early pioneers who found good hunting opportunities in this area. The headwaters of Hunter Creek start north of Ava, Missouri and flow along State Route FF. Turkey Creek feeds it from the north. Wildcat Creek feeds it from the southwest, as it makes its way and shares with Whites Creek and Dicky Creek before joining Bryant Creek at this location (Vera Cruz). Once there was a town called Larissa, established in 1888, and named for an early postmaster's wife, Larissa Andrews. The post office operated until 1919.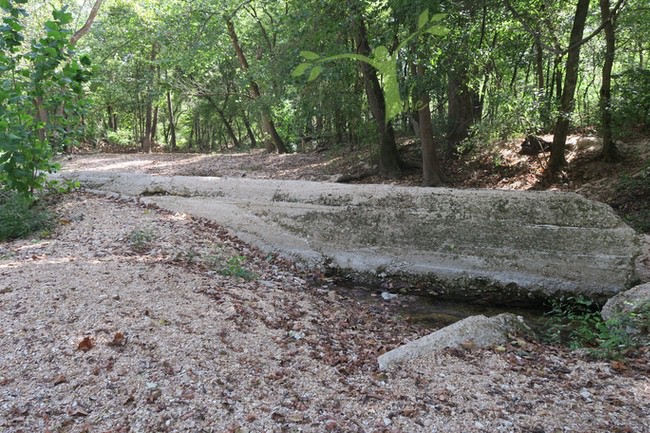 Hunter Creek is located almost 10 miles out of Ava in Douglas County of State Highway AB. Camping is available. The Missouri Department of Conservation has built a site, Vera Cruz, that allows access to the creek.