John and Theresa Maybrier openly admit they belong to a "weird cult society" of mycophagists. Then again, so do the other 12 million folks who hunt for mushrooms in this country. Fortunately, they were happy to share their expert advice on hunting for morels in the Ozarks (and other places).
The Maybriers also call themselves "chasers," meaning that they follow the mushroom season north each year. They conduct annual guided hunts to Michigan every spring, and last summer, John took their son, Paul, to Alaska for a mushroom hunt.
John and Theresa Maybrier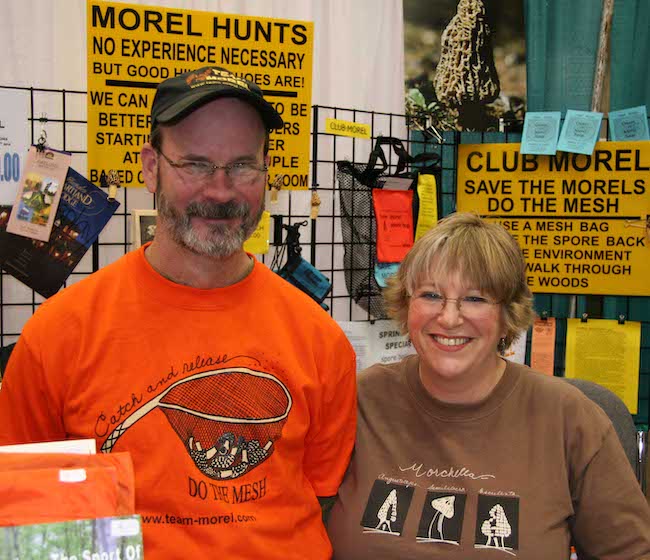 Their passion for the morel stemmed as a result of hunting with Larry Lonik, a.k.a. "the Mushroom Man" from Michigan. Monik died in 2003, and the Maybriers decided to form a team "to promote and educate all enthusiasts in the proper way of hunting and collecting morel mushrooms." They called themselves Team Morel, "an army of three."
The Maybriers do not claim to be mycologists, but hope to educate mushroomers through the club's newsletter. They wrote about their travels and tips in a book titled "Enjoy … the Sport of Morel Hunting. "The book not only reveals mushroom hunters' secrets, it also is filled with recipes and tips for drying and storing mushrooms.
If mushroom hunters do not have time to make one of the recipes from the book, they may whip up a batch of the Maybriers' newly created Cream of Morel soup. Theresa says, "You only need a can of beef broth and half a stick of butter to finish it off. It's absolutely delicious." The Maybriers sometimes add garlic, onions and crabmeat or lobster tail to the soup mix—making it a "kicked-up soup."
In addition to the book, the Maybriers designed the Sporebag, a bright orange mesh bag for mushroom transportation. They developed the Sporebag because when mushrooms get packed into buckets and bread sacks – anything plastic – the spores cannot spread.
Using the Proper Bag to Spread Sports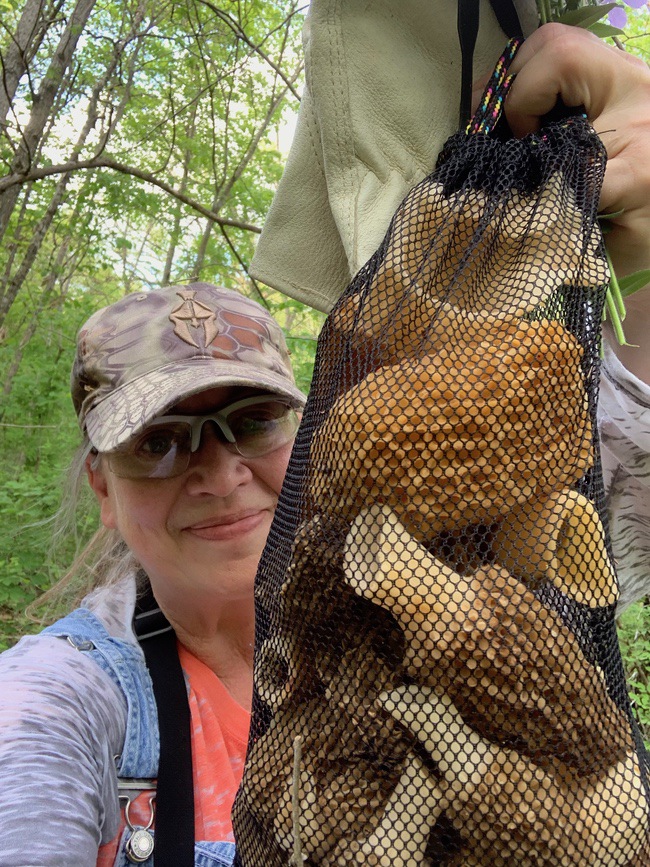 When kept in confined and hot spaces, mushroom spores die. According to the Maybriers, the mushroom population in this country is down by 40 to 50 percent as a result of too many confined and suffocated mushrooms being transported in the wrong manner.
Expert Advice on Hunting for Morels
Carrying a mesh bag through the woods allows the mushrooms to release their spores into the air to propagate future mushrooms. The Maybriers caution mushroomers never to wash the bag, because spores that stay in the bag remain fertile every season. The Maybriers explain the importance of carrying a mesh bag in order to spread mushrooms, and say, "You become the Johnny Appleseed of the morels!"
The Maybriers also add that mushrooms carried in a mesh bag will be fresher than those crushed in a plastic sack or bucket.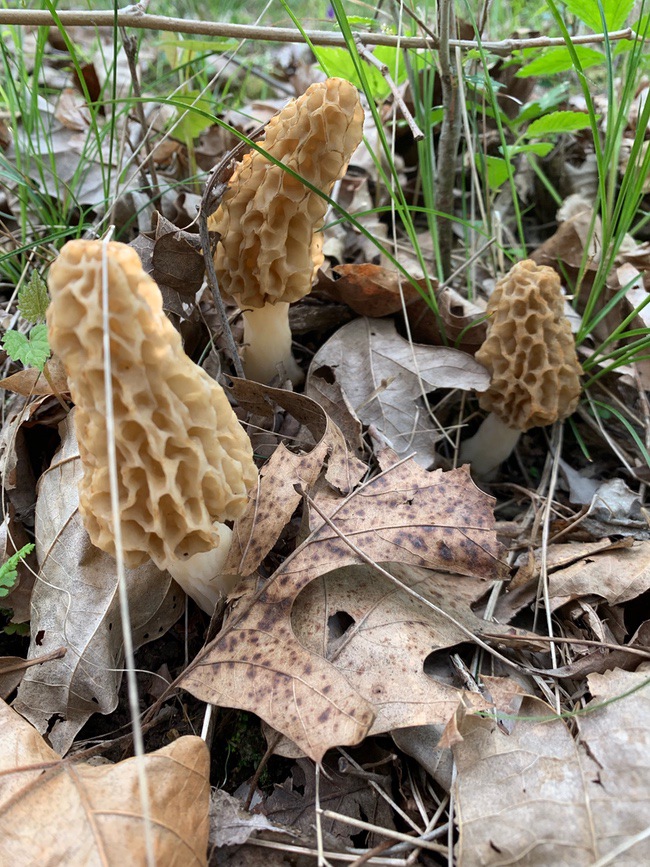 Morel Hunting Tips
One of the most important tips for mushroom hunting, says John, is to watch the temperature in the spring. Between 60-80 degrees is ideal. He "thinks like a morel," and when it gets too hot, he goes to the shade and vice versa. "Black morels and half cap morels tend to grow in the open areas, starting on south-facing slopes, then west, east and finally, north."
Here in Missouri, mushroom hunters look for the Mayapples and dogwoods to bloom as signs that mushroom season has arrived, but John says to watch the spring temperatures closely and when there has not been a frost for at least a week, combined with temperatures in the 50s-60s, to start the 'shroom search.
Turkey Hunting During Morel Season
Some Missourians combine turkey hunting with mushroom hunting, for 'tis the season for both sports. Hunting for mushrooms on public lands may present a safety problem during turkey season, so the Maybriers suggest hunting in the afternoon after 1 p.m. – that is when turkey hunters must quit for the day.
In turkey season, the Maybriers also remind mushroom hunters not to wear red, white (including your socks) or blue into the woods, for those are the colors that the gobblers display. They suggest that you don a wide-brimmed hat or long-billed baseball cap to protect your head from the sun and your eyes from tree branches.
Because to get to morels, hunters have to traipse through territory rife with Hawthorne tree thorns, wild rose bushes and gooseberries, the Maybriers also recommend sturdy shoes or boots. Yellow or orange shirts are a must for safety in the woods.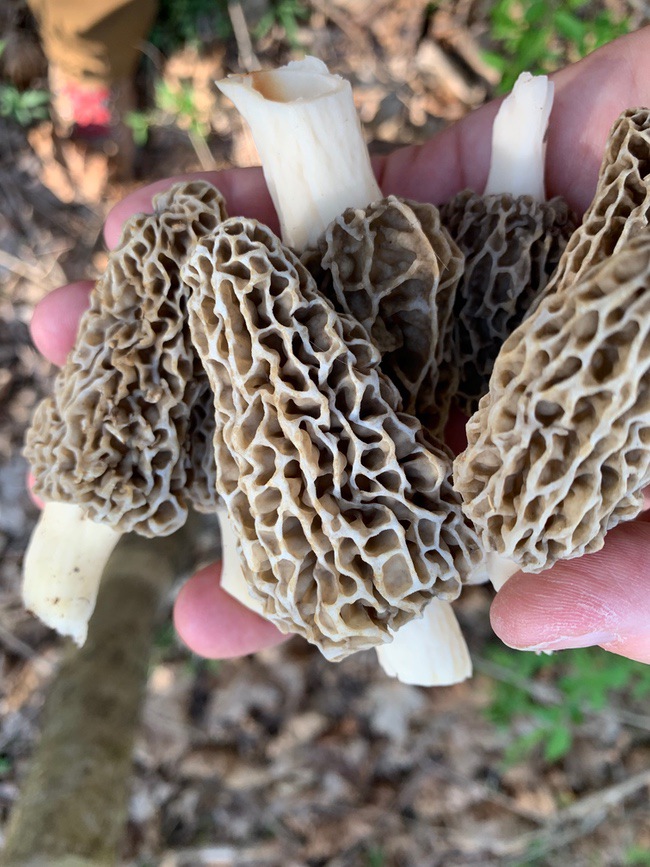 Theresa gives a helpful tip for beginners: "The significant thing to remember is to look for trees that are in the process of dying – morels like the soft hardwoods such as birch, maple, elm, ash, sycamore, aspen, poplars. Morels are fungus. Looking for the trees that are dying will increase the number of morels they will find because this is a food source for the morel underground organism, giving it strength to reproduce."
About mushroom hunting, John says, "Every season is completely different." He adds, "Once you figure it out, you can go anywhere and find 'em."
Update: 2019 — The Maybriers have authored a new book, "Morel Hunting: How to Find, Preserve, Care for, and Prepare the Wild Mushrooms," since I interviewed them in 2006.