Missourians do not have to look far to find interesting stories when it comes to the Civil War in our state. It was nothing but interesting, since we were a border state. It could be said that we had a constant state of war-induced turmoil within our own borders for years—before and after the official war on record. The Civil War Museum in downtown Carthage, is an excellent place to learn about the Civil War and how it affected our state.
Carthage Civil War Museum
The people of Carthage lay claim to the first full-scale land battle of the Civil War on July 5, 1861, two weeks before Bull Run. Missouri's exiled governor, Claiborne Jackson, led Missouri state guardsmen in a battle against St. Louisan and Union Col. Franz Sigel, and made him retreat to Sarcoxie.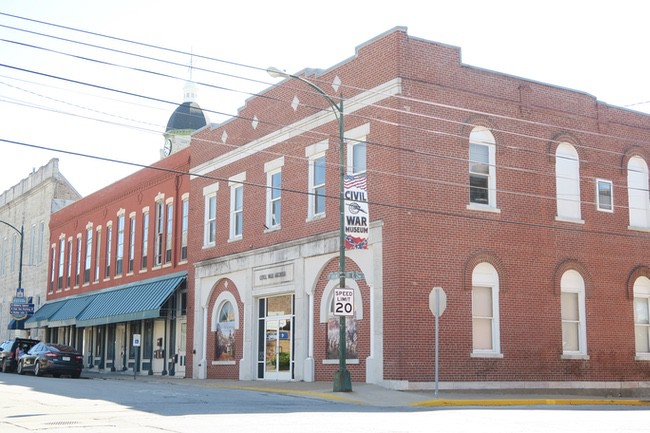 The Civil War Museum lies close to the town square, and although a small space, contains large information that details troop movements and also describes the effects of the first battle—and another battle in 1863—on Carthage. Originally built to serve as City Hall in 1883, it later became the fire station and then, the city's Civil War Museum in 1992.
Art and More
A 7-by-15-foot oil painting, by Carthage artist Andy Thomas, boldly sets the stage in the entry at the museum. It depicts, in fiery colors, the heat of the battle on the nearby courthouse square. After viewing the painting, then making the counter-clockwise tour of the small museum and returning to the beginning—in front of the painting—a passage from one of the exhibits becomes clear: "Every soul was required to choose sides."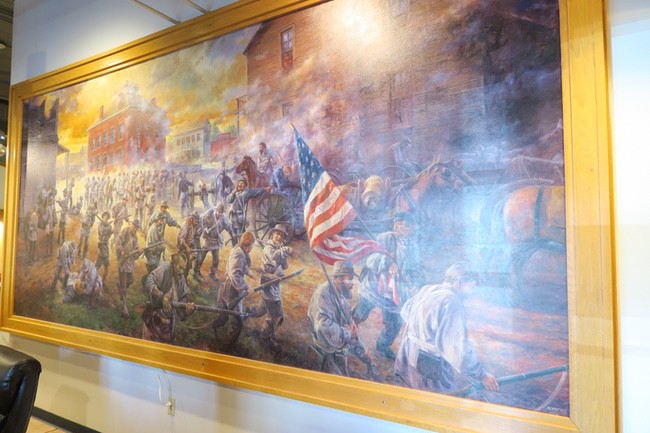 The museum's story begins in 1820 and touches on acts of guerilla warfare, and events that led to Missouri being declared a border state. Display cases hold original Confederate currency, letters written by Missouri volunteers, a Union soldier's sword, along with cannon balls, grape shots and other weapons. Visitors get a glimpse of how Gov. Jackson's amateur army armed itself—double-barreled shotgun, homemade bowie knife made from farm tools, gunpowder flask and homemade canteen.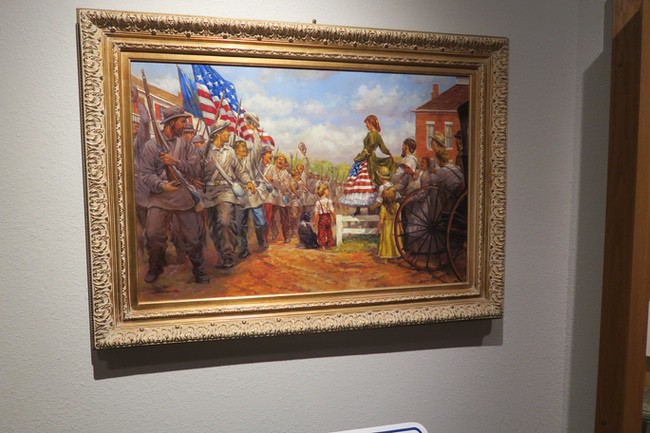 Artist Andy Thomas also captures the story in a painting of Carthage sheriff's daughter, Lucy Hood, a Union sympathizer, who lifted her petticoats to reveal a Union flag wrapped around her body to incoming Union troops. On a more somber note, another Carthage woman affected by the war when her brother died serving in the Confederacy in Sarcoxie in 1864, Belle Starr, served as an informant of Union troop movement to the Confederacy. She associated with the James' gang. A piece of one of her notes from prison lies on display in the museum. It reads, "I am going to slip this letter out by a prisoner."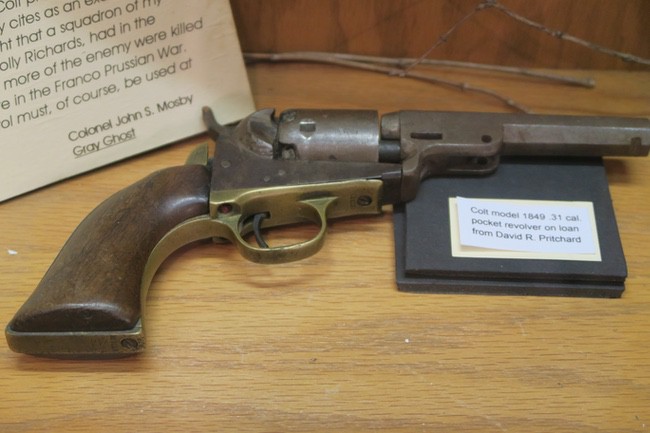 Another painting, done by nationally renowned Western artist Bob Tommey, depicts a night-time raid by bushwhackers. Nearby, a display case holds a Civil War medicine surgeon's kit. Of particular interest is the three-bladed fleam, used for bleeding a patient, donated by Ben Sweet. Sweet's grandfather, also named Ben Sweet, was wounded while serving in the Union Army.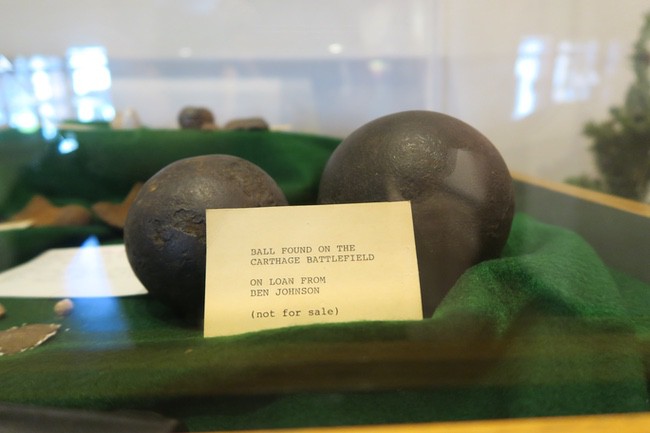 Carthage changed hands between Union and Confederate control several times and in October 1863, it saw the Second Battle of Carthage fought throughout the city. The courthouse was used as a hospital and as a headquarters. In 1864, Confederate Guerillas burned the entire town, and only the Kendrick farm, on the outskirts of town still stands.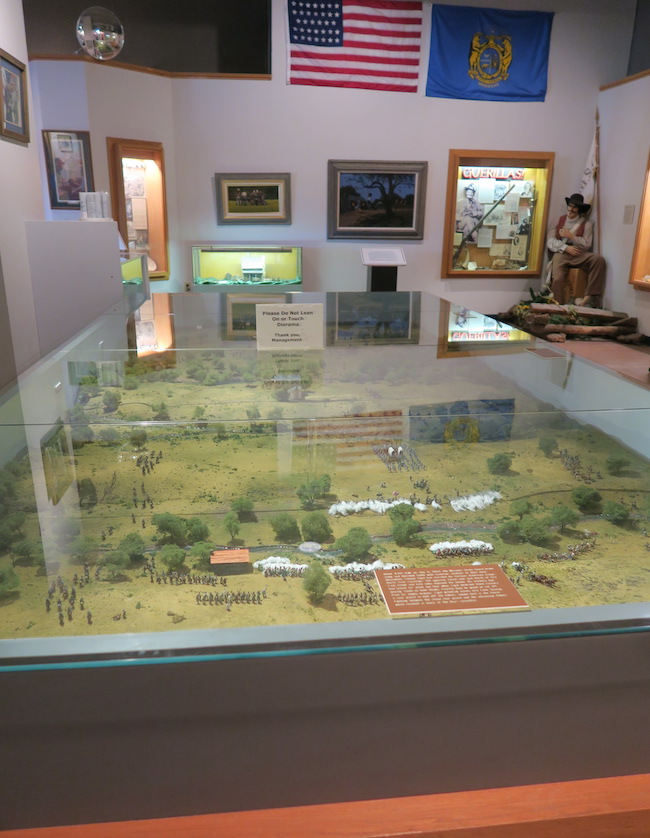 An impressive diorama details the first battle. A Roll of the Dead hangs on the wall, for interested descendents of family members who sacrificed all here.
Not only does this small display area within the museum hold several books, CDs and DVDs pertaining to the Civil War, it also sells children's books about that time in our history. Lee and Grant paperweights, sesquicentennial tee shirts and handmade miniature cannons are some of the items for sale. The Civil War Museum is located at 205 South Grant. For visiting hours, check this website.
While in Carthage
Take a walk around the town square in Carthage. Stop in at the beautiful Jasper County Courthouse, circa 1894 a Romanesque Revival structure, it holds a museum and murals on its main floor. Continue a walking tour in the Courthouse National Square District, which touts several registered buildings. Then, enjoy a driving tour of Victorian architecture. After all, Carthage once contained the most millionaires per capita in the U.S. at the turn of the 20thCentury.