After watching the Netflix movie "The Highwaymen" last spring, I embarked on a self-guided course to learn more about the notorious criminals from the 1930s, Bonnie and Clyde. The movie portrayed a few things incorrectly. Several authors of biographies surrounding the infamous pair embellished the young lovers' lives inaccurately. I believe that, so far, the best and most trusted documentation comes from this book, "Texas Ranger: The Epic Life of Frank Hamer, the Man Who Killed Bonnie and Clyde," written by John Boessenecker.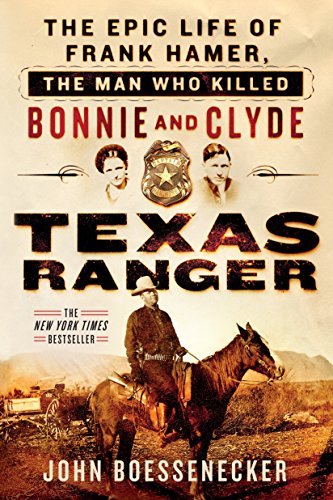 The book, which is about the career of Frank Hamer, one of the most well-known Texas Rangers of all time, devotes 3 chapters to his reconnaissance, strategy and eventual ambush of Bonnie and Clyde. At the time of his assignment, Hamer was no longer a Texas Ranger, but had been recruited for the job by the state of Texas to do this task: capture and/or kill Bonnie and Clyde.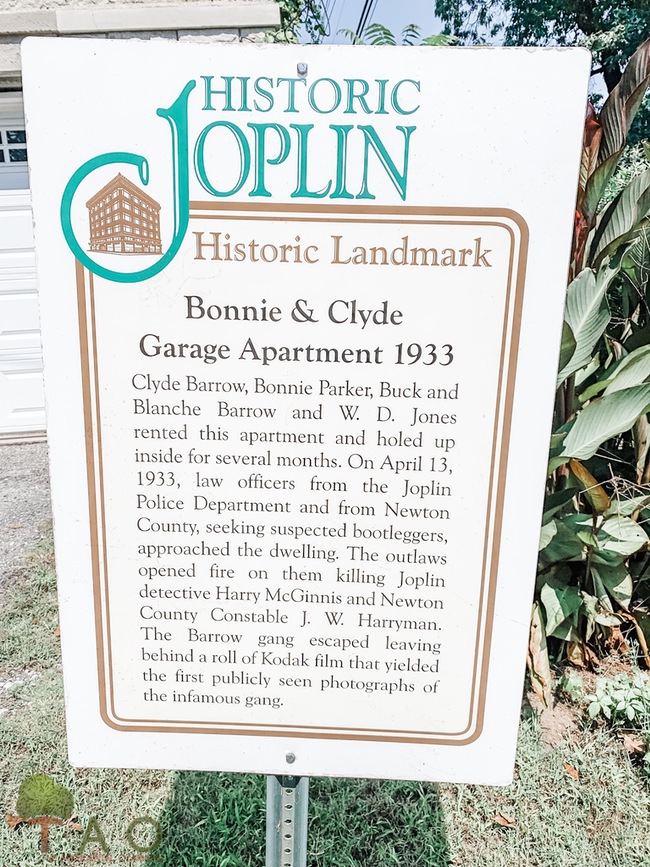 I'm not going to go into detail about some of the inaccuracies in the other books, but imagine my surprise, when having found the apartment over the garage where Bonnie and Clyde had stayed in Joplin, that a sign states they had been onsite for "several months." In fact, they had been there for almost 2 weeks – from April 1 to April 13, 1933.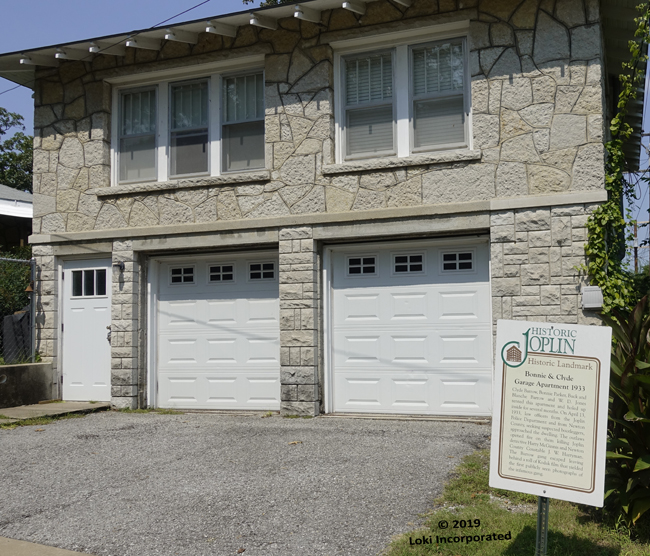 Bonnie and Clyde in Joplin
The story of Bonnie and Clyde in Joplin, Missouri – a small town in western Missouri – began because of the governor of Texas, Ma Ferguson, pardoned Buck Barrow – Clyde's brother – from a prison in Huntsville, Texas, on March 20, 1933. Buck and his wife, Blanche, along with W.D. Jones, joined Bonnie and Clyde in a rented apartment (located at 3347½ Oak Ridge Drive in a residential neighborhood of Joplin). Supposedly, they appreciated the view from the top, which gave them a 360-degree look-out. Hamer is quoted in the book as saying, "I soon learned that Barrow played a circle from Dallas to Joplin, Missouri, to Louisiana, and back to Dallas. Occasionally he would leave this beat, but he would always come back to it as most criminals do. One time he and Bonnie went as far east as North Carolina for no other purpose, it seems, than to visit a cigarette factory. Again they would go to Indiana, Iowa or New Mexico, but like wild horses, they would circle to their old range."
The gang's rowdy antics caused neighbors to suspect there might be bootlegging going on. The neighbors called the law, and on April 13, five lawmen came to investigate. The officers carried .38 revolvers, no match for  the Barrow gang's shotguns and Browning automatic rifles, aka BARs (usually stolen from National Guard armories). Two out of the five law officers — Newton County Constable John Wesley Harryman and Joplin Police Detective Harry McGinnis — fell dead. W.D. Jones took a bullet to his side and escaped with the gang in a car.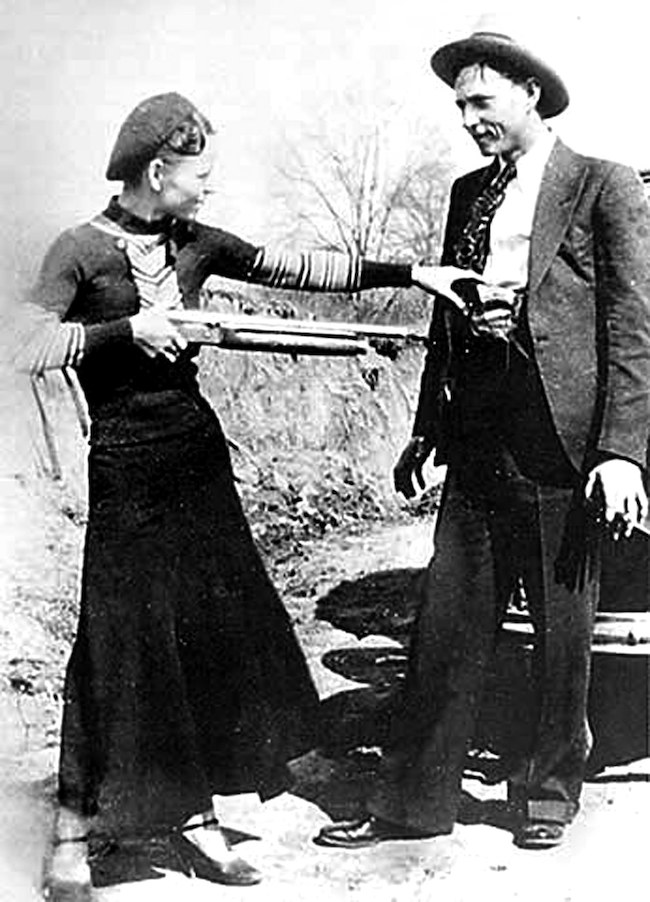 Inside the apartment, officers found more guns, along with poetry written by Bonnie, personal effects and the most important item – a Brownie camera with a roll of undeveloped film. Those photos, published by the "Joplin Globe," and distributed in newspapers and magazines throughout the nation, showed Bonnie and Clyde in various poses with firearms. One of the most famous shots shows Bonnie pointing a shotgun at Clyde. Another one features Bonnie — standing in a very unladylike pose, with her foot up on a fender – holding a pistol in her hand and a cigar in her mouth.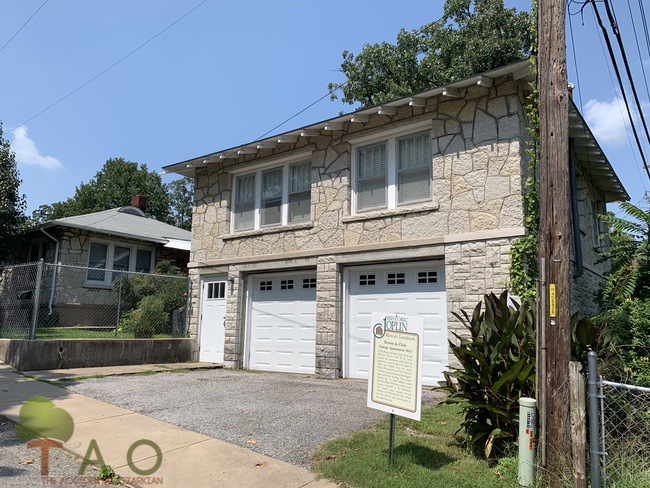 The apartment, built in 1928, has been a bed and breakfast in the past. Today, it is privately owned and can be rented on Air BnB. Supposedly, you can still see the bullet holes in walls, even after restoration.
More about Bonnie and Clyde in Joplin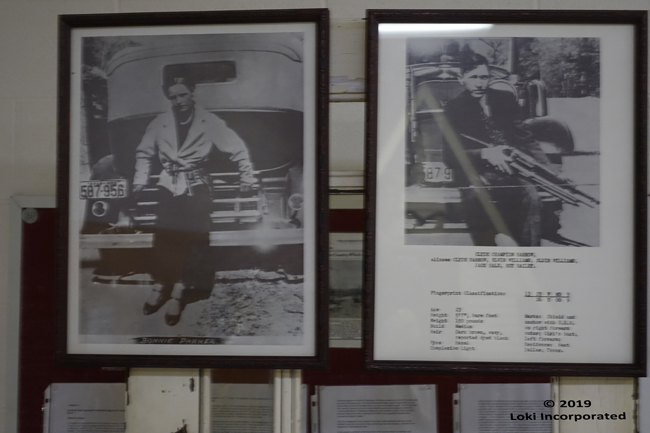 Over at the Joplin Museum Complex, in a back corner of the museum, you can see some of the Barrow gang's personal effects, along with the door that the law kicked in on that fateful day. An employee of the museum said that plans are proceeding to improve the display and add more to it.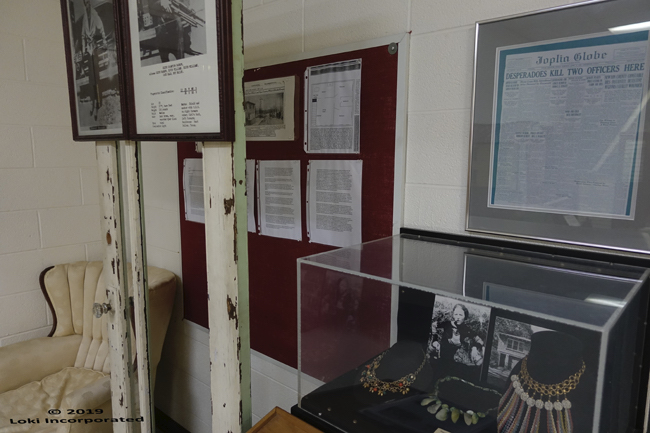 Frank Hamer and his team divided the "booty" found in Bonnie and Clyde's car. Back in the day, law enforcement might be "entitled" to keep artifacts and mementos from crime scenes.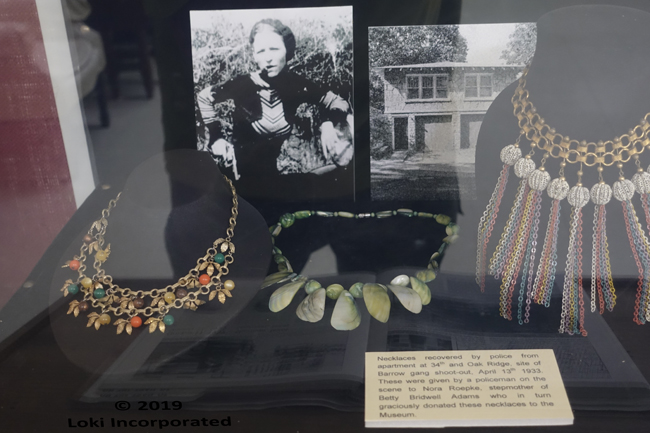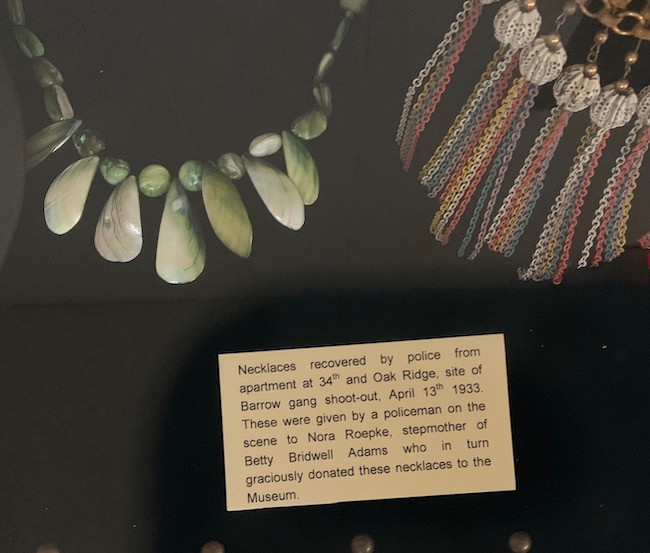 Who knows where the rest of the Barrow gangs' belongings might be scattered by now? Hopefully, the museum can find and display more. Meanwhile, you may drive by the famous apartment, or even, stay there.