"I'll make this short, girls. I won't give you all the details, but that was Grandpa Bacon's stove. That was Grandpa's bed and that thing down there, that's a zither … and he was a carpenter and a bricklayer and a stonemason and he helped to build that ironworks in St. James." And so it went, on a tour through Grace Bacon Ferrier's fine old house on a beautiful afternoon in the Missouri Ozarks.
Grace Bacon Ferrier
Bacon Ferrier has written two books that describe life in the Ozarks, from as soon as she can remember, which was probably sometime around 1916. 
Bacon Ferrier lives near Cooper Hill, outside of Bland. Her home is on a farm that has been in her family since she was a young girl, and the house was built before the Civil War. She lives with her brother, Pete Bacon.
Together, and with the help of a ranch hand, they run a cattle ranch, and on this day the cattle were bawling in the field across the road from the old house. "Don't mind them … we sold their babies last night, and oh, it bothers me, too." She winked, and said, "I get rather attached to all the animals around here," as she ushered us from the large porch to her parlor.
After settling in, I sat mesmerized while I listened to Bacon Ferrier talking to Ethelyn Ammerman from Belle, Missouri, who, like Bacon Ferrier, taught in country schoolhouses. The women's grandfathers were friends, too. 
Several times during the conversation, Bacon Ferrier's mongrel dog, Mollie, would body-slam the door from the outside – an indication that she wanted back in. Bacon Ferrier would get up out of her chair and let Mollie in, and then, let her out again a little while later.
The women regaled me with tales of days gone by, and their memories were so sharp – putting mine to shame. Bacon Ferrier described the days before computers and copy machines. "We didn't have anything at Linn in the way of machinery, so if you wanted to give a test you had to write it on the blackboard. So, I wrote those big three-letter words and they had to fill in the past and the future tenses … and this kid, Larry Haslag, just to be funny, when he got to the word 'sow,' in the past [tense], he wrote 'hog' and in the future, he wrote 'litter.' That's the kind of thing you ran into all the time. I didn't know whether to give him an 'A' or an 'F'."
Bacon Ferrier rattled off teachers' names that she worked with at this schoolhouse or that schoolhouse. She told stories about discipline procedures in country schoolhouses and talked about games children played. Ammerman chimed in and supported several of Bacon Ferrier's theories about the art of raising civilized children.
Then, she treated us to a tour of the house, which culminated in a birthday party for Ammerman, who was 89 that day. We sat around an old table, sipping tea and nibbling birthday cake, in Bacon Ferrier's warm country kitchen that has seen several generations. Throughout the course of conversation, Bacon Ferrier's eyes twinkled, and she used her extensive vocabulary to entertain and educate.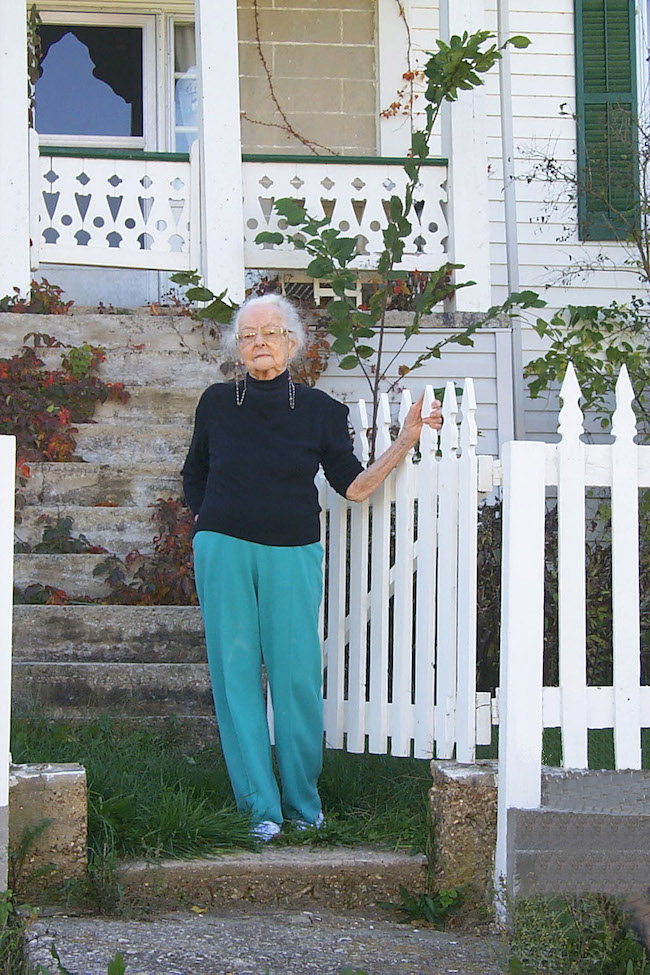 Both of Bacon Ferrier's books would make excellent teaching aids for elementary school teachers, or even for teachers in humanities at the secondary level. Young children would really enjoy listening to the stories, and older students could use the information to help craft interesting essays and research papers.
The books
Teacher, Teacher I Done It …, written in 1986, encompasses Bacon Ferrier's 43-year teaching career. She began teaching in 1932 at the Horse Shoe Bend schoolhouse. According to the book's publisher and editor, Bill Nunn, of The Westphalia Press, "She has given us an entertaining and enduring piece of Americana, where we live."
She said she wrote the book because several young teachers encouraged her to do so. "When I got so old, I was older than every other teacher in the building at Kirkwood … and the young teachers, they would get so frustrated that they would cry … I would tell them these stories and they would cheer up a little bit."
She continued, "So, they would all say to me, 'Well you ought to write a book.' Well, I had been studying on this for a long time, but there was never time … but I finally got started on it, and I just kept going from one school to the other until I got through with it."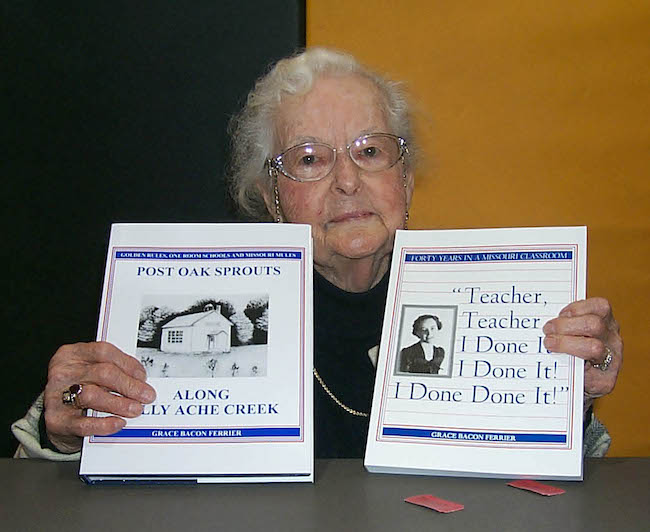 Her second book, Post Oak Sprouts Along Belly Ache Creek, was published by Lahmeyer-Ferrier Publishing of California City, California, in 2001. The book takes the reader from Bacon Ferrier's childhood to young adulthood.
Willard Rand, former editor of the St. James Leader-Journal [Missouri], once dubbed Grace Bacon Ferrier the "Laura Ingalls Wilder" of Osage County. Her colorful descriptions will endear the reader not only to her, but also to several members of her family and to many of her students. I am honored to have met her and spent time with her.