Share the post "A Visit with Melanie Holsti: Ironstone Cottage Tea Room & Garden"
There are several reasons I felt immediately comfortable in the Ironstone Cottage Tea Room and Garden, located on Greene Avenue, near the historic Square in Mountain Grove, Missouri. First of all, the atmosphere – in the 1917 Craftsman bungalow – feels warm and inviting, and secondly, the entire Holsti family works as a team to make this tea room a success. Thirdly, and personal for me, is that Holstis moved from South Dakota to this area (and I'm from South Dakota, as well), which makes them "accidental Ozarkians," too.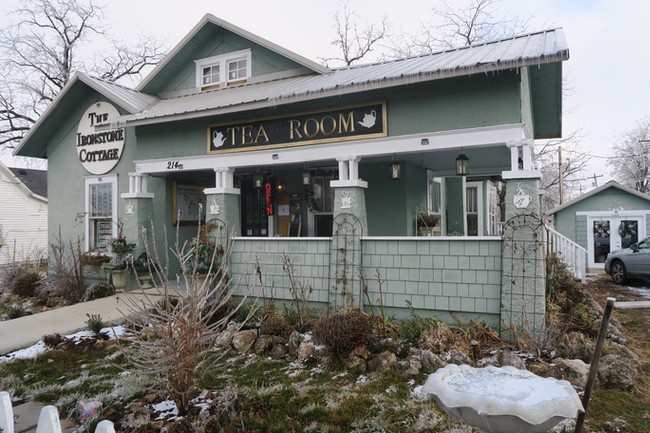 My friend, Stacey, I recently stopped by the tea room to celebrate the family's first year in the business. Melanie graciously agreed to answer questions, and I think you'll be interested in what drives her entrepreneurial spirit, and her answer to the question, "Why tea?"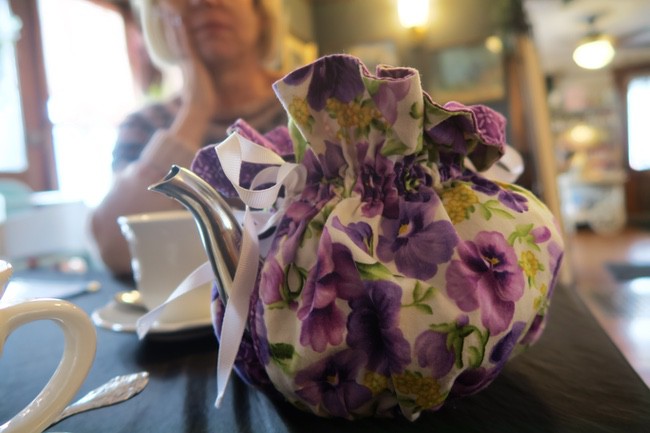 TAO: When people ask you what you do, what do you say (elevator speech length)?
Melanie Holsti: I help people build relationships while enjoying good tea and good food. 
TAO: Why do you do it?
Melanie Holsti: I have gained and lost interest in many things over the years, but tea and hospitality are two things that have always been a constant for me. I want people to feel welcome, accepted and appreciated when they come through our door.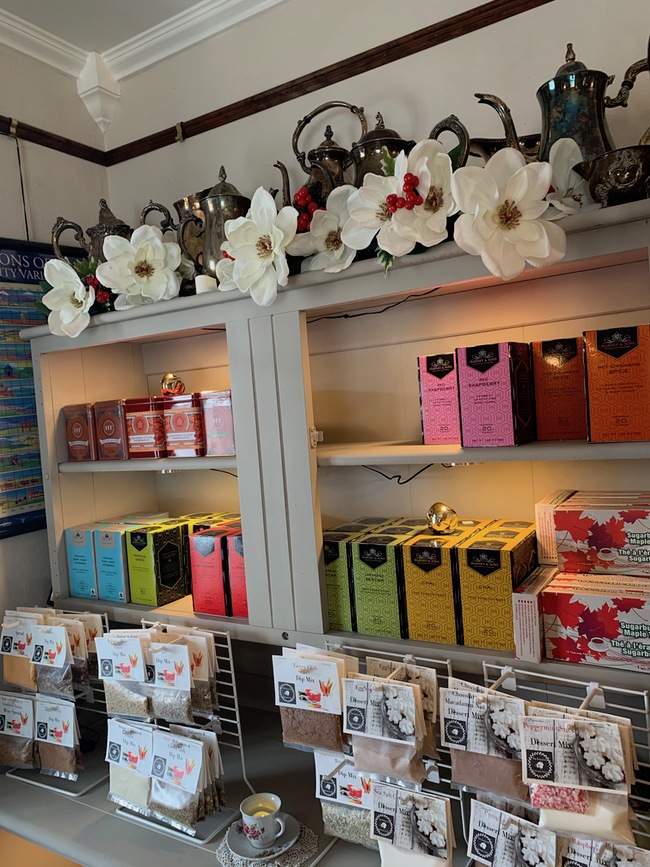 TAO: How did you find your way to Mountain Grove and to owning a tea shop here?
Melanie Holsti: So many things had to come together at the right time, that there can be no other explanation than the hand of the Father. 
Why Tea?
Melanie Holsti: Tea is associated with so many good things: patience, relaxation, contemplation, hospitality, warmth, friendship, conversation, good food and special occasions.
Why the Name?
TAO: Why did you call it Ironstone Cottage?
Melanie Holsti: I've followed Miss Mustard Seed, the blogger, for over 10 years, and always admired her collection of beautiful, sturdy ironstone dishes.   

It was a long, nerve-wracking roller-coaster trying to get our house in South Dakota sold so that we could afford to buy this property, and there were a lot of days when I was convinced it was never going to happen.  During one of the lowest points, we were out thrifting and stumbled upon a large amount of Ironstone restaurant dishes.  I fought my head a bit about whether to buy all of those dishes when we didn't even have a place to use them yet.  My husband talked me into it, and that's how the name came about.  Those dishes are usually what we serve our food on (except during open houses when we lay out the "fine" china, aka paper plates).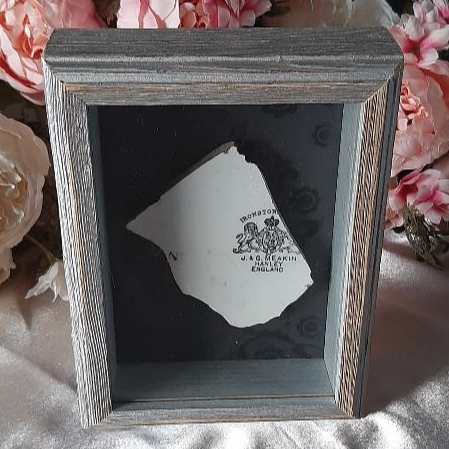 The sign that I had the right name, and that we were on the right path was when we were digging post holes to set the fence in the back yard.  My husband pulled a pottery shard out of one of the holes, which had the Meakin hallmark on it.
It's About Family
TAO: Your family helps in so many ways … would you please list a few?
Melanie Holsti: My husband, John, keeps the equipment working, the dishes washed, the building maintained, the lawn mowed and errands run. He also pinch-hits as our second cook when we're busy. My eldest, Morgan, works as our main server, cashier and backup baker and tea preparer. My youngest, Camille, keeps the tables bussed, the linens folded and the silverware polished. She is also our chief lemonade-maker. All 3 of them have sacrificed a lot of time and energy to help make my dream a reality. I am so blessed!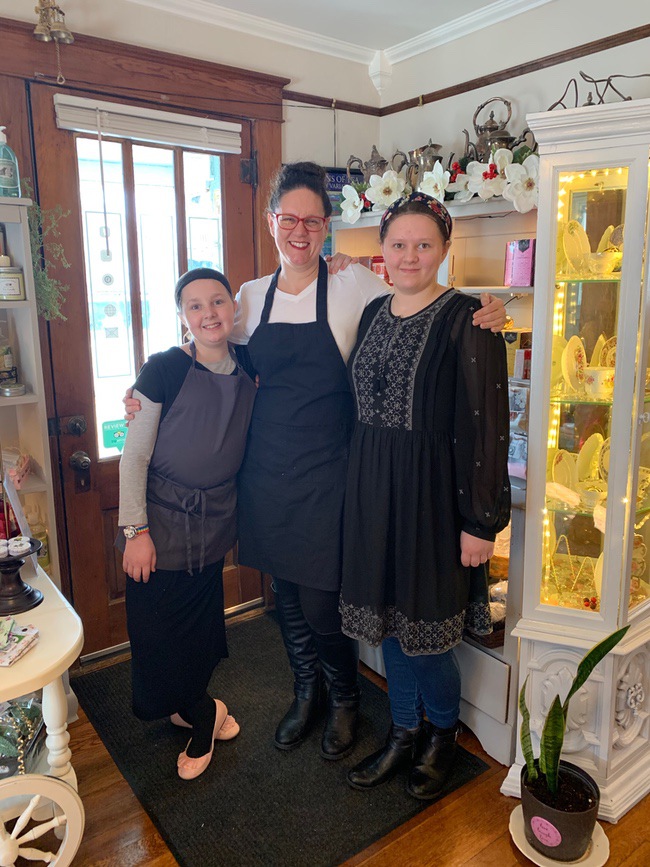 House Cleaning
TAO: What did it take to get the present place ready for business?
Melanie Holsti: It took about 18 months, a fair bit of money and a lot of elbow grease. We hired out the roof and electrical work, but everything else – stripping layers of wallpaper, refinishing floors, remodeling the kitchen and bathroom, rebuilding the front porch, pouring a new front walk, refinishing the woodwork, repairing the plaster walls and ever so much painting – we did ourselves. 
TAO: The history of the house — you mentioned something about a judge?
Melanie Holsti: According to the deed, the house was built in 1917, so it's 102 years old. We've been told by various visitors that it was owned a judge, and that people remember coming to the house to pay their traffic tickets. We've also been told by a previous owner (and seen some evidence while remodeling) that the house caught fire several decades ago. The house was owned by the Relyea family for much of its life. Many guests have told us that it was used as a beauty salon and a book store, but that was all long before we came to Mountain Grove. 
The Garden at Ironstone Cottage
TAO: The garden. What happens there and are there any future plans for it?
Melanie Holsti: The garden is available for hosting birthday parties, baby showers, bridal showers and photo shoots in good weather (and when the black walnuts aren't dropping!). Eventually, we'll finish fencing around it, install a fountain, create walkways, build some arbors for the climbing roses and finish planting the flower beds. We also plan to add more parking space.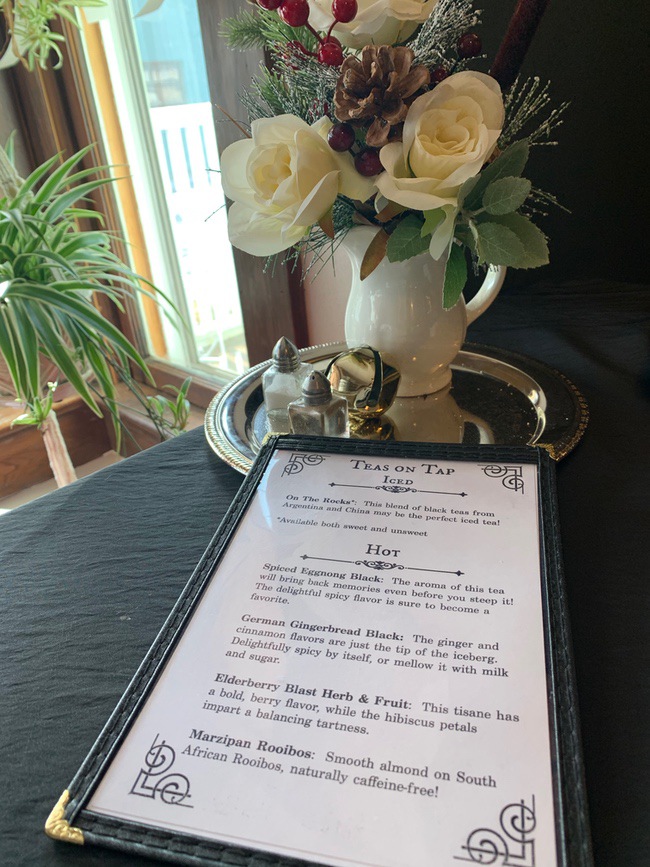 TAO: The menu — please explain.
Melanie Holsti: Our menu consists of a variety of sandwiches and salads, plus a soup of the day, and whatever desserts we decide to create for the week. We've made changes to the menu every month, based on what's in season and the feedback we receive from our guests. We'll be setting a more permanent menu in January. 
TAO: Your favorite tea.
Melanie Holsti: While I have developed a taste for green tea, and there are some really wonderful Oolongs, I think my favorite will always be Yunnan black tea. 
More Offered by Ironstone Cottage Tea Room
TAO: Catering and special events?
Melanie Holsti: We are available to host small group events in the tea room (because it was a house, the size of the rooms limits us to groups of 12 or less) and we can prepare boxed lunches or tea-to-go for seminars and larger events.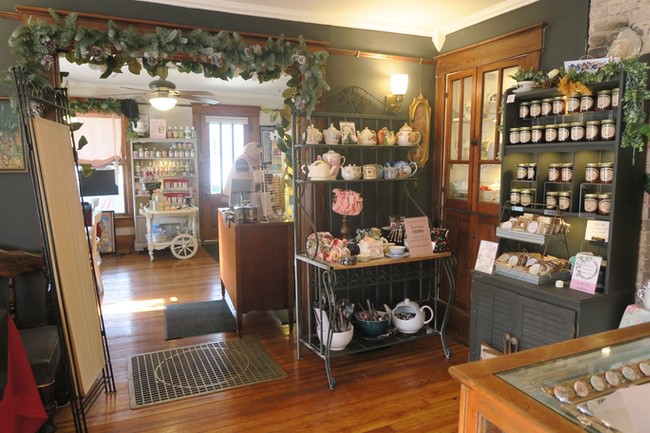 TAO: What have you learned in the past year — good and bad?
Melanie Holsti: I wish that I could say that I've learned patience, but I still don't have any! I think that the biggest thing I've learned is that even if you intellectually understand the challenges and joys of running a small business, you don't truly understand until you're actually doing it.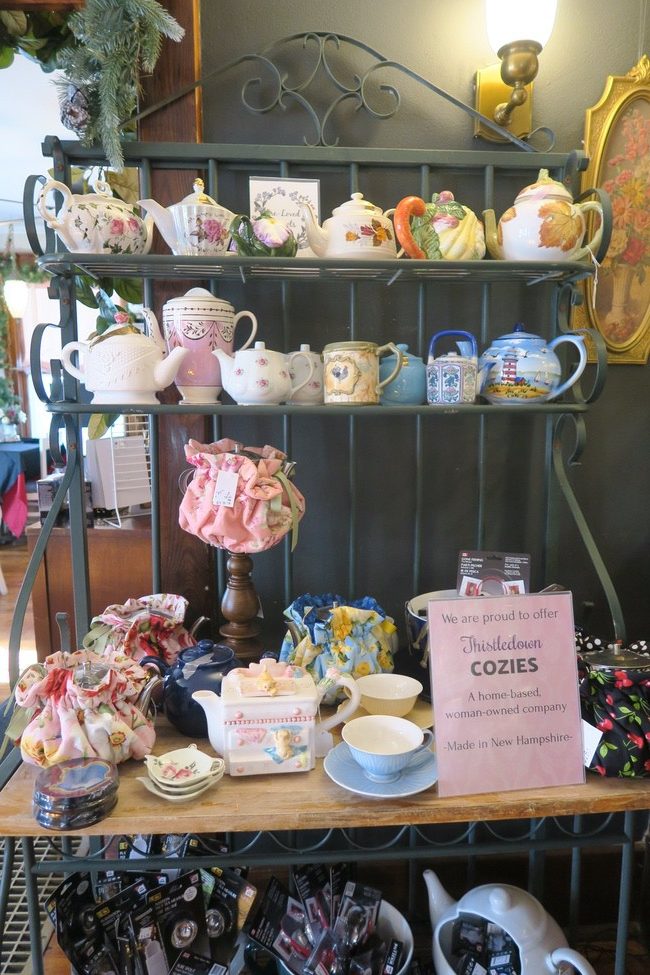 TAO: Holiday hours?
Melanie Holsti: The gift shop will be open until 6 on Christmas Eve for procrastinators, and then we'll be closed on Christmas day, but open the 26th. We'll be open our regular hours (10-4) on New Year's Eve and Day. Our winter hours, which begin on January 5th, are Wednesday through Friday, from 11 a.m. to 3 p.m.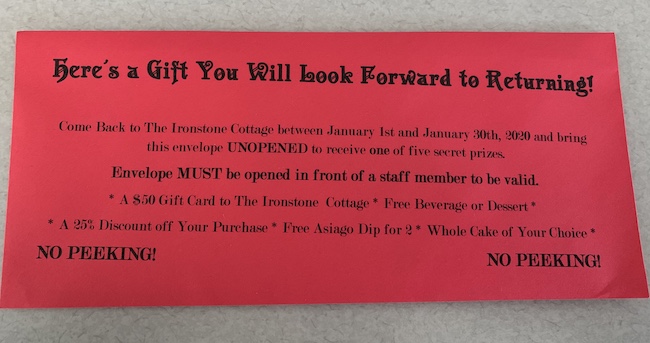 TAO: Explain the ongoing "red envelope."
Melanie Holsti: For the month of December, we're giving a red envelope to each table when we drop off the guest check. Guests can bring their envelope (unopened) in during the month of January, we'll open it for them, and inside is one of 5 different coupons. The coupons range from a free drink with meal purchase, to a $50 gift card to the tea room.
TAO: Anything else?
Melanie Holsti: We are looking for local artisans to feature in our gift shop, and local foods to offer on our menu.
Visit Ironstone Cottage Tea Room & Garden online.
Don't forget to check out Melanie's blog at the site.