It's like a national holiday, this opening day of whitetail season with rifles here in the Ozarks. It's not only special here, though. Hunting for deer is a national favorite, and surveys show that 80% of big game hunters go for the whitetail experience. Meanwhile, deer hunting in the Ozarks (rifle season) falls right before Thanksgiving every year during the rut, and it's a great time for families and friends to reunite and get outdoors.
Deer Hunting in the Ozarks, My Story
I didn't grow up hunting. A kid from North Dakota who grew up playing competitive sports (tennis, softball, volleyball and track), I didn't have knowledge of or access to hunting ever.
Fast forward to adulthood and marriage and then, I gave birth to 3 boys in 8 years. When boy #3 was 11, I started seeing the writing on the wall. By that time, boy #1 had left for the frat house and boy #2 was eyeing the door, too. Both the older boys went to Hunter Education courses at the local Vo-Tech school in Rolla. Frankly, I just dropped them off and picked them up later. If I attempted to make conversation, I got an answer such as, "I learned that I don't want to be a statistic." They hunted with their dad.
About the time boy #3 got interested in hunting, my interest piqued, too. I had started writing "The Accidental Ozarkian" column and felt compelled to get outside as much as possible on adventures, hunting being one of them. And then, there's that delicious red meat called venison with a high protein count factor. I decided to take the class with him, because even though I was old enough to be "grandfathered" in for not needing a Hunter Ed course, I wanted to take it with him. In fact, the Missouri Conservationist magazine wanted me to take it with him, too, and gave me an assignment to cover it.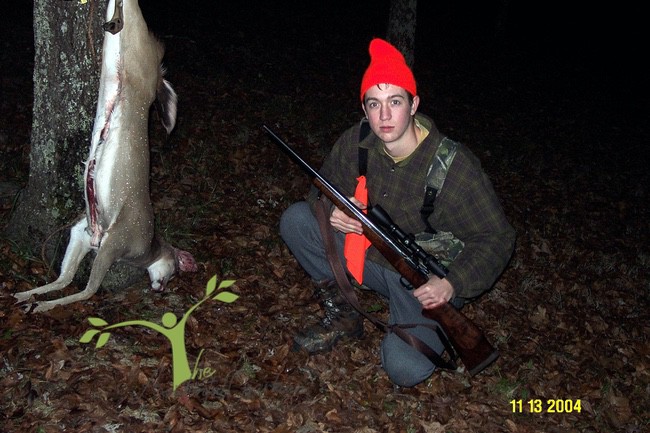 Here's what I'll never forget from that experience. One night, as we drove home after class in the dark, he looked at me and said this: "Mom, that conservation agent was right. I might break the law and take an animal when I shouldn't and no one would know, but Mom, I would know. I would have to look at myself in the mirror the next day."
And to this day, I thank God that this kid has a conscience.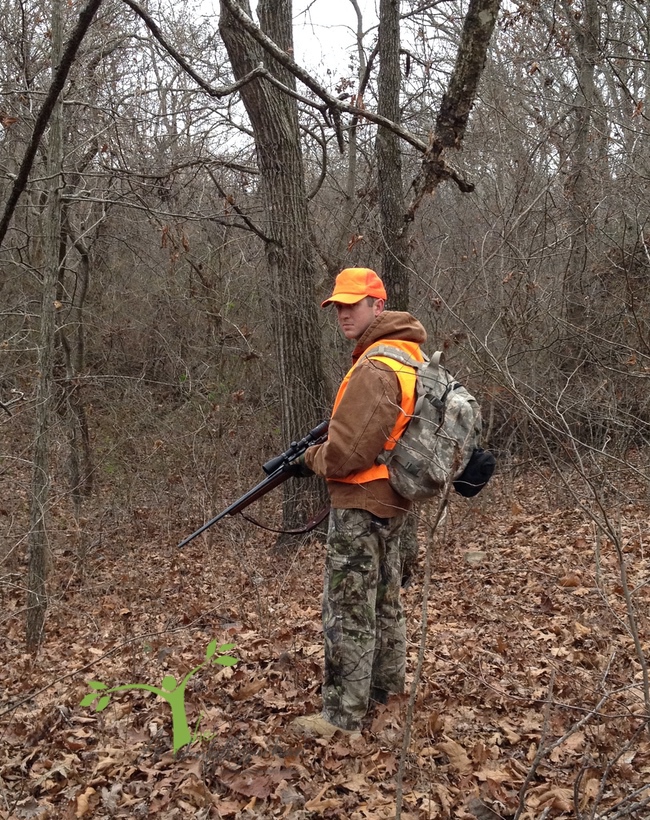 So, after learning the rules about hunting, I started going hunting – with the hubs and boys, with friends, with groups and then, major gun and ammo companies stared inviting me on media trips. My favorite so far has been the mule deer hunt in the Chihuahuan Desert in Texas, right down by the border, sponsored by Remington Arms. That's the one where my scope broke and I shot the top of one of the mule deer's tines clean off. My guide handed me his elk gun and we went from there.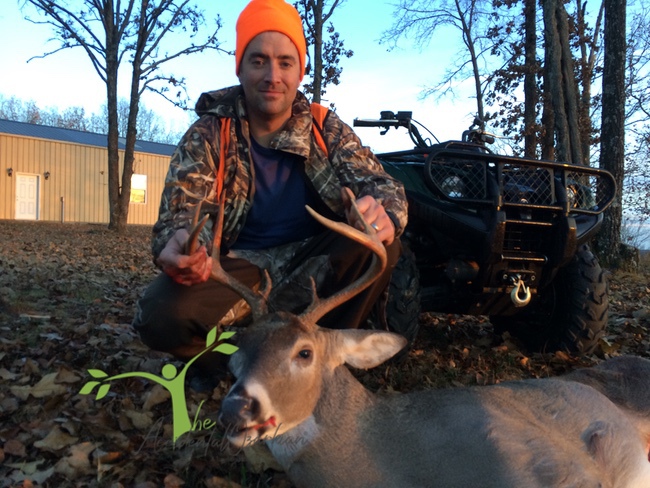 Whitetail Hunting in the Ozarks
Whitetail hunting in the Ozarks is very different from mule deer hunting out West, especially in that you would never drive around, glassing (looking through binoculars) to find a deer, get out of the truck, place the rifle across the hood and shoot.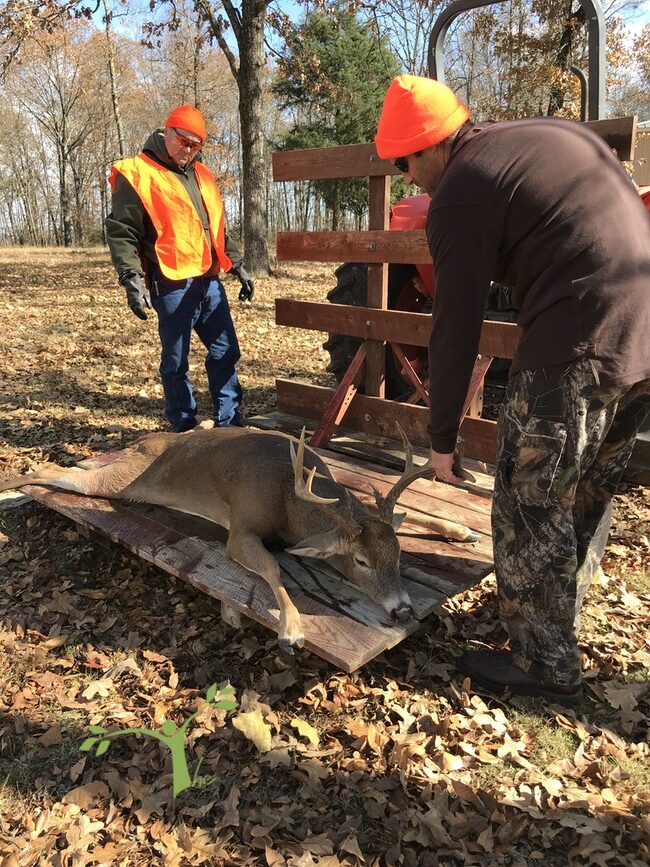 Here, at our old cattle ranch in southwest Missouri, throughout the years we have been discovering where the deer walk and bed down. We set up tree stands and a blind in accordance with their movement. It's been fascinating to discover. It's a year-long process – watching the results come in on game cameras, scouring the woods for trails, scrapes and rubs and then, looking for sheds in the spring. We stalk very rarely, preferring to sit and wait for them to come to us. And, they do.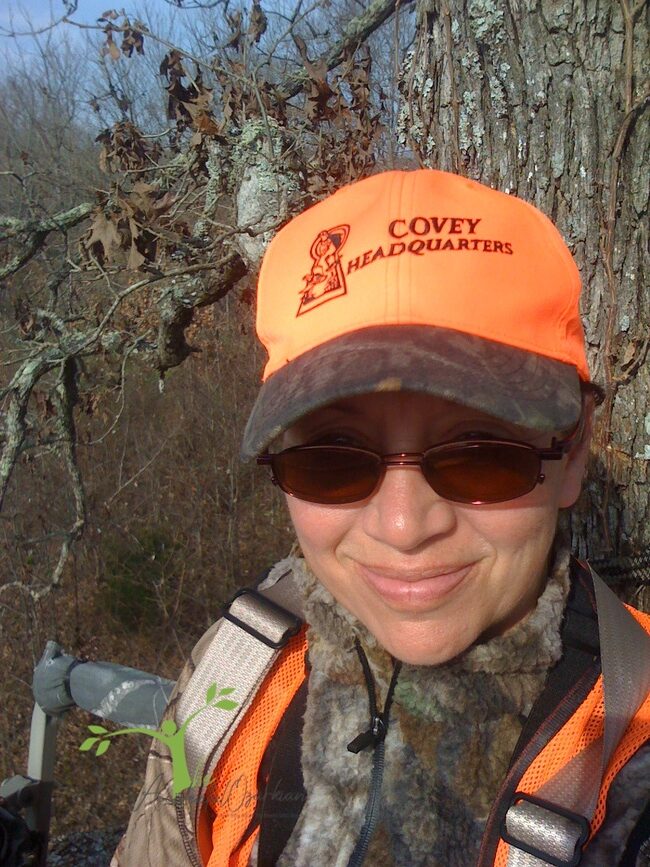 For the past 20 years, I have enjoyed every single time I've been out deer hunting in the Ozarks, and some of those times have been in freezing rain. It's amazing to try to match wits and actually do the scouting part beforehand, in everything that leads up to the trigger pull. Field dressing, even though it at first made me nauseated, now falls into the must-do category and it's a task we all approach with respect to the animal. None of this blood smearing on our faces or rituals. Just a clinical approach to starting the meat preparation properly. We have even butchered the venison and wrapped it for the freezer. However, there's a family meat-processing business near us, and they count on deer season for their major income, so we like to help them out and they do an awesome job.
Deer Hunting Traditions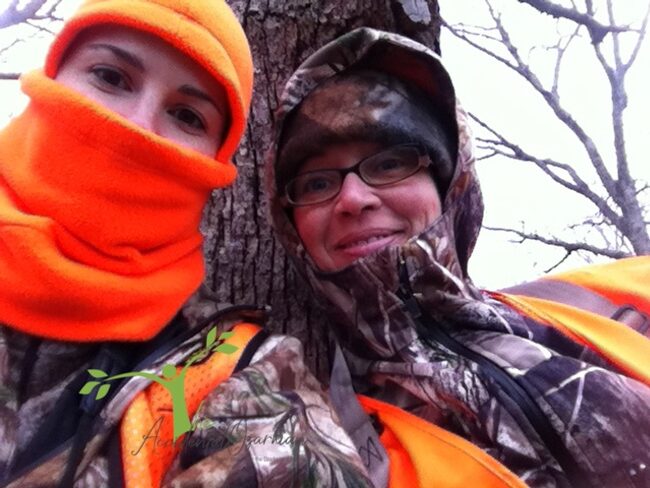 But what is the most important about deer hunting in the Ozarks is the bond that has been created between my family and me surrounding hunting. We have established traditions that include certain meals we prepare around the hunt (venison based, of course, but tonight we're having prairie chicken and quail from a Nebraska bird hunt). We get up early and have coffee at 5 a.m. together before we head out to our respective spots. We know where each other is located and communicate if we are going to move. We know which stands and spots are best for times of day and whitetail travels. We talk about that, and coordinate efforts. Sometimes we even hunt together, and it's been amazing to watch our daughters-in-law as they hunt, learn to hunt or just observe.
My 2020 Hunt
As I heard in church today, who really would have expected opening day of whitetail season in 2020 to be normal? The wind blew, my husband didn't even get up in his stand because he saw lightning strike to the west (and it wasn't supposed to be storming for another 4 hours), and even the deer that I saw acted strangely for a while – darting from 1 side of the field to the other, doing figure 8s at 300 yards as if to say, "Just try it, Lady!"
After a major downpour (I was still warm and dry in my blind), I stood up for a stretch and a sip of coffee. When I looked back out on the field in front of me, a buck had meandered into the line of sight from the west. I quickly set down my thermos, and parked behind my rifle in its tripod, with the barrel poking out of the window.
I found the buck in my riflescope, followed him and waited. "Please turn," I asked in whisper form. At 100 yards, he did. Boom. He bucked and took off for the nearby woods. About 45 minutes later, my son and I (he had just finished field dressing a buck from his area and came over to help me) found the buck about 30 yards from where he had previously been, the last time I saw him alive. I had made a perfect double lung shot.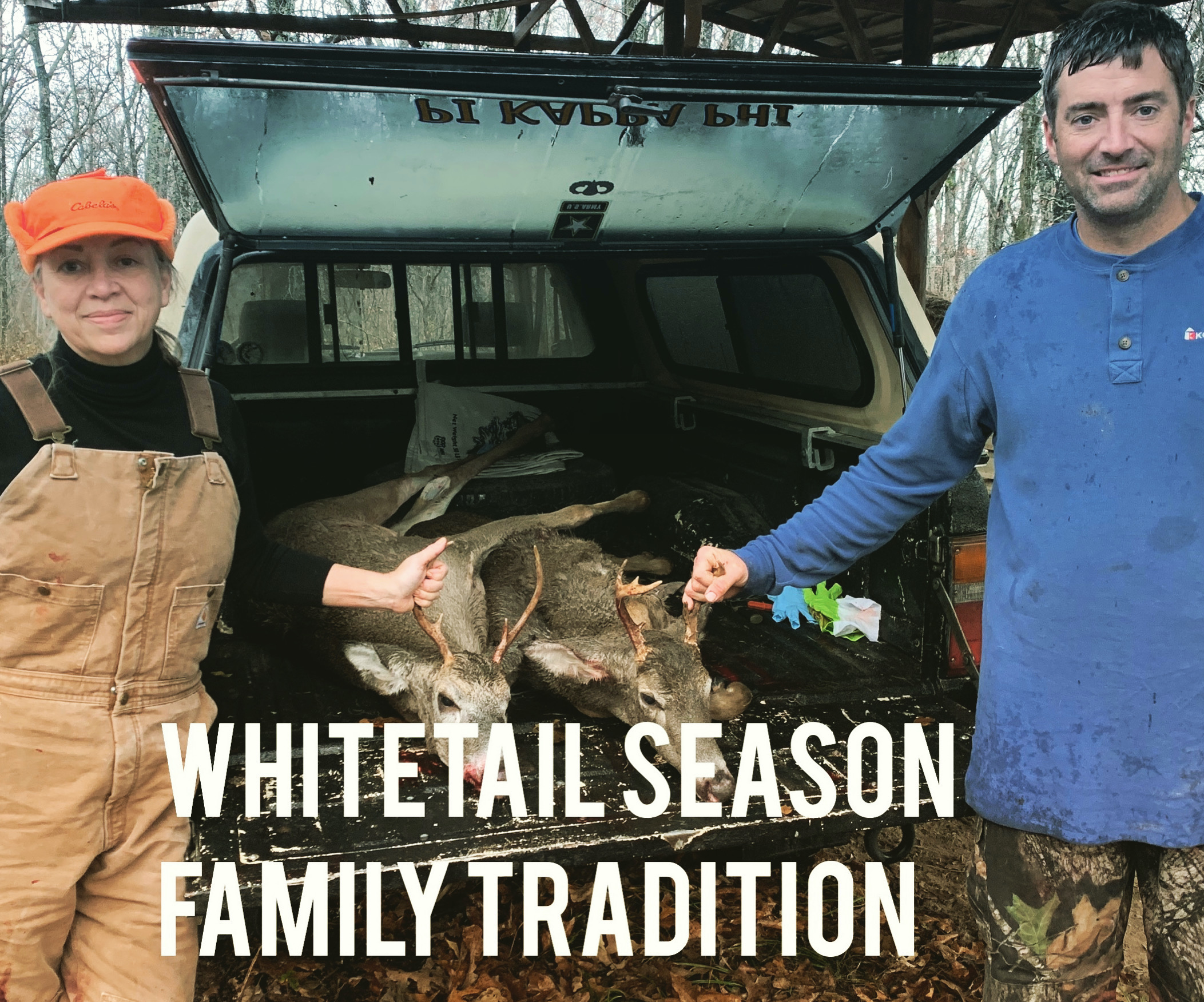 My son dragged him out for me, as I went to get the hunting truck (which also went to the frat house for a boy #2 and #3). It's a 1987 Toyota that's been driven from Virginia to California to Missouri to California to Missouri in its lifetime. It's our "Tomater."
A Lesson Here Somewhere
I always tell people who hunt to make sure they include their kids and teach them to hunt. That way, their kids will always come back at this time of year, if possible. And, if it turns out that their kids also are genetically wired to do it. It's OK if they're not, but it's nice when they are. Even if they don't hunt, they might still want to come back for other reasons.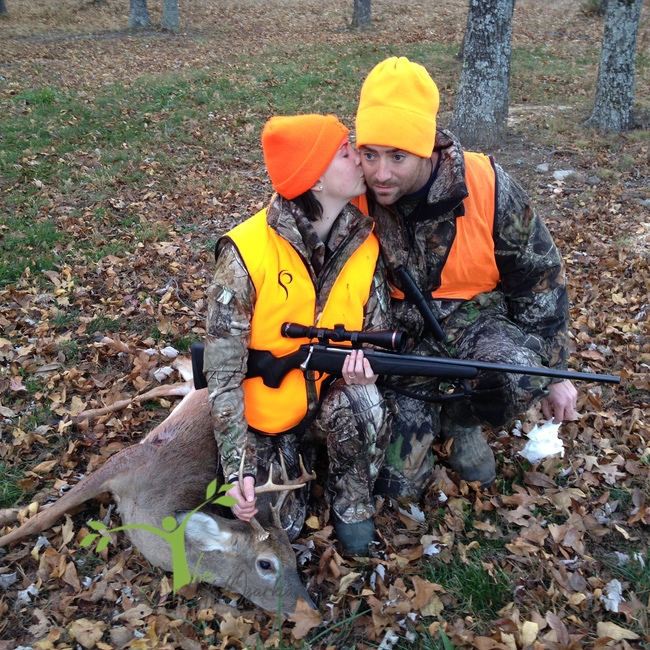 Deer season falls right before Thanksgiving, which is fitting. Deer season has been a bright spot around here, especially when compared to the strife we're seeing in this great nation right now.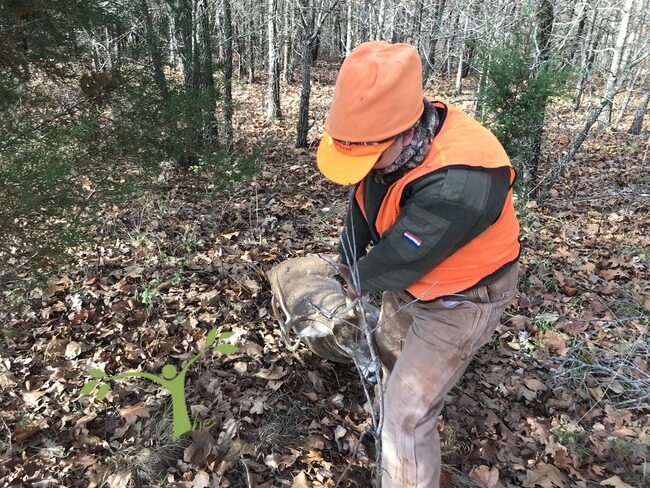 Maybe more people need to learn how to put their own meat on their own tables, or grow their own vegetables (seems there was a huge interest in gardening and canning this past year).
For us, we're thankful for all the traditions we've created, all because of an abundance of whitetail and our opportunities to hunt.