"You gotta try the squeezeburger when you come to Stockton," said Outdoor Guide writer Bill Seibel, in reference to the nearby Squeeze Inn. 
Among outdoor communicators, Bill is affectionately known as bsoutdoors, after his e-mail moniker. It seems to fit his nature, too, because he can be verbose at times.
But when it comes to food, bsoutdoors knows a good hamburger when he eats one. After all, you cannot have worked a beat at the "Globe Democrat" in its heyday or worked shifts in law enforcement without learning the definition of a good hamburger.
Although bsoutdoors raved about the food, he did not comment on the ambience of the place, or tell about its illustrious owners, Ken and Ruth Noblett.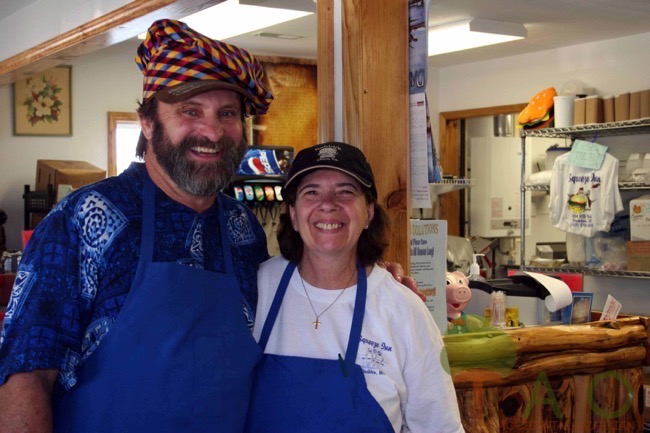 The History of the Squeeze Inn
"Nothing is as beautiful as a woman working," remarks Ken as he grins at Ruth, his wife of 22 years. Together, the pair raised seven children and moved to Stockton four years ago after successfully running the Squeeze Inn at two separate locations in Sacramento, Calif. 
Ken, a former zookeeper at the Sacramento Zoo, now works with dead animals on an almost daily basis, but does not serve his main interest at the zoo – reptiles. 
With a wink of an eye, he says straight-faced that he runs a four-level "weaselarium" underneath the diner and that is the reason for the sign out front: "Weasel, the other red meat."
Ken says he decided to switch from zoo keeping to becoming a restaurateur in 1979 during Jimmy Carter's term because, "Well, everybody's gotta eat, and I gotta eat, too!"
After 19 years in California, the Nobletts decided to uproot, sell the Squeeze Inn and move to Missouri. Ruth says they wanted to be closer to their family in Illinois and they also wanted to put their son, Gabe, into a decent school system.
They opened a Squeeze Inn on the town square in Stockton in April 2002. They reopened the Squeeze Inn at its new location on RB Road after the tornado of May 2003 demolished the other place.
In an interview with the "Joplin Globe," Ruth said, "We insured ourselves to cover a fire, not getting blown into the next county." 
When they rebuilt, they kept to their prior standards of keeping the place squeaky clean and having an open kitchen. Ken suggests that anyone who cannot see the kitchen of a restaurant should first check out the bathroom. The cleanliness of one reflects the other.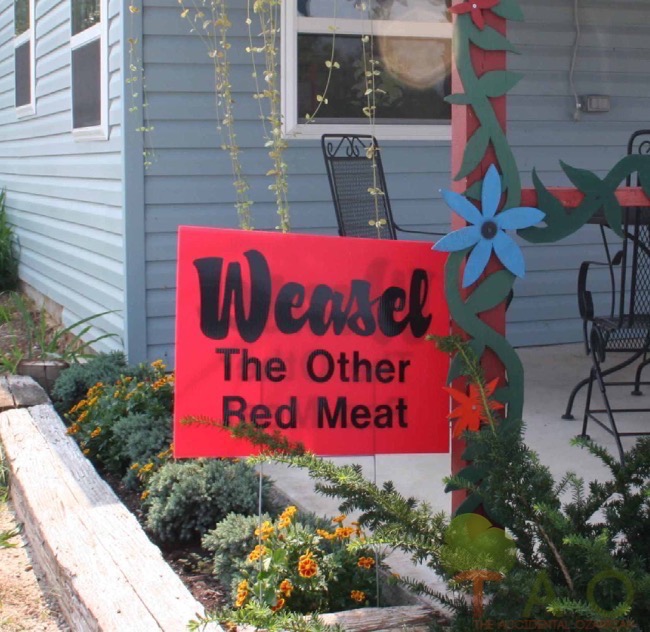 Ken also says, "You have to live in such a way that you don't think of portion management," which is why a squeezeburger – one-third pound of Angus beef – with cheese comes with a glob of cheddar cheese that melts down the sides of the burger and onto the plate.
Other menu selections include the teriyaki steak sandwich, chicken taco and Maddog Chili (in season only). The fries are "unskinned and fresh cut daily," and extras include bacon and a pickle on a stick.
Patrons of the Squeeze Inn usually look over the counter and into the kitchen to check out what Ken is wearing for the day. He wears outlandish combinations of shirts and pants that never match, and he owns a collection of hats – some of which are displayed around the dining room, such as his Mad Hatter hat from Disneyland.
A player piano, a set of Mouflan sheep horns, framed witticisms and a poster of the Marx Brothers add to the décor. Ken's personal "tie tack" collection is also on display. He collected rhinestone brooches and wore them as tie tacks for several years at the first Squeeze Inn, before he decided to lose the tie and go more to the casual clown look.
The Nobletts love the Ozarks and the lifestyle they have created in this burg that loves a good burger. If you're in the neighborhood, stop by and say "hi," check out Ken's attire and raise your cholesterol levels, too.
The Squeeze Inn is located at 404 RB Road in Stockton. 
First published in 2006. 
Check its hours on Trip Advisor.