For years, I always seemed to think about picking strawberries at the tail end of the picking season at the Simpsons Family Farm, near Mountain Grove, Missouri. I had read about this local U-Pick place in one of my favorite publications, "Rural Missouri."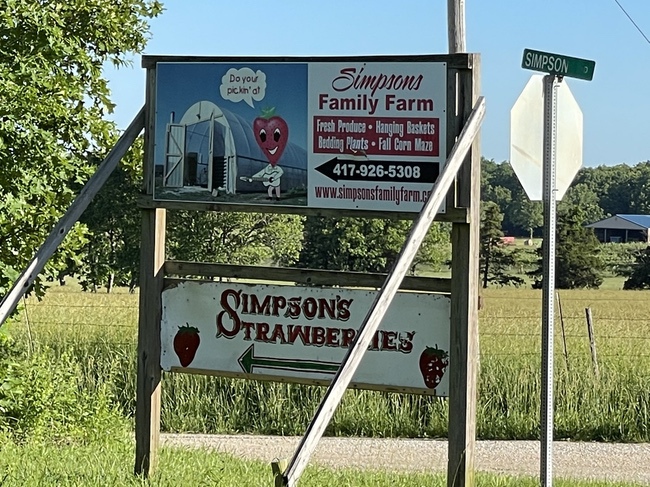 Usually, I'd happen to see a notice on Facebook that the farm had closed for strawberry picking for the season, and I'd think, "Next year, I'll make sure to get there." This was the year I got there, and I also got the opportunity to sit down for a while and talk to Wayne Simpson, proprietor of Simpsons Family Farm.
Background: Simpsons Family Farm
Ask folks around the Mountain Grove area if they know of a good place to pick strawberries, and they'll all say, "Simpsons Family Farm." Wayne Simpson, along with his wife, Lavond, and two children (David and Debbie) had been growing grapes for nearly a decade before they decided to try growing strawberries in 1980.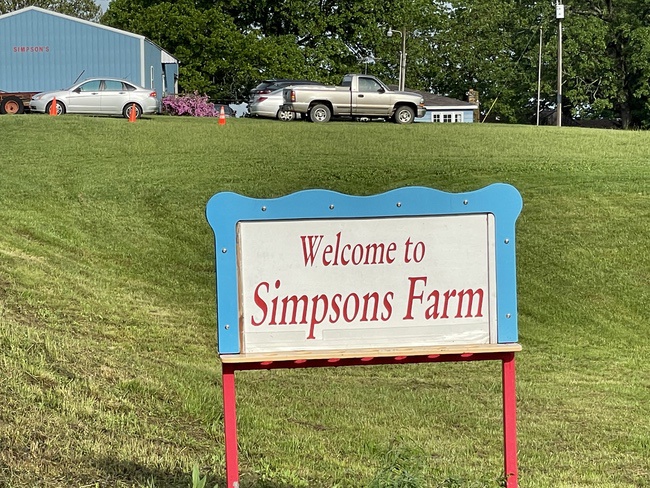 According to Local Harvest, "The Simpson Farm was one of the first commercial strawberry operations, in Missouri, to convert from the matted row method of strawberry production to the plasticulture method." According to an that aforementioned article in "Rural Missouri," the family switched from the matted row method of growing strawberries to plasticulture, and customers loved the Chandler strawberries so much, that they wouldn't pick from the other matted rows. Indeed, the strawberries I picked burst with flavor, regardless of size.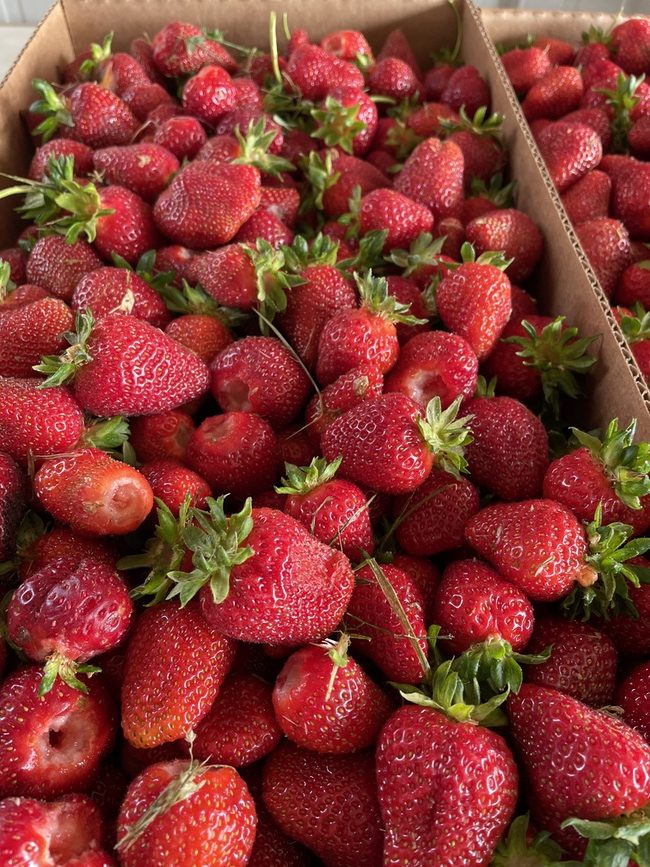 I actually went twice to pick berries this year – on day #1 and near the end of the season. On the latter date, Mr. Simpson said he had a little time to sit and talk. Presently, he and his daughter, Debbie, run the farm with help from her husband, Morgan, and also, with the help of a longtime family friend. Here's the back and forth with the entertaining and engaging Wayne Simpson.
You moved here in the '50s, and you started with growing grapes, but why the strawberries?
"Didn't have the sense enough to do anything else! No, I just got kinda interested in doing strawberries and we started off with a fourth of an acre, to see if it would work, and boy, it took off and done good and we added to that. But we started in grapes first; back in 1970 they had a promotion around here to get people growing grapes. They was really a-pushing them. If you plant three acres of grapes, that's all you need and you can retire. They made it sound like a 'get-rich' scheme, but I'm not complaining about it. They done me good.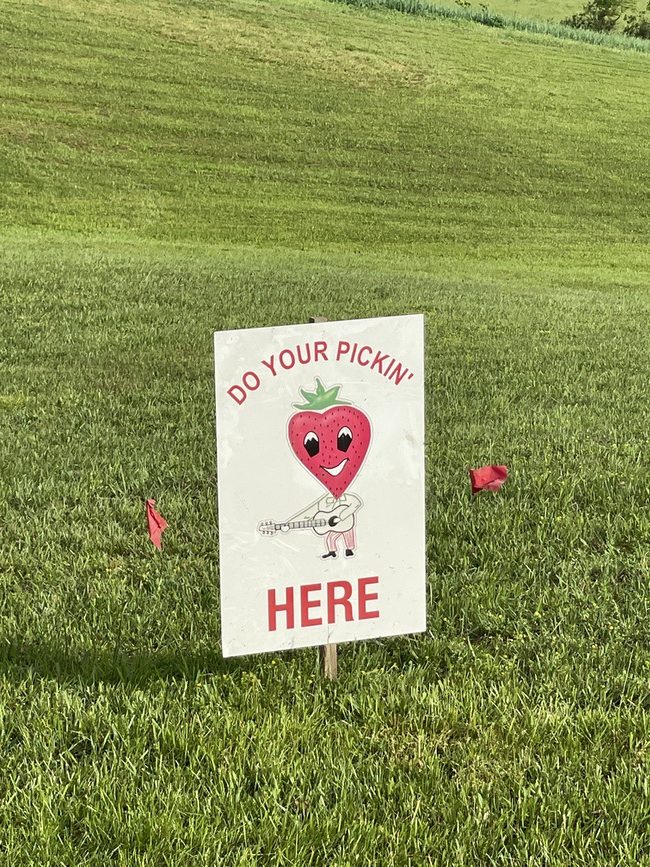 "I've been affiliated with Stone Hill Winery since the first grapes. I've been selling to them for over 50 years. This coming Saturday, they're celebrating their 175th anniversary with the winery up there, and they called me and wanted me to be a part of it. I go up a couple of times a year and they are just part of the family. Couple three years ago, under the pavilion there was table there, and I always just go in and set down at that table, and I went in and set down at that table, and there was a sign 'Reserved for family.' So I just went over to the next table and set down, and the owner came in and saw me and said, 'What are you doing setting down here?' I says, 'Well, that one says "Reserved for family," and I figured you had someone you reserved it for … he said, 'No, it's reserved for family and you're part of the family. You get back here and sit down!' He called me the other day and said, 'I sure want you up here on Saturday, if you can get here.'"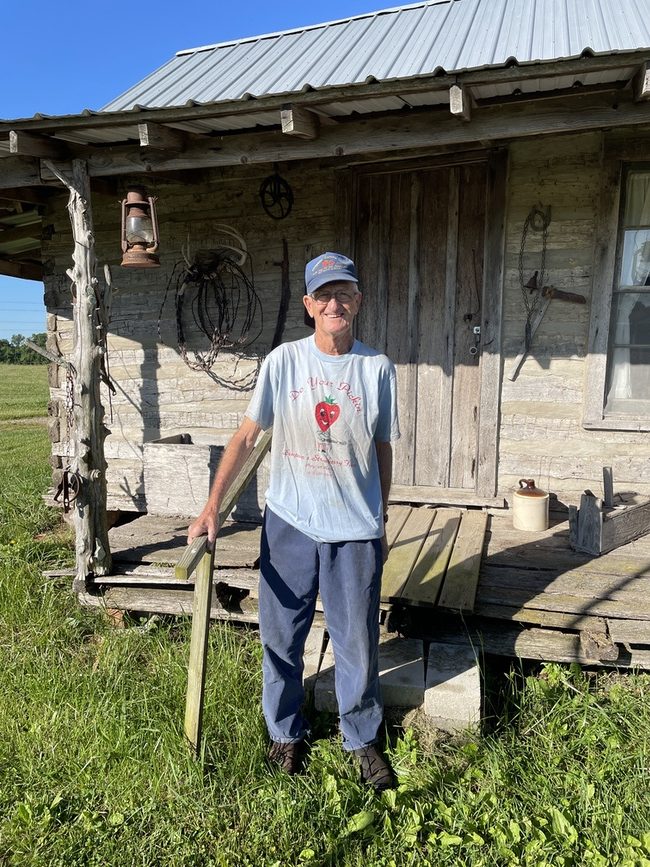 How did you get involved with Stone Hill in the first place?
"We had an Ozark Grape Growers Association, I was secretary and treasurer of it. … I don't remember what year it was, but Jim Held (proprietor of Stone Hill Winery), and he was just opening Stone Hill back up again … he come down and he said, 'Now, boys … you don't know me. I'm honest. I don't have any money, but if you'll sell me a truckload of grapes, I can pay you a third of it right now, and in two months or whatever, I'll pay you another third, and then, the last day of the year, I can pay you the other third.' So we had a meeting and we agreed to give him a chance, and we said, 'We'll trust you,' and he done just what he said he would. And he's been buying grapes from us ever since."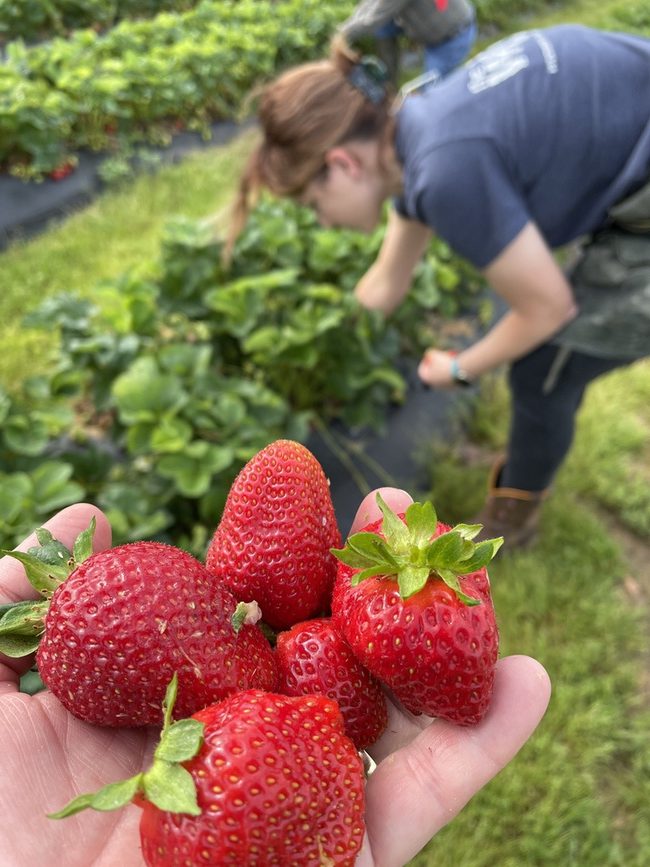 Let's talk about strawberries at Simpsons Family Farm! How many acres do you have now?
"Just two."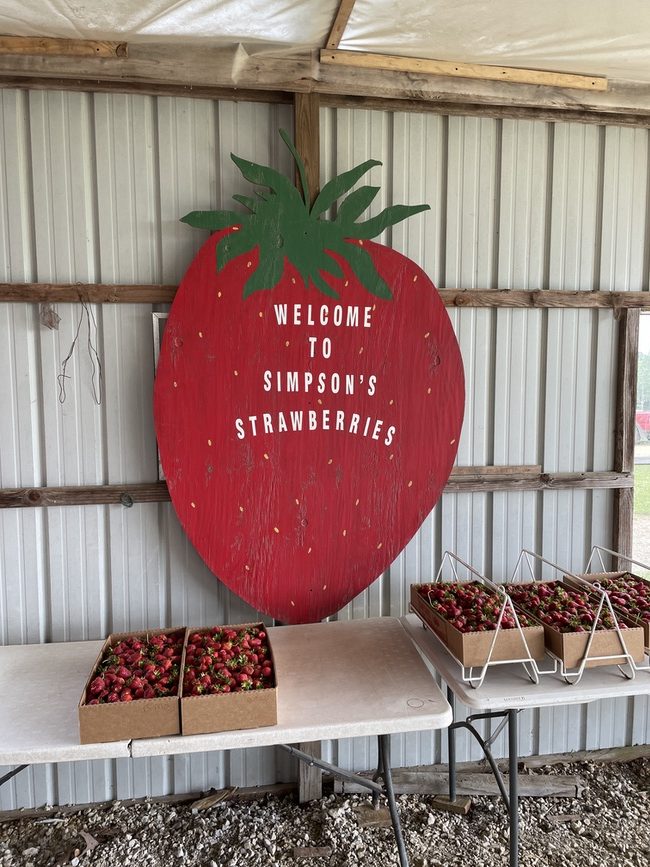 Growing strawberries … It's not an all-year thing for you, is it?
"Next year's field we started last week. We're getting things ready; just as quick as the last berry is picked off of it, we'll get in there and mow things off, and spray them to kill the old plants and weeds off. Then, I've got a machine that lifts the plastic all out of there, and then we'll plow it all, and then, we'll make our new beds and then we'll put the plastic on. We've got a new machine, and it goes through and it punches holes so far apart, two rows. It's got four seats on it.
"This year, we'll plant 20,000. We used to grow all of our own plants, tips out of Nova Scotia. Then, they sent plants down and we could buy the plants out of Nova Scotia and that saved me the job of propagating them and growing them. We get them in mid-to-late September. We got our beds all made and we'll go through and plant them. We put rye grass in the middle and it grows up. We'll mow the tops of it, and early in the spring, when it gets up tall, we'll spray it and kill it down and it makes us a mulch in there. I like to put a cover crop in, like a sorghum, and let it get up and plow it under, let it rot down and in the fall, we'll make our new beds, with new plastic."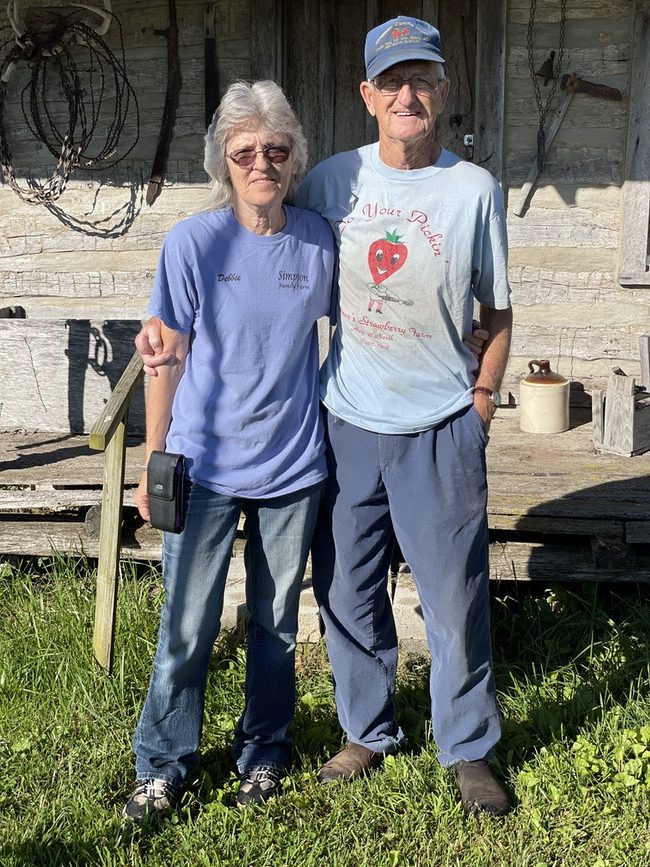 Is it hard to find good help?
"You can't find any help. It started out as a family operation. Me, my wife, my son and my daughter."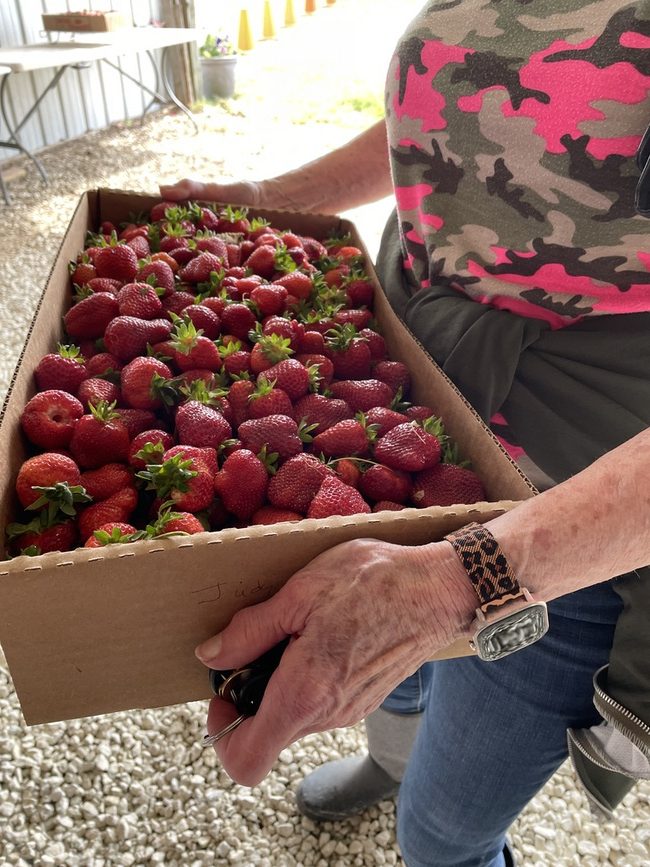 How many pounds do you sell a year?
"If we have a decent year, we'll sell around five or six ton, something like that. That's kind of like grapes. Well, I'm planning for 70 ton and hoping for 80 ton!"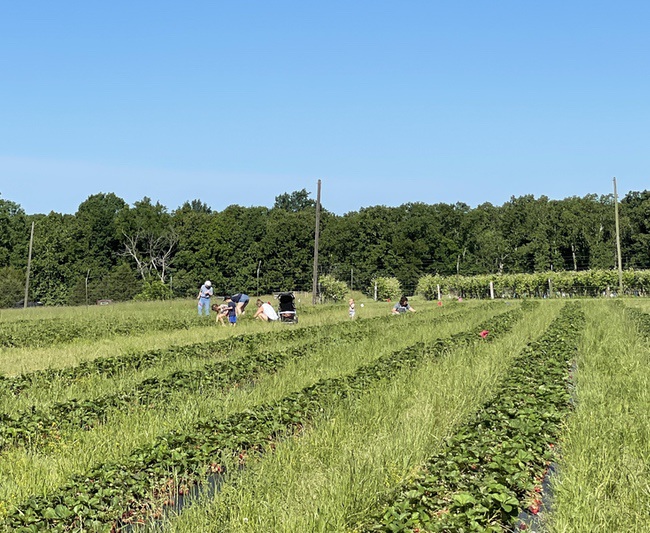 Keep up with the Simpsons Family Farm on Facebook. The farm is located north of Mountain Grove, Missouri, at 8748 Simpson Road.