I couldn't help but notice enticing announcements on social media regarding the third annual Sunflower Festival at Golden Grove Farms in Fair Grove, Missouri, starting in mid-July. They piqued my interest, and by the time the 5-day festival rolled around (July 24 to 28), I knew I had to go.
So, I texted that friend. You know that friend, and I surely hope that you have one in your life. The one you ask to go with you to things such as festivals and junk fests and seasonal markets. You've seen her in my stories many times – Stacey. Within 20 seconds, she responded "Yes!"
So, after she delivered a load of fresh tomatoes to my countertop and also, donated several dozen canning jars to my collection, we headed off to Fair Grove, which is a little more than an hour away from my place here in the Ozarks of Missouri. Golden Grove Farms – this is one part of it – is located on Highway KK off Highway 65 north of Springfield, Missouri. Signage showed us where to go, which we appreciated.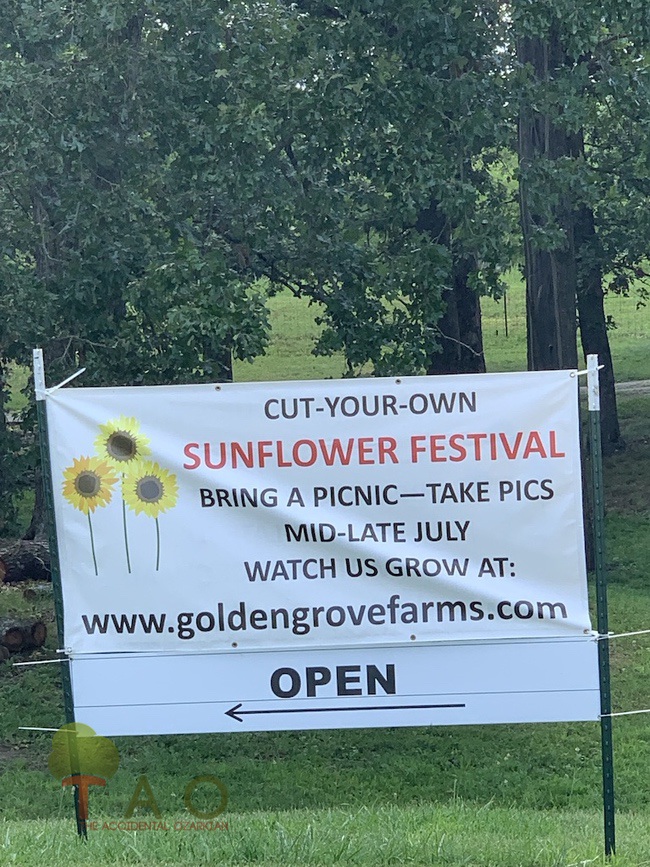 Golden Grove Farms Sunflower Festival
For a mere $5 parking fee, we were in – and entitled to a free sunflower each. Unfortunately, we were not there during performance times for local bands, but we could see the relaxed atmosphere. People came here to cut sunflowers.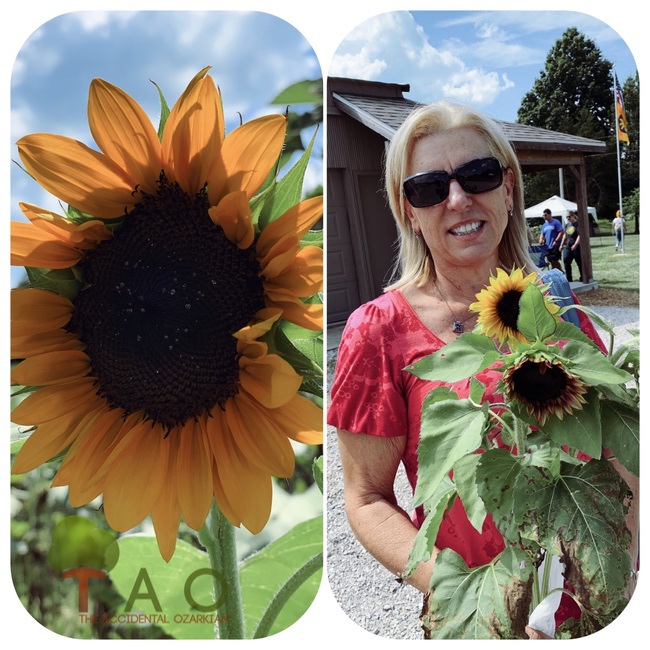 They also came out to be photographed with gorgeous sunflowers. You could tell that many people already had been in the fields, with lots of stalks and not so many blooms.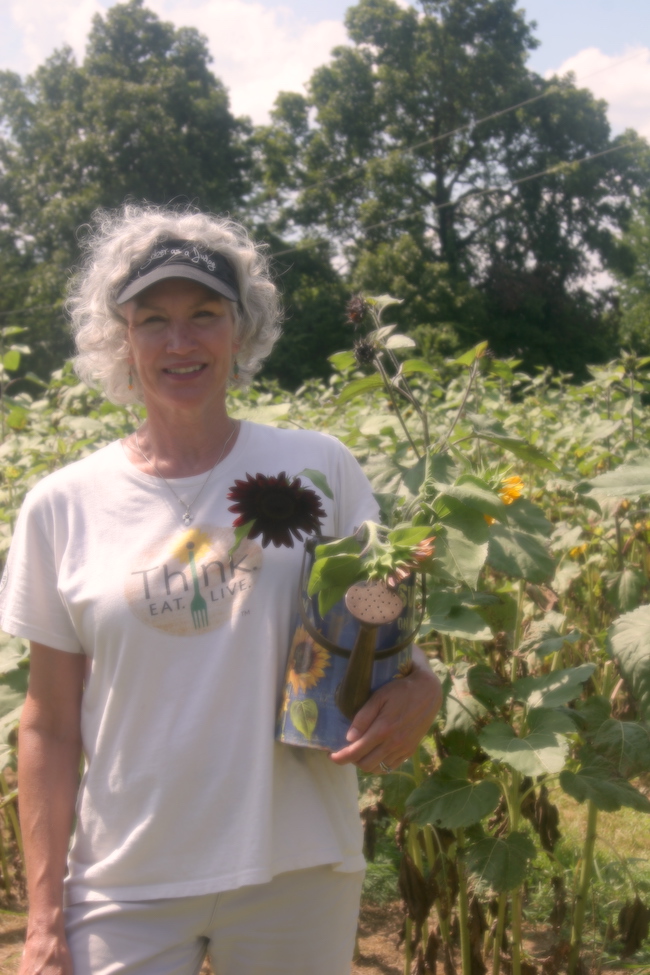 We met the proprietor of Golden Grove Farms, Kelly Nichols. A retired Drury University accounting professor, Kelly's business acumen – along with the help of Mike Dawley, who owns a similar type farm in Virginia and whose business was featured in "Southern Living" magazine – helped transform an acre into thousands of sunflowers, ready to cut and enjoy.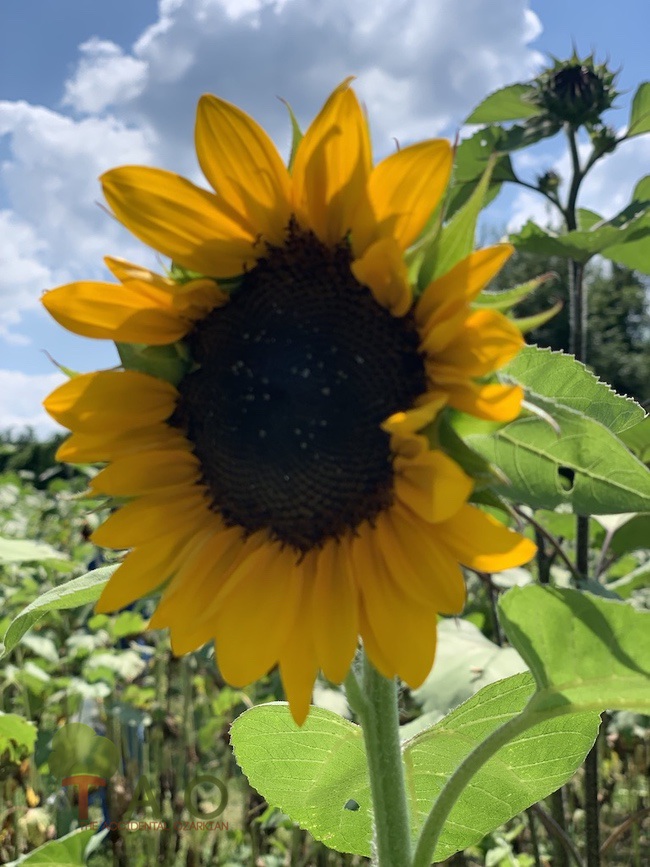 Kelly said she planted 13 types of sunflowers, and 30,000 seeds total. She reckoned at least 500 people per day had been out to the festival.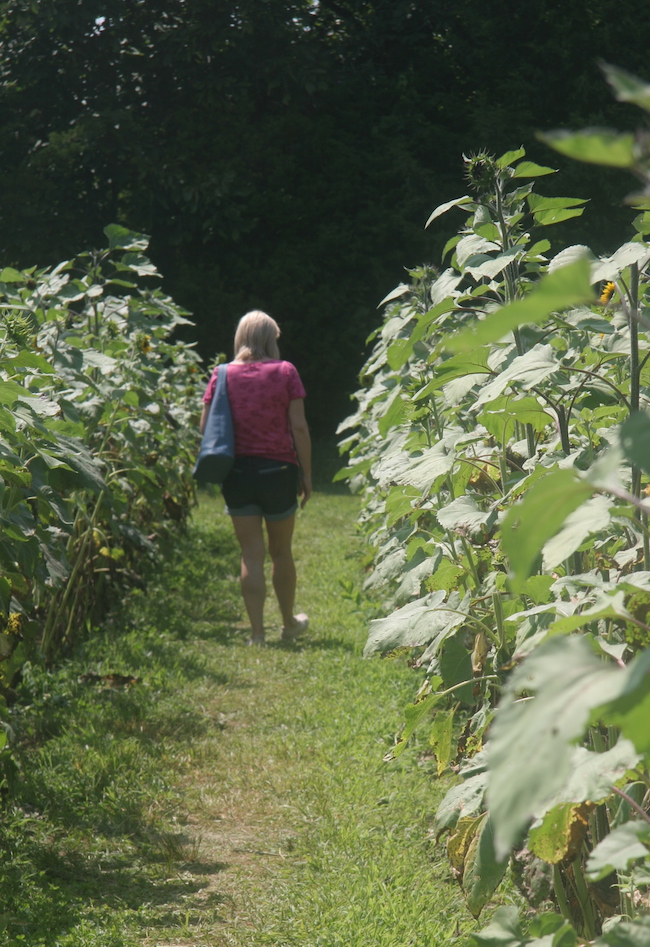 The Sunflower Festival revolves around its centrally located barn, with a huge front porch. Here, you might purchase a cold soda or water, or shop for a unique sunflower-themed notecard, pot or placemat. Kelly invites local bands to come out and play each day of the festival, and dancing has been known to happen – spontaneously.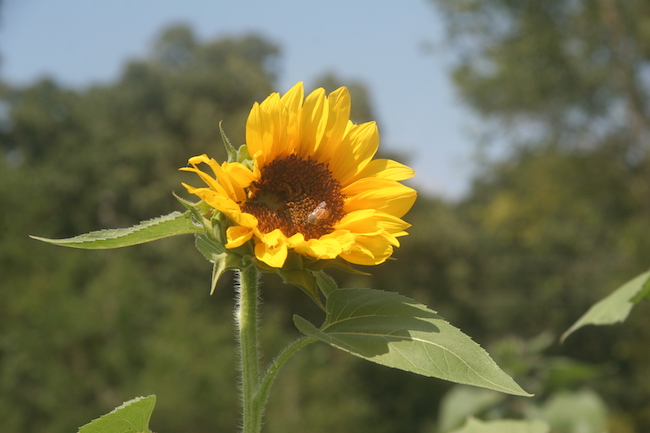 More than a Sunflower Festival
Kelly and her husband, Nelson, support the Cystic Fibrosis Foundation through proceeds of the festival. At the Golden Grove Farms website, there's a touching story about why they decided to support Kadyn's Krew. It makes the entire experience extra nice – to know that an enjoyable time out in a sunflower field, among happy folks, also enriches the lives of others.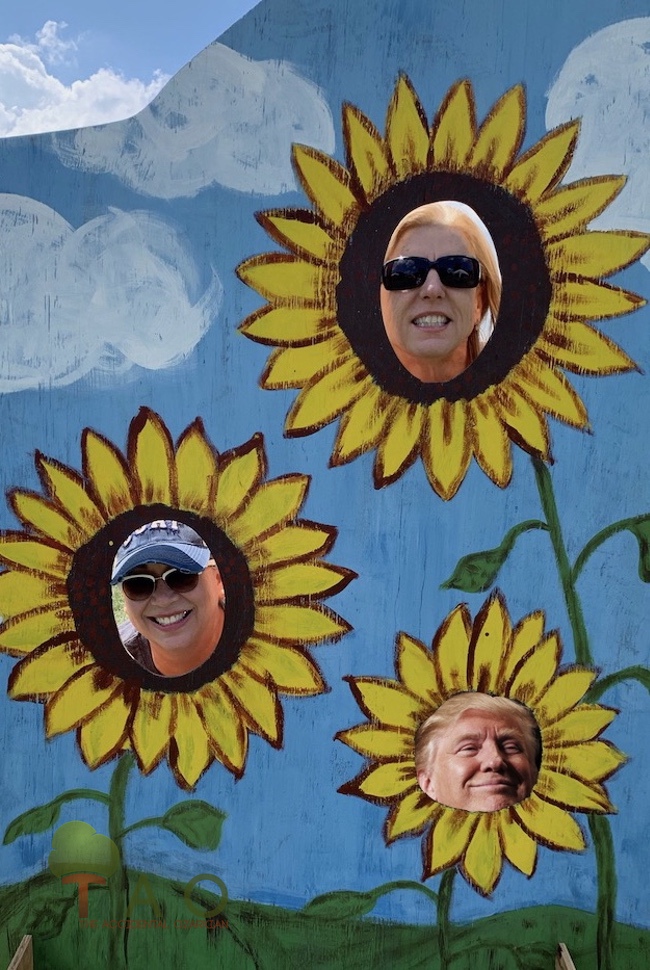 Golden Grove Farms is located 4950 E Highway KK in Fair Grove, Missouri.
Useful Tip for Sunflower Enjoyment
While at the festival, we received a slip of paper that has this recipe on it, to prolong the good looks of cut flowers.
To 1 quart of warm water, add the following:
2 tablespoons sugar
2 tablespoons white vinegar
1/2 teaspoon bleach