When you're not catching many fish, and you're sitting in a jon boat with Fat Man and the outdoor editor of "The Southern Illinoisan," you're gonna catch some filosophizin'. Find out more from this story that dates back to 2006.
On a trip last spring to Southern Illinois, I had the good fortune to fish and filosophize with a colorful local guide named Larry Fitch, a.k.a. "Fat Man." 
Les Winkeler from the aforementioned newspaper and I drove out to Cooksey's Bait Shop near Crab Orchard Lake in Illinois on that perfect spring morning to meet Fat Man.
I purchased a one-day license and took a quick look at Cooksey's baby turkeys under the lights in the back of the shop.
We crawled into the cab of FM's Chevy pickup and headed into the woods. Within minutes we were on the lake, built in the '40s by the WPA.
Fitch said his grandpa hung the "Fat Man" moniker on him, and he doesn't really know why. His grandpa called one of his brothers "the Punk" and the other one "Frog."
He doesn't know why his grandpa chose those names either. His grandpa called Fat Man's son "Fat Boy," and his grandson (now eight-years old) "Fat Baby."
I caught the first fish of the day with a chartreuse and blue jig. We were vertical fishing (also known as Indian fishing) where we just dropped our lines down a few feet beside the boat.
Fat Man and I caught a few more fish, some about 11 inches long. Those were keepers. Les wasn't hitting yet, but by the end of the day, he had caught a foot-long crappie.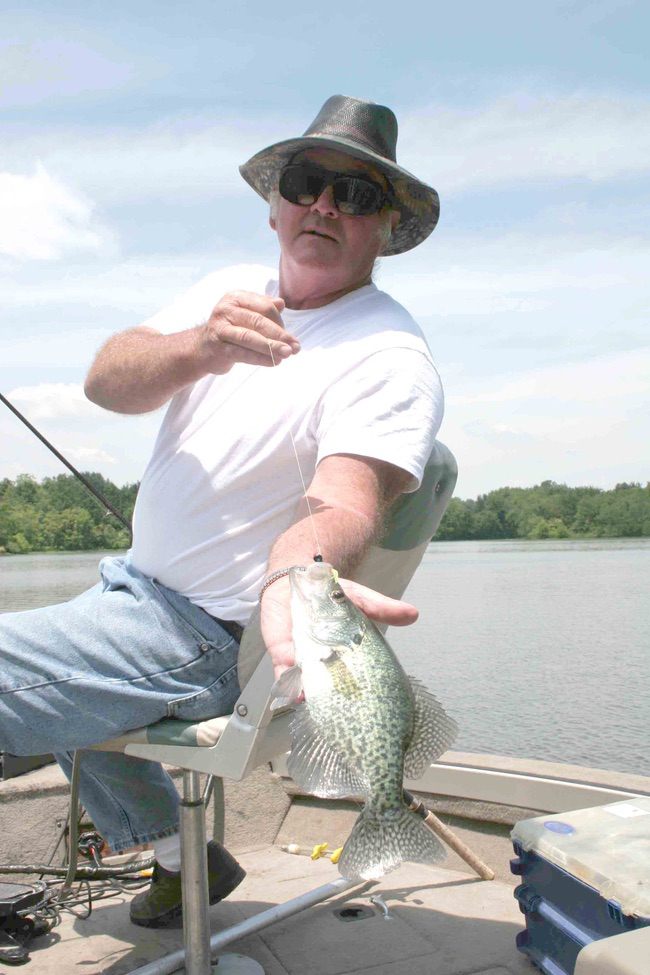 Fat Man insisted on taking each fish off my hook and attaching a new crappie nibble on the end. He said, "That's the thing. A lot of guides anymore, they wanna fish. Years ago, them old guides never did fish. That was their job, to work and let you catch the fish and that's really the way it's supposed to be."
And that's the way it was for me, except Les had to take his own fish off his line. Les also caught his own finger and ran the hook into it.
We started cove hopping, looking for weeds and what Fat Man called stragglers from the spawn. We were catching them regularly, and then, a front blew in. It got cold fast and we zipped up our jackets and pulled down our hats. We kept fishin'.
A few hours later, we were hungry and needed a pit stop. We tied up the boat at a nearby fishing club that cost Fat Man $800 to join, and he broke out his cured deer sausage. Deer sausage, "sodey" crackers and a cup of coffee – now, that's a fine meal.
After lunch, we started fishing over the stake beds that Fat Man assembled last winter and sunk in the lake. He shook his head and remarked, "There ain't nothin' that shuts down faster than crappie after a front has moved through."
Then he tried his Snickers-bar approach to fishing and we all felt obligated to eat one, but that did not help either.
We talked about a lot of things, and Fat Man – who has worked in construction, as a butcher, as a farmer and a guide, among other careers – had an opinion on everything.
On kids and fishin' …
"I think you gotta git them out there and keep them out of trouble and teach them how to fish. You git them out there and you won't have near the trouble with them."
On corporal punishment
"They call it abuse … you know there's a lot of difference between a good old whippin' with a switch and abuse. You take where they burn those kids with cigarettes and break their bones … now that's abuse. They oughta do that to those people."
On raising kids …
"You gotta teach them kids respect and responsibility … you know they let them lay around the house till they're 18 years old and then tell them 'go get a job.' I started milking cows when I was four years old. I mean, if you didn't get out there and milk, you got the switch."
On college after high school …
"Two years in the military would help any kid and it'd be good for their parents, too. And send them over to a foreign country. Just let 'em see how other people is and they'd change their attitude and they'd have a better idea of what they want to do."
On what color jig to use for crappie …
"Blue and chartreuse or black and chartreuse. It's about whatever you get your confidence in."
Miscellaneous …
Ain't nothin' like sleepin' at home in your own bed."
Around 4:00 p.m. Fat Man decided it was time to have some fun and slam [I think that means "fish hard"] for bluegills. We switched to a ¾ inch tube with a crappie nibble on it.
We pulled over into a cove and had a veritable bluegill Olympics going on for about 40 minutes. One after the other – one, two, three – take them off the hook and cast again. Les was really working the water at his end of the boat.
Who knows? Maybe we were catching the same three fish over and over again, but it sure was fun.
All in all, it wasn't a bad day. Some sunshine, some fish caught and a whole lot of opinionatin'. Les said it was one of the best days he'd had in six months.