After seeing our Arkansan neighbors' Mammoth Spring, I took a trip to check out Missouri's Big Spring near Van Buren, Mo. Hands down, no comparison, not even close—Arkansans need to rethink their definition of mammoth, and take a trip to see Missouri's big one. No wonder we Missourians say, "Show Me!"
Big Spring
Big Spring, located in Carter County and part of the Ozark National Scenic Riverways, ranks as one of the largest springs in the United States. The spring produces an average of 276 million gallons of water a day, and has been on record with 840 million gallons of water per day. The water doesn't just bubble to the top, it boils—a term used by geologists to explain the rushing activity of water, not the temperature.
According to Jerry D. Vineyard and Gerald L. Feder, authors of Springs in the Ozarks Area, Big Spring boils up through "cave wreckage." With massive bluffs surrounding the springhead, it's easy to imagine how the whole spring was once encased in a cave. Divers have tried to find "dead spots" in the main boil area of the spring, to no avail. They have, though, spied glimpses of massive caverns below and beyond their reach through narrow passageways.
According to the authors, on an average day, "Big Spring removes in solution about 175 tons of calcium carbonate, the chemical constituent of limestone." The authors also estimate that in a year's time, "enough bedrock is removed to form a cave passage 30-feet high by 50-feet wide and one mile long."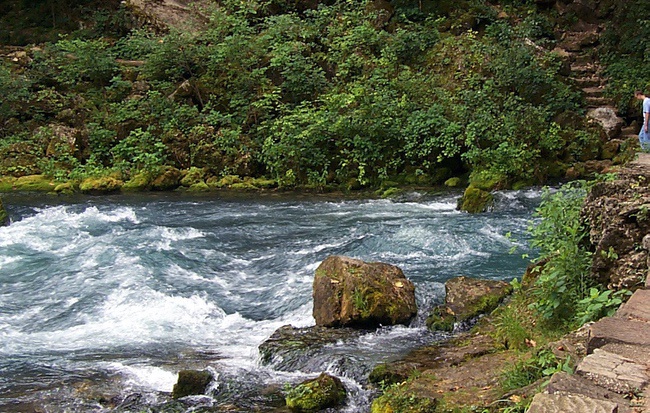 Big Spring actually grows and increases its rate of growth each year because more rock gets exposed to the activity of groundwater, therefore creating bigger passages. Big Spring flows for about 1,000 feet before joining the Current River.
Big Springs sits in Big Springs State Park, a beautiful area with more than 3,000 acres filled with opportunities to fish, camp, dine in a lodge (1932), stay in a cabin, and hike—to name a few. In fact, the park is registered with the National Register of Historical Places, since the Civilian Conservation Corps built the cabins and lodge in the 1930s.
History of Big Spring
The CCC also built five dikes to control overflow of the river during flooding. The dikes, which are maintained and patched, can be seen on a hiking trail.
Jo Schaper, a writer who specializes in geology and natural history, records the human history of the spring in an online paper. She explains that although Native Americans used the spring, it wasn't known to settlers until about 1803, when a man named Pocahontas Randolph (a far-flung cousin of Thomas Jefferson) found it. The Native Americans named the area nearby either Bear Camp or Bark Camp, and Schaper surmises, "either from a camp for bear hunters, or on account of the temporary bark covered huts constructed there until better arrangements could be made."
Big Spring also holds a special place in Missouri history, since on Oct. 17, 1924, Big Spring State Park became the first Missouri state park. When the federal government acquired the site, Tricia Nixon (daughter of then-president Richard Nixon) dedicated it on June 10, 1972, by throwing a bouquet of fresh flowers into the springhead.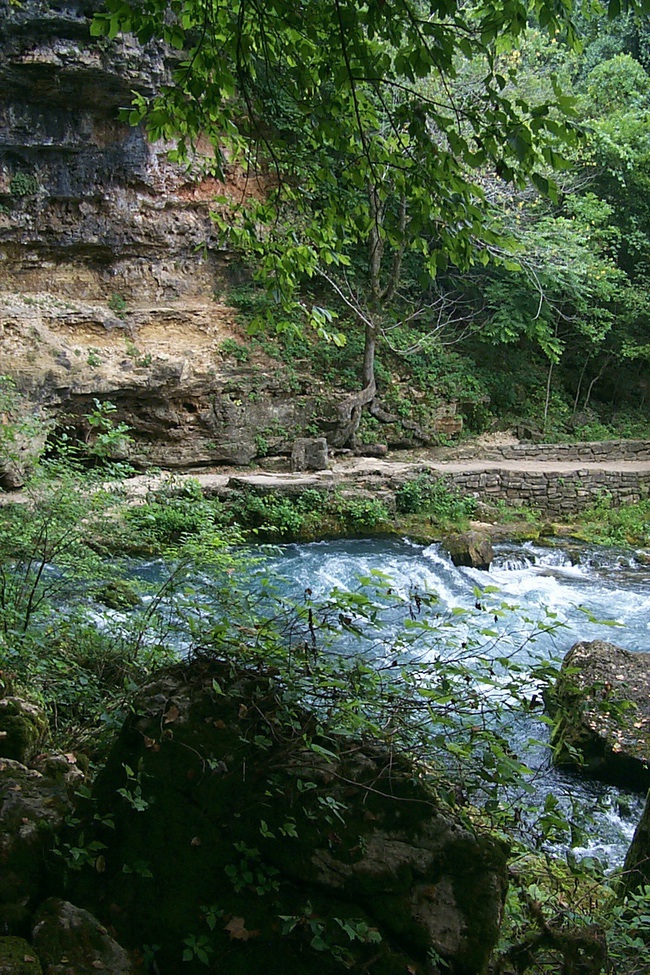 Big Spring State Park is located east of Van Buren on MO 103. 
First published in 2002. The spring still runs strong today.