America suffers from the demise of the small town hardware store. Although there are those who would argue that Wal Mart and the home improvement chain stores employ more folks than Mom 'n Pop stores do, they would have to agree that the atmosphere and sense of community that comes with small town stores cannot be replicated. Take, for example, a small-town hardware store located in Houston, Mo., run by a guy with a perpetual twinkle in his eye, Debo McKinney.
The Hardware Guy
His store sells everything from nuts and bolts to sealing rings for canners. He can order the big stuff, such as a wood splitter, and find replacement parts for power tools. He says, "If you can't find it anywhere else, I can probably get it for you."
Now Debo's been in the hardware business since 1979. A Houston native, McKinney not only runs the business, but also likes to pull some funny business as well – with fellow business owners on the main drag and, of course, his customers. 
For example, he recently ordered a sandwich from Miss Joy Hinkle, of Savannah's Tea House, next door. She got so busy that she forgot to send it over to him. The next morning, Miss Joy came to work to find a tombstone planted on her lawn, with this inscription, "Debo starved. 5-30-03." The "girls" from the bank across the street came over and cried profusely into paper towels at the gravesite, and a podium was set up for well-wishers to sign the guest book. The prosecuting attorney wrote, "This tragic event is under investigation."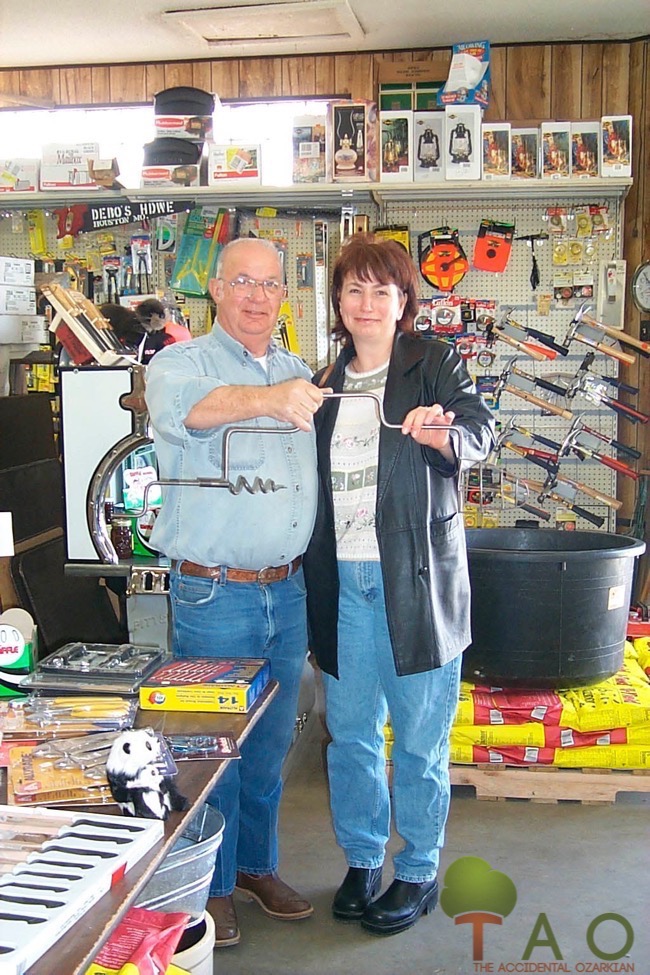 On the funny business side, Debo says, "I just made up my mind a few years ago to have fun." And fun he has … his collection of metal paraphernalia, smithed by his brother, Charlie McKinney (a well-known blacksmith in the Houston area) includes a cat carrier, a chainsaw, and a cattle cinch – all with a little twist. 
He also likes to take folks back to the storeroom to see his 23-year-old mongoose, and usually finds a corn chip or piece of sandwich to take along to feed his pet.
His mongoose has sprung from the trap hundreds of times and caused many folks to jump straight up in the air … he even had a television station crew back there to film the antics of fooling folks into believing they were about to see a wild mongoose that might bite a finger off, and then, letting this fake mongoose loose. 
Debo collects all sorts of other animals, too, including a draft horse pulling a wagon load of farm animals on the front sidewalk, and his stuffed otter inside the store. 
Note: I found where the "Houston Herald" visited Debo at home, and put the experience up on YouTube.
The Otter Hater
On the subject of otters, you oughta know that Debo hates them, and believes them to be responsible for the demise of many fishing streams, particularly the Roubidoux, in the Ozarks.
About six years ago, Debo says he called up folks at the Conservation Department and told them to "put the dust covers over their computers and come down here." He got permission for them to get onto the river in certain spots, and for the past five years, he's been accompanying Conservation crews on fish-shocking expeditions. He's sickened by the carnage of fish caused by otters in the waters.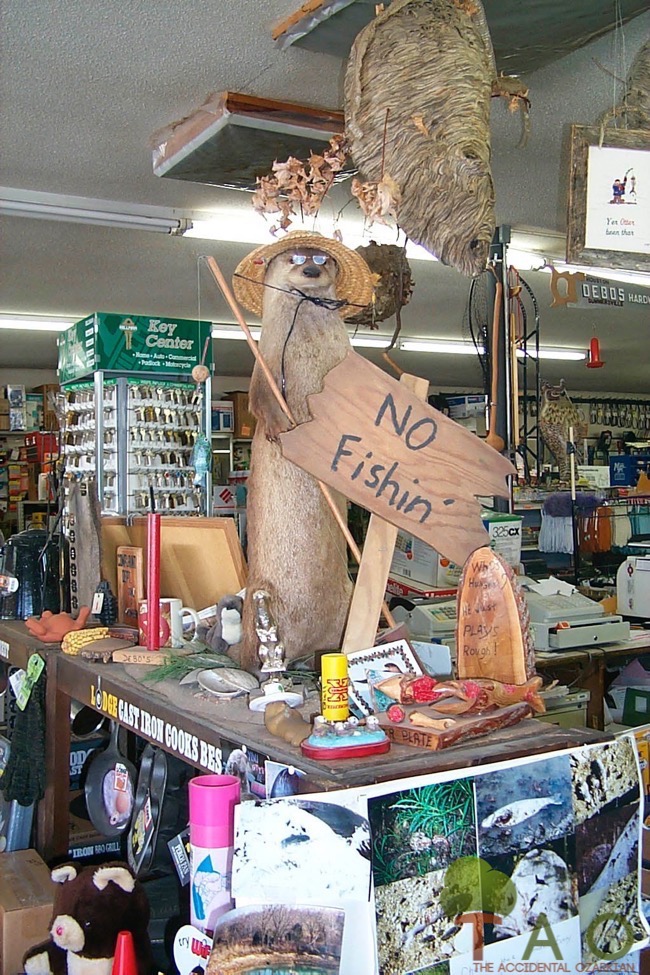 He wishes everyone in Missouri could come along with him on these trips to see the devastation caused by the critters. He describes it, "I mean big time … all of our streams near his home are fished out by otters!"
Last fall, he spent time on the river with a crew from "National Geographic" magazine that came to the Ozarks to film the otter controversy. He's hoping to see the Conservation Department take steps to rid the streams of the otter overpopulation, and says, "I hope I live long enough to enjoy the best fishing in Missouri again."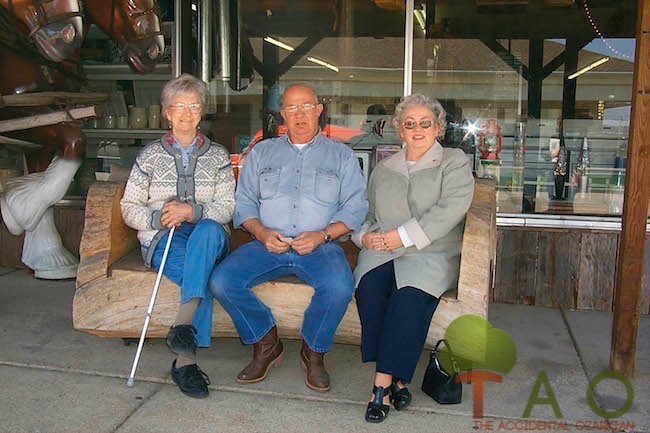 But in the meantime, when he's not on his yearly fishing trip for Walleye in Ontario, or fishing his beloved Roubidoux, he'll be back in the shop – carrying on with the business of ordering a kraut cutter, plus a tall dose of humor to go with it.
Debo's Hardware is located at 401 S. Grand in Houston, Missouri. It's open Monday through Friday from whenever Debo gets there (about 6:30 a.m.) until 5:30 p.m. On Saturdays, it's open from whenever Debo gets there until 5 p.m.
First published in July 2003.