My fellow blogger and friend, Kaitlyn McConnell, has mentioned this place – the Henson Store in Champion, Missouri – several times. She has written about it, too. So, a few weeks ago, when we were "milling" about in the Ozarks with a friend from New York, we nearly flew by the sign off Highway C south of Norwood, for "Champion." We turned and headed toward the town.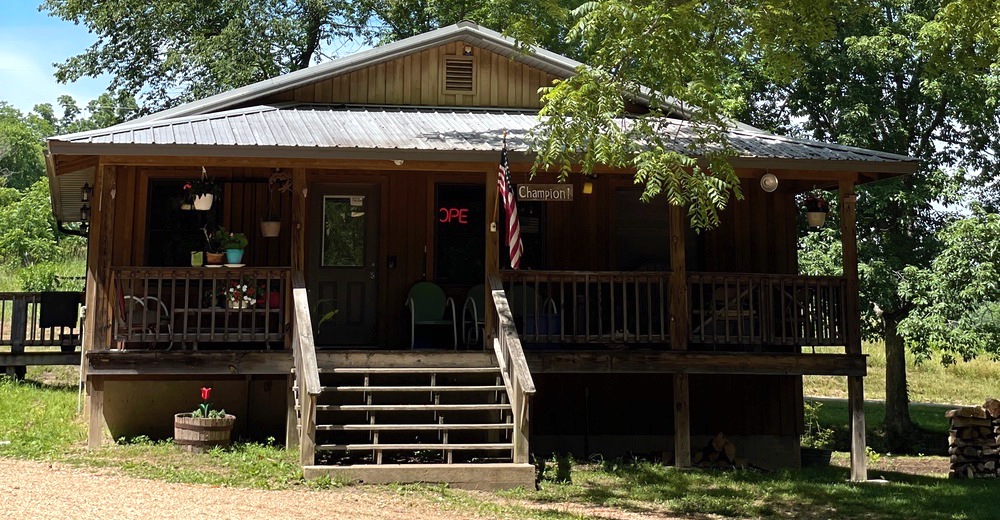 Town is a generous word. It's more like a "blink-or-you'll-miss-it" place, formerly named "Goose Nibble," but now called Champion. In fact, I keep track of what's happening in Champion, thanks to local reporter Wilda Moses, who pens a weekly column in the "Wright County Journal," that details the comings and goings, anniversaries, deaths, births and rainfall – among other things – in the little burg just down the road from where I live.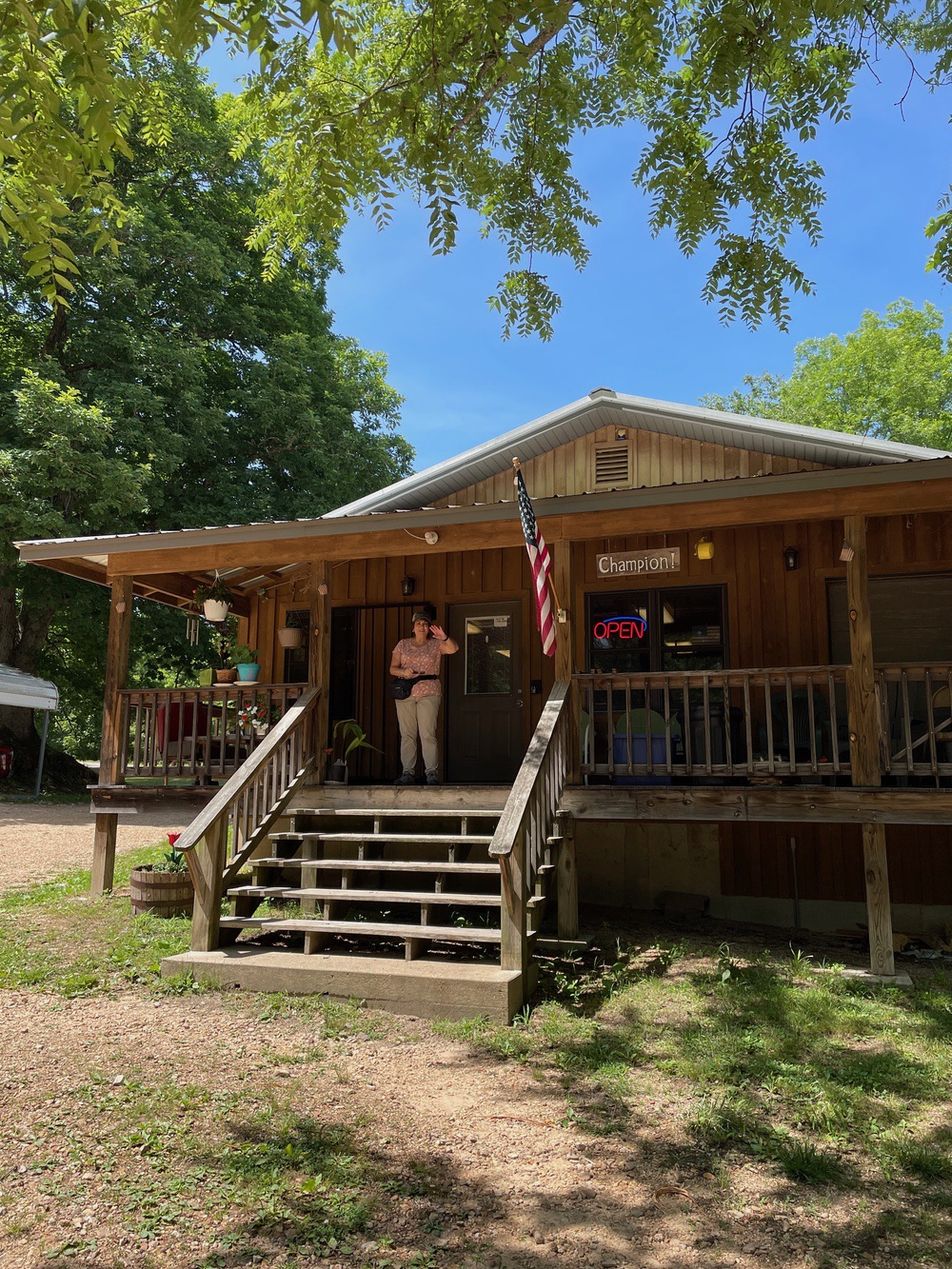 My friend, Marie, wondered if she would find a favorite childhood drink, Orange Crush, inside the store. We parked in the shared lot between the store and the Champion Christian Church – both staples in this community – and entered.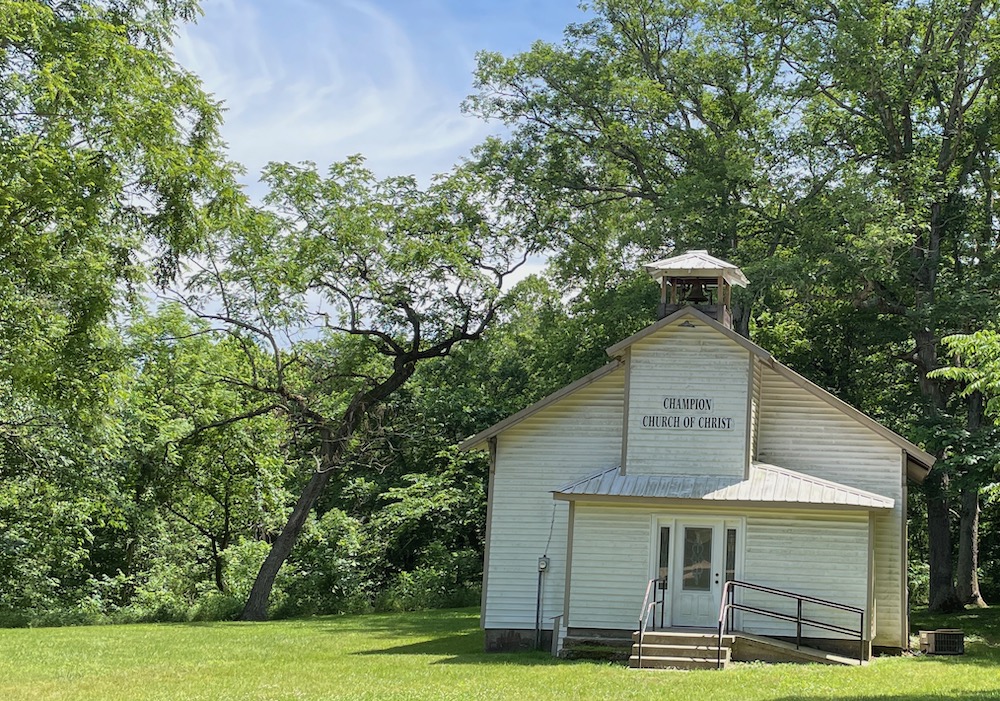 Betty Henson, proprietor, greeted us. The present-day store, according to Kaitlyn, was built in 2010. The old general store needed to be replaced, because its foundation had started to crumble.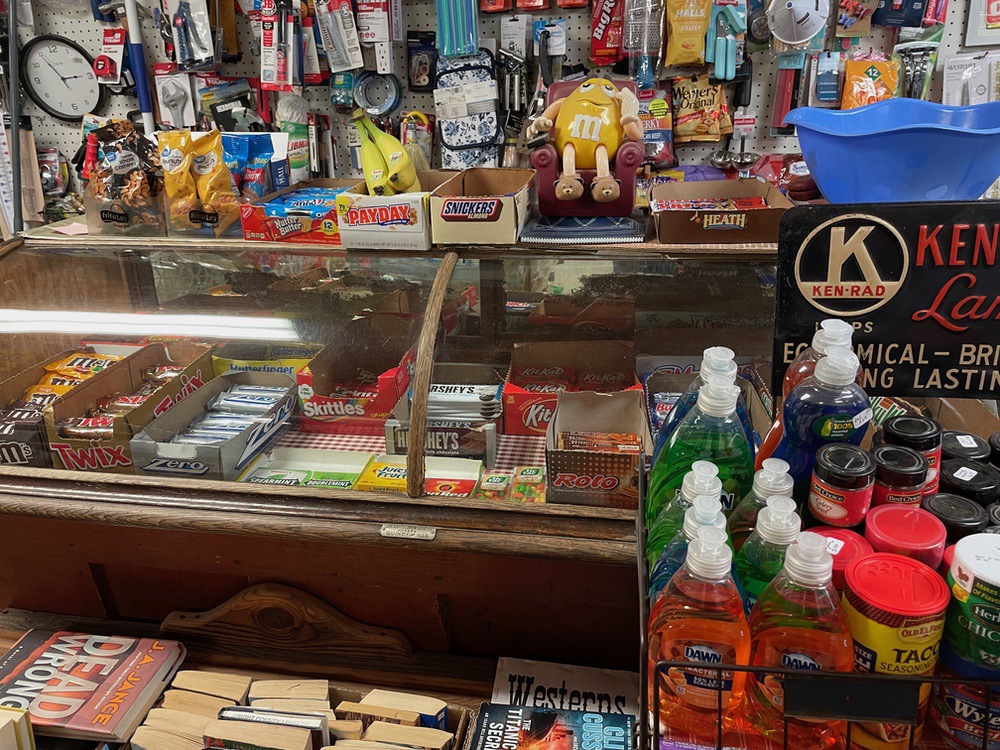 It became clear that it wasn't so much what the store sold, but what it offered to the community that mattered. I particularly like the lists taped on top of two chest freezers, indicating the current prices of frozen foods, such as chicken nuggets, pot pies and French fries.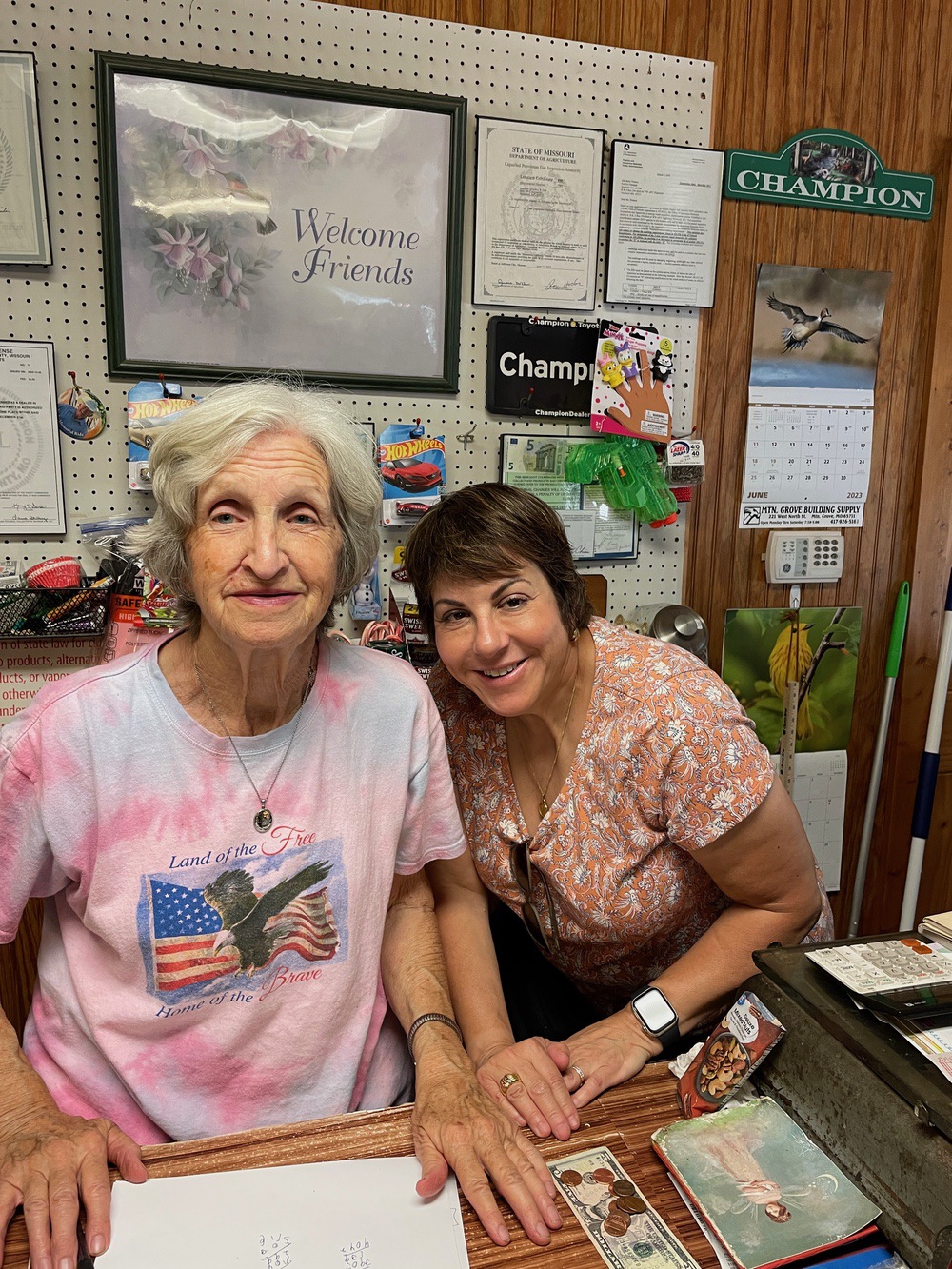 Marie and I chatted for a while with Betty and we also took a little trip down Memory Lane as we perused the store.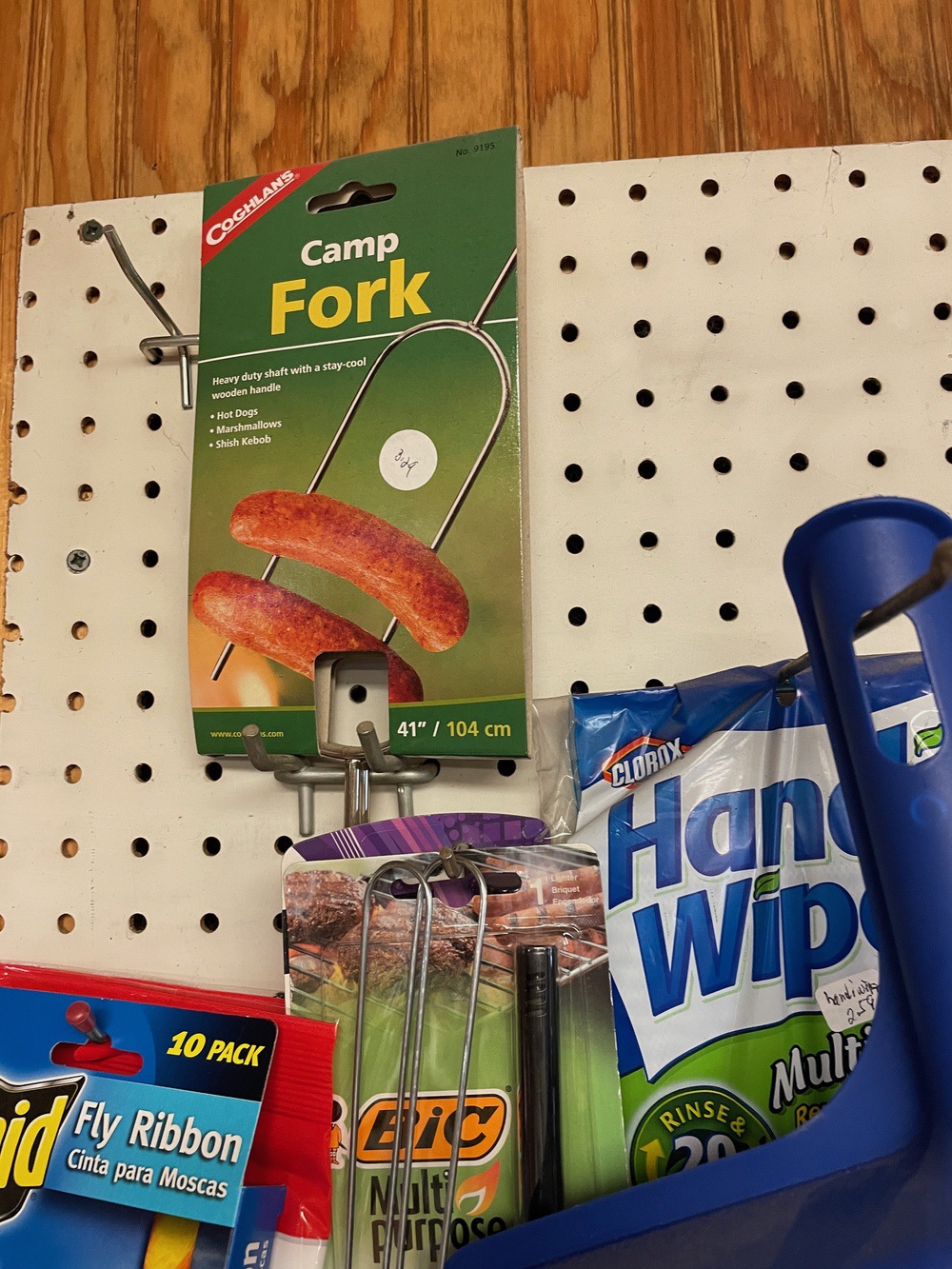 Marie pointed out the camp fork like she had as a kid for hot dogs, and I noticed the coffee containers that now hold nails, staples and bits (just like my father-in-law's system).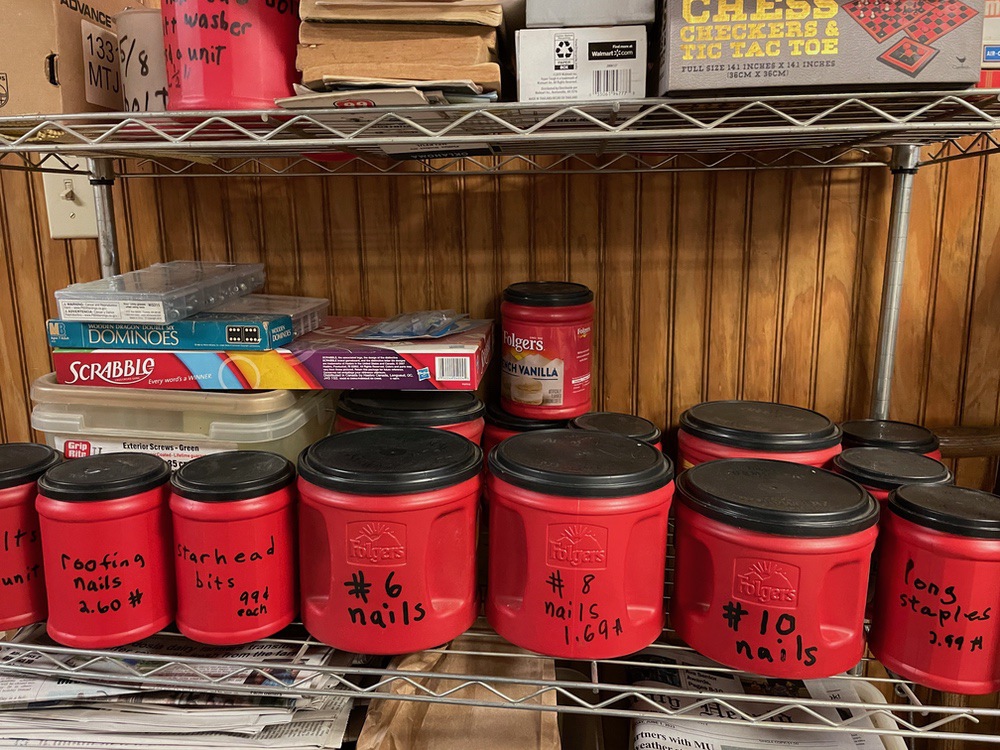 Perhaps the most unique items in the store sit on a shelf surrounding a "Bigmouth Billy Bass." Three "dolls" constructed of painted clay pots of various sizes represent a scarecrow, Santa and a lady in pink. Betty said her friend got bored and made them for her.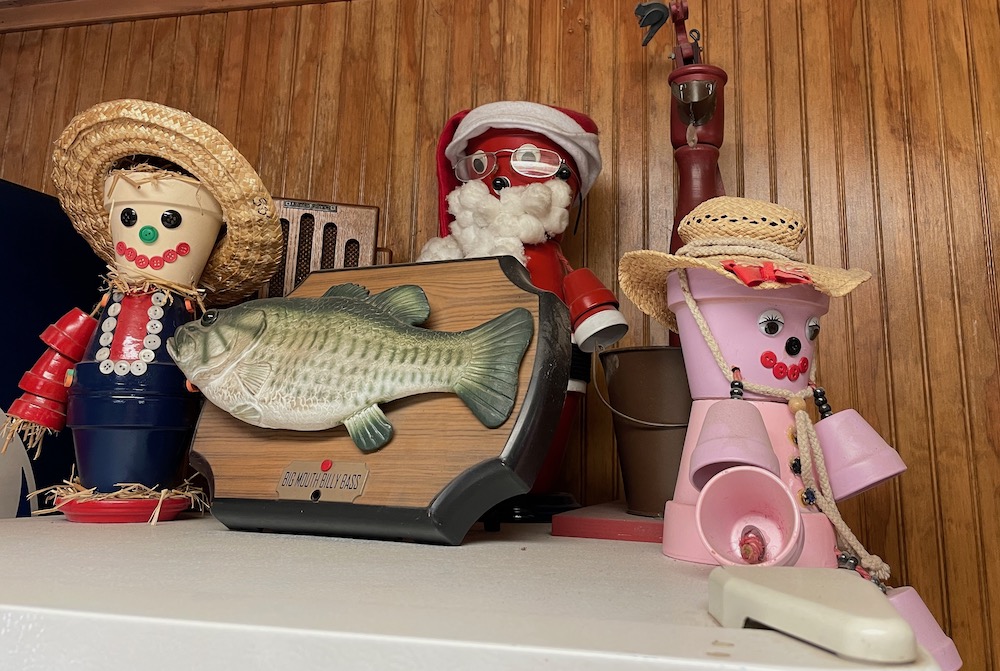 I think it's like steampunk and funk mixed together, along with a dose of humor.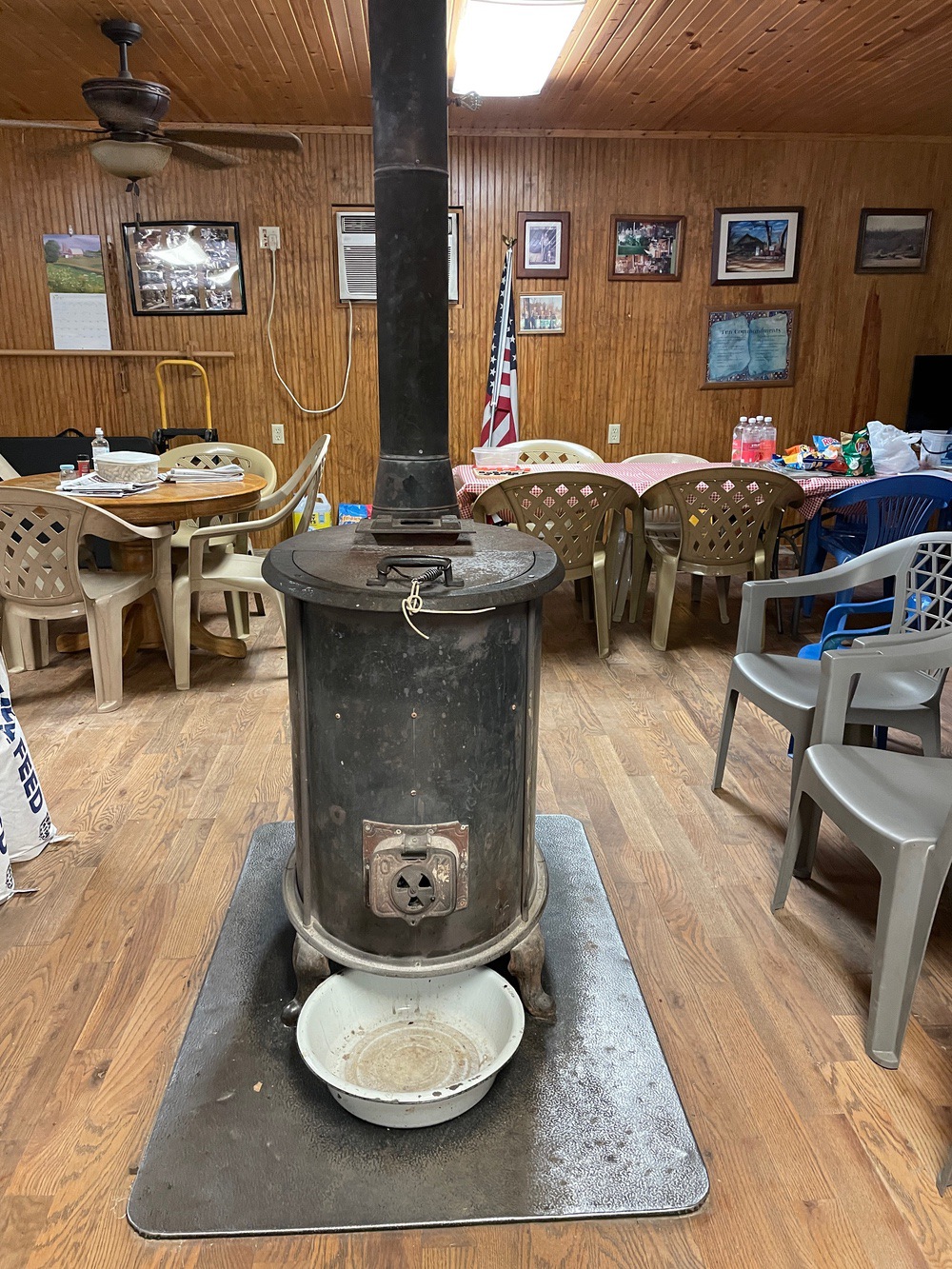 Kaitlyn wrote about the old stove, and Betty says as soon as the weather cools down, the stove heats up. The back tables invite people to bring their lunches in. Imagine the meetings of minds held on this spot throughout the years. After all, Henson Store has been here since 1928.
I wonder how many toes have been tapped on these floors throughout the years because Henson Store also hosts music jams.
Kaitlyn also wrote about the old scale, which Betty confirmed, has been used to weigh babies, as well as nails.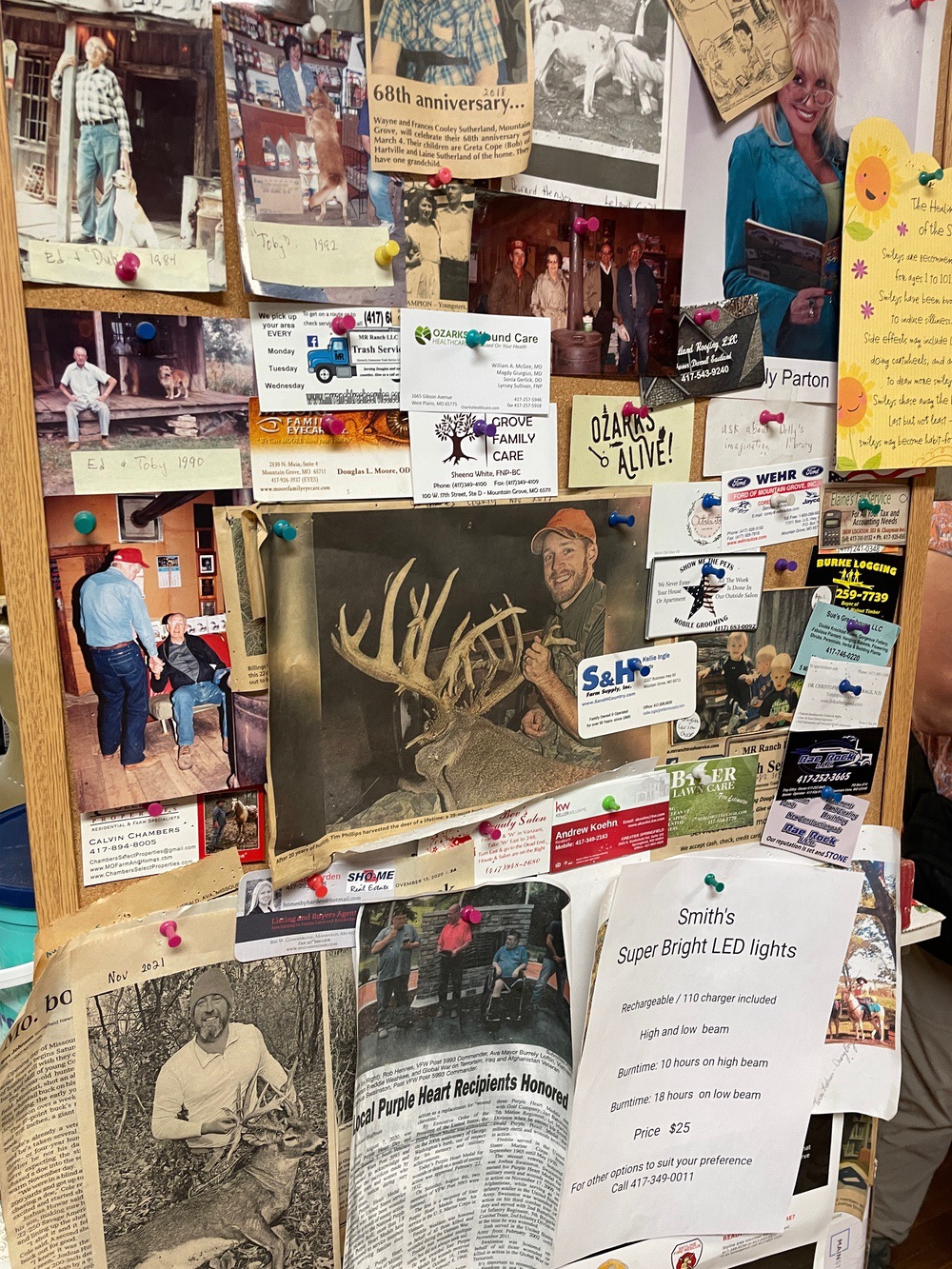 Betty also runs a "brag board," on a bulletin board near the cash register, which features clippings of locals with big bucks, an article about Purple Heart recipients, family photos, business cards and other flotsam and jetsam. You can tell it's a reflection of what happens in this community and the bond that is present.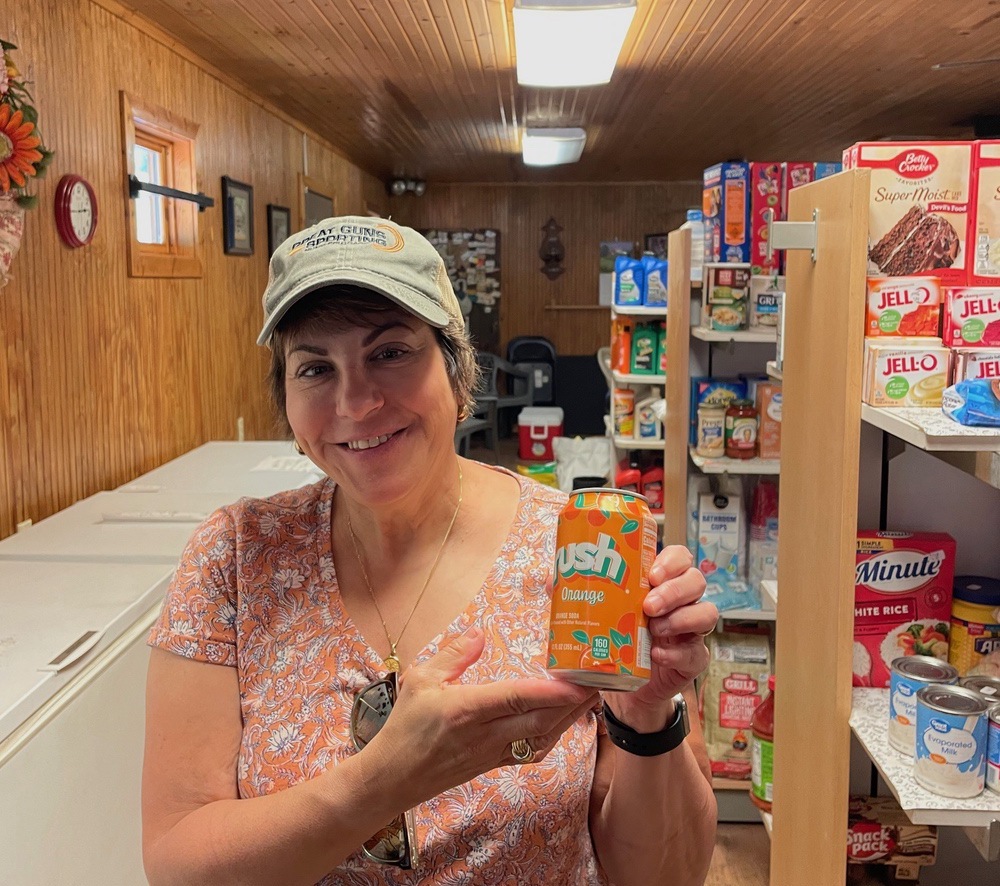 I left with a box of Little Debbie donut sticks, and Marie got her Orange Crush. Betty said the two most popular sodas in the store are Dr. Pepper and Mtn. Dew – not diet.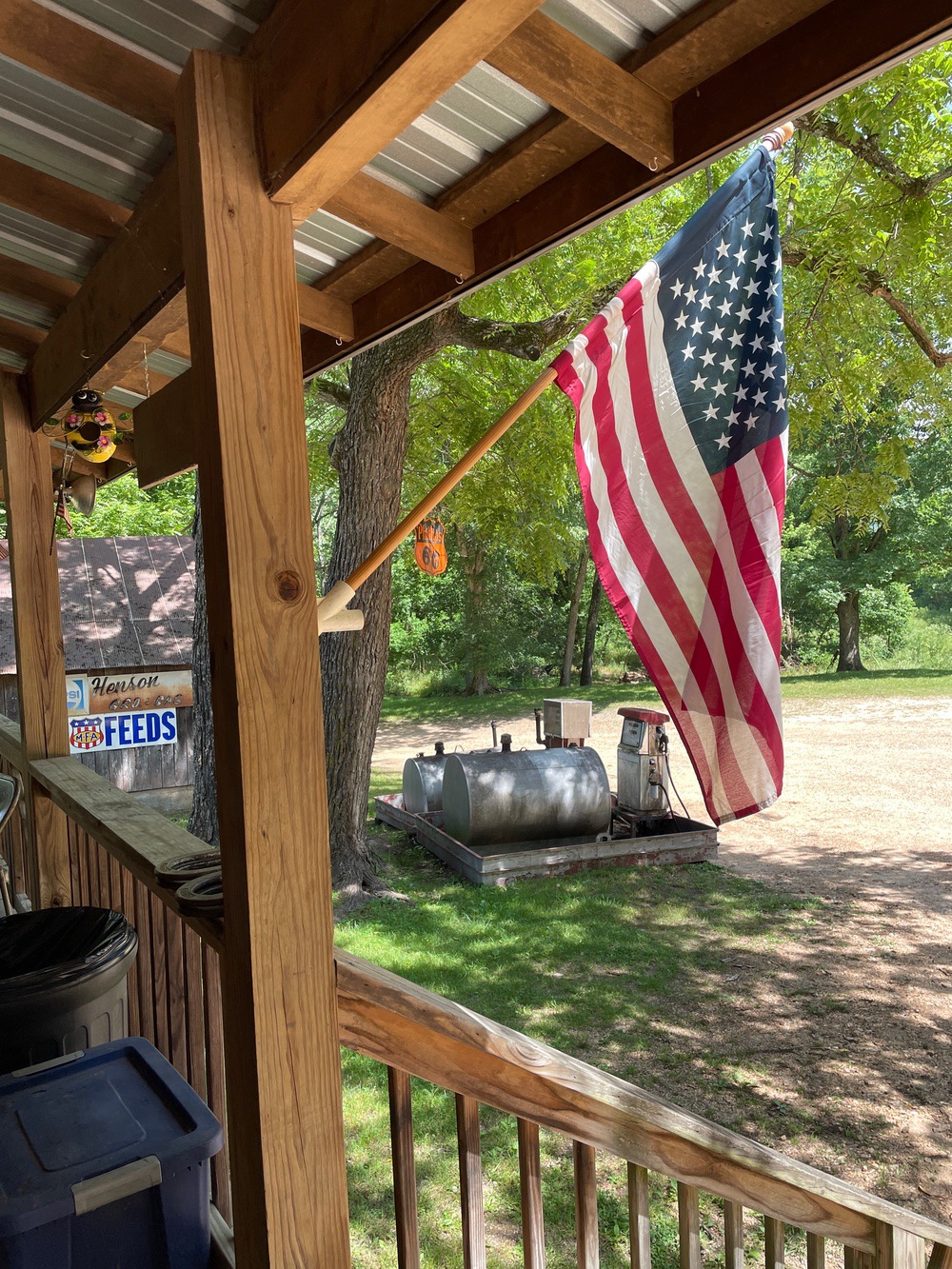 Henson Store reminds of me of all that is good in this country. Its shelves are stocked full of foodstuffs and daily living items that we need (and want) for our lives, and it even offers a choice – in many cases. At this time of the year, when we celebrate our freedom as a nation, it's nice to think about this vital component of a community called Champion.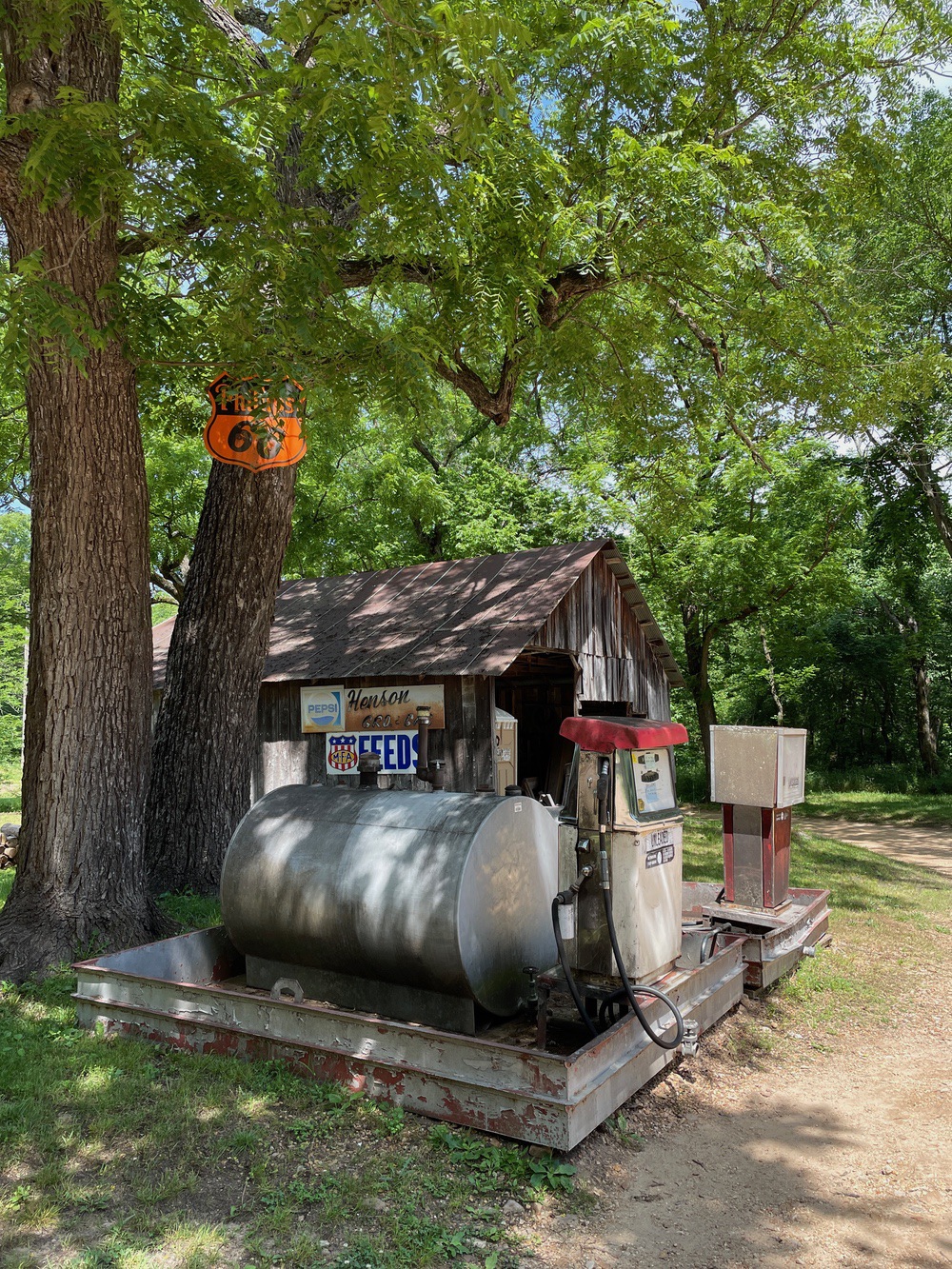 Champion is located on Route WW, on the west bank of Fox Creek, in Douglas County.