We recently pointed the big truck southward and headed to the Gulf Coast last summer. We loaded it with boogey boards, my teenage daughter's entire flip-flop collection, a Gameboy, a thousand CDs, and other necessities. While traveling through our region, I decided to keep a record of some of the yard ornaments we saw in the Ozarks. This idea came to me after I marveled at a life-sized concrete pig statue, in Sedgwick, Ark., sporting a flag in its mouth – very patriotic.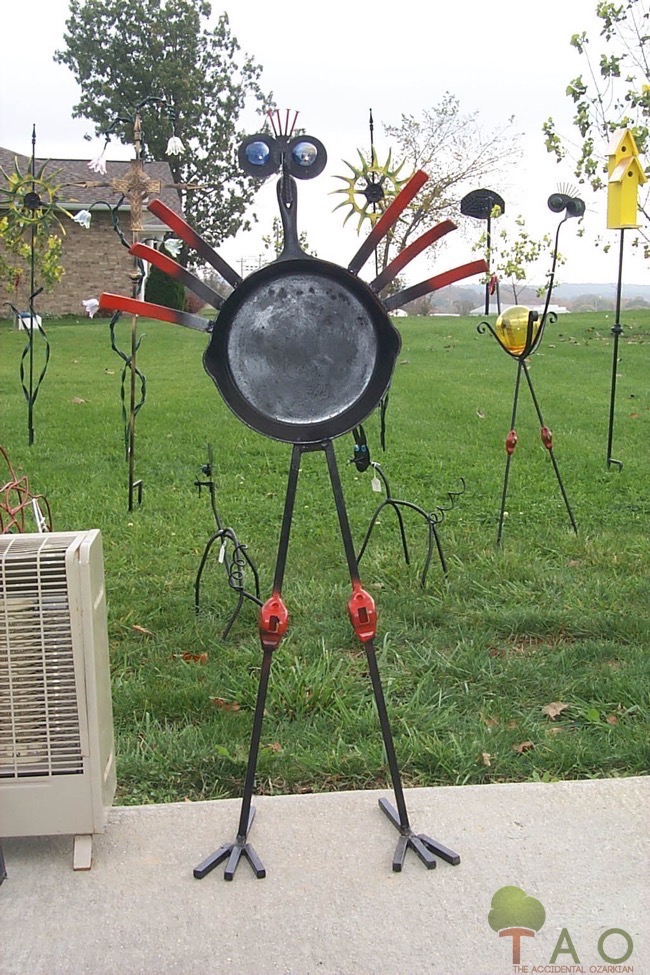 The most popular yard ornament appeared to be the concrete birdbath. In Blackrock, Ark., a statue of the Virgin Mary stood in one. I recalled the time I'd seen Mary holding two flags, a cross between religion and patriotism, up in Westphalia. 
Down the road, near Imboden, a homeowner had planted an entire flowerbed of whirling plastic daisies. I guess watering and pinching dead blossoms didn't appeal to this gardener.
Of course, several donkeys pulling carts appeared as we zipped by houses, doing between 45-65 miles per hour. The city of Raven, Ark., has a ten-foot tall raven near the entrance to its city park. That looked daunting. Life-sized ravens look mean enough.
When I took over the driving, I tasked my husband with keeping the logbook of yard ornaments … "That place has too much stuff to write down," he said, as we flew by yet another yard saturated with ornaments.
My daughter got into the act of spotting yard ornaments, too, until she exclaimed, "Hey, I just saw a naked guy come out of a trailer!" Thoroughly repulsed, she decided to go back to playing Gameboy.
Rusty cream cans, leprechauns sitting under mushrooms, windmills of all sizes (some tipped over on the ground), wagon wheels, swans, wishing wells, pink flamingos and water pumps stood alone or surrounded by green growth. 
In Koshkonong, Mo., an old lawn mower had been gutted and an oak barrel filled with flowers placed on the mower deck. Now there's a fellow that knows how to avoid weed- eating around statues. He probably moves the entire contraption, mows and then sets it back in place. 
Another homeowner in Koshkonong had a life-sized plastic horse on his front lawn, as an obstacle between the driveway and the front door.
Over near West Plains, Mo., a larger-than-life angel stood with arms uplifted to the heavens, and farther down the road, two Confederate battle flags flew from gateposts. 
Outside of Houston, someone had set a 15-foot tall green clock in the front yard, facing the highway. Maybe the homeowner wanted to remind everyone of the time?
Yard ornaments reflect attitudes.
There's probably many an interesting story to go with those yard ornaments out there.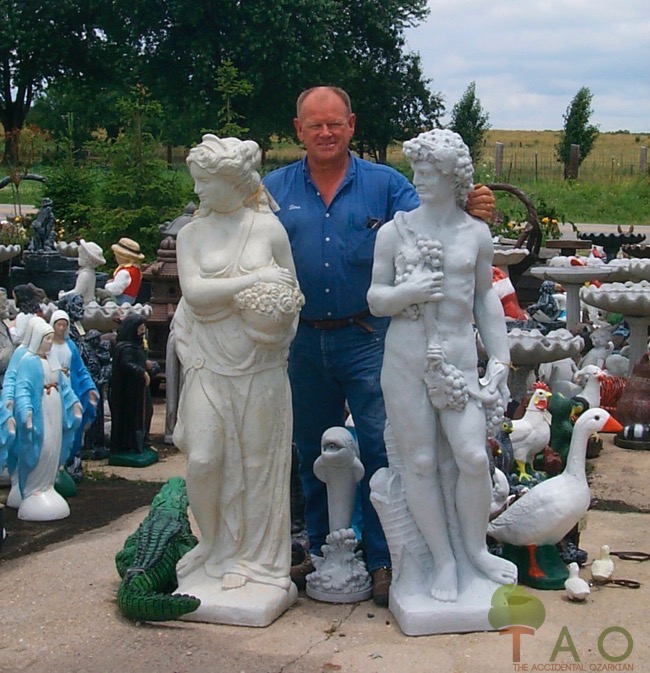 Stanley Dillon, of Stanley's Garden Center in St. James, has heard a few stories related to the purchase of yard ornaments. He stocks yard ornaments all year long, and says yard décor is a blessing to nursery owners. He thinks people have shown an increased interest in having yard ornaments because a well-maintained yard with some decoration usually indicates a well-maintained house. 
Dillon's bestseller in the yard ornament department is the concrete birdbath. He says folks also like figures that are "lifelike, such as children, angels and fairies." Made of polyresin materials, these figures lend themselves to detailed work.
Stanley keeps two deer in his backyard, and a birdbath, too. He reminds birdbath owners "to dump out the water every two or three days, and to scrub the birdbath with a brush (no detergent)." 
The next time you have to travel the highways of the Ozarks, you might want to keep an eye out for unusual yard ornaments. Who knows what "ornaments" you'll see? It certainly helps to pass the time, and keeps you entertained, too.
Published in October 2003