Many families spend hundreds of dollars in the summer standing in line for hours at Missouri's waterparks. Why pay money to slip and slide down a plastic chute of rapidly moving water, or float in a man-made current, when you can take advantage of Missouri's natural waterparks? In fact, if you want thrills and chills, you might want to check out Missouri's shut-ins: Rocky Falls and Johnson's Shut-Ins. The price is right for many — money for gas and a picnic lunch.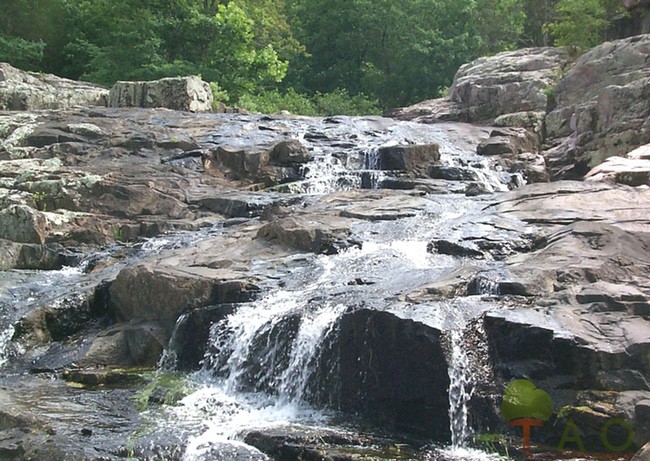 According to Thomas R. Beveridge, in his book titled Geologic Wonders and Curiosities of Missouri, the term "shut-in" came from Appalachia and means gorge. When settlers from Appalachia came to the Ozarks, they applied this word combination to describe a stream that cuts through and between igneous rocks. Usually, valleys located above and below a set of shut-ins widen. For some unexplainable reason, a stream in a shut-in takes the more difficult route over the rocks, rather than the easier method of cutting itself a channel around the rocks.
Missouri's Shut-Ins 
You could spend an entire day exploring the area down and around and in-between and over the tops of Rocky Falls Shut-Ins, part of the Ozark National Scenic Riverways. A sandy shore and a shallow pool lie below the 40-foot falls, and the climb to the top is easy and not too slippery. Open year-round, the site offers hiking trails, picnic tables, fire grills and public bathrooms.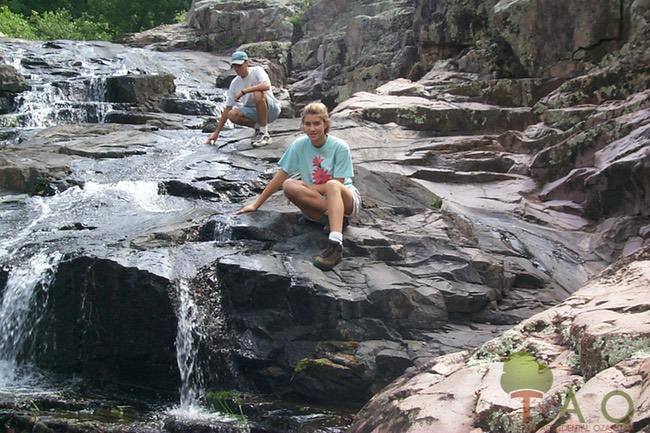 To get to the site, travel to Eminence. Take MO 106 east out of Eminence. Turn right onto MO H for four miles until you MO NN. Turn left. Drive another two miles, then turn right (sign if posted) onto a gravel road that takes you to the Rocky Falls parking lot. A short trail takes you to the falls.
If you really want to experience the thrill of the spill, venture over to Johnson's Shut-Ins near Lesterville, Missouri. Part of the Missouri State Park system, this site welcomes thousands of visitors each year to its well-developed natural water park. The Department of Natural Resources has spared no expense, and added changing room facilities and walkways at the park. 
Mother Nature, though, did her job magnificently, offering a place where adults can go and capture the thrill of being a child in the water again. She arranged brown, pink and purple igneous rocks with a dike of dark diabase to sculpt a maze of chutes in the river. The vertical fractures (geologists call them joints) provide stopping places, slides, chutes and interesting visual effects.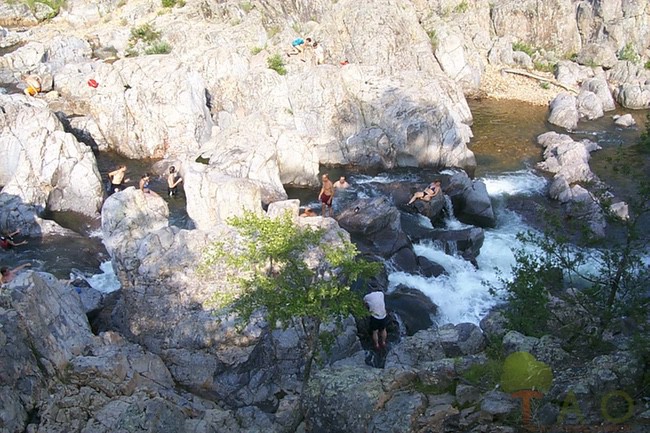 At these shut-ins, we have a place to go to get literally knocked off our feet while we experience nature and her forces. My teenage son, who is an excellent swimmer, reported he felt a bit panicky when he was swept under at one point and then pressed up against a big rock. To experience Johnson's Shut-Ins, when the water is running fast and hard, is not for newbie swimmers or children.
So, here's the tip of the day from the Ozarkian. If you can't swim well, don't get in the water at this park. If you can, just hold your breath and go with the flow. You'll love the ride. Check the access info online before visiting.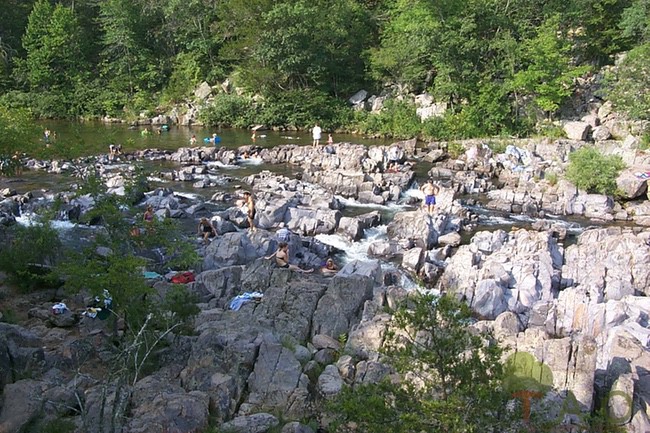 While visiting, you may hike several trails. Handicapped accessibility has been factored in for parking ease and some trails. A campground, store, restrooms and a visitor center are onsite.  
First written in 2003. Since then, Johnson's Shut-Ins have been completely reworked, as a result of flooding in 2005 (caused by the collapse of a dam on nearby Taum Sauk reservoir).