"I never get tired of making them," says Mildred (Mid) Turner about the little stuffed bears she makes. " They have their own personalities – they're like people."
Turner lives near the hamlet of Anutt, Mo., but through her sewing savvy she touches the lives of many people, from babies to seniors.
From her little house in the woods, Turner sews bears that she lovingly calls either Memory Bears or Caring Bears.
The Memory Bears happened because her neighbor's father passed away. The neighbor received a bear made out of the material of her father's shirt. Then the neighbor's friend's father died, and so the neighbor asked Turner if she would sew a Memory Bear with the deceased dad's shirt.
Turner recalls, "I had to make my own pattern off her bear that I couldn't take apart." She adds, "It's just snowballed from there. I not only make Memory Bears, I make Caring Bears."
The Caring Bears look similar to the Memory Bears, a little like a Winnie the Pooh body, but differ depending on the ages of children who claim the bears. Some bears have button eyes and some have painted eyes. The bears' legs and arms move. Turner sews a matching tote bag for each bear.
The Caring Bears resulted as a program supported by the Anutt Community Church Women's Fellowship Group a few years ago. The women decided to put together the bears and tote bags for the Salem and Rolla Divisions of Family Services. When a child is taken from his home to be placed in foster care, he gets a Caring Bear. Each bag comes complete with extra items – such as diapers, toothbrushes, bottles, pacifiers, etc. – according to the age of the child, which range from birth to 17-years old.
Turner learned to sew when she was 15. Her sister taught her how to use a pattern and she made a blouse. She says, "It wasn't the best in the whole world, but I absolutely loved sewing." She continued to sew for herself and her family and then, opened a shop in Rolla in the mid-'80s that she operated until the 1994, called Sew Purffect. She especially loved to do alterations to wedding gowns.
When she closed the business and came back home to spend time with her retired husband, she kept the stitches flying by sewing fund-raising projects for the women's group at church. She still makes a steady supply of potholders, Christmas stockings and kitchen sets.
She says, "When I don't have anything to do, I'll go out and find something to do. I'm in my sewing room all the time."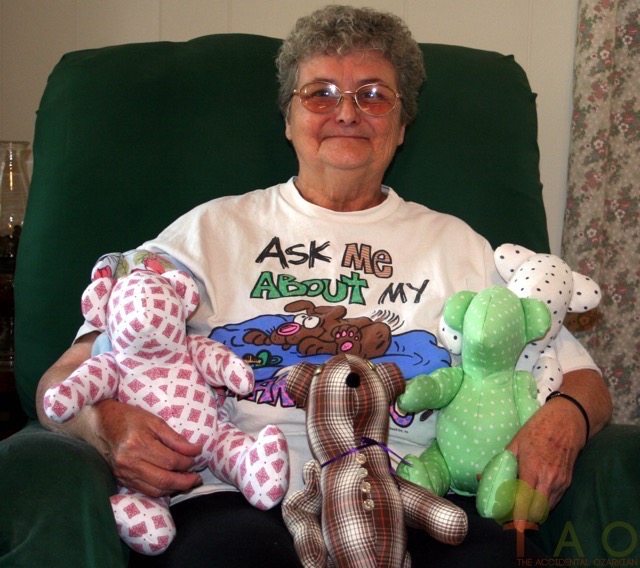 Presently, she's experimenting with fabrics and whipping up lined purses that resemble mini-tote bags, made of substantial material and garnished with a flare of frou-frou fringe.
The women's group sells Turner's bears, along with her other sewing creations, plus its own baked items and other gifts at its annual bazaar and at Salem's craft show. The show in Salem will be held on Saturday, Nov. 11, at City Hall. The Anutt Community Church Bazaar will be held either the first or second Saturday in December. For more information about the date for the church bazaar, call 573-729-5490.
After Turner's husband died, she made a Memory Bear from one of her husband's favorite shirts. It sits on a table in the living room.
She hears stories of how her Memory Bears bring comfort to people who have lost loved ones. Presently, she is not making Memory Bears to order, because she is busy sewing for the upcoming shows. She will, though, be at both locations and is willing to talk to people about making future Memory Bears.
Mid's Famous Dumplings
Mid Turner says, "I'm old fashioned. I do everything like what I was taught years ago." This philosophy works for her – especially when she's whomping up her famous dumplings.

She explains, "For dumplings, you go back. You don't just take one plate of them. My bunch don't. And … at my church, I think they can eat more than my people."

To make dumplings for six people, Turners starts with 8 eggs, beats them, and then adds a drop of yellow food coloring to the eggs in the bowl and to the broth on the stovetop.

She says, "Put in however much salt you want. Surely, you can put salt in!"

Then she adds flour until the mixture is just right for rolling and cutting. She adds the dumplings to the broth and cooks them until done.

She says, with an ear-to-ear grin, "I have no problem getting rid of them."

Turner adds, "People say, 'I really like your dumplings because they taste like my mom's dumplings.'"
First published October 2, 2006.