Deby Gilley calls herself an artist. She also calls herself an "Ozarkian." The first claim is easy to see, based on her art that features wood and linoleum cuts – hearkening back to an art form from as far back as hundreds of years ago (for the woodcuts). The Ozarkian part comes naturally to her, since she's from the Mountain Grove, Missouri, area.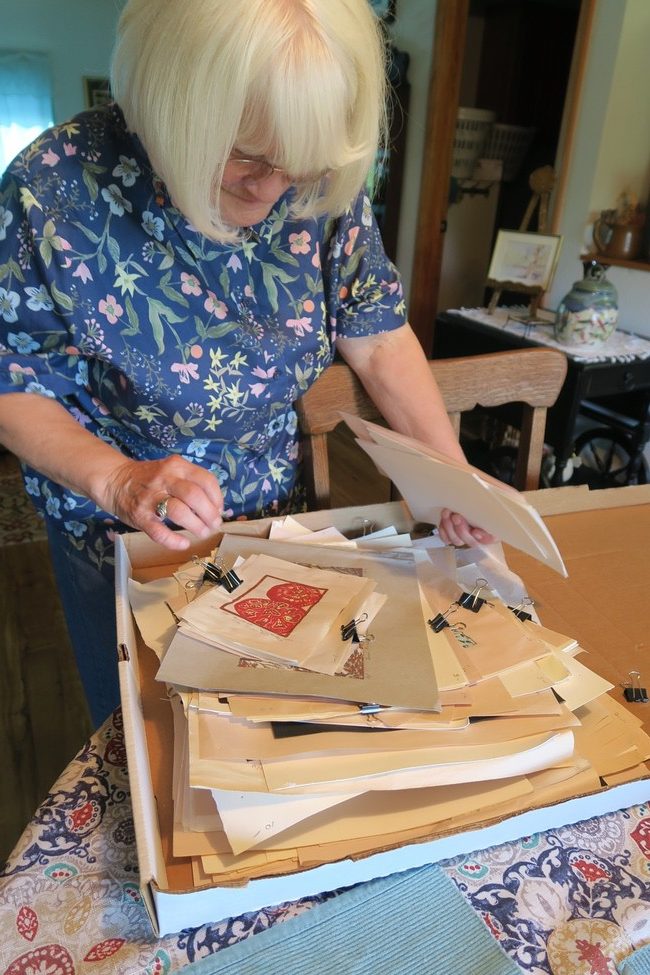 Deby is a retired art teacher (including Mountain Grove, Willow Springs, Norwood and also as an adjunct instructor at Southern Baptist University) and now spends her time making relief linocut and woodcut prints in her home studio, called The Lone Starr Studio, in Mountain Grove, Missouri.
She also went to high school and graduated in the same class as my husband, and so that's a connection. When we moved back to this area, and I saw her book at an antiques store, I knew we had to meet and talk. Since that first chat a year ago, we have communicated on Facebook, visited a Mid-century Modern home together and met up again recently, to talk about her life as an artist and her next project, another book featuring her art.
During our kitchen table conversation in her home in the country, Deby said, "I probably walk like a hillbilly … I was told that I didn't walk very ladylike and I can't help that." Then she said, "As far as Ozarkian, my grandparents over at Salem probably are the best example of that – scratching out a living on 80 acres and sustaining themselves off of that small acreage." Her grandparents had nine kids, with her mom right in the middle.
She added, "I always loved going to my grandparents' house. They had no modern conveniences. They did get electricity, but it hadn't been that long before I was born that they got it. They had a telephone and a television, but still, no running water. No baths other than filling it up out of the cistern and letting the water warm by the sun."
When asked about her grandparents' attitudes, she remarked, "They were Christians, of strong faith, probably the first I knew of it – through their experience and going to their church. I loved that little church they went to. They donated the land for the church and the cemetery, and most of them are buried there."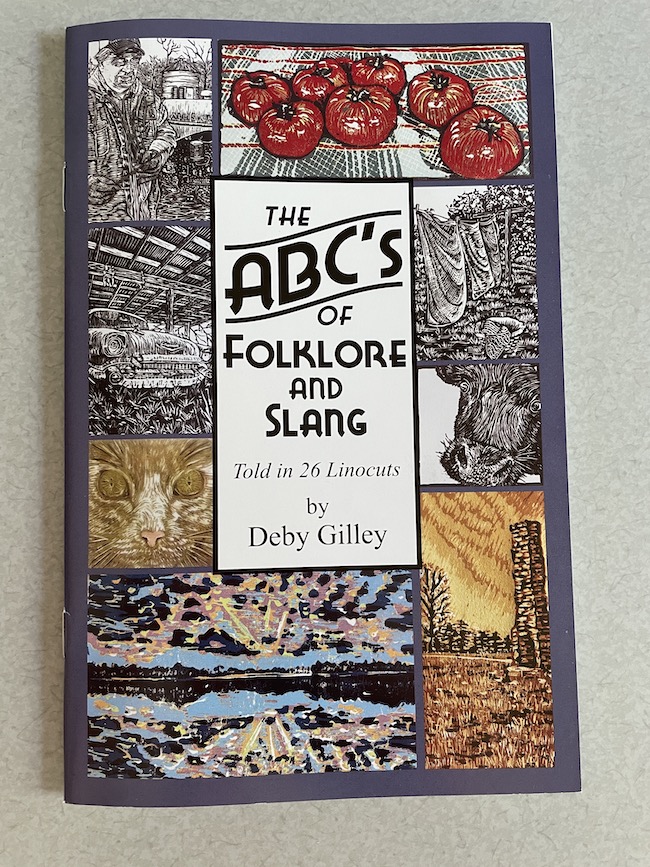 About the first book: "The ABC's of Folklore and Slang: Told in 26 Linocuts"
Deby says that the Covid pandemic gave her the "incentive" to get her first book, "The ABC's of Folklore and Slang: Told in 26 Linocuts," together before the end of 2020. She held her book launch out in her garage and added some tents. "We kinda social distanced through that. … I don't have PhotoShop on my computer and I put it out there in Word and I wanted everybody to proof it for me. I had it all set up in the garage." She said she got some feedback and some folks caught a few grammatical errors.
Deby's book is filled with relief prints that reflect the titles that she chose, which will be familiar slang and dialect to Ozarkians. Phrases such as "A Mess of Maters," "Just Checkin' the Orl" and "Warsh Day." She self-published the first book, ordered a thousand copies and hasn't looked back. Since the pandemic waned, she has spent time at art shows, book signings and selling online. To date, she's sold half of the copies.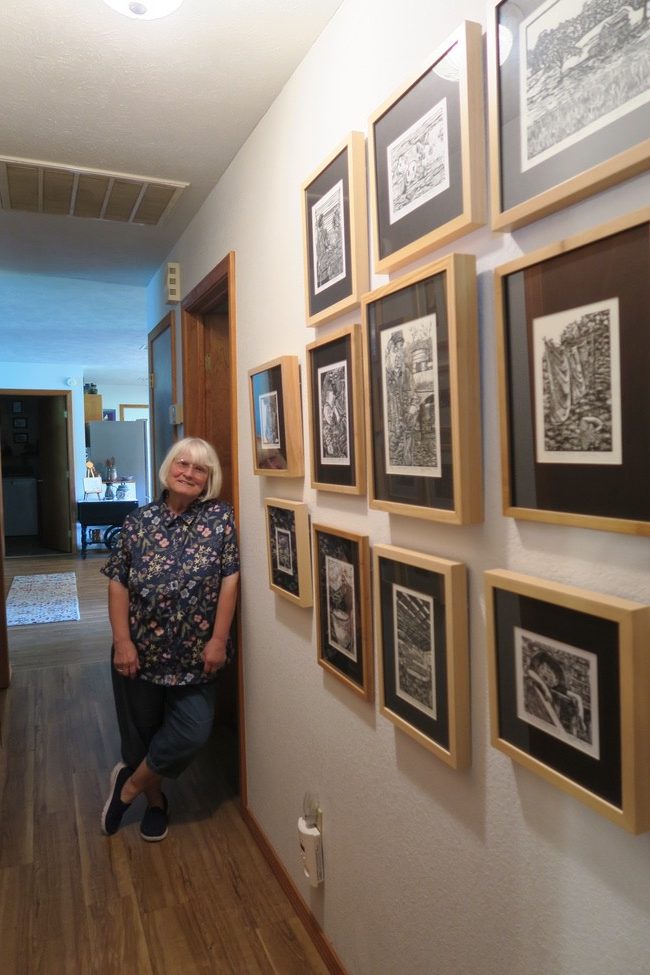 "Number 9 is what I saved of each one of them. Each one of the has an edition from 1 to 20. I framed all of them [the #9s] similar and they're hanging up there in my hallway," said Deby. Why the number 9? Because that's the number of the "fruit of the spirit."
Indeed, her hallway is chockablock full of all the prints from the book, and more.
You can buy the book at Waverly House in Springfield, Missouri, or from Deby.
The Next Book Might Be Titled "A Visual Voice in the Wilderness"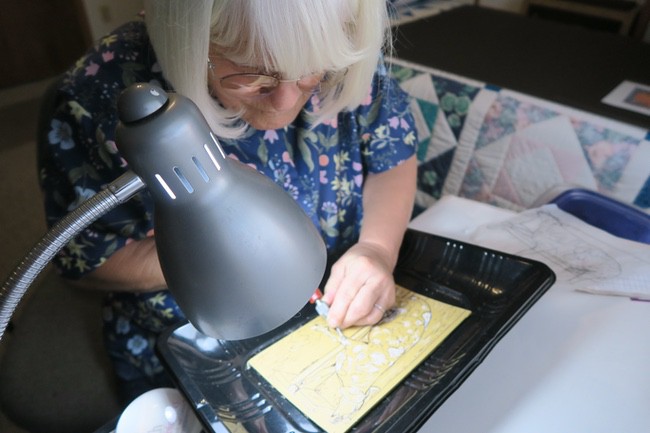 In the dedication of her first book, Deby wrote, "I am hopeful that my chosen images and titles offer a new and refreshing experience to the use of the slang and familiar sayings. Some of the images are people and animals that I know very well. My ultimate goal, however, is that the Glory of the Lord will shine through the simplicity of each of the 26 linocuts."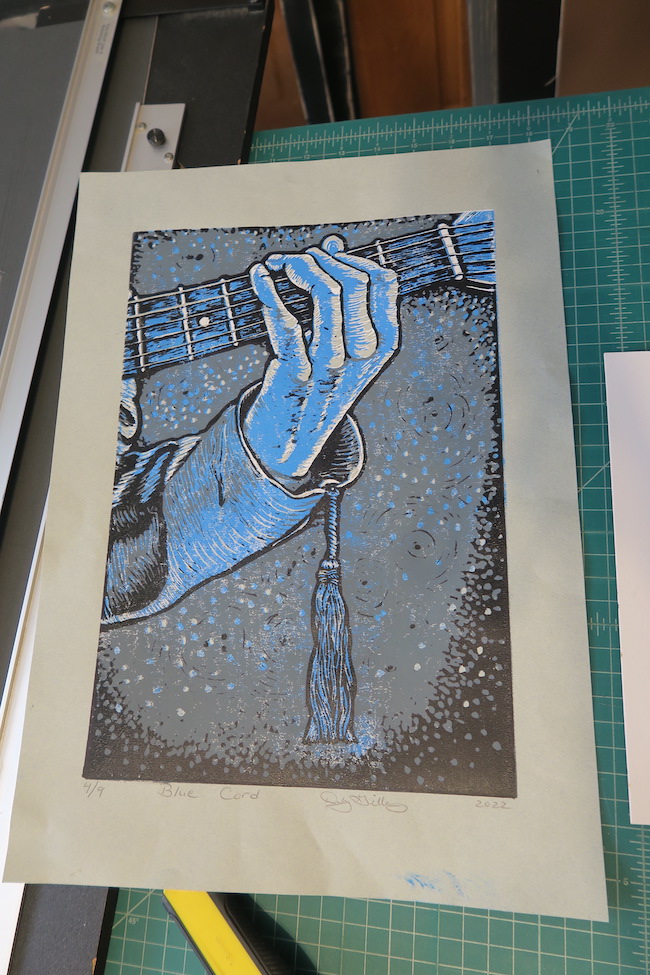 Her second book, which is in the works now, "Even though, many times, my art reflects scripture, that's what I'm focusing on now because the world is becoming darker and darker. I'm thinking it'll be called 'A Visual Voice in the Wilderness.'"
She said, "From the time that the Lord led me to do that, which is this year, anything I've done this year and beyond, I don't know how long it'll take me – everything I'm doing is either related to scripture or it's a line from a hymn."
She believes the Holy Spirit has led her all the time, even before she realized it. "The Lord has blessed me ever since I began to listen to that prompt. And I love it, because these are just common, everyday images, but they are related to scripture."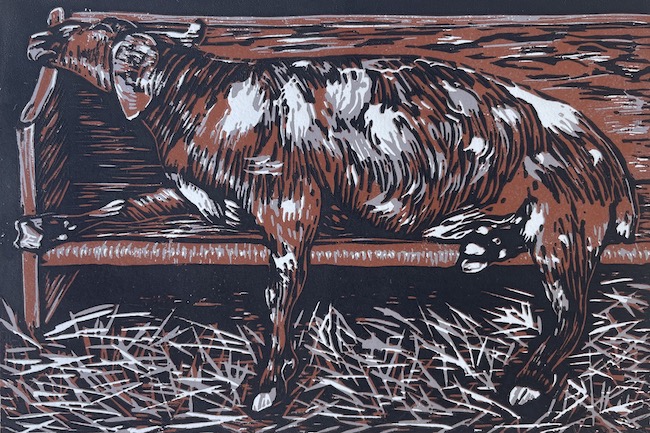 For example, she's working on one with a goat lying on a church pew in a barn. "My friends have an old church pew in their barn, and this goat just laid up there and slept on it, and I'm going to call it 'A Sabbath Rest.'"
At this time, she doesn't have a deadline. When she's not working on her art, she can be found in her garden. She's been canning, and when I was there, she said it was time to pick the okra. Deby pointed out her food prints, hanging above the countertop in her kitchen.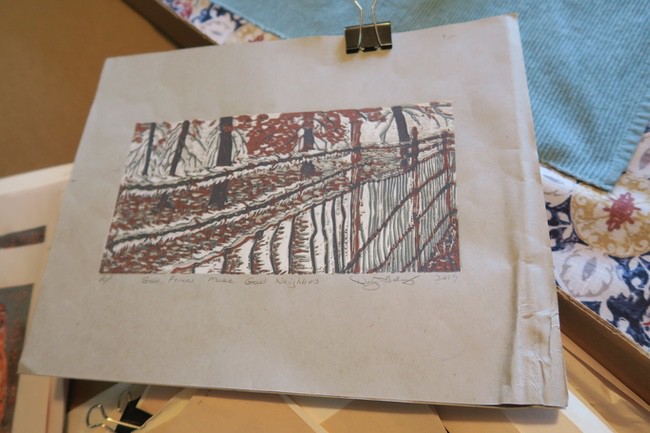 Where you can see Deby Gilley's art in the fall of 2022?
Deby will have a booth at Wilder Days in Mansfield on Sept. 23 and 24, on the Mansfield Square. Then, she will be at a special reception at the Waverly House Gifts and Gallery in Springfield, along with artist Doris Doucette. Look for her in Sequiota Park in Springfield on Oct. 8 and 9. You can also buy her art from her Facebook page.