I wrote this one back in 2004, after a trip out to a farm pond with local trapper Ollie Kernick, when he went beaver trapping to take care of predation . ~BB
"Here, smell this stuff," said Ollie Kernick, as he uncapped a bottle of bait and held it under my nose. I inhaled, and the musky stink of the brown liquid hit my olfactory bulbs like the connection between Mark McGuire's bat and a baseball he slammed out of the park. I think my eyes rolled back. To make matters worse, I had acquired a drop of it on the end of my nose. The more I rubbed it with my gloved hand, the more I spread the musk. 
My husband chided me, "Don't you remember when you were in chemistry class and they told you about wafting the smell under your nose?" I shot him a look that said, "Behave. You only get to come along with me when you're good."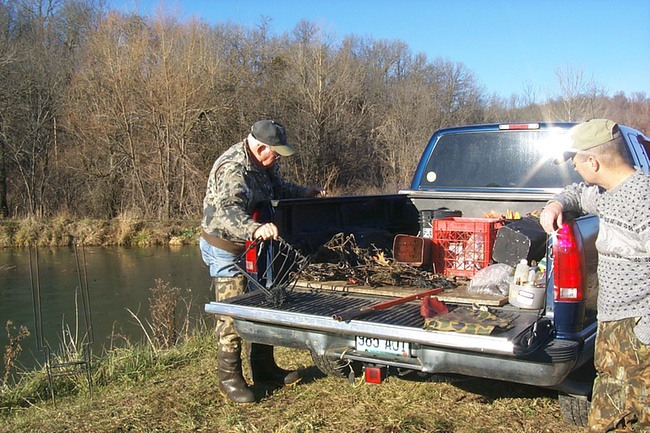 Ollie had been rummaging around in the back of his Chevy truck bed, the one that holds an assortment of traps and tools and bottles of scent. He'd been fetching bottles of stinkem, and much like when I visit Bath & Bodyworks, I smelled every one. The two bottles before this one had been rather pleasant smelling, and I figured he was saving the best for last.
On this fine winter day, we stood with the north wind bearing down on us near a pond on a farm. Ollie, a retired state trooper, now runs an animal nuisance and damage control business. After finding the appropriate scent, Ollie headed over to set a foot trap for a raccoon. We had just watched him set three beaver traps in the pond.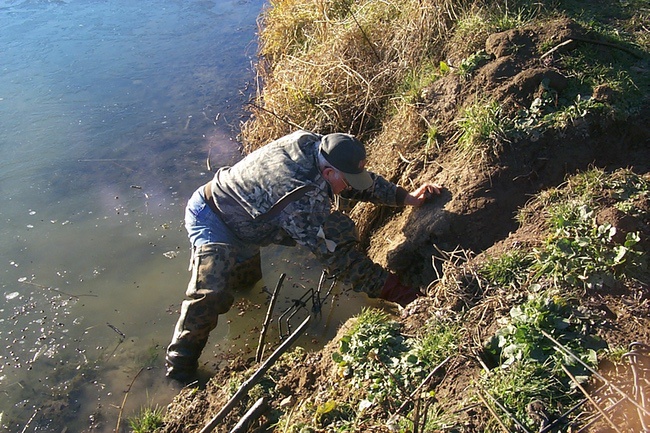 The landowner had asked Ollie to do "damage control" and catch some beavers, muskrats, and raccoons. Beavers had made a mess of the pond, by tunneling into the dam and weakening it to the point that it recently had to be repaired, at great expense.
Ollie and the Beaver
Beavers are a bane to some Missouri farmers, creating unstable ground near ponds, and causing fields to turn into wetlands. A few farmers have been surprised when their tractors tipped over or fell into a hole because of a beaver den beneath the earth. Ollie said, "Their cattle will step in and break their legs."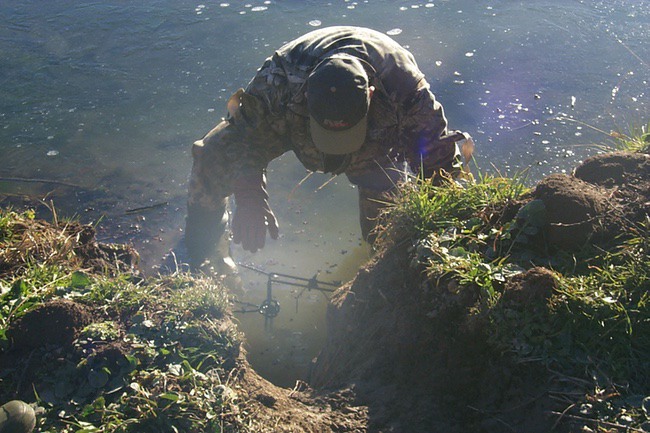 Joel Vance once wrote (in the "Missouri Conservationist"), "Beavers have a single-minded determination to do what beavers do, and they figure out ways to get it done. There is some ingenuity, but mostly it's persistence. A beaver doesn't know (nor care) what damage to property a dam or a fallen tree will do. Your cherished ornamental is just another building block to Br'er Beaver, and your bottomland cornfield is a potential beaver pond. The pond itself may become an important resting place for waterfowl. Beaver ponds change an entire ecosystem, eliminating some species, encouraging others."
According to Ollie, beavers have few predators. "What's going to kill a 60-pound beaver in the water? Nothin'."
For this reason, Missouri has a trapping season, which is a business to some, hobby to others, and a sport to all who participate. 
According to the MDC's wildlife biologist Dave Hamilton, "Trapping in Missouri is carefully regulated. For example, trapping is only allowed for a short time period in the winter when young animals are grown and fur is at its best and most useful condition. And wildlife laws only allow people to trap mammals that are common or abundant. These laws make sure that even though some animals may be trapped every year, their populations will remain large and healthy."
Hamilton says the greatest threat to wildlife and fish is not trapping and hunting, but the destruction of natural habitats. 
For a 67-year-old man, Ollie goes about setting his traps in cold, thigh-deep pond water with amazing nimbleness. After setting one trap, he'll look for further indications of yet another den entrance, food sticks, or a hole in the pond wall. He described beavers, saying, "They've got a memory. Normally I don't set a trap the first time over a den hole. The ones in there see that and it changes their lifestyle. They avoid that area."
After Ollie set the traps, we explored the nearby river for signs of beaver damage, and then we left for the evening. We returned early the next morning to find a huge beaver caught in one of the traps. Ollie explained that this type of trap kills the animal quickly.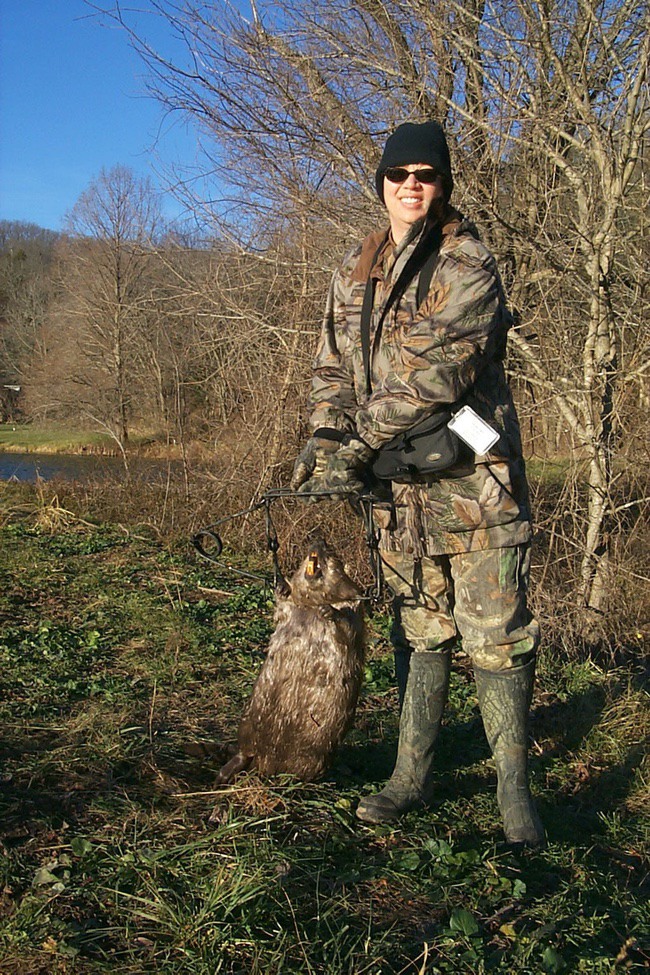 Ollie later reported that the beaver weighed 45 pounds "dry," and he'll sell the pelt to the North American Fur Trade Company. But, it's not about the money for Ollie. Running traps allows him a chance to get outside, get some exercise, and do some good for conservation of Missouri's resources.