Some people call him "the dress man." Jim Oxley and his homemade collection of frilly little dresses for girls can be found on the Mountain Grove Square during the town's Farmers' Market days. How does a 93-year-old man find himself on the town square selling dresses reminiscent of the 1960s? Here's his story.
Jim Oxley
Jim was born in Texas County, eight miles north of Mountain Grove, on what was Mt. Zion road. He attended Mt. Zion School until the 6th grade, then went to Gravel Point School for 7th and 8th grade, and graduated from Mountain Grove High School in 1945. His wife, Hazel, was from Brushy Knob, Missouri.
He said, "My wife was a good seamstress, and her sister-in-law taught her when she was younger. She [his wife] always made our granddaughters dresses for Christmas and Easter."
Jim and Hazel worked at Brown Shoe Company until it left Mountain Grove, then Jim commuted to Cabool and worked at the company's location there for a couple of years. "We were at the age that we could retire (January 1987), but we needed something that we could do. So, we started making dresses. I done all the cutting out. Whenever I worked at the shoe factory, I started out as lining cutter and went to shoe cutter and then they moved me on up to a sample cutter, and I practically had to make patterns. They would give me a design, but I had to make the pattern for the samples that they used to sell their shoes. I guess you could say I'm kind of a designer."
Jim and Hazel had a dress-making system. "I done the cutting out. She made the top. I made the skirt, and then, she put them together."
He continued, "Then, in 2010, I lost my wife. She passed away." He stopped sewing.
He tells the story of getting back into sewing after Hazel's death. Jim said a lady who worked at Walmart asked him if he'd make two red dresses for her twin nieces. "I thought, 'I've never done the whole thing myself.' I kinda hesitated, and then I said, 'I'll tell you what, I'll make one and you look at it, and if it suits you, I'll make the other.' She says, 'I saw your work, and I just want you to make both of them.' I made one, it wasn't too bad. It wasn't 100%, but I showed it to her and she said, 'That's what I want.' So I made the other."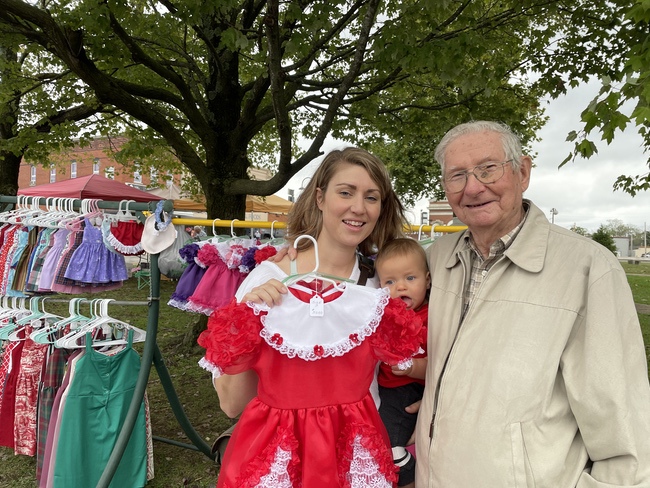 The retro dress style Jim created is "practically the same style" that Hazel made for their daughters and granddaughters and then, great granddaughters. "Whenever my wife and I made them, we used a lot of poly/cotton." Today, Jim revealed, "The bright pink, purple and teal blue green are made from curtains that I get at Big Lots. They are 60 inches wide and 90 inches long, and for $5, you can't buy yard goods for that and it washes and it doesn't wrinkle that bad. I get some of my fabric at the FM store in Springfield." Jim makes a matching pair of frilly socks and a headband to complement each dress.
If frilly isn't your preference, Jim also makes cotton sundresses for girls. The dresses, whether frilly or plain, range in sizes from infants to size 9 in the frillies and up to size 10 in the sundress department.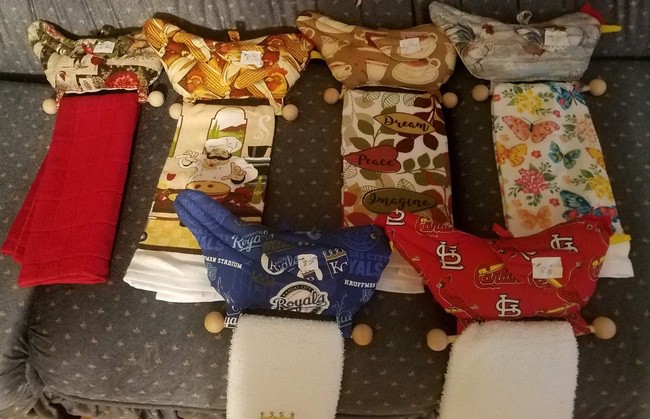 In fact, if you don't want a dress at all, he also designed a funky little line of stuffed chicken towel holders that include a chicken on top, with a dowel and a towel. He said, "I made me a chicken pattern, and a friend of mine has an embroidery machine. I have him do the embroidery on the towels." 
His sewing room is in his bedroom at home, and he cuts out the dresses on the dining room table. About his working area, he said, "You wouldn't want to see it."
Jim uses a 9000 Janome sewing machine to create the girls' garments. "It's getting old and I'm afraid it's going to quit on me and they don't make them anymore. I do have a new Singer, that my daughter-in-law and granddaughter got me for Christmas two years ago. As of yet, I haven't used it, except for small jobs."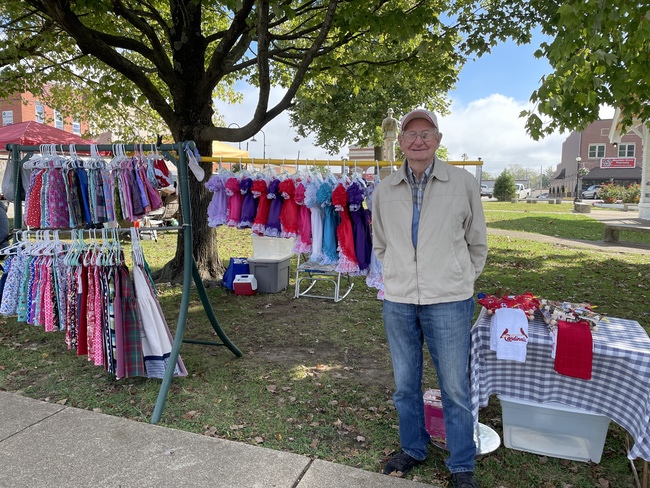 These days, he only appears with his line in Mountain Grove. It's his second year on the Square with the Mountain Grove Farmers' Market. He said, "Until this virus thing, I went to a lot of craft shows – in Springfield, Fair Grove, Ozark, Seymour, Eminence, Cabool and Lebanon – I don't go so much anymore. I'm just kinda scared of this virus thing at my age. I turned 93 in August."
Jim hopes to sew for the rest of his time here. "I'm going to do this as long as God gives me the strength. I have to do something. I like to work Sudoku puzzles, but that's just a fill-in between times. I like doing this … in fact, I like to watch the old Westerns, that's the only thing I like about television, like with Audie Murphy. I get to watching … I get tired of it and I get up and go to the sewing machine. It's almost company for me, really." Jim also stays active, walking every day. He still mows his yard.
Jim will be on the Square at the Farmer's Market (Tuesday, Thursday and Saturday mornings) through October. He's sold several dresses this year. In fact, he said, "Whenever they had the Bicentennial here, the governor's wife bought a dress for her granddaughter. I've got pictures of the governor and his wife standing here with me." He also received a Citizenship Award from Mountain Grove.
Possibly the most important reason that Jim continues his dressmaking, though, is because of his endearing love for Hazel. "Whenever I'm working on them, I feel like she's kinda there with me."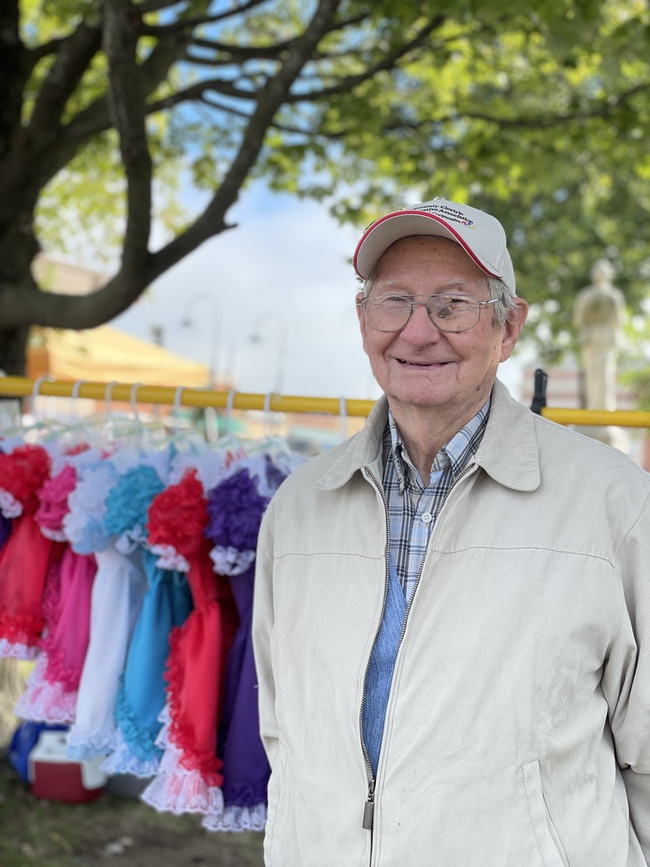 You may text Jim Oxley at 417-438-5144 (no telephone calls, please). He will do special orders and some deliveries.